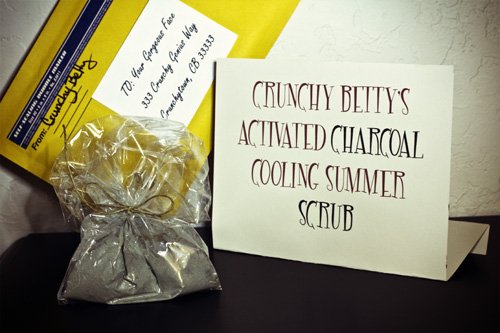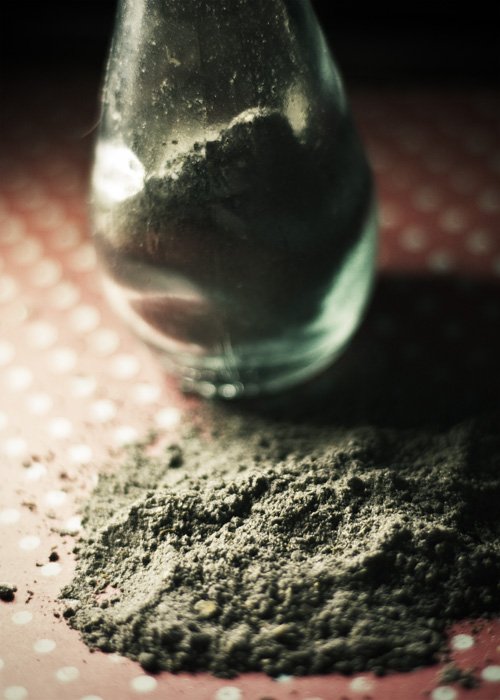 As promised, here are all the details on the summer scrub that you can order – or make at home all by your little lonesomes.
The pre-ordering period will last ONLY until May 9, 2011 or until we reach 100 orders, whichever comes first. That being said, we've already had 7 orders (which I didn't expect at ALL, so thank you!), so if you want some, get it while it's available.
The scrubs will ship out on May 16th or a little before, and you'll receive tracking information just as soon as they do.
Both the scrub I'm shipping and the recipe and instructions you find below will be 1-cup quantities. If you use them as a scrub, 1 tsp each day, it should last about 96 washes – or 3-ish months. Of course, you could always use it as a detoxifying, oil-busting facial mask, too.
One cup, shipped, is $15 total (to the United States … if you're outside, send me an email and we'll figure out shipping).
Here's the button now, but you'll find it again at the end:
Buy Crunchy Betty's Activated Charcoal Cooling Summer Scrub for $15.
I've been using this exact scrub for the last month and a half, and it is my absolute FAVORITE of all time. It leaves your skin a little tingly cool, very soft, and clean as can be.
This scrub is formulated to be detoxifying as well as effective on oily-ish summer skin (although it's suitable for all skin types). It's also great for acne, as it contains turmeric resin, oats, evening primrose oil (which is both moisturizing and a great acne fighter), and peppermint essential oil.
But the star ingredient, by far, is the activated charcoal.
And just in case you don't know much about activated charcoal, let's have a quick chat before I give you the recipe and the ordering button.
Activated Charcoal – What IS It?
Activated charcoal, also known as activated carbon, is a highly porous substance that's been "opened up" or activated, in order to attract certain chemicals and toxins. That's the best way I can describe it layman-like.
The activated charcoal you'll want to use in face scrubs is food grade. You can find it in pill form in just about any natural foods store, but I get mine powdered and in bulk from More Than Alive. Here's what a spoonful looks like: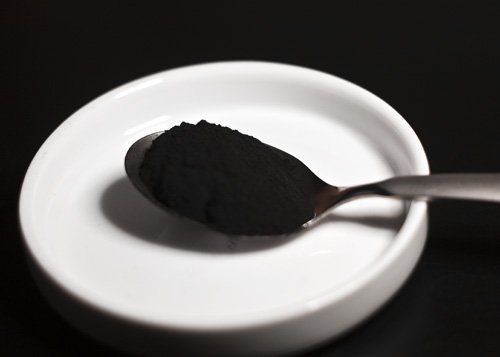 Now, let me stress that we're not dealing with regular old barbeque charcoal here. Activated charcoal is refined and, again, produced to do things like draw pollutants and impurities out of water or air. In fact, nearly every water filter you buy contains activated charcoal.
Please do not go out, crush up your charcoal briquettes and rub them on your faces.
From a scrub standpoint, I was dying to use this after I'd wrangled a tiny sample packet of a major natural brand's activated charcoal wash/mask/moisturizer blend. I really wanted something that could combat pollutants that our skin comes into contact with on a daily basis, as well as draw out impurities that could potentially lead to premature signs of aging.
And that's how it ended up in Crunchy Betty's Activated Charcoal Cooling Summer Scrub.
Now, let's make some.
Crunchy Betty's Activated Charcoal Cooling Summer Scrub
One Note About This Scrub: The activated charcoal doesn't stain your skin, nor does it stain the sink. However, it has stuck around subtly on a white washcloth I used, so if you get it on white fabric at some point, wash it out right away.
Now on to the good stuff. Here's how you do it.
You want to gather up some ingredients that you'll need to grind/powder. Organic whole oats first: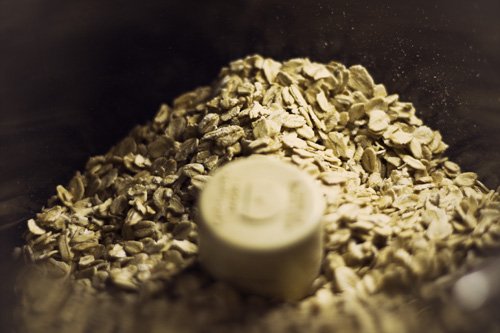 I'm not exactly sure how many whole oats equal 1/4 c. ground oats, so I'd suggest putting in about 1/2 – 3/4 c. whole oats. If you have excess, that's great! Just put it in a jar and store it for a facial mask you can do later.
Put the oats into your food processor and give it a whirl. It usually takes no more than 30 seconds to a minute to achieve "ground" status. Here is what it'll look like once it's ground: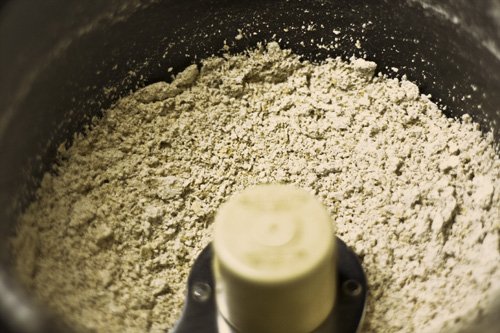 Now, there's no need to wash out your food processor every time you turn things into powder, because it's all just going to get mixed together anyway.
So, next you want to grind up almonds.
Again, there's no exact way to measure how many almonds will equal 1/8 cup of ground almonds, so just grab yourself a couple of handfuls and toss them in the food processor: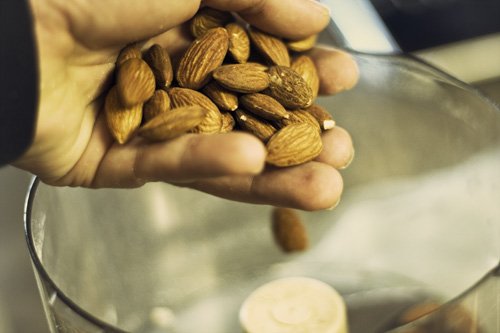 The almonds may take a little longer to grind than the oats did. Just be sure not to let them grind too long, or you'll end up with almond butter.
Not a bad mistake to make, though.
Here they are grinding (notice the spinning motion) and at exactly the right consistency: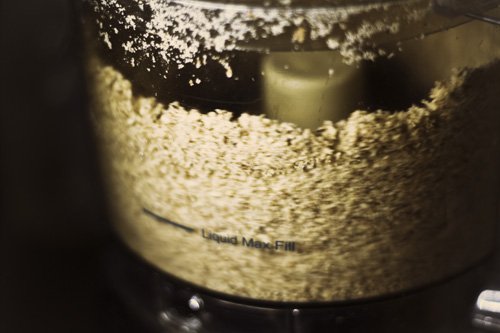 Now pour your ground almonds into a holding container, and pull out some chamomile and calendula.
You'll do these things separately, and I'll tell you why in a minute.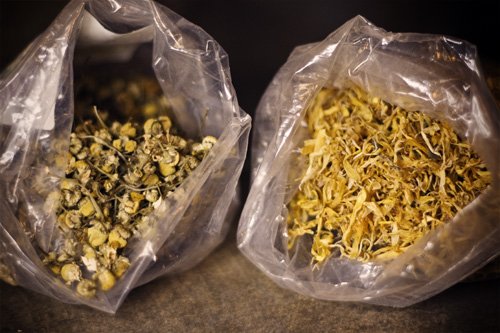 Put a handful of dried calendula into your food processor and give it a whirl. It's really not going to grind up all THAT much, but it'll turn it into a size that's manageable.
Set the calendula (otherwise known as marigold) aside and add your chamomile to the food processor. Let this grind for about a minute – two a the most.
Now pull out a fine-mesh sieve and run your ground chamomile through it. You'll most likely end up with hulls that you want to sift out and discard. (Would be a great addition to your compost heap.)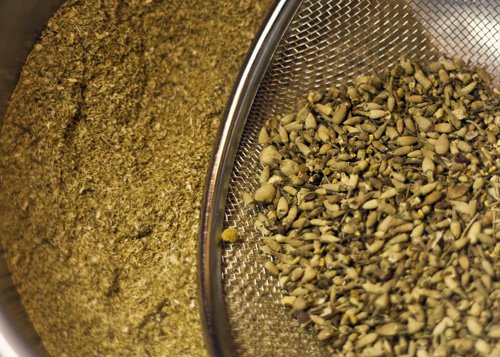 Okay. You're done grinding/powdering.
Now measure out all the dry ingredients (the recipe is listed below) and mix them together well. Take care with the activated charcoal powder, because it likes to puff out and about if you fling it wildly.
When that's mixed together, start dropping in your evening primrose oil, turmeric resin, and peppermint essential oil drop by drop, stirring as you add.
Finally, give the entire mixture one more whirl in the food processor. This helps break up any oil clumps that may have formed, as well as grinds any larger pieces down into perfect scrub size.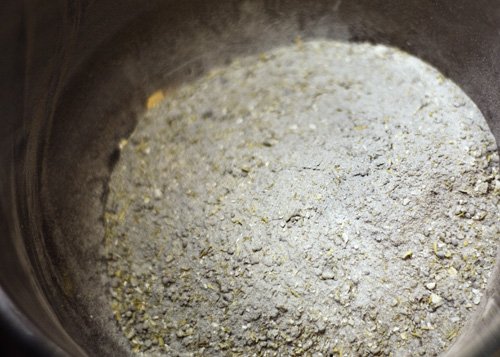 And that's it! You're done!
[print_this]
Crunchy Betty's Activated Charcoal Cooling Summer Scrub
1/4 c. finely ground oats
1/4 c. white rice flour
1/8 c. finely ground almonds
2 Tbsp cosmetic clay (fuller's earth, bentonite, kaolin, french green, or rhassoul)
1 Tbsp ground dried calendula
1 Tbsp ground chamomile
1 tsp activated charcoal
1/4 tsp evening primrose oil
7 drops turmeric resin oil
5 drops peppermint essential oil
Grind oats, almonds, calendula, and chamomile into a powder (the almonds won't look "powdery). Mix together in a small bowl, and add in the rice flour, clay, and activated charcoal. Mix well. Drop by drop, add in the evening primrose oil, turmeric resin oil, and peppermint essential oil, stirring well after every drop. Place the scrub back into the food processor, and let it run for another 30 seconds.
To Use as a Scrub: Place 1/2 tsp in the palm of your hand or in a small dish. Add a bit of water, milk, almond or coconut milk, or witch hazel (for extra oily skin) and allow it to soak into the scrub for 30 or so seconds. Wet your face with water, and then apply the scrub, in light circular motions, around your face. Scrub for 30 seconds to a minute. Rinse well. Moisturize. Love your skin.
To Use as a Mask: Mix together 1-1/2 Tbsp scrub with 1 Tbsp water or milk. Spread onto a clean face. Allow to dry for 15-20 minutes. Rinse well. It will be tingly, refreshing, and minty good.
[/print_this]
Order Crunchy Betty's Activated Charcoal Cooling Summer Scrub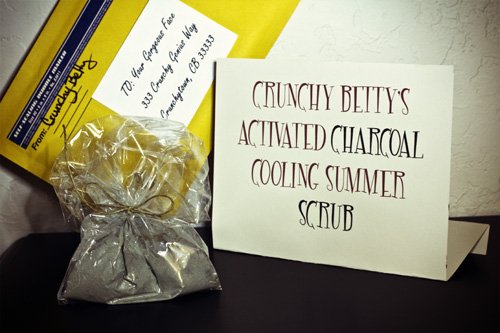 As mentioned, the ordering period will be over on May 9, 2011 or until we reach 100 orders. Shipping is scheduled for May 16, though it may ship a little sooner than that. You'll receive tracking information once it does.
At this time, I'm shipping only to the United States for $15 at this time, but if you're outside the U.S. and would like to order some, send an email to leslie@crunchybetty and we'll figure out how much postage is and get you some!
Excited? Want to have GORGEOUS skin this summer?
Here's the button. Use it!
And, if you want to make this scrub yourself, you can buy things like turmeric resin, chamomile, calendula, evening primrose oil, cosmetic clay, and peppermint essential oil from Mountain Rose Herbs.
You can find activated charcoal at More Than Alive (although they appear to be out at the moment) or in your local natural foods store. If you get the "pellets," just grind them into a powder with a mortar and pestle.
And, of course, things like organic whole oats, organic raw almonds, organic white rice flour and more at your local natural foods store (hopefully)!
If you know someone who could use a daily scrub like this, be sure to send them this link!
Go, Crunchy Beauties, Go!
Two things you can do for me here in the comments (after you've ordered your scrub):
Tell me what other things you'd like me to make and sell.
Tell the world what you thought about the winter scrub, if you ordered it and used it as suggested.
Oh, also? You could also scratch my back. Right there. Right there in the middle. Oooh yeah. That's good.
Mwah!