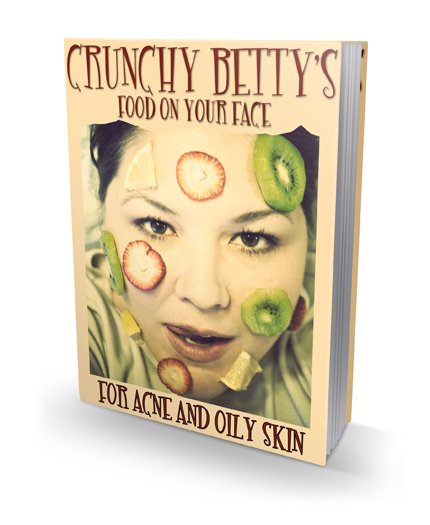 STOP BUYING COMMERCIAL BEAUTY PRODUCTS.
Now.
Crunchy Betty's Food on Your Face for Acne and Oily Skin is here to save your face, save your budget, and save your skin from nasty chemicals found in traditional beauty products.
It's not just a natural beauty ebook – it's a complete system designed to clear your skin and leave behind dewy, clean beauty you OWN.
Within the pages of this all-inclusive PDF ebook, you'll immerse yourself in all-natural cleansers, steams, masks, moisturizers and SO much more.
There's no other natural beauty book like it, tailored just for acne and oily skin. Instead of wading through recipes that won't work for your special skin type, you'll have 35+ recipes only you need for beautiful, healthy skin.
If you're ready to dump the commercial products now and look in your own kitchen for the answers to glowing, clear skin, click the buy now button. Or, if you want more info on what this book will give you, keep on reading!
Buy now! Only $7.99. (PLEASE NOTE: This is a digital file you read on your laptop, tablet, or phone and NOT a physical book.)
(Good news! You do not have to have a Paypal account to order this book. When you add to cart, press "Checkout with Paypal" it will bring you to a new screen that gives you the "Don't have a Paypal account?" option … and from there, you can select credit/debit or check payment. Easy!)
Want to read it on your Amazon KINDLE? Click here to buy it from Amazon.
Think Food On Your Face is Weird?
Ha! Think again.
I've been dabbling in natural beauty recipes for over 4 years now, and have nearly 2 years of direct experience blogging about this exact subject. In these 2 years, one thing's become exceedingly clear: There is absolutely no reason for you to buy bottles of skincare products (containing who knows what ungodly chemicals) to have beautiful, clear skin.
Not only have I dramatically reduced the amounts of pimples I get (to the tune of maybe one small pimple a month) and completely tamed my oily skin, but I've watched as literally HUNDREDS of other women have done the exact same thing.
It's a revolution. It's taking back your personal power. It's putting food on your face, and loving every last second of it.
In fact, watch me make the recipe on page 46 of the book: Calming, Clearing Oatmeal Mask and I'll show you just how EASY this all is:
Your Acne and Oily Skin Problems – Solved, Naturally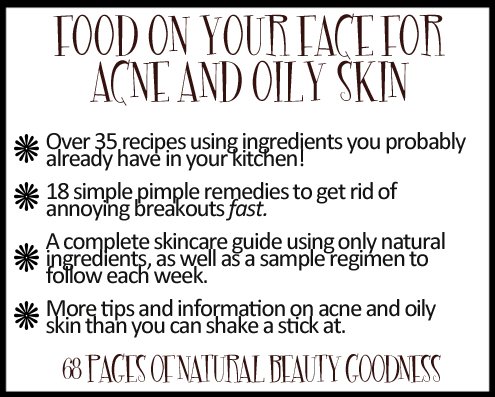 This e-book is for you if you're tired of spending money on skincare products that don't work as well as you think they should (and, in fact, are probably making your acne and oily skin WORSE). It's for you if you're ready to discover the whimsical fun of creating your own beauty products – in your kitchen. And it's for you if you're tired of scouring the internet for options that might work, but you're just not sure. This book is full of sure-fire remedies to tame your acne and return your skin to its natural beauty.
In Food on Your Face for Acne and Oily Skin, you'll learn:
How to use the oil-cleansing method to get rid of your acne and tame your oily skin
The best methods to remove makeup – using all-natural ingredients
Which oils are perfect for moisturizing acneic and oily skin
How to properly perform a pimple-busting, skin-softening, beautifying facial steam (as well as tons of steam recipes and ideas to create your own)
The best ingredients to use for acne and oily skin when making a facial mask (plus 13 facial mask recipes you can use today)
How to get rid of a pesky pimply – fast – using only one or two ingredients
TONS more information you don't have to dig around the internet for hours in search of – and you don't have to wonder if they work; I've done all the testing for you, AND I've received hundreds of glowing emails and feedback on specific recipes and regimens in this book.
Want to Peek Inside?
Here's a screen shot from the "steams" section, so you get a quick look at what the inside of the book will bring you. (PSST – If you're interested in even MORE of a peek inside, I've uploaded the first few pages of the "masks" chapter here in PDF form. Click to look.)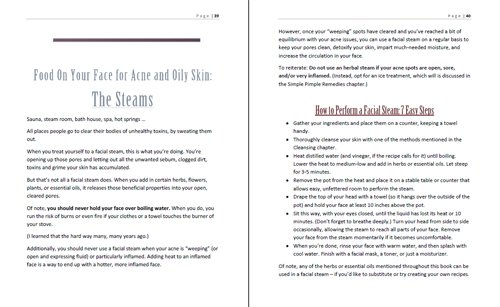 And here's a look at the Table of Contents (click on the image for a bigger view):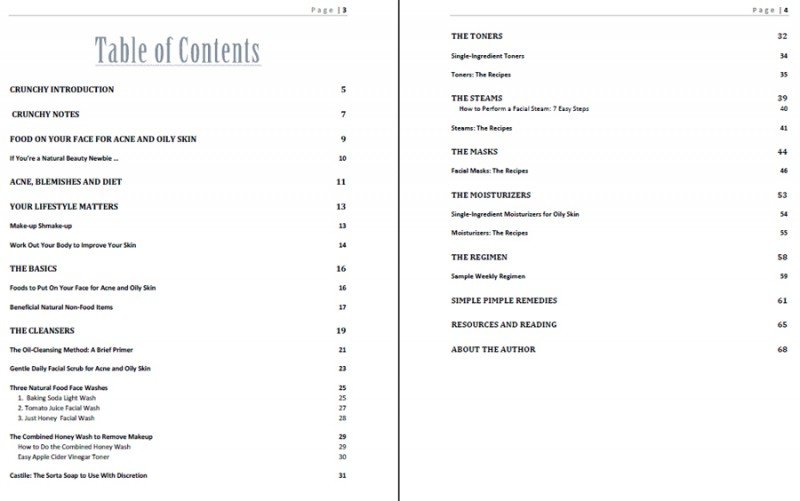 Ready to Buy Food on Your Face for Acne and Oily Skin?
Again, what you'll get:
Over 35 recipes tailored JUST to help you have clear, radiant skin
A chart that's chock full of ingredients perfect for acne and oily skin, so you can substitute ingredients in the recipes with what you have in your kitchen – or create your very own
Essential information on using moisturizers, steams, masks, and toners just for acne and oily skin
A sample daily regimen, so you know when to use what remedies, and how often
Information on diet, exercise, and even meditation to help tame your acne and your skin's oil production
18 simple pimple remedies to get rid of a raging zit, immediately
SO much more information you can use immediately to take your skin back from cosmetic companies and synthetic ingredients
All in a beautiful 68-page PDF file you can read on your computer, or easily print off for your reading pleasure.
Here's where you get the good stuff:
BUY the digital ebook NOW for $7.99
What Other People Are Saying About Crunchy Betty's Food on Your Face for Acne and Oily Skin
"Let me just say that this book is AMAZING! I have always had trouble with oily skin and acne (I got my first pimple at age ten) and was eager to get my hands on this book. Betty covers everything from what foods you should eat to clear up skin to homemade cleansers, toners, steams, masks, and moisturizers. There is even a sample skincare regimen! I know that it will become a staple in my skincare routine." – Heather O. in the Crunchy Community
"Thank you for this book! This is the first time I post on Crunchy Betty (not a big commentator in general), but I've read it already, and I just had to say thank you for putting this information and inspiration out there. I can't wait to get started!" – Stefanie True
"I think the number one thing that struck me after I finished reading the book was just how easy all of the recipes are. I always thought going green would be complicated and expensive, so my laziness prevented me from making the jump for a long time. The first thing I read on your site was the honey challenge, and it totally sucked me in. I mean, it doesn't get any easier than putting one (readily available) ingredient on your face and washing it off with water! It continues to amaze me that all of the ingredients used in your book are not only all natural, but WAY cheaper than all those crazy chemical commercial products – even the most expensive oils. I am definitely head over heels, never turning back, in love with being crunchy!" – Amy Z.