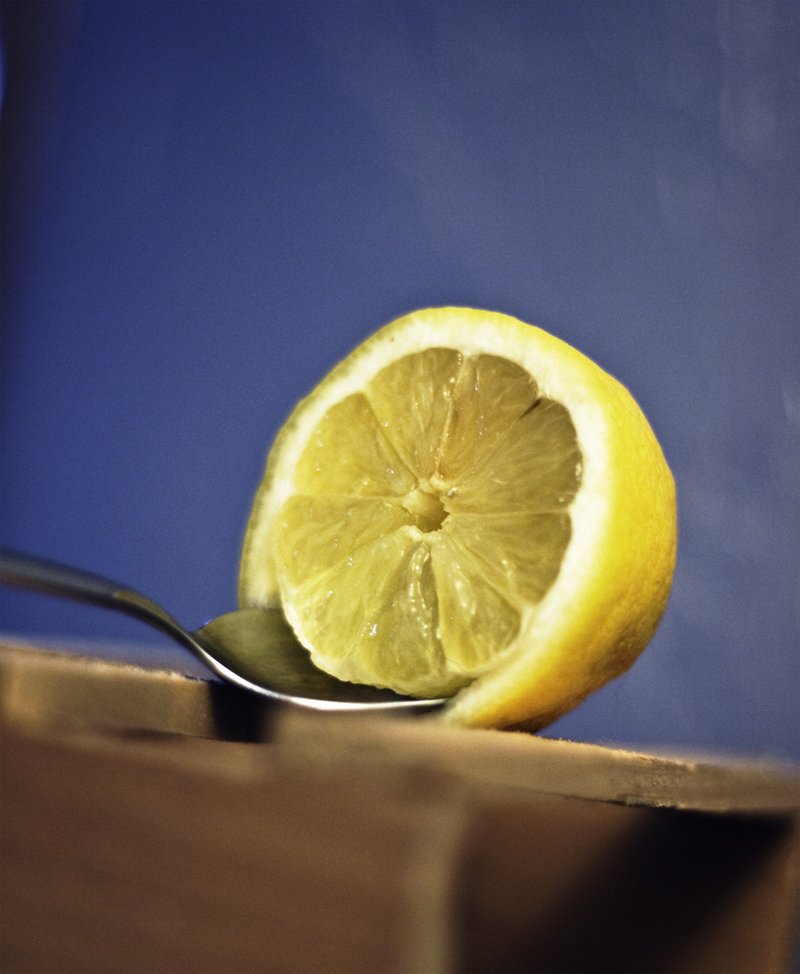 I'd wager a bet that no other fruit works quite as hard as the little lemon. And I know hard workers. I watch them from my couch all the time.
How many times have you juiced half a lemon for a meal and then watched coldly as the rest of it went to waste?
Let's put a stop to that right now. Let's start using lemons to their full potential. Let's make every lemon we use a success, an over achiever … a winner.
Here are 19 things you can do with your leftover lemons. I've done almost every single one, and can attest to the yellow fruit's mighty power.
My favorite thing to do with leftover lemon is the first thing on the list. Not surprisingly, it's also the easiest. You know, because I watch from the couch and all that …
19 Handy Things to Do With a Little Leftover Lemon
Throw it in the garbage disposal. At the end of the evening, after dishes are rinsed and bellies are full, put half a lemon in the garbage disposal. Run hot water for a few seconds, and then run the disposal for a few seconds to lightly chop the lemon. Then leave it there overnight and finish the job in the morning.
Treat acne. Rub half a lemon on a clean, pimply face. Leave the juice for at least 20 minutes. (Avoid the sun for a few hours, as lemons can exacerbate sun sensitivity.)
Quickly clean a microwave. Squeeze the juice out of half a lemon and put it in a 1 cup of water in a microwave-safe bowl. Run the microwave for 5 minutes. The lemon juice steam majorly cuts down on wiping-off time.
Whiten clothes and fabrics. As you're filling your washing machine with water, dump 3 Tbsp. juice in and let it do its job.
Soothe sunburns. Rub half a lemon (or even the cut side of a juiced lemon) over achy burned spots. Soothes on contact!
Scrub stuck-on food. Pour a little salt on half a lemon and go to down on the crusties left over from cooking. This was especially helpful on the glass pan full of baked spaghetti I left in the oven for far too long.
Get rid of corny feet. If you're blessed with corns on your feet, try cutting a tiny bit of lemon peel. Rub the white side over the corn and then tape it to your foot for a few hours. Repeat if necessary.
Banish greasy hair. After conditioning your hair, use 2 Tbsp. and 3 cups water as a final rinse. Beautiful, darling!
Freshen musty areas. Remove the meat from half a lemon slice and fill with salt. Stick it in stink-prone areas, like we covered in this post.
Freshen the whole house. Toss some lemon peels in a pot of water and let it boil gently until the water's gone. The whole house is now lemony fresh.
Wash your face. Add lemon juice to two slices of cut cucumber and wash your face with it. Soothes, clarifies, and brightens skin.
Whiten and brighten fingernails. Either juice half a lemon in a small bowl of water and soak your fingernails in that for 10 minutes, or just put your fingernails directly into a juiced lemon and let them sit for a while. Finish with a vinegar rinse, and your fingernails are stronger and brighter!
Sanitize a cutting board. Run half a juiced lemon over your cutting board/chopping block after you've washed it. Not only will this sanitize, but it'll help fade stains.
Whiten discolored elbows, heels, and knees. Just rub half a juiced lemon over the spotty areas and watch them disappear.
Add highlights to hair. Who didn't try this as a kid? But it works! Select small chunks of hair to highlight and rub lemon juice on them. Stay out in the sun for a couple of hours. Beach bunny, that's what you are.
Quickly clean stuck cheese off a grater. I used to spend many eye-rolling minutes trying to get mushed in cheese off the grater. Not anymore. Just rub half a juiced lemon over the stuck-on spots, and they quickly unstick and clean.
Lighten age spots. Wherever you have darkened spots of telltale aging, dab a little lemon juice for a couple of days in a row. Lightened. Vanishing. Done.
Get rid of dragon breath. Squish a little lemon juice in a small bit of water and swish it around in your mouth for a few seconds. Swallow for extra freshening, for aid in digestion, and for a nice jolt of vitamin C!
Make your own fruit and veggie wash. I have yet to try this, but it sounds so promising – and CRAZY inexpensive! Mix together 1 Tbsp lemon juice, 2 Tbsp vinegar, and 1 C. water. Go to town on your fruits and veggies before eating them.
One reminder: Lemon juice increases sensitivity to sunlight, so don't go gallivanting about in the daylight after using it on exposed skin.
I don't own but happen to know about a book called Lemon Magic: 200 Beauty and Household Uses for Lemon Juice. Clearly, my list has fallen short of 200. I'm leaving out a bunch.
Do you have any favorites I've left out?
In puckery-faced crunch!