Never has the comment section overwhelmed me in a productive sort of way as much as the last post. All your ideas were brilliant and so very, very original.
However, three of the top comments were energizing enough to get me off my butt and immersed in lemon. I had to try them immediately. And they are worthy! So worthy of praise and a dedicated blog post.
But before I get to the three we'll highlight here, let's look at a few more fantastic ideas (and by no means are these the only good ideas, so if you missed out on the lemon ideas last time, revisit them!).
Chandra said told us that her dog hates lemons (I wonder if that's a typical thing?), so she rubs them on the edge of her trash can to keep the dog from poking around. Brilliant outside-the-box thinking!
Kristina infuses her vinegar with lemon peels for extra boosted cleaning solution.
Cadelle uses lemon to relieve heartburn (it works just like vinegar, only it's tastier)!
Mjerrie and a few other people suggested using lemon as a natural deodorant. Just make sure to wait a bit after shaving until you apply it. Owwie!
And, way back in Crunchy Betty's infancy, we talked about 19 Handy Things to Do With a Little Leftover Lemon (which I completely forgot existed until today). Imagine that.
Now for the good stuff. Three brilliant ways to use lemon, brought to you by … you!
Lemon-Milk Alpha Hydroxy Mask
This is the top-voted comment, and with good reason. It's a simple, ultra inexpensive, and very effective facial mask that lets you harness the power of nature's natural alpha hydroxy acids (instead of spending jillions on special creams).
Crafty Kate suggested using half-and-half, but I didn't have any, and full-fat milk will work in a pinch. The extra fat in the half-and-half will make for a thicker mask, but you can get the same benefit by using plain milk (again, make sure it's whole milk).
Here's how it works: Both milk and lemon contain natural alpha hydroxy acids, but they also work in tandem – over a few hours – to really enhance the AHA content. The lemon juice curdles the milk, which causes the bacteria in the milk to go crazy producing lactic acid (the alpha hydroxy acid in question). After a while, you have a super charged AHA mask that costs pennies – literally.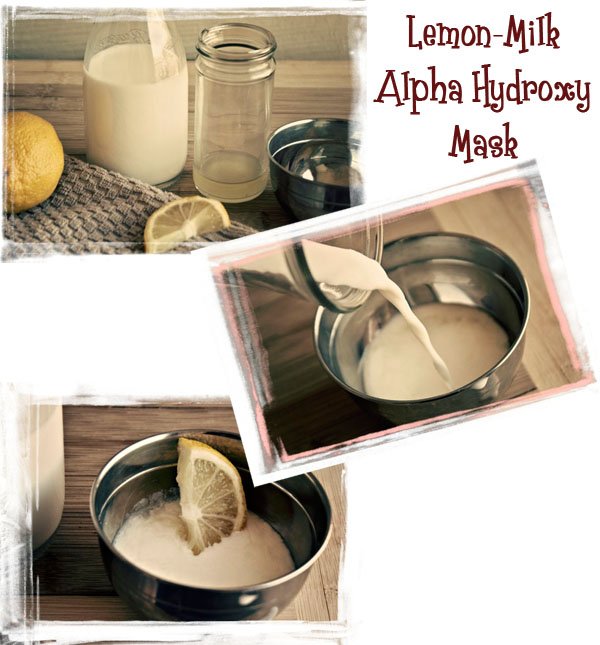 This is how I made mine:
Lemon-Milk Alpha Hydroxy Mask
1-1/2 Tbsp full-fat milk
1-2 tsp freshly squeezed lemon juice
1 small wedge of sliced lemon
Small bowl
In your small bowl, combine the lemon juice and milk. Stir well, and dunk in the lemon wedge. Leave this on the counter (do NOT put this in the refrigerator, or you stop the bacterial process that you want). It will curdle and look funny; this is good. After 3-4 hours, spread it on your clean face and leave on for 15-20 minutes. Rinse well.
(Note: Be careful for a few hours if you're going out in the sun after this mask, as it will cause photosensitivity.)
This made my face sooooooo soft, and it brightened it up immensely, even smoothing out some weird skin tone issues I have on my cheek. HIGHLY recommended, and it's a superb way to use lemons … outside the box.
Thank you, Kate!
Lemon, Baking Soda, and Salt: Clean and Deodorize Your Cutting Board
I couldn't wait to try this idea from Alison S., because my cutting board stinks like garlic. And it was pretty stained. And sad. And … shameful. And stinky.
I figured this was something not just any old lemon could handle, so on Alison's advice, I added salt and baking soda to the brew. When I was done, it was like a brand new cutting board. Especially after I let it dry and then mushed on some homemade wood polish.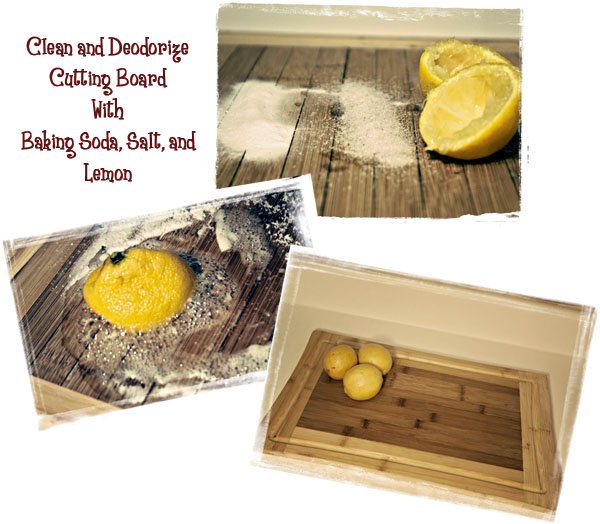 Here's how I followed Alison's directions:
Sprinkle a bit of baking soda and salt onto your cutting board.
Using a lemon that's been mostly juiced, scrub around the cutting board and watch the cleansing froth do its work.
Concentrate on stains or especially fragrant areas.
Let this sit for 5 minutes.
Rinse very well.
Easy as can be. And it's not just clean and deodorized, it's also disinfected. This is great if you have a wooden cutting board like mine that has a crack or two between the boards (a fun place for bacteria to live).
Thanks for the idea, Alison! You've made my cutting board very, very happy.
Add Lemon to Ice Cubes – Or Go Fancy With a Cucumber-Lemon-Mint Cube
I have to admit, I've taken great liberties with Now7zen's idea (which was: "I use the zest of all used lemons plus as much juice as I can still get and put in ice cube trays with a bit of water and freeze for lovely tasty cubes in beverages").
See, I used to go to this salon that served refreshing, ooh-la-la cucumber water in the waiting area. I always told myself that I'd be that fancy at home, but the one time I remembered to cut cucumbers and put them in a pitcher of water, I only managed to drink one glass of it. And then two days later, all I had were mushy cucumber blobs in the bottom of my water.
So this idea got my brain cranking. What if you juiced the cucumbers and lemon and added a few sprigs of mint, and then turned them into ice cubes? WHAT IF?
And then … then you put the ice cubes in water, and as they melt, they infuse the water with the cucumber-lemon-mint goodness.
This is exactly what I did. And it is everything I dreamed of, and more.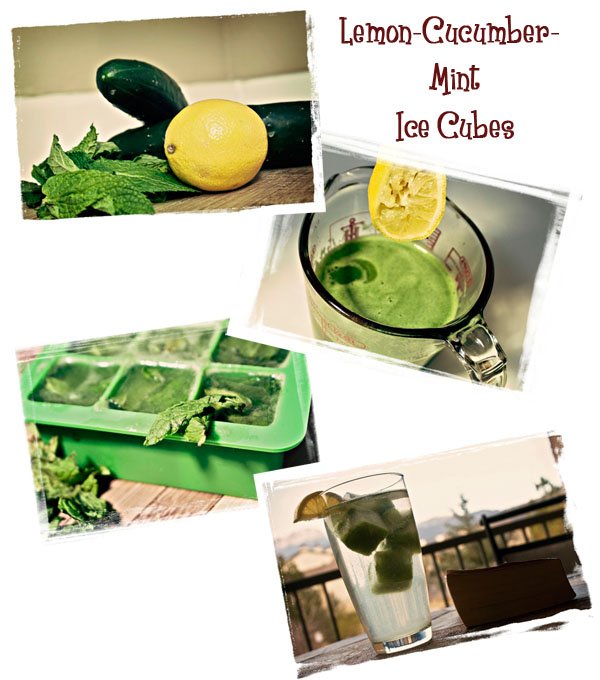 Here's how you do it:
Juice 2 or more cucumbers (depending on how many ice cubes you want). If you don't have a juicer, you can use a blender or food processor to do the juicing, and then just strain out the pulp through a fine-mesh sieve or a cheesecloth.
Add the juice from 1 lemon and stir well.
Pour into ice cube tray(s). If you don't have enough juice to fill the entire ice cube trays, just fill them half full and then top them off with water. No biggie!
Drop in a few pieces of torn, bruised fresh mint.
Freeze, and then add to plain water for a healthy refreshment!
Keeping the Ball Rolling … Do You Have Any Other Ideas for Flavored Water?
With summer coming up, it's a great time to make a healthier drink for the kids and family than stuff like Gatorade or Kool-Aid.
I know there are a million ideas out there about easy ways to flavor water with REALLY healthy ingredients, whether or not it involves juice-saturated ice cubes.
Do you have any ideas? (I'd LOVE to feature them in an upcoming post on Crunchy Betty in a few weeks.)
Let's hear 'em. Refresh my brain.
P.S. One final THANK YOU to those of you who are featured here, and EVERYONE who left brilliant comments about what to do (outside-the-box) with lemon. You guys complete me.