What can you do with a wooden spoon?
Quick. Think about it. You can stir things, right? Like soup. Or pudding. Or pudding soup.
But if you took a little more time, you crafty people could think of a million things to do with a wooden spoon. Maybe whack a sarcastic spouse playfully on the derriere? Attach it to the wall with a screw and use it as a towel holder? Hang a bunch from the ceiling as a rustic chandelier? Or just chop it into pieces and use it as kindling.
You've already come up with eight better ideas than I have, I'm sure of it.
My mother, a former gifted teacher, used to play this game with her kids all the time. She'd give them an object of some sort and then 10 minutes to list all the crazy, unique, or possibly useful things they could do with it. It helped them become problem solvers; it encouraged them to think outside the box.
It also may or may not have resulted in detention for inappropriate use of cafeteria applesauce.
With all this in mind, I'd like to share with you a little something we're going to do on Tuesdays in April. I'm calling it: Tuesdays Outside the Box.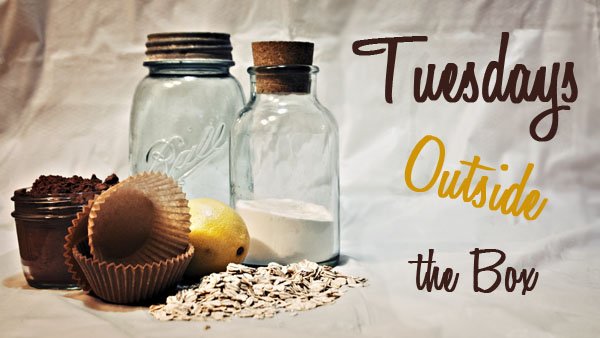 What's Tuesdays Outside the Box? Your Time to Shine!
It all started with something that caught my eye on Pinterest. It was the idea to use a hanging shoe holder for all your various household cleaners. A brilliant idea, mind you (I used to do this for all of my hair ties and other assorted bathroom whatsits back when I had no storage space in the bathroom).
But it was heartbreaking, too, because there were at least 16 different cleaners hanging in this shoe holder. A tub cleaner, a window cleaner, a sink cleaner, floor cleaners, a cleaner to clean your cleaners. You get the idea.
The first thing I thought was, "Jeez. You could clean your entire house with no more than 5 ingredients, if that."
Somewhere, we've been convinced that we have to have a separate cleaner for everything, and that there's really only one right way to clean, or to be healthy, or to take care of your skin. And those only acceptable things all have pretty, shiny labels on them.
Let's break that thinking. This month. And let's encourage other people who are still have their beliefs glued to brand names to start considering that there are, perhaps, a hundred other (cheaper, healthier, more effective) ways to accomplish their chores and soothe their woes.
Here's how it's going to go down:
Every Tuesday in April, you'll have two missions. We'll look at one ingredient and one common problem. You figure out various ways to use that ingredient and/or solve that problem. The more outside the box thinking, the better. And there is NO wrong answer, no silly concepts.
Do you have any idea how much brilliance has come from absolutely ridiculous initial ideas? ALL THE BRILLIANCE.
I'm going to give you the schedule of ingredients/problems today, so you have time to prepare. You'll have plenty of days to ponder these things, do a little snooping on the internet, and come up with the solutions you think will work best in your life.
On Tuesdays, along with the theme, I'll open up Crunchy Betty for bloggers to share posts they've written about their solutions/uses. We'll do what's sometimes called a "blog hop," but I'm going to call "A Tour Outside the Box."
If you're not a blogger, don't fret, you can share all your ideas, recipes, and genius in the comments, which are JUST as important.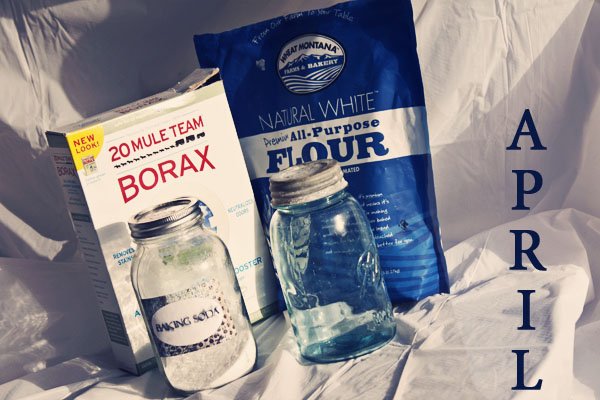 Ready for the schedule?
April 3:
Things to do with flour.
Ways to cope with or alleviate seasonal allergies.
(Get it? Flour and allergies? PS. The flour doesn't have to be wheat – it can be garbanzo bean or spelt or … whatever)
April 10:
Unique ways to use and/or decorate glass jars.

Finding easy ways to grow herbs, veggies, and other plants – especially when you have limited yard space.
April 17:
What can you do with borax?

Ways to deal with unruly, greasy, or otherwise unsavory hair.
April 24:
The many surprising uses of baking soda (though if you only want to deal with your one favorite use, that's cool, too).
Soothing aches and pains without popping a pill.
Now, you can choose one or both of these things to ponder, stretch your mind about, or write about. You don't have to prepare for both. And they can be anything – from crazy ideas you came up with out of your own head, to putting into play something you've seen on the internet … just be ready to stretch a teeny, tiny bit out of your comfort zone.
On those Tuesdays, I'll give an idea or two about each thing, but the star will be YOU and your beautiful mind.
Are you ready for Tuesdays Outside the Box?
The Almost Tuesdays Outside the Box Mascot
I seriously spent two hours on this, so even though Garlichead Apricotlips McDuckface isn't going to be our official mascot, I'm sharing him with you nonetheless. He just wouldn't stay together long enough to take pictures; plus, he's really freaking creepy.
But you'll probably love him anyway, because he came from my heart.
And by heart, I mean he came from a 10-minute trip to the store followed by two hours of toothpick stabbing, chocolate chip eating, and childish lamenting about my artistic skills that rival that of a 3-year-old.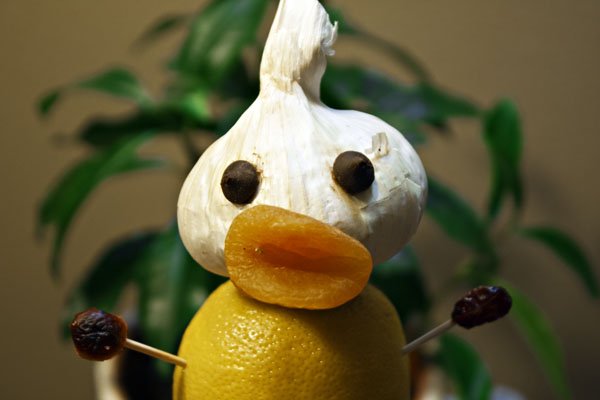 My point in sharing is that there really is no stupid idea, because no matter how it turns out, you learn something. Like how garlic-drenched, broken chocolate chip eyes make your tongue really mad. And the next time I go to make a rag-tag, slightly-edible mascot for a Crunchy Betty feature, it'll be much better. Probably a hippo made of potato and prunes.
In FACT, check out my very first attempt at mascot-making. Talk about SCARY. This is Monsieur Pucker: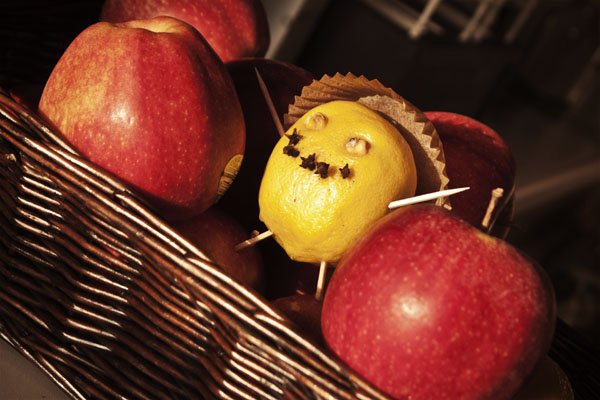 See what I mean? The more you stretch your ideas, the better they get. But you have to start with something utterly crazy; and eventually you end up with something completely normal, like a duck with dried cranberry hands.
And, so, while Garlichead Apricotlips McDuckface takes a relaxing bath after retiring from the mascot business …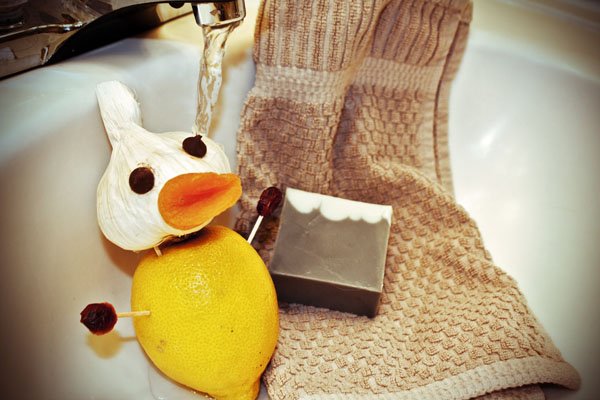 … I ask you again, are you ready to take on the challenge of Tuesdays Outside the Box?
In preparation, why don't we get started today?
Can you give me ONE good idea of what to do with Garlichead McDuckface's body – the lemon? What is your favorite traditional or, even better, a brand new, crazy nontraditional way to use a lemon?
Go nuts!