Yep! It's Tuesday already, so we're thinking outside the box. AGAIN!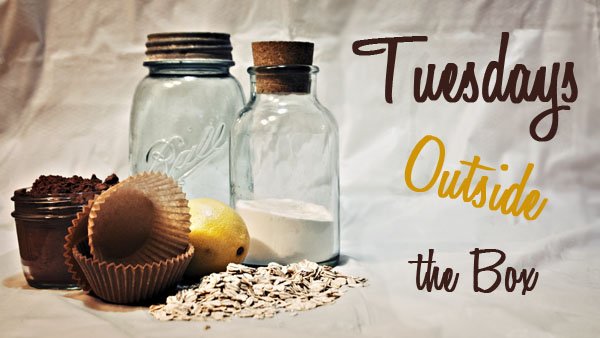 Do you remember that time I totally cheated? No. You probably don't, because it just happened.
For this Tuesdays Outside the Box, I've actually combined both ideas into one; or, rather, let's just say there's a whole lot of herbs up in this blog post right here. I'm not sure if combining the two is cheating, or just downright awesome. You be the judge.
Remember, if you've ever blogged anything regarding alternative uses of old jars or ideas on small-space gardening, TODAY is the day to link it up at the bottom of the post, so everyone can enjoy your genius. And if you don't have a blog, but you have an idea, LEAVE A COMMENT OH MY GOSH PLEASE.
Thank you.
Now, today's Tuesdays Outside the Box was chosen because small-space gardening is something I really, really, really need help with. My thumb is not green. It's the opposite color of green. A little maroon maybe? I've almost mastered the easy-peasy art of keeping herbs, but the thought of growing anything else sends me into spasms of fright.
So my contribution to thinking outside the box for small-space gardening is just this little tea party herb garden I put together. Oh, and my jar contribution? It's just kinda, you know, whatever …
Tuesdays Outside the Box: Small-Space Gardening
Here's the "tea" party (wouldn't it be fun if I was actually growing tea in these containers?) that sits outside on my deck table (now that the weather is warmer):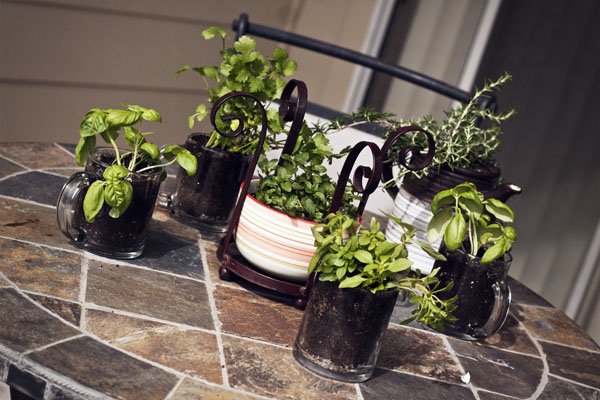 Originally, the concept was supposed to go like this: The herbs in the mugs would hang on the "mug rack" in the middle, tilted up just enough to make sense. Instead, this is what it looks like when it's put together the way I conceptualized it: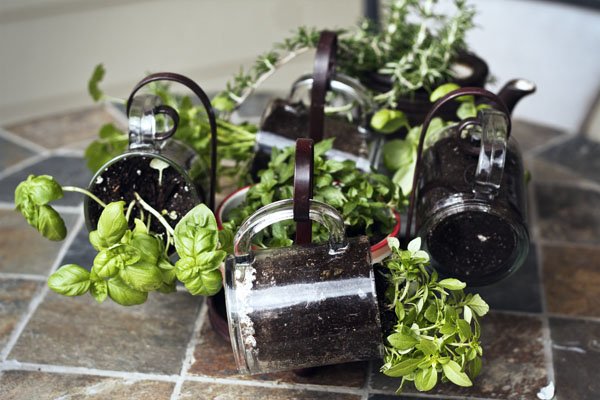 As you can see, the mugs had no intention of tipping up to any degree, so instead, I set it out as if I'm having an actual party for actual friends who will soon be drinking dirt and herbs.
The cool thing, though, about my little concept, is that it cost about $7 total to make (not counting the seedlings … with the seedlings the total was about $25). I bought the glass mugs at the dollar store, and the tea pot, stand, and bowl with mint in it, I got at the thrift store on their half-off day.
I love the half-off day. So does half of the city.
On half-off Saturdays, it feels more like you're in a mosh pit than in a thrift store. Hardcore thrifting.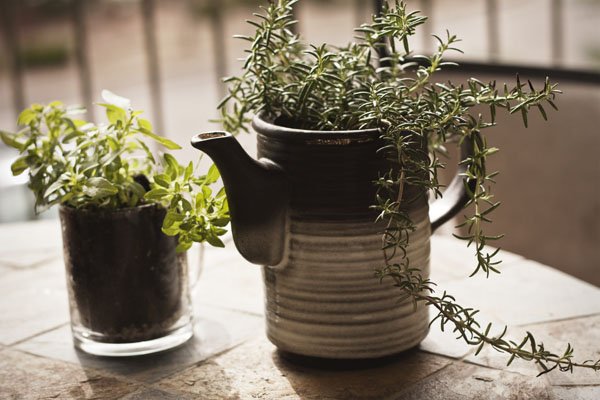 As you can see, my rosemary is doing incredibly well. As is my fancy spicy basil there in the background, and the cilantro, too, even though its container is so very small. I'm having some problems with my basil, though, so maybe someone out there can help me.
I know the containers are a little small for basil, but they're beautiful and perky when I keep them out of the sun. Is that normal? I thought basil needed a lot of sunlight, but mine seems to be the exact opposite. Basil is my herb gardening Achilles' heel, so if you have any expert insight on how to raise a healthy basil baby, please share it.
So my outside-the-box tip for herb gardening is this: Get funky with your containers. Visit your thrift shop and see what totally fresh ideas you can come up with.
(Just make sure you put small rocks at the bottom of your containers, for drainage purposes, especially if you're growing in small containers like I am.)
Tuesdays Outside the Box: Using Old Jars
This, my loves, is my piece de resistance. Words cannot describe how happy I am with the way this turned out. And this is also where I cheated.
My problems numbered in the twos. I needed somewhere to grow lemon balm, sage, and thyme, and I also needed to get started decorating my new place. Not only am I a skittish gardener, but I am just ghastly at things like spacial reasoning (which is great for decorating) and drawing a straight line (also good for decorating).
But today. Today I faced two of my biggest challenges and kicked them both in the complicated butts.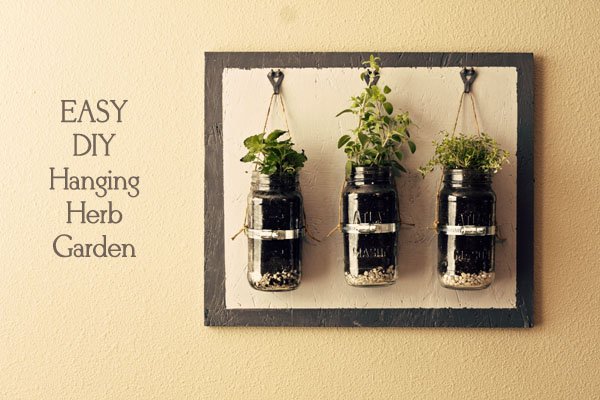 Before I tell you about it, I need you to forgive me.
Forgive me for not documenting the steps I took to make my herbal hanging garden. Truth be told, I was prepared for it to fail – big time – and I had no desire to have photographic proof of my colossal tragedy.
I'll tell you how I did it, but understand that I may have to use terms like "thingies" and "hook whatsits."
First, let me tell you what I used (also followed by the price, so you can get an idea of how cheap this was):
Three old jars, reused (free)
Scrap plywood from Lowe's (Free! They just gave it to me! Check in the section where the wood cutter is and see what you can find)
Two small trial-sized paints ($6 total) – I have TONS left, and they're two of the colors I want to use for my bedroom decorating, so they will see much more use
Two push-in picture hangers ($1)
Three hose clamps, found in the plumbing department ($3)
Twine (leftover, not sure how much, but let's say $0.15)
Hooks ($2)
Seedlings, soil, and rocks (approximately $12)
Total: $24.15
Not bad for a piece of art that's actually functional, right?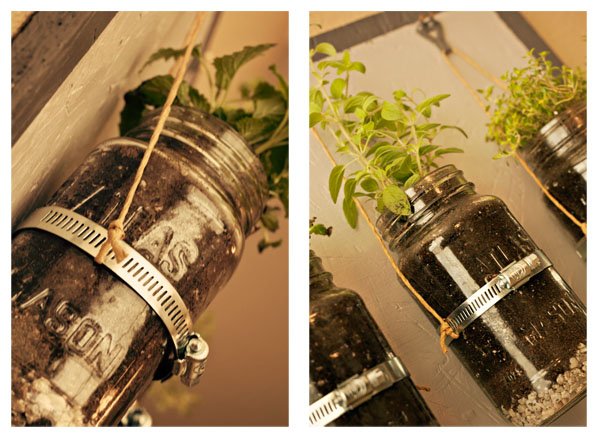 This concept actually came from something I pinned a million years ago. Only, instead of storing Q-tips, I'm storing gorgeous greens. I have to give her inspirational credit, though I didn't do it exactly as she did.
Instead, here's what I did:
Painted the majority of the board the lighter color and then let it dry. After it was completely dry, I taped off the straight lines for the edges and painted the darker color along the edges and sides. Let that dry completely.
In the meantime, planted herbs in the jars, making sure to use small rocks at the bottom for drainage. Drank a glass of iced tea. Thought about feet and how weird they are.
Secured the hose clams to the jars and tied the twine to each side, measuring (mostly accurately) by eye to make sure the jars would hang mostly level.
Measured out where the hooks should go and then secured them to the board.
Hammered in the picture hangers to the back. Hung it on the wall.
Attached the mason jars to the hooks.
And voila: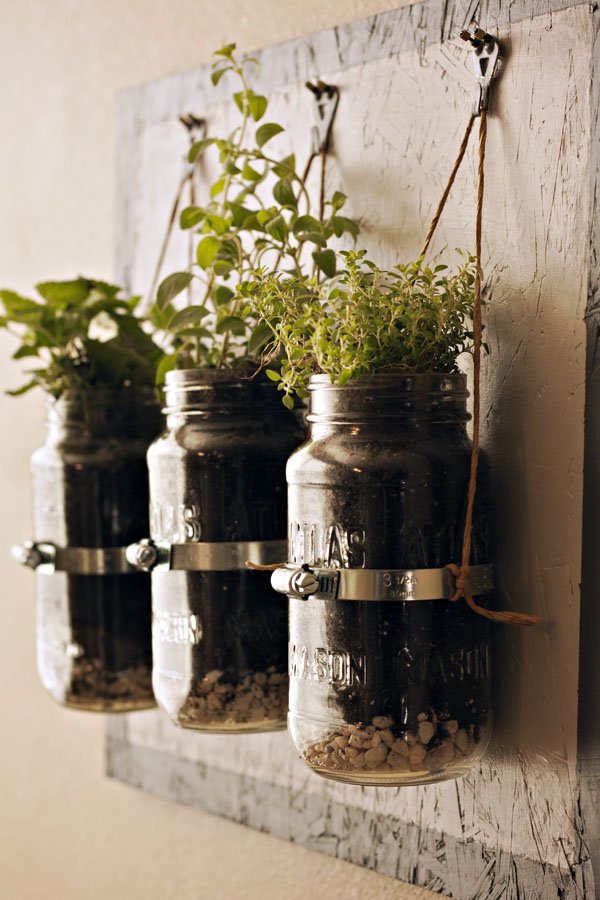 If you didn't notice, I'm really proud of this.
It's like … like I became an adult today.
Adults put rocks in the bottom of their herb jars, by the way.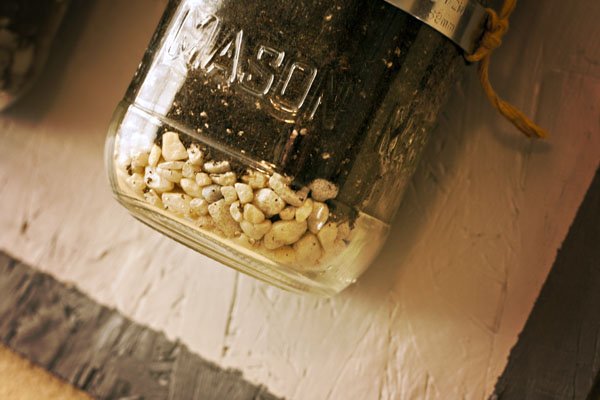 You should probably look at it one more time.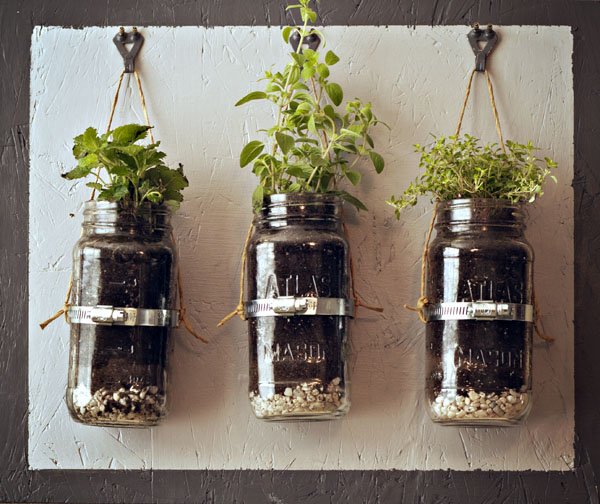 Alrighty.
Now we're done with me.
Share Your Tuesdays Outside The Box Ideas HERE!
What neat-o ideas do you have for small space gardening? (If no one mentions the everlasting green onions or romaine lettuce, I will cry.) Or the best thing ever – reused jars??
Leave your comment now, today, right this very instant.
Or, bloggers, if you have a great idea that goes along with our weekly theme of old jars or small-space gardening, here's where you link up!