Shoot. Running behind today – bit off more than I can chew. So, without further ado, the third of four Tuesdays Outside the Box: Today featuring things to do with Borax and handy ways to fix oily, unruly, or otherwise unsavory hair. Yay!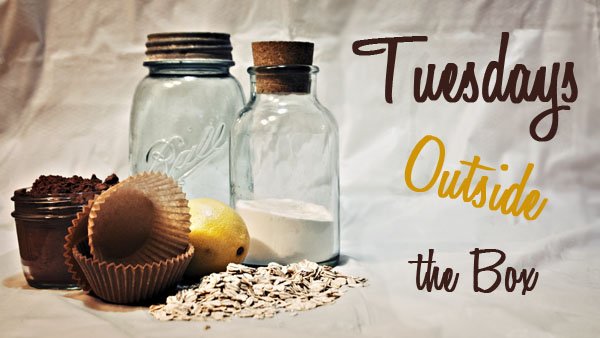 You know the drill by now, right?
If you have a blog post that fits into these categories (using borax or taking care of your hair), you can add them at the end – so EVERYONE can enjoy your genius. If you don't have a blog, leave a handy-dandy comment at the bottom with your favorite ways to handle either of these things.
I'm going to start backward today, because I'm jazzed about the first "outside" the box idea and I've been waiting to share this with you guys for months. It just never seemed to be the right time.
SO.
Tuesdays Outside the Box: Fix That Hair!
My outside the box thinking for this one is, well, REALLY outside the box.
But it works! And, my dears, if you are no 'poo and looking for a fun treatment, THIS is the one.
It.
Is.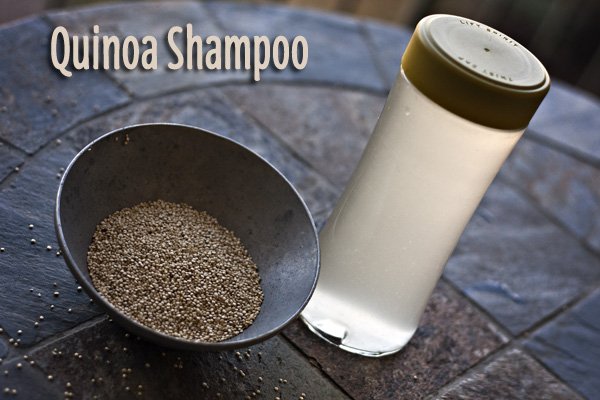 Yes, believe it or not, the super grain, quinoa, actually makes a very mild shampoo. AND it is literally packed full of protein, which should help strengthen your hair and bring it a beautiful shine.
You see, the outer casing of quinoa actually contains natural saponins – much like soap nuts – and if you've ever cooked quinoa (if you haven't, you must … SOON) you know that you should rinse it off first to help wash away those saponins. Otherwise, you end up with slightly funky-tasting quinoa.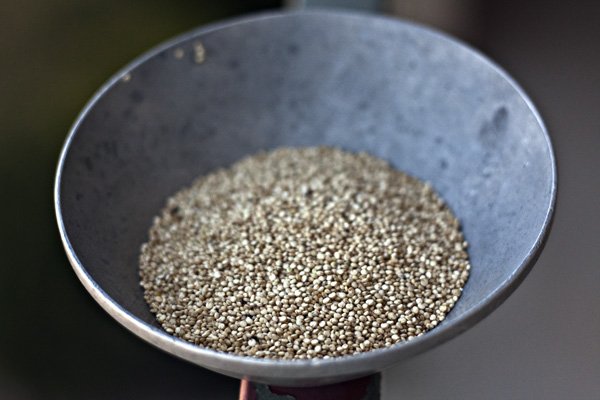 But don't let that rinse water go to waste! Save it, instead, to use on your hair.
Check out what the quinoa water looks like while rinsing/soaking/shaking (you don't have to shake – I just did it for effect, to show you the sudsy bubbles).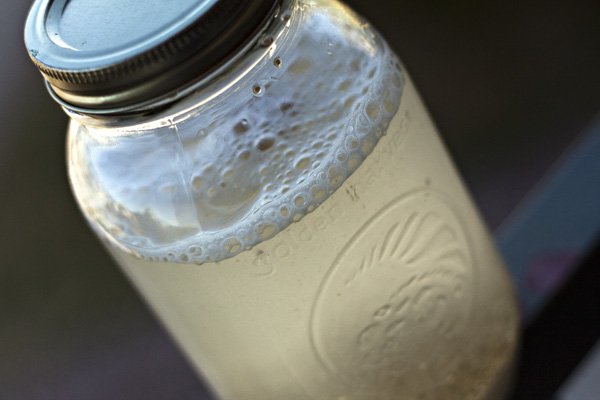 How to use it: In the shower, pour the quinoa rinse water over your hair and massage in lightly. Let it sit for 3-5 minutes and then rinse away. If you're no 'poo, use this just before you use your baking soda mixture. If you DO use shampoo, you can use this in between shampooing and conditioning. OR, add a little bit to your shampoo each time you take a shower for a protein-packed hair treatment every time!
AND, if you've never cooked quinoa, use this recipe for parmesan quinoa cakes to get you started. You will NOT regret it. It's my new favorite go-to dish when I'm lost for dinner ideas. Seriously yum.
Tuesdays Outside the Box: What to Do With Borax?
Instead of taking a traditional turn with borax here (like, say, cleaning … which is what it's GREAT for), I've opted to share one of the least crunchy things I'll probably ever share.
And it has very little practical use.
BUT IT IS SO MUCH FUN YOU WILL CRY RAINBOW TEARS OF FRISKY KITTEN HAPPINESS.
If you grew up in the '90s – or if you had a kid in the '90s – you will absolutely, without a doubt remember these three letters: GAK.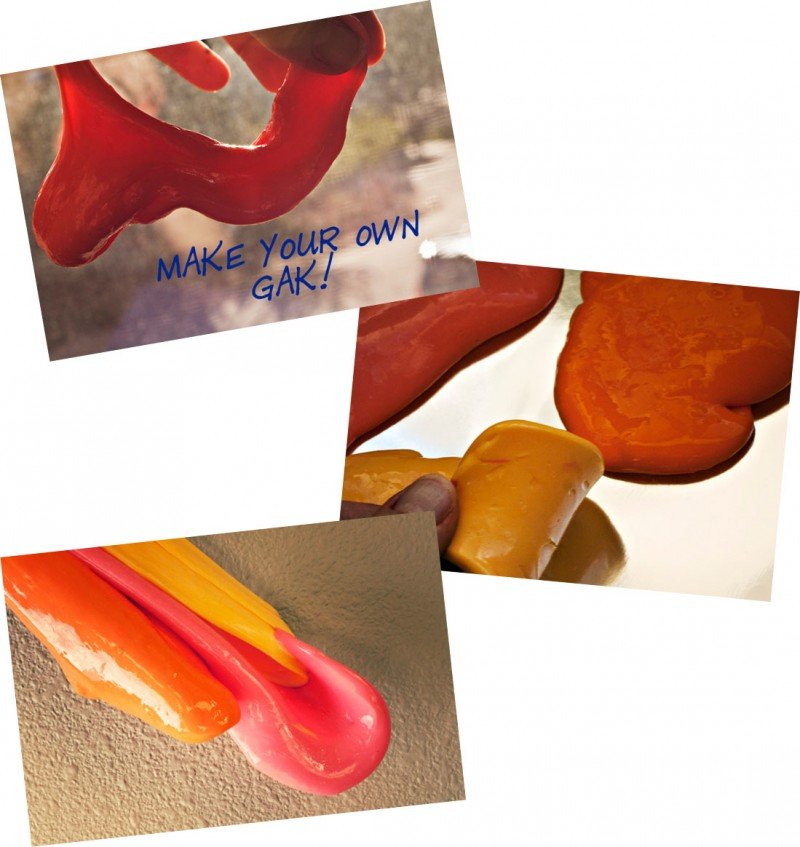 Gak was a ridiculously expensive mushy, plasticky slime that kids begged for. Do do what with? Who knows. It was just … weird.
Well, guess what? You can make GAK at home using four easy ingredients: Glue, borax, food coloring – which is optional, and water!
This would make for a fantastic science project for your older kids, and if you'd like to use it that way, I recommend studying up on the scientific reasoning behind why borax turns glue into GAK here at Steve Spangler Science.
In a nutshell, the borax and glue produce a polymer. That's as sciencey as we're going to get here.
I've made this several times over the last 8 months. Because it's fun. So remember when I said it had no practical purpose? I lied! It's a great stress reliever to play with, and it makes you giggle like a little baby.
How to Make Homemade GAK:
You will need these things: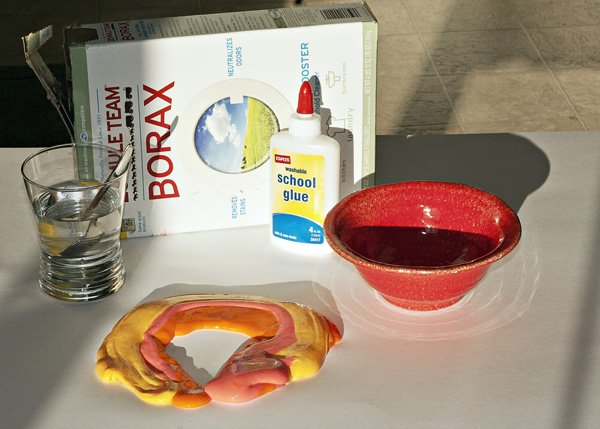 Plain old glue
Water
A bowl and a cup and a spoon
Food coloring (optional)
First, pour some glue in your bowl. I like to use about half a bottle of the small glue. (I bought mine at Staples for $0.99 a bottle, so this is a really, really inexpensive little project.)
Next, drop in food coloring and stir until you reach your desired color.
Now, in a small glass, add about 1/2 tsp (you don't have to be precise) of borax to about 1/2 c. warm water and stir until dissolved.
Here's the fun part! VERY slowly, start pouring your borax water into your glue. Once it starts to stick a bit (which will be immediately), you can just hold the ball of glue in your hand and pour a little bit of water while you mush it around. It is best to mix this with your hands.
Once you reach a thick consistency, where the GAK is only sticking to itself and no longer clinging desperately to your hands, you're done!
No. This does not stain your hands. No. This is not particularly messy, because it "cleans itself up," but I would recommend trying to keep it away from carpet.
This IS a fun way to clean glue off of hard surfaces
For science sake, I poured some glue on different parts of my counter top. I cleaned up BOTH wet and dry glue with a borax-water mixture, and it was so. much. fun. Way more fun than digging in with your elbow grease to get glue off of counters.
I also, though, sacrificed a towel to science, pouring glue on an old ratty towel to see if I could get it all to clump up and peel off using the borax water. This did NOT work. I laid that towel to rest last night, so let's have a moment of silence.
Do NOT try to clean glue off of carpets using borax. The end.
Now It's Your Turn! Share Your Outside the Box Ideas Here!
Don't forget to leave your comment with ideas on either how to fix unruly hair in uncommon ways – or ways that you LOVE to use borax.
And if you have a blog post regarding either of those things, right here is where you link it up and share your awesomeness:



.