I hope you all put your thinking caps on throughout the week to come up with outside the box ideas for ways to use flour or help alleviate seasonal allergies. But! If, for some reason, you couldn't think of any crazy new ideas for either of these things, please share your favorite traditional ideas for either of them.
Because what's inside-the-box and normal for one person may be completely fresh, new, and unheard of for another.
At the end of this post, there's a sign-up form to participate in sharing any blog posts that you've written about these two topics, but if you don't have a blog, PLEASE share your ideas in the comments section. And remember, you can also upload photos to the comments, too, making Crunchy Betty your very own blog.
I'm going to share a couple of fun ideas with flour (one with regular flour and one with rice flour) and then one REALLY simple idea for alleviating seasonal allergies.
However, the star of this production is YOU! It's your ideas and creative thinking we're all waiting to learn about. So do. not. be. shy. Share your hearts out.
(And I actually have several ideas for both of these topics, so if they're not covered by your comments/blog posts, I'll be updating the ideas in the comments section throughout the evening … so keep checking back!)
Now I'll shut up, tell you MY ideas first, and then let you get on with being creative thinking rockstars. Ready?
Tuesdays Outside the Box: Ideas for Flour
The first of my nontraditional uses for flour is something I did regularly a few years ago, when I had a stainless steel sink. Then, I didn't have one, and completely forgot about this tip until now.
Now that I have one again (hallelujah!).
You can use this on your stainless steel sink, or ANYTHING you have that's stainless steel. And it only takes one ingredient.
Yes. It's flour. Imagine that.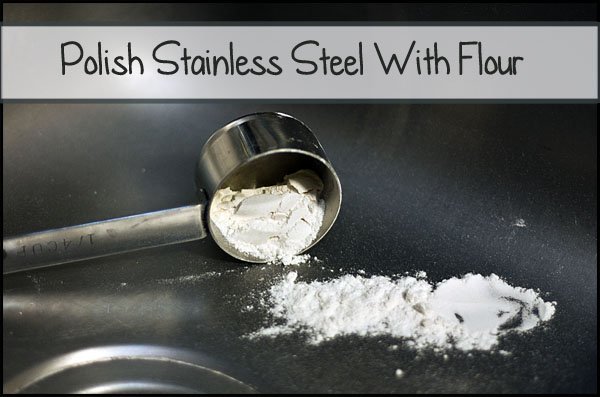 This is so stupidly simple and effective, you'll wonder why you ever bothered with a stainless steel polishing agent ever before this day.
All you do is:
Clean your sink (or stainless steel whatever) as you normally do, making sure to get off all chunks of crud or other sink-like dirtiness. Let it dry completely.
Then, just sprinkle flour all over the inside (1/4 c. was more than enough for both sides of my sink and the tops) and rub it down with a cloth of some sort. It really doesn't matter what kind of cloth.
Just rub lightly.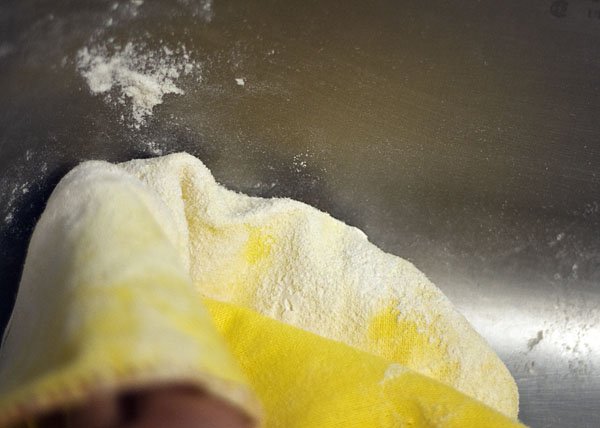 Then dust the flour off completely, sending it down your sink or into your compost bin. Your sinks and stainless steel should be free of all those weird stain-looking marks stainless (ha!) steel sometimes takes on.
Like, for instance, the very old soap container marks that were marring my new sink. They came this way, so I'm assuming they'd been there a very, very long time. However, one polish with flour, and check it out: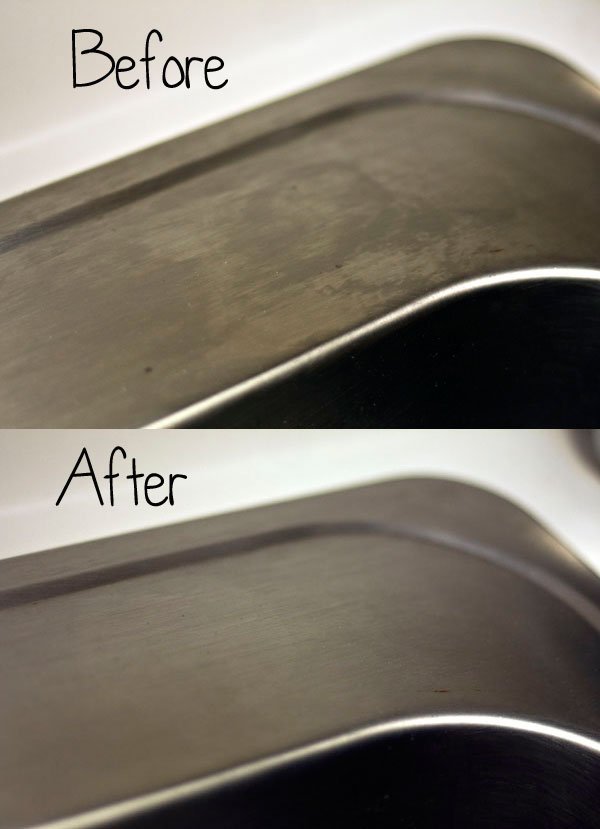 So there's the first idea.
The second incorporates white rice flour with a few other Asian-inspired ingredients to make one lightening, brightening, superfoods-packed facial mask.
White Rice Flour and Spirulina Facial Mask – For All Skin Types
White rice flour is really just an incredible facial mask base, but it's also fab in scrubs and even as a face powder (provided you dust it off well, as it can be a little gritty). It's been used in Asian cultures for hundreds upon hundreds of years as a beauty secret for bright, even skin tones.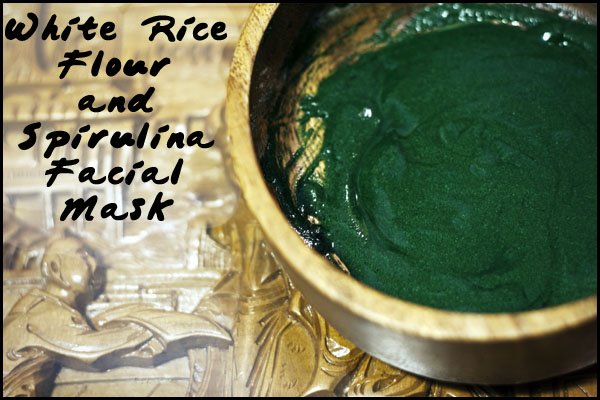 It actually literally lightens the skin to some degree when left on for a while, or used over an extended period of time for a more lasting effect, and is the secret to translucent skin. However, one application of this mask isn't going to lighten your skin entirely – just brighten the complexion a bit.
I've added powdered spirulina (a sea algae) for it's otherworldly nutrient content, some homemade coconut milk (with the cream at the top skinned off to avoid any potential comedogenic issues), and a dash of lime juice for pore-tightening and a tiny bit more skin brightening.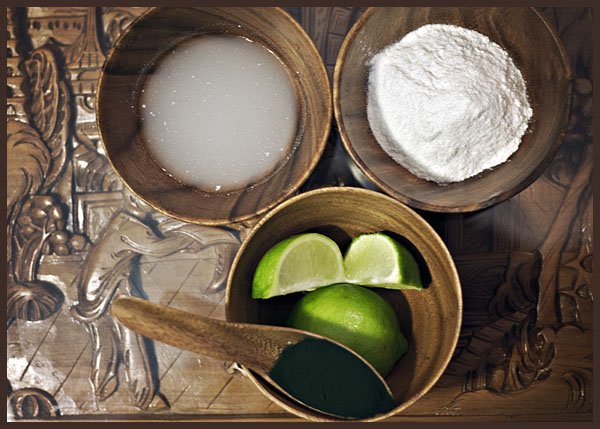 White Rice Flour and Spirulina Facial Mask
1-1/2 Tbsp white rice flour
1 tsp spirulina powder
1-1/2 Tbsp coconut milk (or liquid of your choice)
Lime juice from one-quarter of a lime
Combine all ingredients in a small bowl and stir well. Apply to clean skin and leave on for 10-15 minutes. Rinse well, scrubbing lightly as you rinse off. Finish with a moisturizer (untoasted sesame oil would be GREAT!) if your skin feels a bit dry.
Note: If you do have dry skin, you can leave out the lime juice and substitute a dash of carrier oil of your choice instead.
Seasonal Allergy Remedy
You guys aren't going to believe this. Just how easy this is.
But in the last two years, when I remember to do this, it alleviates my seasonal allergies (which usually only come around in the fall) IMMENSELY.
Here is my most secret weapon: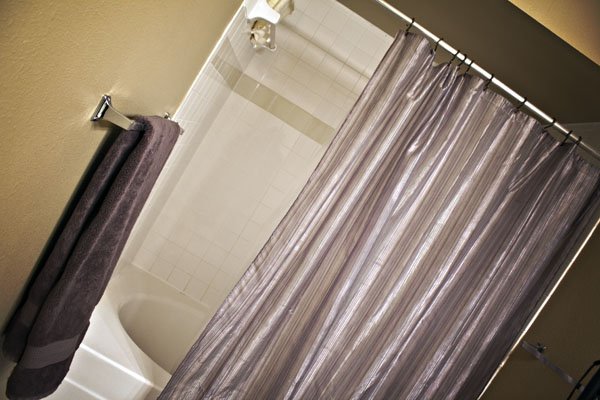 Yep. My shower.
If you shower before bedtime, and wash your hair (or just rinse well), you'll get off all the pollen you accumulated on you during the day. This way, you're not sleeping with a head full of pollen right by your precious nose.
This doesn't help as much DURING the day, but it starts my day off right. Instead of waking up with a headache, itchy eyes, and a nose stuffed to the brim, I wake up pretty fresh and ready for the day.
Of course, there are SO many other ways to help alleviate seasonal allergies, so we'll just sit patiently here and wait for you to share your favorites.
Which is going to happen … right … now.
I'm shutting up now, and leaving the rest of the brilliance to you.
Leave Your Brilliant Idea In the Comments – NOW!