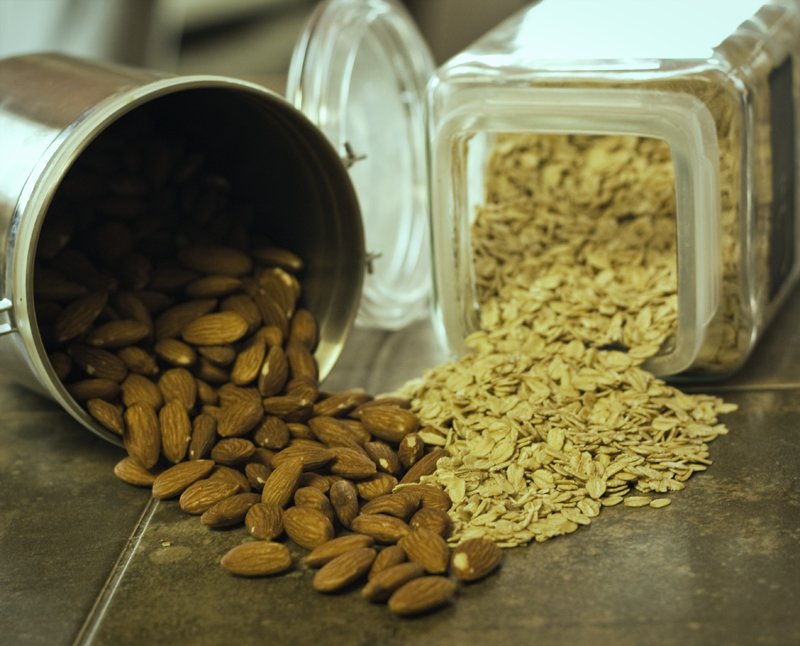 Let's talk about soap, and how you shouldn't use it on your face.
Don't use soap on your face.
Okay. Now that that's out of the way, here's something you SHOULD use on your face, and you can use it daily – or morning AND night, even. I use my scrub typically in the morning (nighttime is reserved for oil cleansing, heavy toner usage, or nothing at all when I'm lazy). This is going to be exfoliating, cleansing, and nourishing for your skin, which always seems like what the skin needs first thing in the morning.
The best thing about this is that it keeps for a reeeeeeeeaaaaaaally long time. They're all dry ingredients, and kept in a closed container in a darkish place (like the medicine cabinet) this will keep for 6 months or longer.
This is an easy, no-frills and no-spoilage approach to food on your face.
Guess what else? The winner of the drawing from the Gallery of Crunchy Betties is going to get a souped-up, super-powered version of this scrub, complete with neem powder (GREAT for any skin type), dried honey powder (see bottom) and MUCH more! That's just one of the fun things that will be included in the giveaway package. You might notice that August is running out of steam here, and the deadline is soon to pass.
If you haven't sent me pictures of food on your face yet, GET TO IT QUICK! Remember, you don't HAVE to blog it – just send me a pic to be entered in the drawing. If you DO blog it, let me know, because the first 10 (and we're only at 7, ahem) still get something special soon.
First the basic recipe, which any skin type can use, or you can tailor it even more specifically to your needs, which we'll touch on at the end.
No-Nonsense Daily Scrub Recipe
1/2 c. finely ground oats
1/2 c. finely ground almond meal
Liquid of choice (water, witch hazel for oily skin, milk for dry skin, rosewater for any skin type) – this is added to the scrub on a single-serving basis, not in master recipe itself
Grind up your oats and almonds (separately is probably best, or the oats might stick to the almonds in processing) and mix together well. Add any of the ingredients below – or use as is.
To Use: Place a small amount, approximately 2 tsp, of scrub in your hand or a small dish. Add a bit of liquid (water, rosewater, witch hazel, or milk) to the scrub and combine well, letting the oats lightly soak in the liquid. Lightly scrub your face with the mixture, moving in an upward, circular fashion. Either let the scrub dry for a few minutes and lightly rinse with warm water, or rinse off immediately.
Finish with a toner and moisturizer, if desired.
Customize Your Scrub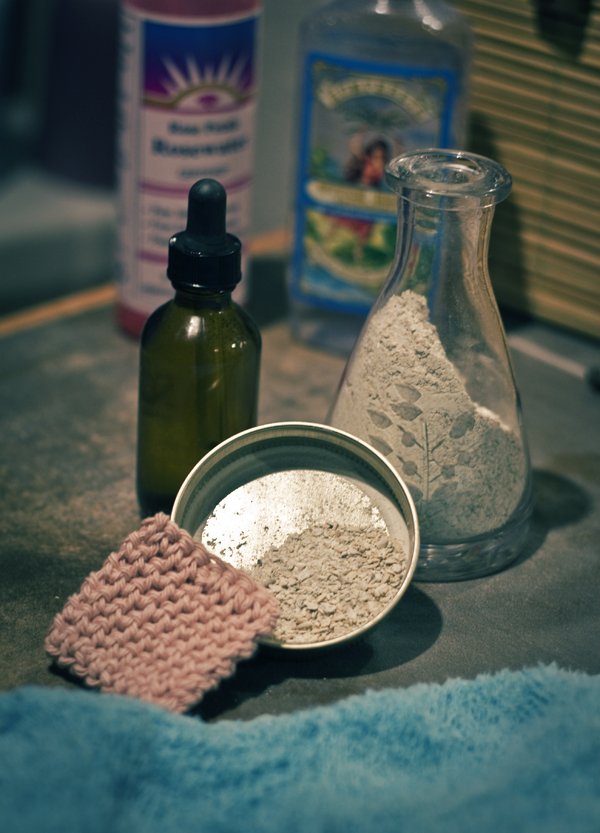 Here are some ideas to tailor your scrub to your exact skin type. Remember, you don't have to add these – but they may help.
Oily Skin: 2 Tbsp. fine sea salt, 2 Tbsp. finely ground dried peppermint, and/or 5 drops rosemary essential oil.
Dry Skin: 2 Tbsp. powdered milk (try to find full-fat, if you can), 2 Tbsp. finely ground dried calendula, and/or 5 drops Roman chamomile essential oil.
And if you have very dry skin, you might find more benefit from using full-fat cream as the liquid you use to wet the scrub.
Combination Skin: 2 Tbsp. cornmeal, 2 Tbsp. finely ground dried chamomile, and/or 5 drops lavender essential oil.
.
.
If you want to get really crazy, one last thing I LOVE to add to my scrubs is honey powder. It's exactly what it sounds like – powdered honey. We've been through the skin benefits of honey here. And honey powder is no different.
I purchased mine at a local spice store, which I'll give a shout out to here, since you can order their stuff online: Savory Spice. But they're not the only place you can find honey powder.
Add 1 Tbsp honey powder to your scrub recipe, iff'n you so choose.
Just Kidding on the Soap Thing
Okay. Not really. Soap really isn't good for your skin – and squeaky clean is never what you want to aim for when you're washing your face. You're stripping vital oils that your skin needs to stay youthful and healthy, not to mention you're leaving behind a residue that's not particularly nourishing. And it does little to exfoliate – what's actually best for your skin's circulation.
It took me a long time to get used to the idea that I don't need to cleanse to a shiny squeak to have healthy skin.
Which is funny, because throughout my life, I've always suffered more breakouts when I use a facial (soapy) cleanser. I just never put two and two together.
I tell you this as encouragement. I know it feels and seems weird not to use a cleanser or soap of some kind, but trust me – it's just not necessary. One of myriad ways the cosmetics industry has you thinking you need to buy more products (which actually lead to skin conditions that make you think you need to buy even MORE products).
Can you break your soap habit?
This recipe should make it just a little easier for you.
In oaty-nutty-healthy-clean crunch!