This blog was founded on one basic principle. One law. One love.
You should put food on your face.
It makes you pretty. It makes you feel, and look, young. It is absolutely fantastic for your skin.
Frankly, this is my favorite way to put food on my face. Bar none. It's quick, easy, and effective. It's perfect for when you've peeled a potato or you have the top of a strawberry with a little flesh still on it.
And there's only one hard and fast rule: Don't do it more than two or three times a week. (Just so you give your face a rest from the fruit acids.) Unless it's citrus; then I'd only do it once a week, because citrus is SO effective, you don't want to overdo it.
And this – this easy-peasy tip that you can do in 2 minutes (work time) or less – this is how you do it old school.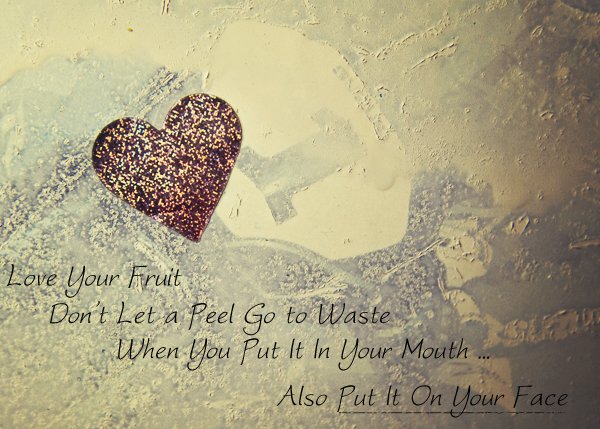 Click right here for the full-resolution download of the above picture; if you want to print it off and hang it on your fridge, so you never, ever forget.
How to Eat Your Fruit and Wear It Too, In Three Easy Steps
Before we get to the hows and the whats, let's talk about the whys.
Why should you put fruit (or veggies) on your face?
A: Nearly every fruit (and many veggies) have antioxidants, vitamins, and other properties (like fruit acids) that are great for every skin type. In fact, when I started this blog, I began by trying to isolate different fruits and which types of skin they'd work best on.
You know what I found? Nearly every fruit is great for any skin type. Nearly all of them help treat acne. Nearly all of them help rid the skin of dead cells, which makes them great for dry skin. Nearly every one enhances complexion. And SO many of them, with time, help reduce the appearance of wrinkles and age spots.
Some of them, however, are slightly better than others for different types of skin. We'll talk about that in a minute.
Here's the tip, in it's entirety:
When you're eating fruit (and any smushy veggie), rub a little all over your clean face. Leave it for 10-30 minutes (depending on the fruit), and then rinse off.
I'm not talking a big, gloppy facial mask. I'm just talking a little bit of fruit juice on your skin for a while. That's it.
It's similar to getting an expensive facial peel at the spa, only without the raw, red skin afterward.
When I say just about any fruit (and many veggies), I mean it: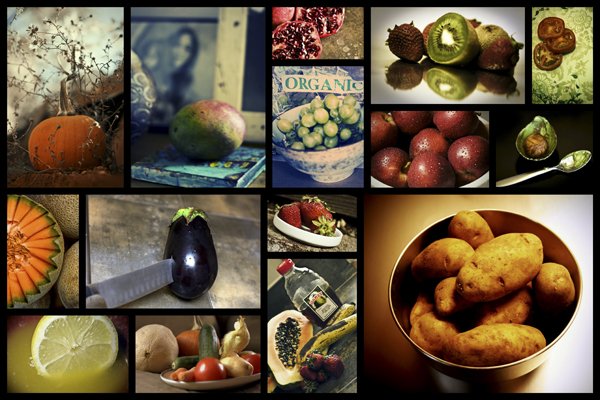 And that's not even the half of them.
Some of my favorite fruits/veggies to put on your face, just as they are, with nothing added:
Citrus: Lemon, orange, lime, tangerines – you can use the flesh/juice itself, or just rub the rinds on your face. Either way, don't leave citrus on for more than 10-15 minutes. Also, it can cause photosensitivity (and lightening of the skin), so be wary of spending much time in the sun for a few hours after you've done this. Best for: Acneic and oily skin, as well as any skin with a lot of built-up dead skin cells. Be careful with broken skin, though.
Berries: Strawberries (great for any skin type, but especially acne), cranberry, grape (great for aging skin).
Fruits: Apples, mangoes, kiwi (especially!), papaya, banana, tomato (great for acne), pomegranate, pear.
Melons: Cantaloupe, honeydew, watermelon (great for dry skin and age spots).
Veggies: Eggplant (great for moles, as it's anti-cancer), avocado (for dry and aging skin), pumpkin, potato (fabulous for acne and oily skin), lettuce, cucumber (for sensitive and dry skin), onions (for acne and oily skin).
How to Slip this Tip in Easily and Painlessly
I am slightly afraid this is easier for me than it would be for some of you, mainly because I don't wear makeup (except twice a month when I go somewhere). My face is pretty clean all the time.
So when I'm eating an apple, all I have to do is slide a slice around my face, leave it on for a while, and then rinse and be done.
If you wear makeup on a more regular basis, it may be a tiny bit trickier. But not much. I recommend doing it in the morning, before you put on your makeup. When you're eating your cereal with strawberries. Or about to fill half a cantaloupe with yogurt.
Slide a little fruit around your face, leave it on while you're eating, and wash it off when you're done.
Or, better yet, come home from work or school and take your makeup off right away. That's MUCH better for your skin, anyway, and then you're always ready for whatever fruit or veggie might be in your future.
Oh, and for what it's worth, when I'm feeling oily, I'll run a potato over my face and never wash it off at all.
It's that good.
What's Your Favorite Facial Fruit?
So many of you guys are old pros at putting food on your face, I'd LOVE to know what your favorite fruit, thus far, is for a skin treatment. Whether you put it directly on your skin, or added it to a mask: What's your favorite "facial" fruit?
Also, if you've noticed one particular fruit doing one exceptional thing for your skin, be sure to share it here.
I cannot stress to you how many people read the comments on this blog and get invaluable information from your input.
Here's to slipping another skincare idea in … on a regular basis!