All this week, I'm going to feature little things I do (or desperately want to remember to do) on a regular basis for more beautiful, detoxified, and clear skin. To wit, they're things you can just slip in to your regular day and hardly even know you've done them.
Every single one of these tips takes less than 5 minutes to accomplish. Over time, though, you'll notice a difference in your complexion, appearance, and – most importantly – the way you feel. In a good way. Fo' sho'.
Today through Thursday will feature a new idea and their purpose, and each day will also have a featured picture with a reminder on it. These photos are some of my favorites that I've taken over the last couple of years. Finally, a reason to show them off.
Underneath each of the pretty photographic reminders is a link to a complimentary high-resolution download. You guys can print them off and tape them to your mirror or pin them to your pin board (or pin them to the virtual Pinterest, even!) so you'll have sweet visual reminders to slip these skin-improving regimens into your life.
If you want. No pressure.
Really. It's up to you.
(Do it.)
Here's the first thing you/we should ALL slip into our daily routines: Water.
Drink Water Before You Do ANYTHING Else In the Morning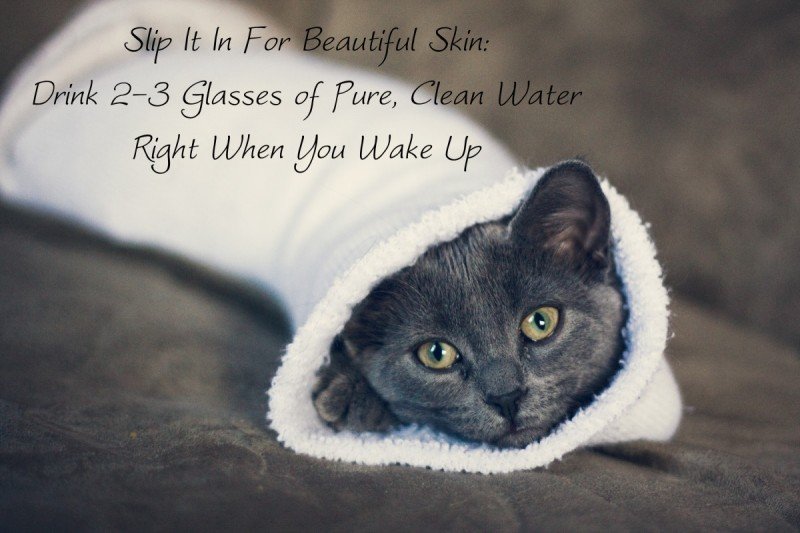 I know what you're thinking.
"Water, Betty? Seriously? If I wanted 'water' as skincare advice, I'd read … oh … just any beauty book ever written."
I admit it; it's over-used advice. Everyone knows that hydrated skin = beautiful skin. And hydration comes, first, from the inside.
BUT! I'm not just talking about hydration. I'm talking about detoxification.
And the best way to detoxify is by drinking water … first thing in the morning. Before you put any other thing in your mouth. (And, yes … I mean anything.)
I've run across several recommendations to do this (mostly on Japanese beauty-advice sites), but it wasn't until I watched Food Matters this weekend that it finally hit home.
Food Matters Makes Beautiful Sense
The thinking is this:
When we sleep, our bodies repair, rebuild and regenerate. A large part of that process is releasing toxins into the elimination system.
If we don't effectively eliminate those toxins, our bodies have a difficult time assimilating the nutrients we put in them over the course of the day.
Water, before anything else, will help those toxins handily flush out of our systems, so they don't stick around for another day (or 40) in our system.
This leaves our body ready for the nutrients we put in it during the day, and cleaner than it was the day before.
Cleaner bodies + more nutrients = healthier, clearer, younger-looking skin.
As luck would have it, I happened to find the exact clip from Food Matters talking about the importance of drinking water first thing in the morning, as well as some of the rationale behind it.
There is also some other more, um, graphic information about detoxification toward the end. You can skip that if you don't like to hear about bowel movements.
David Wolfe (and Charlotte Gerson) talking about the significance of detoxification:
Speaking quickly regarding water intake in general, one thing that I still cannot get over – 5 years later – is how drastically my energy level changed when I started drinking more water. I went from a glass or two of water a day to at least a gallon of water on average.
It was pretty radical.
Water, Water Everywhere … What Kind Should We Drink?
First: Morning water should be lukewarm.
Not ice cold, not piping hot. Lukewarm. Tepid. Warmish. Milk-warm (which is apparently a real thing … thank you thesaurus.com).
Easier on the digestive system that way; makes for a quicker entrance, a happier stomach, and a faster exit. Gentle, simple, fast.
Now for the annoying news: I do think it's pretty important to drink purified water.
Especially in the morning, when you're trying to get all the toxins (and heavy metals) OUT. You don't want to be putting any of those things IN at the same time.
Honestly, that's my personal opinion. I think water, like vegetables, is better for you if it's consumed. If you can't afford or don't have access to organic veggies, eat what you can. If you don't have access to purified water, drink what you can.
But if you do have the means to purified water … make it so.
And for those of you who've asked if Pur or Brita filters count, I'm going to go out on a limb here and say they kinda do. They count more than not having them. They may not get rid of as many things as a Berkey filter does (especially if you have the Berkey component that removes fluoride), but they're better than straight tap water.
Ultimately, though, the most important thing is to drink 2-3 glasses of water.
First thing in the morning.
Before you eat or drink anything else.
And that's the first thing you can slip in to your daily routine … and hardly even notice it.
Do You Have An Aversion to Water First Thing in the Morning?
It's weird, isn't it? So many people seem to really be averse to drinking water first thing in the morning.
I admit, I used to be one of them. Heck, most of the time I still am. Traditionally, Skip's got coffee made when I drag my sorry butt out of bed in the morning. And if there's coffee there, I don't even think about water.
So it's totally understandable if the thought of glugging down 2-3 glasses of water before juice or coffee or milk sounds kinda icky or weird.
Do you think it's worth it, though?