A couple of days ago, I started to notice that I was in a funk.
Like, really in a funk.
Cranky. Angry. Defensive. Hopeless. Lost.
F.U.N.K.
Then, in one morning, several people pointed out that I've been less than positive for quite some time. That they were worried about me.
See, I'm not particularly hard-wired to be positive. It's something I have to work at. It's something I have to remember to be sometimes.
Sometimes I'm just poopy because I forget to wake up and smile. And then I forget to eat breakfast and smile. And then I just forget to smile.
But this time … this I could trace back.
Here's the story of The Sad Magnet. I hope you enjoy. It took me my crack design team a good part of 3 hours to come up with the illustrations.
The Sad Magnet
Illustrations by: Crunchy Betty
Story by: Crunchy Betty
Two months ago, someone said some mean things to me.
They weren't particularly true. They weren't anything I asked for or wanted to hear. They were just mean.
They were like a sad gift. Full of mean stuff.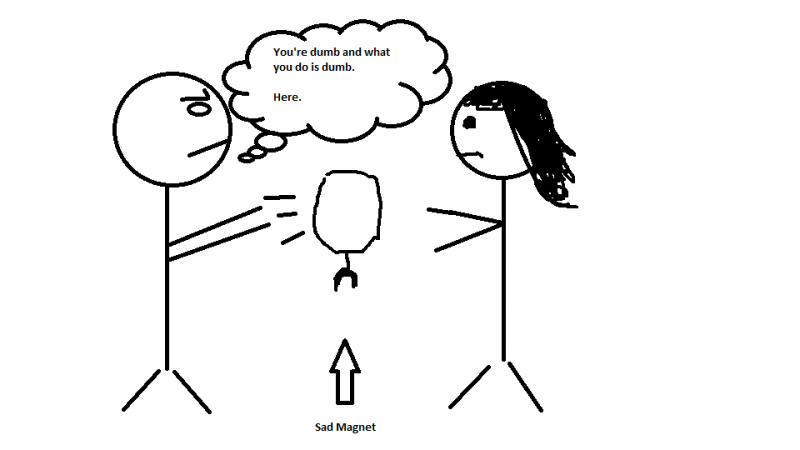 And instead of ignoring them or letting them go, I accepted them. I decided to make them a part of my story. A part of my life.
So I put these words – these ideas and sad things that weren't mine to begin with – on and carried them around with me.
At first, I didn't know it was a magnet. It was just something I pulled out and looked at sometimes.
Because sometimes I like to feel sorry for myself.
boo hoo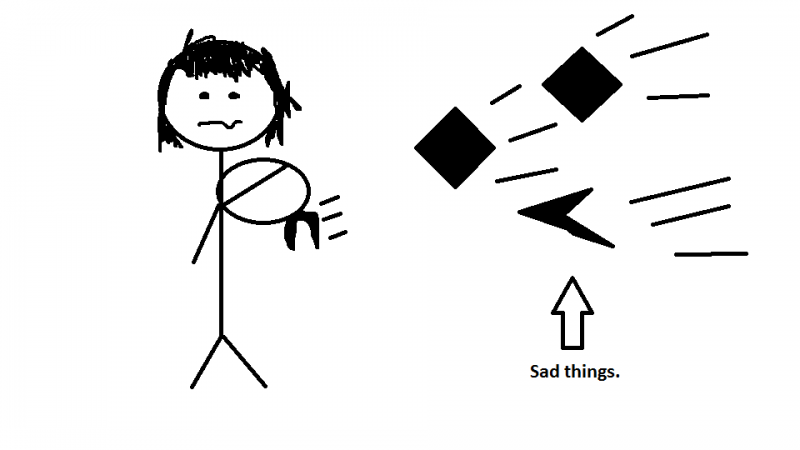 Little did I know, when I pulled it out and looked at it, the magnet would start to attract more sad things.
The more I looked at it, the more sad things would fly to it.
Sometimes they were real things, but most of the time they were just more sad thoughts that seemed to come out of nowhere.
Things like: "If he thinks everything I'm doing is dumb, everyone else probably thinks that, too! Nobody likes me. I suck."
And then, not only did I have the first sad magnet to carry around, but before long I had 20 new sad things, stuck to the sad magnet, that was now a part of the story I was telling myself.
Eventually, I told the sad story to other people.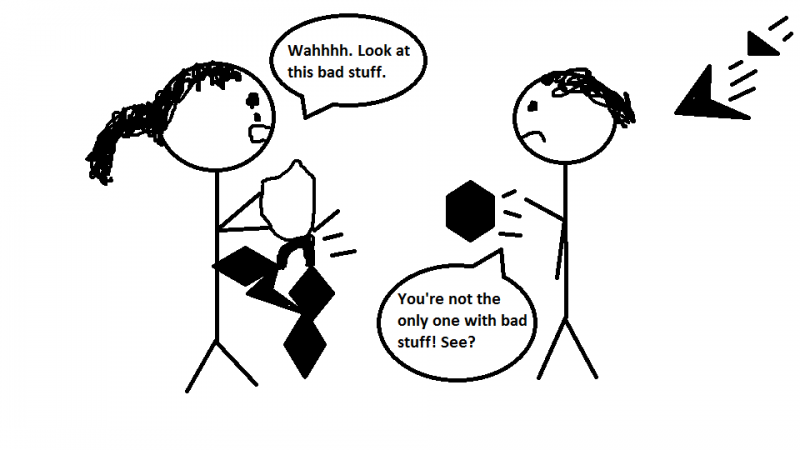 And those people would pull out THEIR sad stuff. And we would attract more and more sad stuff.
All because of the one stupid sad magnet that I'd accepted.
And kept.
And not let go.
For a long time, it just felt like life was sad. Like everything was going wrong, and I had no control over it. I was buried in all this sad stuff (that started with an untrue, unhappy story that wasn't mine to begin with) and everything began to look like sadness
Then, over the course of a couple of days, some really nice people noticed and talked to me about it.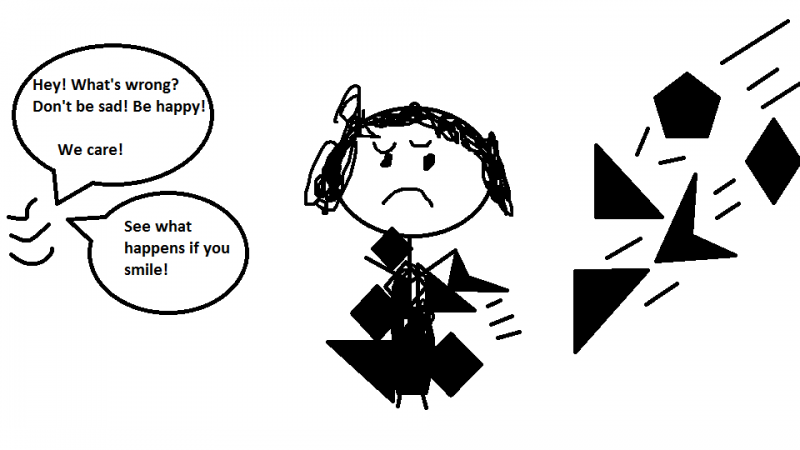 And then, instead of just feeling more sad, I started to notice it, too. And I thought back through all of those sad things that were stuck to me, all the way back to the beginning conversation. The one I hadn't let go of.
One of my friends told me to smile more. "Try smiling every half hour," he said. And I did.
Every time I smiled, it felt like a sad, stupid thought dropped away.
Every time I smiled, I felt lighter.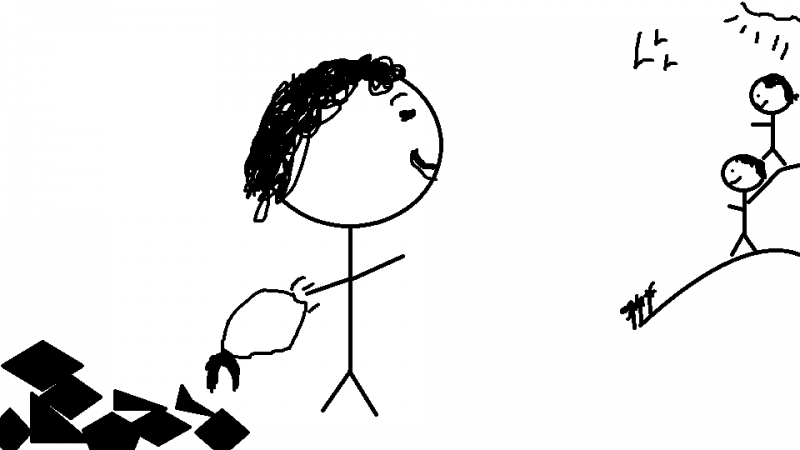 Every time I smile, I get closer to being able to throw away the sad magnet.
To let it go. Away.
It was never mine to begin with, anyway.
And when I'm not weighed down by all the stuff the sad magnet attracted, I can enjoy my life (and the new stories I get to tell myself) so much better.
All of this could have been avoided, though.
The last two months could've been happy and full of progress.
All I had to do was one small thing: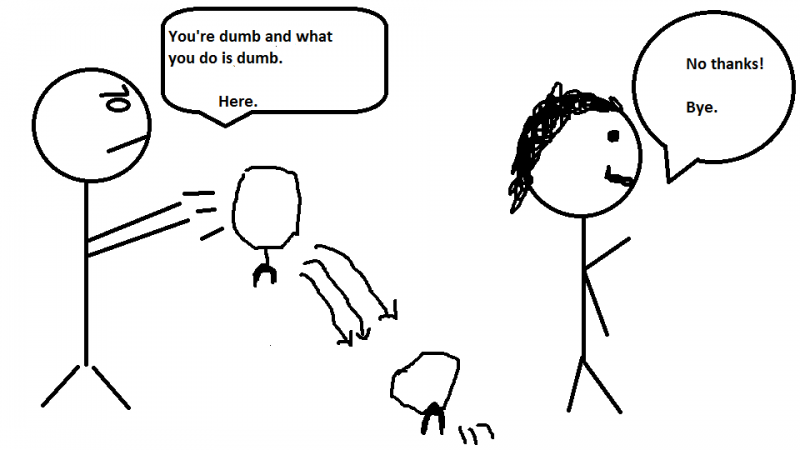 The next time someone says something negative to you or about you, you don't have to accept it.
You don't have to make it part of your life.
Never accept a sad magnet from someone else.
The next time someone tries to offer you one, think of this story, and just let it fall on the ground.
(Remember: It's too hard to have fun with tiny people on poorly-drawn hills if you're sad.)
Fin.