I will never lend you a book.
Ever.
Bank on that.
I will, however, gladly give you any one of the books I have. Freely, and without expectation that you'll return it. If you do, that's awesome and you win.
If you don't, it's no foam off my latte, 'cause I never expected it to be returned in the first place.
I had to put this policy in place when I started lending books, with annoying fervor, back in my early 20's, right in the heat of my obsession with Ayn Rand and Sylvia Plath and Tom Robbins and Margaret Atwood and … you get the picture.
In fact, I less lent the books than hurled them at people, screaming, "READ THIS YOU WILL LOVE IT AND IT WILL CHANGE YOUR LIFE and don't forget to give it back."
I never got them back.
And then I was mad at my friends and family and missed my books and felt sad for weeks. Lending books was ruining my relationships. Just a tiny little bit.
But that tiny little bit was too much for me, so I made a decision somewhere that it was more important for me to share a good book with someone I love than it was to keep those books forever. I began to give them.
Thus my relationships became kind and peaceful … at least where Tom Robbins was concerned.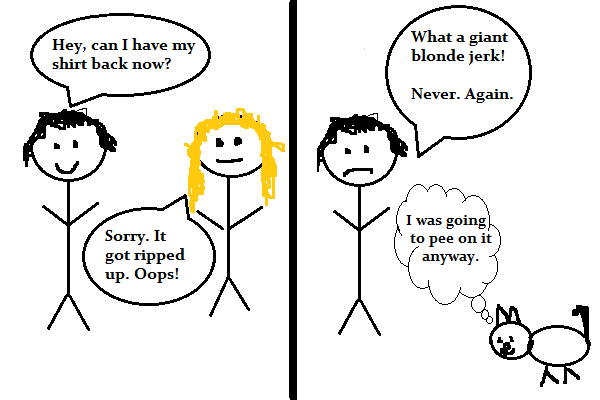 Giving vs. Lending
Giving: When you give someone something, no matter how big or small, you give them the freedom to enjoy that thing completely and with their whole heart.
Lending: When you lend someone something, you're also giving them worry and concern about ruining it in some small way.
Giving: Automatically, when you give someone something, you let go of the need and expectation to have it back. It's theirs, and it's no longer a concern for you. Freedom! Yay!
Lending: When you lend someone something, you're all, "Dude. Why hasn't she given me that back yet?" And then a day later you're all, "I called her and asked for it back, and she STILL hasn't called me. She's probably out using it as a jello shot holder, the drunk." And then two days later you're like, "Oh. My. God. I'm going to call two of our other friends and tell them how much she sucks. And then I'm never going to talk to her again. Except to bug her for my thing back. Yeah! That!"
Giving: By giving something, you're telling yourself – and the universe or God or whoever's there to help you out – that you understand you're not lacking for anything, and that by giving something freely and without expectation, you know you'll get it back. In some way, shape or form … exactly how and when you need it.
Lending: By lending something, you're still holding on to the thought of that thing being yours. By holding on to it so tightly, you're telling yourself/the universe/God/pickles that you don't trust in yourself or your ability to make more good things happen – at least, not without that silver-plated, butterfly-filigreed pizza cutter. (WHY did I let her borrow that? What will I ever do without it!?)
Giving: Less crap in your house. And, really, couldn't you use a little more simplicity?
Lending: Still less crap in your house, but now you go out and buy something to fill that space, and then your thing is returned … and then what? EVEN MORE CRAP IN YOUR HOUSE.
Just Don't Lend, If It's THAT Important
So, yeah.
The moral here isn't that you should always give everything away that your friends, family, and the weird guy down the street that smells like old bread and dirt asks to borrow. Unless you feel like it and can do it without worry or concern for yourself.
Maybe the moral here is: Just don't lend anyone anything that you're not willing to part with – forever.
(And if you can't part with it, ask yourself "why?" for a minute. Maybe it's not that important to you, after all.)