'Tis the season of giving. Giving, buying, making, giving, giving, giving.
We get so caught up in the giving (and in the stress of finding the right giving to give) that we forget about the other kind of giving. The kind that really matters. For-giving. Forgiving. And forgiveness.
Especially when we're all cramped together with family we love, but who've really done some pretty stinky things in the past. Your brother Kyle? Remember when he picked on your weight? And your mom? Jeezopee, how she made everything about her, even when you were crying about the boy who wouldn't kiss you. And maybe your husband hasn't been so honest about money this year. UGH. WHAT A JERK.
In the time of closeness and sharing and proximity that may last a few hours too long, it's about darned time we learned to forgive. Actually, maybe it's time we learn to forgive… all year 'round. Every resplendent day.
Inspired by a (ahem) true-ish story, I give you one of Crunchy Betty's patented magnificently artistic stick-drawing stories of why you should think about being FOR-giving. Right now. And forever and ever. Amen.
Judy and the Alternate Universe of Forgiveness
This is Judy. Say hello.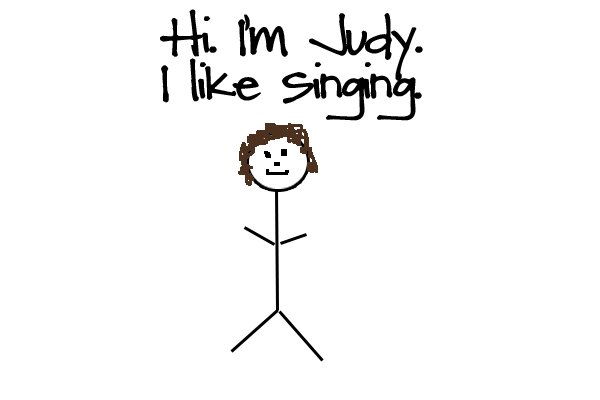 Judy loves to sing. In the shower, at church, when she's cleaning the kitchen, and at karaoke after a couple of martinis.
It doesn't matter much to her that she's off-key … sometimes (really, only sometimes). Singing makes her feel good. Like she's harnessing the power of the universe and jetting it out of her mouth, like a crazy melody bird.
However, Judy has a husband named Tim. And while Tim likes Judy to feel happy, sometimes he doesn't like it when she sings. Only sometimes.
But today, in particular, while he's trying to watch football, he really doesn't like it. He looks in the telephone book for a seamstress and wonders how much it would cost to get a zipper installed on Judy's mouth.
Because he knows how crazy that is, he marches out to the kitchen, where Judy's singing Somewhere Over the Rainbow (rasta style) and yells at her.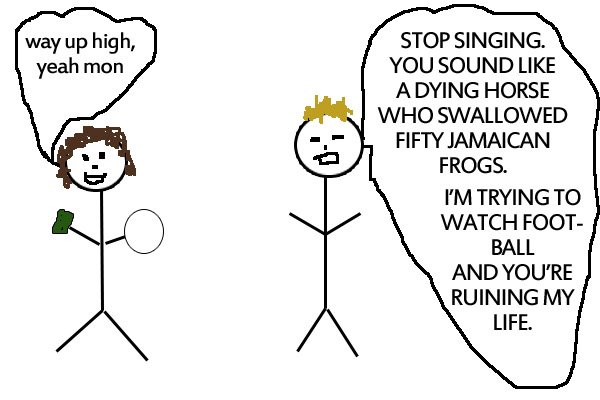 And so, Judy was hurt. And angry. And she stopped singing.
Of course, Tim didn't really want Judy to stop singing forever. He actually liked it on occasion. But sometimes people are stupid and say stupid things, and Tim eventually felt like a great big giant jerk for what he said.
Like, really. He really felt bad. All the way deep in his manly, flat stomach.
So he went to Judy and he said, "Listen, honey. I didn't mean what I said. I like it when you sing sometimes. I just had a rough day and all I wanted was to watch football in peace. Will you forgive me?"
And Judy said …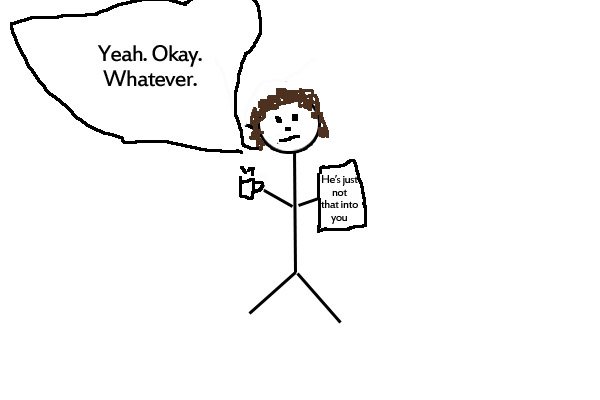 And she kind of forgave him. But not really. Judy stopped singing and started sulking.
Every time Tim opened his mouth, she thought about what he said and it was like a knife in her guts. "OH." she cried when he wasn't around. "I probably do sound terrible, but he was so mean."
And their lives went on. For three months. And that un-forgiveness that Judy harbored in her soul grew and grew and grew until it was a bubble around her and Tim couldn't touch her in the same way. Their days looked like this.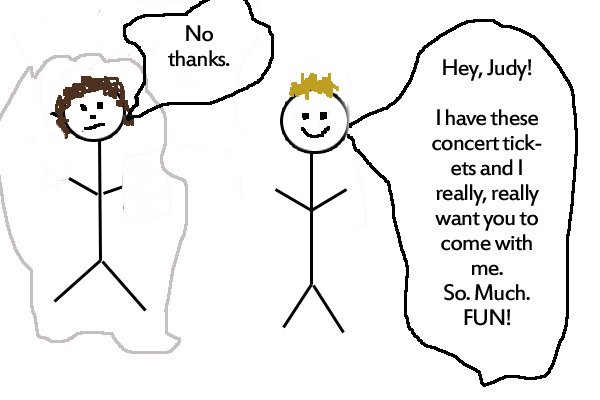 The good news is, eventually Judy forgot all about the singing incident and made a delicious pot roast for dinner.
The bad news is, for three months, Judy completely lost out on the alternate universe in which she actually truly and completely forgave Tim for his harsh and unfortunate words.
The alternate universe looked like this: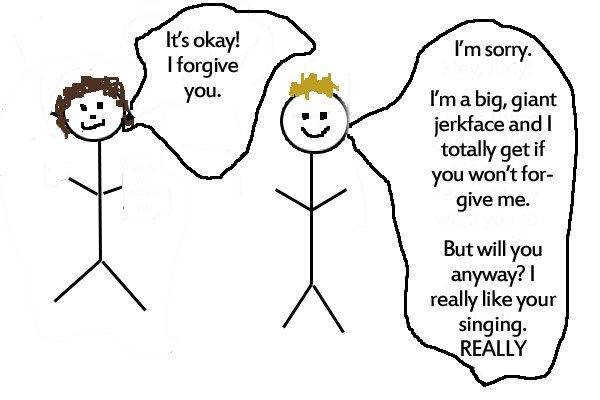 And in this alternate universe – the one where Judy really and truly forgave and let the hurt go – she and Tim went to concerts and read the funny pages together (even though hardly anyone ever does that anymore) and fell more in love than ever before.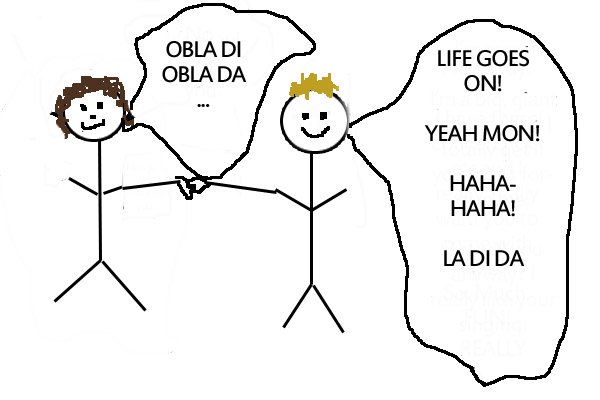 The Moral of the Story
The longer you wait to forgive someone you love, the more YOU miss out on all of the good things they have to offer.
This includes the leftover anger you have at your siblings for being mean when you were kids, the resentment you have toward your mother for not letting you go to senior prom, your children for misbehaving, and even your significant other… just because sometimes they say things that make you mad.
Don't miss out on the alternate universe THIS holiday season.
(Also, maybe only sing Somewhere Over the Rainbow rasta-style when you're alone.)
The end.
LOVE YOU!
P.S. If you prefer to say "I forgive you" through gift giving, the Crunchy Market is a great option all year around! And it makes me happy 🙂