It was a simple housewarming gift.
He was a fair-trade importer, and she was a society girl of the most extravagant degree. Together, they were light and laughter embodied. I had nothing but pure adoration for them.
So the gift they gave me – a candle holder, handmade in India – was perfect. To me. At the time I opened it.
Cut glass mosaic, alabaster dotting the rim; when you put a lit candle inside, colors and shadows danced merrily in time with the flame.
I felt loved, remembered, and exhilarated.
I brought it home and showed my (then) boyfriend.
"Look at it" he snorted. "It's crooked. The glass doesn't even fit together at the bottom. It's probably a reject. He just couldn't sell it to anyone else. What a joke."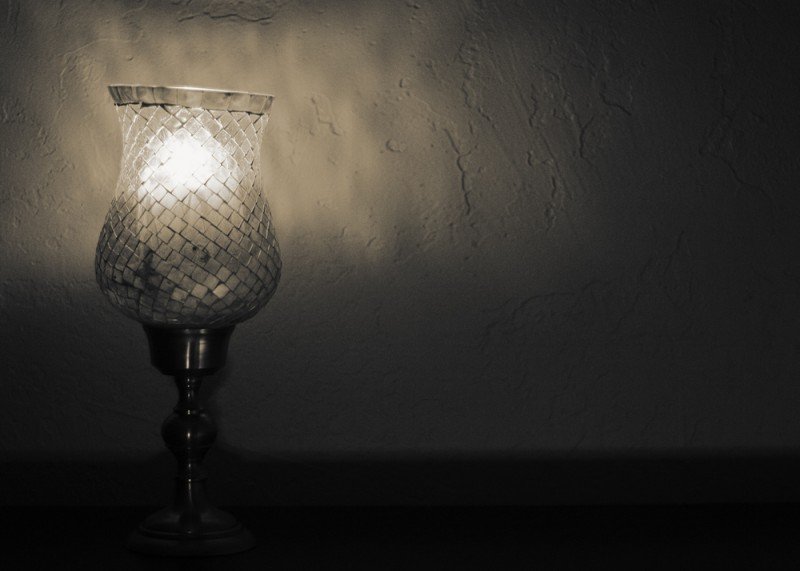 I looked at it again. For a long time. Then, I was defensive and livid.
"What are you talking about? IT IS PERFECT. There's NOTHING wrong with it. Go away. You're such an ass."
But was imperfect. Crooked. Haphazard. The words wouldn't pass my lips, though; admission was defeat.
I shoved it, then, in the farthest reaches of the closet. It was easier to hide it in the darkness, to ignore it completely, than to bring it out and look at the imperfections.
A few years passed. I packed. I moved. And as I unwrapped the candle holder, its beauty was dazzling. It was like receiving a gift all over again.
It was still imperfect.
That hadn't changed.
What had changed was the way I perceived it. No longer was the tilt ugly, it was charming. The spaces between the glass on the bottom were puzzlingly quirky.
It was absolutely unique because of its imperfections. There is no other candle holder like it in the world. None. There is only one that tilts as obviously. Only one with the precise mismeasurment between the fourth and fifth pieces of glass on the bottom.
There is only one that's as perfectly imperfect as mine.
How on earth could I hide such a charming, beautiful thing for years? To not giggle at the light and shadows it casts? To reject its shimmering rainbow of muted, magical colors?
I threw all those things away, simply because someone else told me it was imperfect.
It lives on my bookcase now, front and center in the living room. It reminds me, daily, that I, too, am imperfect.
I always will be.
If I love and respect my imperfections, then I get to enjoy the whole of who I am. Nothing hidden, and nothing rejected.
Were it that easy to grant ourselves that kind of acceptance and grace. To understand that it's the flaws that make us beautiful. The only one of our kind in the world.
Forget the drastic diets, the liposuction and the nose jobs. Forget the Botox and the comparisons to yourself against another person.
You are never going to be perfect.
No. Strike that.
You are already perfect.
Just pull yourself out of the closet and look again.