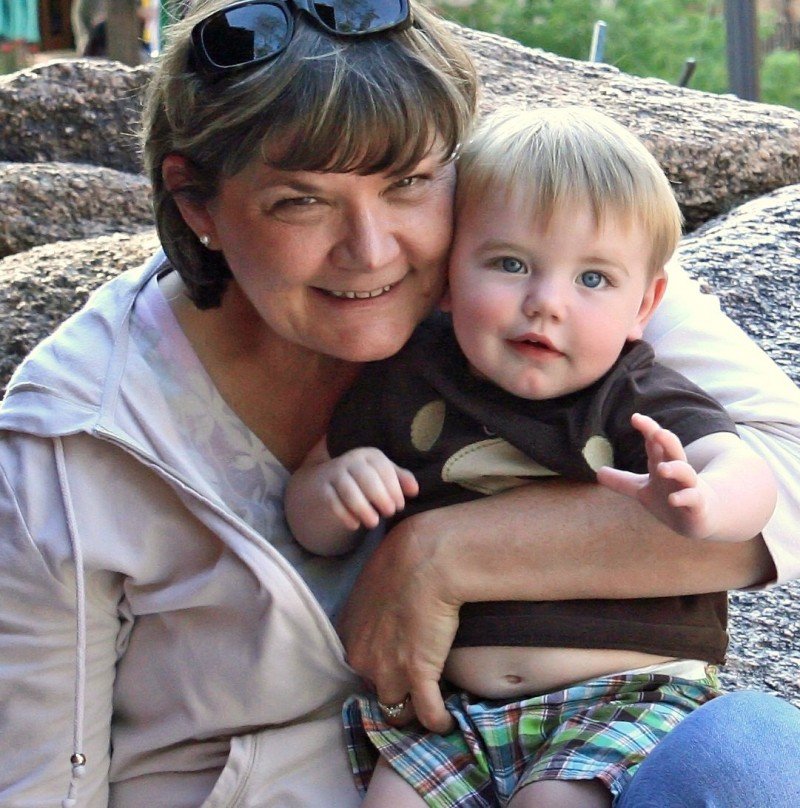 Lest you think I'm suggesting my mother will actually come to your house and wrap her loving arms around you – I am not.
Not that her hugs won't cure you. She's just not much of a hugger. Unless you call her Mimi. And look like that kid over there.
She did, however, want me to give you her secret to getting rid of a cold fast. Like, super fast.
And it's this: HUG.
Hydrogen peroxide
Umcka
Garlic
So in honor of Mother's Day, my crunchy mother is giving all of you a gift. HUG.
A little bit about my mom: She was a teacher (special ed and gifted) for the majority of her adult life. She is now retired, and she obsessively takes pictures. She also has a kick-butt camera.
So all of the pictures in this post are her work. Thanks, Crunchy Mother.
The story goes like this: A couple of years ago, after much research, trial, and error, she found the secret to knocking out her colds just as soon as they start. And then she forgot. And then she remembered, and thus named it HUG, so she wouldn't ever forget again.
And here's how she told me (to tell you) to do it.
H Is For Hydrogen Peroxide … In Your Ears
Yep. That's right.
Hydrogen peroxide in your ears.
Here is her food-grade hydrogen peroxide: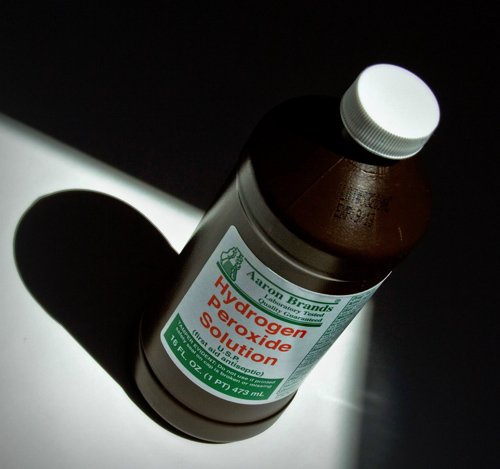 Here's How You Put Hydrogen Peroxide In Your Ears
First, you're going to want a solution of 3% hydrogen peroxide, preferably food grade. And either a very small container or a dropper. And then:
Tip your head to one side and drop a few drops of hydrogen peroxide into your ear. It will tingle and sound bubbly, and it may itch a little. This is good.
Let the hydrogen peroxide sit in the ear for a couple of minutes, at least until the bubbling stops.
Hold a washcloth over that ear and then tip your head to the other side to let it all drain out. You may want to very gently rub the washcloth around the inside of your ear to get all the liquid wiped up, so you don't get the willies.
Repeat on the other side.
I've actually done this before, and it's pretty awesome. Many years ago, a doctor theorized that the germs that cause colds actually enter through your ear, which is how this home remedy was born.
If you do a google search for "hydrogen peroxide ears cold," you'll get thousands of results from people attesting its efficacy.
You can do this a couple of times a day, but take note that it may dry out your skin a bit. If that's a concern, swab your ears with a little olive oil. Personally, I haven't ever done it more than once a day, and that's been sufficient.
U Is for Umcka … Taken Regularly
If you're unfamiliar with Umcka, it's a homeopathic remedy that's gained cult status in the natural world.
You use it at the onset of a cold, cough, or sore throat, and it's supposed to severely limit the duration of your illness.
Both my mother and my sister use it religiously when they start feeling ill. (I'm forgetful, and kind of a baby … so I'll start feeling sick, lay on the couch, and just not get up for 3 days. Not a recommended home remedy.)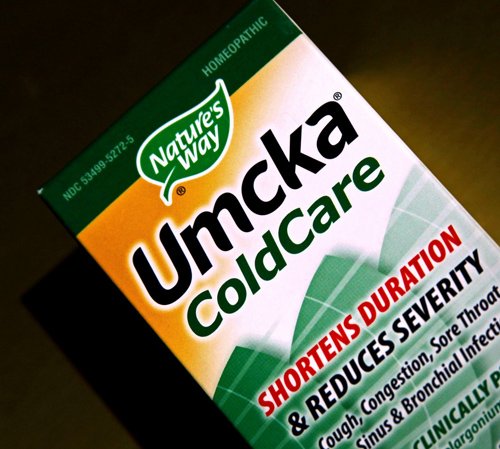 I have a very rudimentary understanding of homeopathy (which I'd love to know more about), but here's the information straight from the Umcka website:
"Umcka ColdCare is a 1X tincture of Pelargonium sidoides (EPs 7630), a medicinal plant unique to South Africa. In clinical studies, EPs 7630 not only relieves symptoms associated with common colds, but also shortens the duration and reduces severity of throat, sinus and bronchial irritations. It also helps loosen mucus, making coughs more productive and naturally relieves congestion, cough, headache, hoarseness and minor aches.
Studies suggest that the active ingredient in Umcka works in several ways. It works on the immune system to help support the body's own natural antiviral defense mechanisms and acts as an antimicrobial agent. Additionally, it provides mucolytic actions."
Of course, you should follow the directions on the Umcka box – but it's important to start taking it as soon as you begin feeling ill, and then take it several times a day thereafter.
G Is For Garlic … In Which You Soak Your Feet
So not only does my mother use the hydrogen peroxide and Umcka methods when she starts feeling ill, but she bathes her feet in garlic. She also makes it a point to saturate her foods with garlic, as well.
The day you do this, you might not want to go out in public where you can be easily smelled, but you're sick, remember? And the next day, you won't smell like garlic, and you'll hopefully be good as new!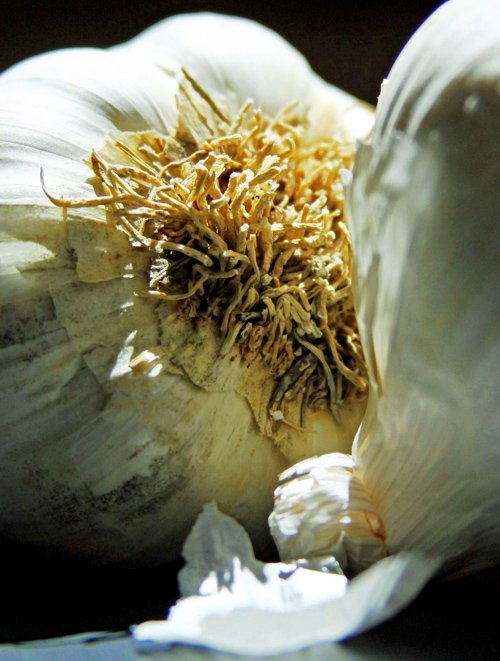 How to Prepare a Garlic Foot Bath
Fill a large pot with water and bring it to a boil.
While you're waiting for the water to boil, take 10-15 cloves of garlic, peel them, and smash them with the broad side of a knife. Don't cut. Just smash.
Those are cloves – not heads. Sometimes people get cloves and heads confused. Cloves are the individual pieces, not the big bulb of garlic as a whole.
Okay. Now, place the boiling water into a basin of some sort, in which to soak your feet. Put the garlic into the boiling water.
Allow the water to cool just until you can handle putting your feet in it. Don't burn yourself! But make sure it's still pretty hot.
Soak your feet in the garlic stew until it becomes cold or lukewarm. If you want, you could rewarm the water, or just stop there.
Dry your feet well.
Allowing the garlic to "stew" in the just-boiling water gives you both the health benefits of a raw garlic foot bath, and a garlic tea foot bath. Best of both worlds.
Garlic is a known virus and bacteria killer, and one theory that's gained a lot of attention in the last few years is that many toxins are pulled out through the soles of your feet.
An alternate way of utilizing this remedy is to coat the soles of your feet with olive oil, then rub smashed garlic (or garlic juice, if you can juice your cloves) over the olive oil. Put on thick socks and don't take them off for a couple of hours.
You Have Now Received HUG From My Mother
How does it feel? Warm and crunchy, right?
One more side note: My mom's a little bit of a skeptic, and it takes a good deal for her to believe in something, so the fact that she believes in something like this should tell you A LOT.
Have you ever tried any of these cold and cough remedies? What were your experiences?
And … of course … be sure to say hi to my mom. If we're nice enough to her, maybe she'll share the secret of how she manages to barely pass for 40 years old. (While I won't reveal her real age, keep in mind that I'm 36. So …)