Hello, strangers!
By now, you're probably no longer wondering where I am, because you've given up on updates. I don't blame you. It's been … odd, to say the least.
The store has been bumping (read on for a goodie, by the way) and I've been lost in oils and creations and shipping and, more than anything at all, learning about the "new way" of looking at the world and our place in it.
Have you ever just said to yourself, "What's the right way? The right thing to do next?" And then you know you can't move again until you have that answer? That's where I'm at now. Sort of. Only a little more blissful and boring than that.
If you're curious, if you've wondered where I've been – in the blog world, in the real world, and in my inside world – I invite you to tune into a chat I'm having today with my dearest friend and soul sister, Jenny B. Bones on her new Blog Talk Radio Cast "Transition Radio."
I have no idea what we're going to talk about. We haven't discussed it. It will be as much of a surprise for me as it will be for you. It could be about natural beauty, it could be about authentic living, or it could be holes in the toes of our socks.
Whatever it will be, it will be perfect.
Though I do hope we uncover exactly why I've withdrawn from the blog world in such a haphazard manner. I'd love to get to the bottom of THAT one.
The show starts at 1:00 MST (my standard time, heh) or 3:00 EST. If you can't tune in to hear it live, you can always listen to it later from that same link. Isn't the internet neat-o?
I'm not going to pretend I'm not a little nervous. My mouth gets me into eyeball-rolling trouble sometimes. If only it came with a backspace key.
Now. On to the fun weekend stuff!
Need Super Natural, Handmade Gifts for Your Friends and Family? Save 20% at Crunchy Betty's Natural Market
I really questioned whether or not it was a good idea to run a coupon code for the "sales" days coming up here, mainly because we've been so busy with orders already, we have a hard time keeping up with it. (Believe me, my loves, I am NOT complaining.)
However, it IS the holiday season and I DO want as many of you as possible to give your friends, loved ones, and family members handmade gifts (even if they're not handmade by you), so please, please use this coupon code before it expires. (And, if you don't want to buy anything handmade from me, that's okay. Just PLEASE peruse Etsy or other places this weekend for more sales from conscious small businesses. SO many amazing deals to be had.)
So … SAVE 20% today through Saturday at Crunchy Betty's Natural Market. USE COUPON CODE GRATITUDE to save some dinero and give the gift of natural loveliness this holiday season (or just give it to yourself, doggone it). PLEASE read below for an important note about applying the coupon code (sometime Etsy's a bugger to make sense of when it comes to coupon codes).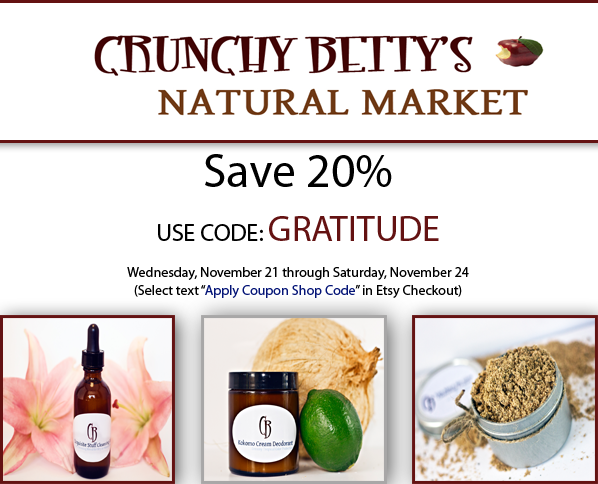 PLEASE NOTE: I will be posting a new product – a moisturizing oil created with acne and oily skin in mind that I've been perfecting for months – tomorrow or Thursday/Thanksgiving at some point. So if that's something you want, WAIT UNTIL IT IS UP THERE to order.
Things also get a little confusing on checkout sometimes, so – this is important – if you want to use the coupon code (and I'm assuming you do), you have to enter the coupon code at checkout using the little text link that says "Apply Coupon Shop Code." It is located under the "How you'll pay" card selections where the photos of all the credit cards are. It is a text link. You must click on this and enter the code there.
I cannot stress this enough. You MUST enter the code there.
No discounts will be given after you've hit that payment key. Your one and only chance to save 20% exists in that moment in which you click on the link that says "Apply shop coupon code."
Whew. Okay.
If you're not sure what to buy, I suggest you check out the feedback some amazingly lovely buyers have left in the Crunchy Betty Natural Market feedback page. That might help you weed down what you want to give to others and what you want to give to yourself. (Personally, I recommend buying it for yourself, and then using the recipe that comes with to MAKE it for others!)
The coupon is just our way of saying thank you to all of you for being patient with me through this transitional period, and to say thank you for being SO amazingly willing to experiment with your new-found love for natural products and the quirky crunchy life that comes with.
(Please keep in mind, as well, that we are a very small, 100% handmade business with two people working constantly. Our product supply is limited, as is our time and (ahem) sanity. When we run out, we run out for a while. Just … please be gentle and keep in mind that we're not, you know, Amazon or Wal-Mart. Thank goodness. : )
With that said …
Happy Thanksgiving!
I know we're not nearly all caught up, but Reality willing, we will be soon.
Honestly, I have no real plans for Thanksgiving, other than being thankful (which makes it kinda like every other day). It'll just be a quiet, small family day with no real menu planned – just preparedness to joyously create, carefully package, and prepare to ship out tons of handmade goodies from Crunchy Betty's Natural Market.
So.
Would it be okay if I lived through you – you with your feasts and your meals created through hours of care and love and salt and gravy?
What are YOU planning to do for your holiday meal? Have you found any scrumptious new off-the-wall holiday recipes you're itching to try? Please share!