There's a distinct possibility that the books in the Healthy Living eBook Bundle contain the secrets of motivation and inspiration. Nay, the secrets of the universe. (Except, of course, where the missing socks are stashed after running through the dryer.)
Gaze at the fancy collage again. These are the gateways to awesomeness. These 34 diminutive ebook covers.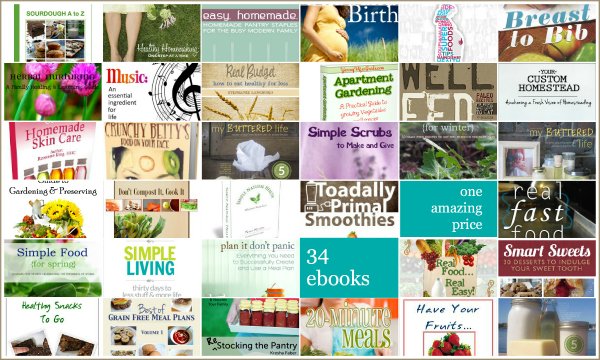 The other night, as I was writing the post announcing this quick sale, I started to read the books. Really read. Before, I had only read one or two, and cyber-thumbed through the rest. But, as I immersed myself in the recipes and instructions contained therein, I was overtaken by an entity. An entity that seemed so familiar, yet nearly forgotten.
The pure and clear entity of the essence of Crunchy Betty.
Yesterday. Yesterday, I came back to life. In one day, I made FIVE things from the pages of these books (and let me tell you, five things is but a ripple on the ocean of what I want to make from the books in the Healthy Living eBook Bundle).
I documented ALL the things, which you're about to gaze at lovingly. And while I can't give you the recipes for four of the things – you have to buy the bundle to manifest this yumminess yourself- I will give you a recipe straight from my very own book in the bundle – Crunchy Betty's Food On Your Face for Acne and Oily Skin. At the end. So keep scrolling.
The Day of Making Five Delightful Things
It started with Renee at Hard Lotion's recipes. She has THREE books in this bundle, all full of things you can make and enjoy, or give away and receive showerings of moisturizing gratitude.
The book with the recipe I worked with was her My Buttered Life (Gift Edition) – there's also a Baby Edition and a Summer Edition. They are all brilliant and so easy to follow.
I pulled her general lotion bar recipe out of it, and then I hit inspiration in much the same way that I hit walls when I'm walking and daydreaming at the same time. Only this didn't bruise.
What – stay with me here – what if you took a lotion bar recipe, and instead of making bars, you layered it in a thin sheet, froze it, and then broke it into tiny pieces?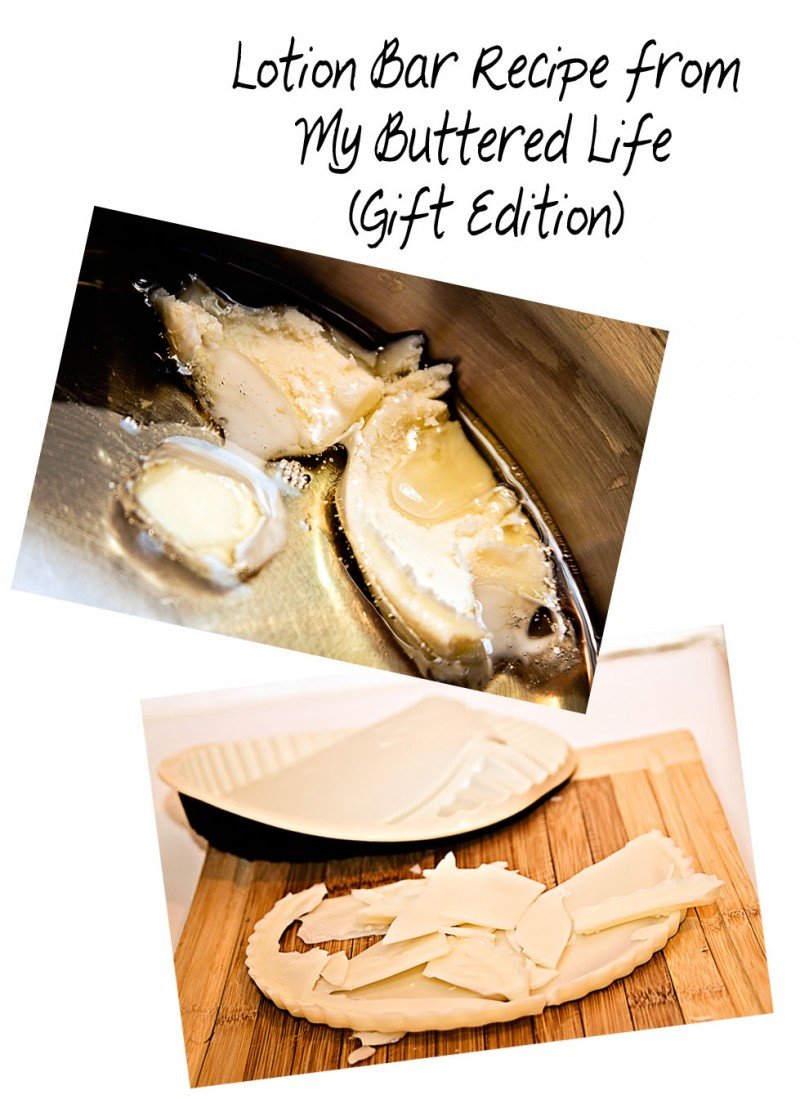 And then. THEN you took those tiny pieces and you put them in an Altoid tin? And then! Then when you needed some quick moisturizing goodness, you just pull out a tiny chip in the size that you need (small for your hands or large for your elbows)?
Easy-to-carry, simple-to-use lotion bar shards! That is what we have here.
I call them: Moisture-Ice Chips! Because they're peppermint, and they're like chips of ice. Get it? Yeah. Look at them!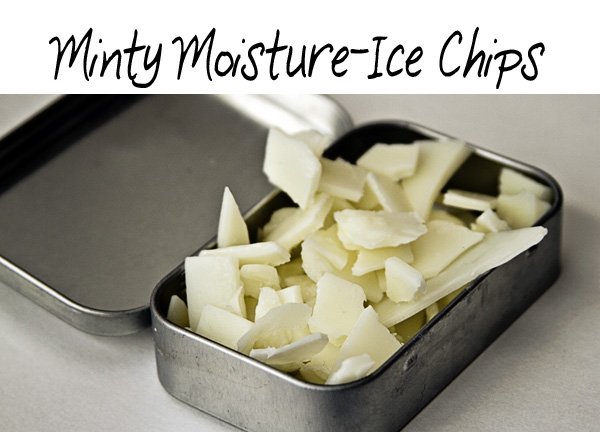 Yes. I am loving this idea. And I am loving using these. I think I've gone through half that tin already, because they're so ridiculously easy to apply.
In other news, I'm about to start a nationwide search for a baby whose bottom is as soft as my hands. I don't believe it exists.
More Gift-Giving Goodness – From Simple Scrubs to Make and Give
As I was making the Moisture-Ice Chips (heh, still makes me laugh), We Need a Little Christmas was stuck in my head, so my attention was turned toward something decadently holiday-ish. And the next thing to fall from my Crunchy Hands was the Holiday Scrub recipe from Simple Scrubs to Make and Give from Stacy Karen at A Delightful Home.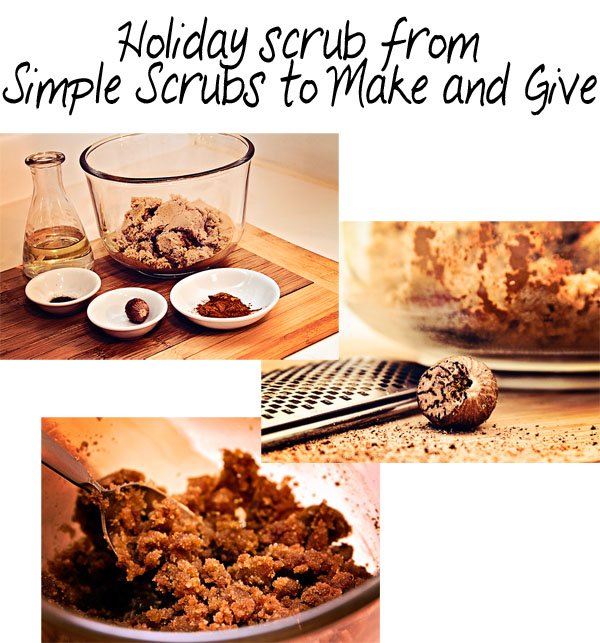 It's a simple and pampering ho-ho-holiday scrub that smells an awful lot like pumpkin pie. Or spice cake. If you throw in some ginger, you'd totally have a gingerbread sugar scrub to present to your best friend (or your own bathing self).
I put it in front of my fireplace, after hiking into the woods, chopping down a tree, splitting logs, and starting a fire by rubbing two sticks together.
Or, you know, flipping a switch. It's a gas fireplace.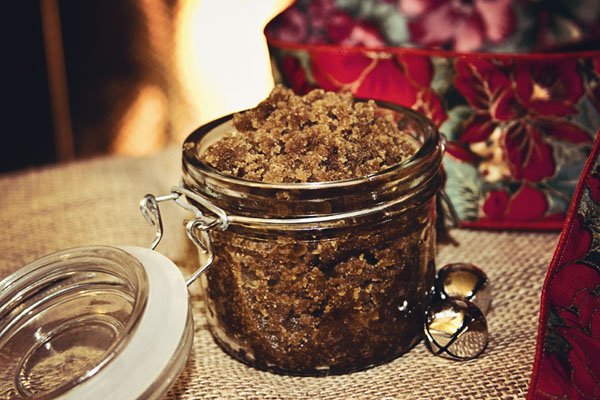 Now I just need a friend to stop by and say, "I wish I had some sugar scrub …" And then I'll produce this from behind my back and say, "Ho Ho Ho! Merrrry Christmas!"
It will be a moment to treasure for years to come.
A Healthy Living Dinner – From Simple Food and Easy. Homemade.
After all the product making, I was starving, so I pulled out two books that are becoming my go-to books for recipe ideas.
The results of my dinner? Nothing less than tantalizing.
I made (Bacon) Cheeseburger Soup from Simple Food (Winter Edition) by Shannon at Nourishing Days and Cheesy Biscuits from Easy. Homemade. by Mandi at Life Your Way. They paired perfectly. And everything was so. cheesy.
But here's the best part about both of these recipes: If you keep staples in your home, you'll be able to make them without shopping, and you'll have them plated in 45 minutes or less. Easiest, most delicious homemade dinner ever.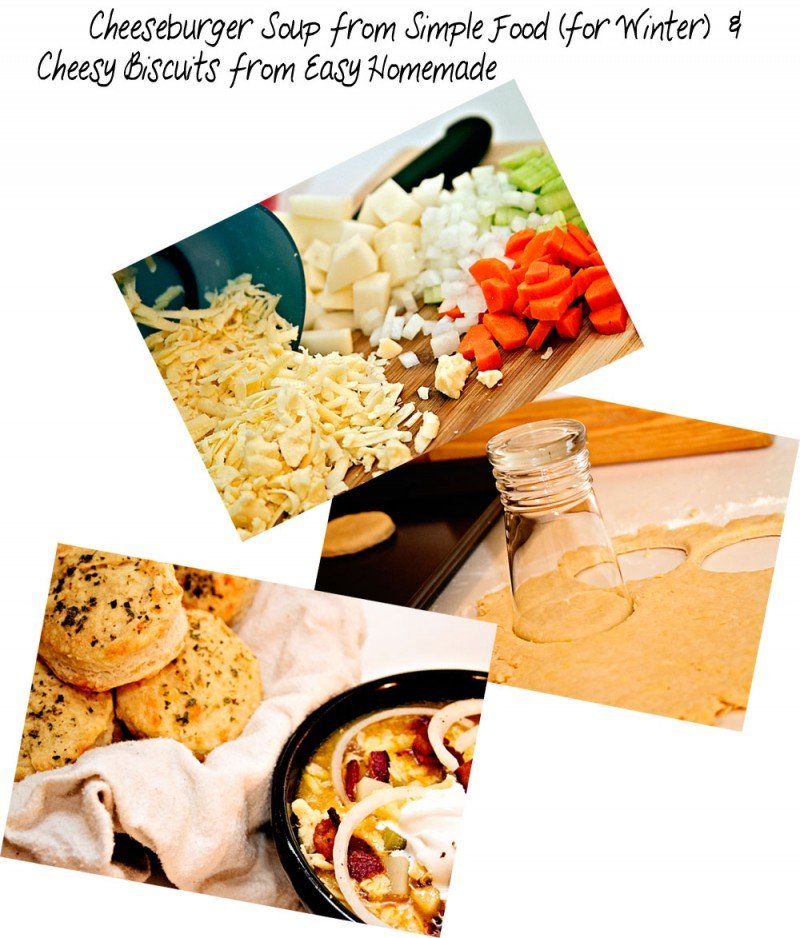 Check it out.
The cheeseburger soup? It tasted JUST like a cheeseburger. (The man in the house could not eat enough of this, he loved it so much.) And the cheesy biscuits? JUST like biscuits at Red Lobster.
Mmmm … my mouth waters at remembering.
Look again.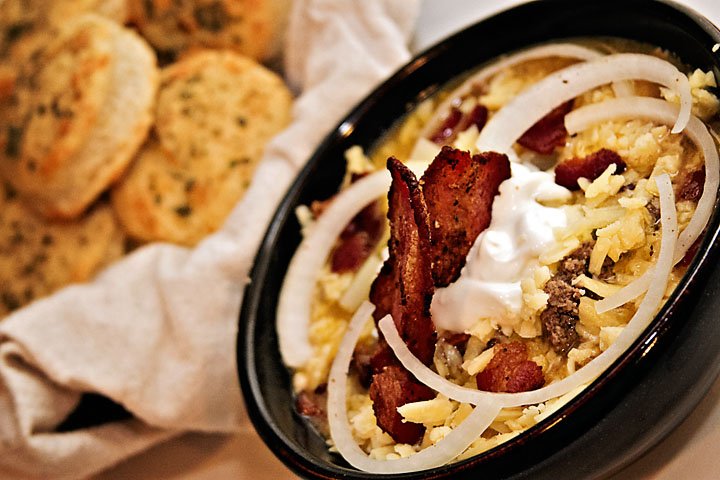 Yeah. I made that.
Finishing Off With a Facial Treat – From ME!
I ended the evening by relaxing with a face mask recipe from Crunchy Betty's Food On Your Face for Acne and Oily Skin.
Which was good, because I have been breaking out like a prisoner with a shovel lately. I haven't been very kind to my face in these weeks "off."
Here's the recipe!
Everything's Green Face Mask Recipe
1 Tbsp French Green Clay
1 Tbsp strong green tea, cooled
1 tsp neem powder
Combine the clay (you can use any kind of cosmetic clay, if you'd like) with the neem powder. Slowly add in the strong green tea until you have a thick mud. Spread evenly over clean skin and leave on for 10 minutes, or until completely dry. To remove, place a warm, wet washcloth on your face for a minute and then slowly wipe off, rinsing your face often. Moisturize and enjoy the soft and beautiful face you leave behind!
If you keep the mask away from your lips enough, you DEFINITELY have to enjoy the leftover green tea as you're waiting for the mask to dry. It's very zen. And a little silly. See?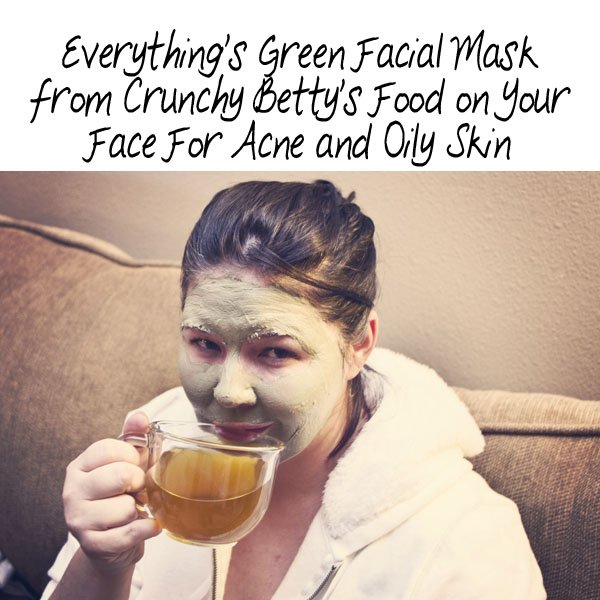 And that, my friends, was a day.
A day that brought my zest for making and doing and creating back.
So, even if you haven't purchased the Healthy Living eBook Bundle, and even if you're not going to, let's pause for a moment and give thanks to all the AMAZING authors who made this day happen.
Amen.
The Healthy Living eBook Bundle Flash Sale … It's Almost Over Forever
This is the LAST day of the sale, so if you want it, you have to get it now.
Click here to read the post about it again, or click here (or the photo above) to go straight to the checkout to purchase yours today. Please don't forget that the bundle contains 34 ebooks, along with $73 worth of free product bonuses from places like Redmond Salt, Cultures for Health, and Made On Hard Lotion (and more!).
And, because I forgot to mention the first time, you do NOT need to have Paypal to purchase this (even though it looks like it at first). Just click on the "Buy With Paypal" button at checkout, and it'll take you to other payment options.
Buy it now, my dears, or buy it not. 😉
—
I cannot wait to get back into the groove of things. SO many things to make and do and think and be.
What will YOU make next?