So, well, um … if you haven't heard, there's quite a bit of buzz going around about our privacy (and not just the privacy of American's, but that of the world).
It's a slight bit unsettling, y'know?
Not just a little off-handedly, I suggested on the Crunchy Betty Facebook page that we should all take three days AWAY from our phones, computers, televisions, gaming consoles, and anything that could collect data on us, perhaps a little out of protest, but a lot out of reconnecting with everything we could be enjoying and appreciating instead.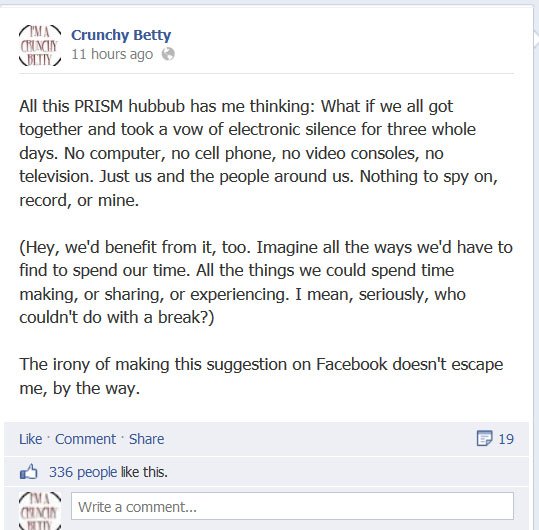 The response was fantastic, but more than that, a deep, burning, integral human need became apparent.
We don't know how to live without our digital devices anymore.
Not just, like, for forever. But just for three solitary days.
When the comments of "I could never survive!" came rolling in, I couldn't help but envision a gaggle of dark-suited, vulture-like X-Files-Smoking-Man-esque men hunched around a table, their long, crooked fingers in an upside-down V over their mouths, crooning, "Yes, yes. That's it, little ones. We have you where we want you."
And what began as a half-joking social statement became what we're going to accomplish on the blog over the next two weeks.
If I cannot convince you to take three days away from your digital communications and televisions by the end of it (and the beginning of our social statement turned personal challenge), then … well, I don't know. I'll eat crow. (There's one on my roof right now, in fact.)
Behold:
(By the way, if you own a blog and want to grab that graphic to share the idea with your readers, you are more than welcome to it. Down the page you'll find a blog button and a FB photo to share, as well.)
What Are The 3 Days of Silence and Why Would I Want to Do This?
Do you remember the time before this? The time before constant updates, email notifications, Facebook pokes, Instagram hearts, telling everyone exactly what you're doing at all times? Do you remember waiting by the door for the postman to bring a letter? Or spending an entire evening with the family without someone's nose glued to a screen? Do you remember opening a real, live book with crisp pages and a new book scent and immersing yourself, laughing and crying, in the written word for hours? Do you remember any of that, without bells and beeps interrupting you? Taking you out of your moment?
The 3 Days of Silence are a tool to reconnect you with this world. The world that is right around you right now no holds barred. They're a way to remind yourself that your digital devices are your tools and you are not their slaves.
If you want to use the 3 Days of Silence as a social statement about the NSA spying racket, you are more than welcome to do so. That will not be our focus here on the blog, though.
You see, I am a "make lemonade out of lemons" kinda gal. And what, to me, first appeared to be an outrage and something to get burning angry over (and I'm not saying you can't – your beliefs and feelings are justified) quickly turned into an opportunity to explore – internally – just why this is so bothersome in my personal life.
We – all of us – are easier to scare, quicker to fear, and more personally powerless when we're completely disconnected from ourselves because we're chained to the digital world.
The 3 Days of Silence are about not just "showing the man," but showing the person inside of us that we're capable of living life without digital distractions if and when we so choose.
So What Does This All Entail?
The 3 Days of Silence is totally up to you, what you do, how you choose to spend it. You don't even have to complete 3 days, if you don't want, although I would recommend it as much as possible. The first day, you're probably going to be thinking about what you're missing, more than just being in the place you're at. You'll want the last two to fully experience your digital detox without the distracting thoughts of "I should just check my email … just once" and then 3 hours later you're looking at pictures of monster trucks painted like ducks and you don't even remember how it happened.
Here are three sample options:
3 Days of Silence: This is the way it's meant to be. In this option, you will disconnect everything. You'll tell your friends and family you're disconnecting for three days, and you'll make all plans ahead of time. Calls permitted: Only in an emergency. Otherwise, your phone is off and the battery is out. No internet, no computer, no television, no video games.
3 Days of Silence Lite: This is for those of you who are certain there will be some sort of emergency that will necessitate the use of your phone. In this case, you're allowed to check your phone three times a day (and ONLY check, no mucking around) and keep it near you (but not ON you) if you think there will be a problem.
3 Days of Silence Hardcore: In this option, your 3 Days of Silence are REALLY silence. You won't speak for 3 days. Not a word. Nothing. There is GREAT insight to be gained from taking a 3-day vow of silence, but we don't all have to go that far … yet.
I – and my family – will be participating in the original 3 Days of Silence.
*If you have prior plans during the 3 Days of Silence that will necessitate not participating (say, you're going to a conference about the internet where you all play video games while talking on your phones), you can choose your OWN personal 3 Days of Silence when the time is right for you. Those of you who do not have prior plans similar to the one above … well … hmmm … sounds like you don't have an excuse. :p
Talking About the 3 Days of Silence Over the Next Two Weeks
So, from today until June 22, the first day of the 3 Days of Silence, here on Crunchy Betty, we will explore ways to fill your 3 Days of Silence.
Things like:
How to spend quality time with yourself (including some spa recipes)
Delicious, healthy dinners to make
Activities with the family
Just exactly HOW you can take the things you learn during your 3 Days of Silence and apply them to your life once you turn the devices back on
Exploring ways to spend a night out (with yourself or your significant other)
And … at the bottom of this post, there is a comment box. I want you to fill all those comments with ideas that YOU have or things you've been wanting to try, learn about, and do that you think 3 days without digital communication will help you accomplish.
Now.
Remember, if you have a blog and want to challenge your readers to do this, as well, the graphic at the top is all yours (but feel free to make your own, too!). Here, as well, is a 150×150 blog button if you want to add it to your blog. Just grab the code under the graphic below and paste it into your widgets area (if you're on WordPress) or wherever you put your buttons otherwise.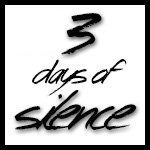 And for everyone – if you would like to share on Facebook, here is a graphic that's the perfect size to Facebook or pin on Pinterest (just right click, download, and upload if you're Facebooking, and link this post, or your own post if you're blogging it):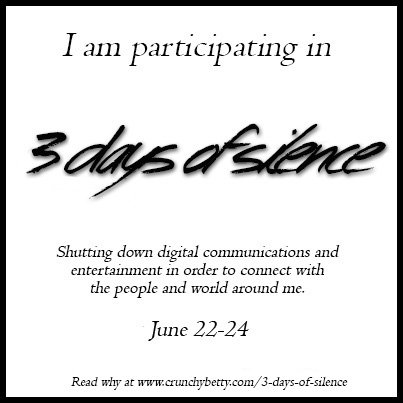 You can also just share and talk about the page using any of the handy "like on Facebook" graphics at the top and bottom of this post.
ALSO? HASHTAG #3DOS if you're going to tweet about preparing for it. I will retweet several of your #3DOS tweets throughout the next 2 weeks and hopefully we can build some communal excitement. Scintillating.
What Do You Want to Do During Your Three Days of Silence?
PLEASE – Leave a comment if you are thinking about participating (so I know how many people I'm talking to), even in the slightest. Even if you think you might just want to do it on your own time in a few weeks.
What is something you'd like to try your hand at, during your days of digital detox?
Do you already have some ideas about foods you'd like to cook … or books you've been meaning to read? Share which ones!
Are there any questions you'd like to see answered, before we dive into a world without digital access for 3 whole days (whew – sooo long, isn't it? heh)
Lastly, if you're planning on – or even thinking about – participating, I highly recommend you sign up for the Crunchy Betty email list. You'll receive the posts as SOON as they're published to Crunchy Betty, so you won't forget to prepare, or you won't be tempted to just … you know … forget about it.
Are you on board? Waffling? Completely against the idea?