I have to admit, I'm in a bit of a quandary.
Two days ago, I was all excited for the Three Days of Silence. I had lists and ideas, thoughts and plans.
And then the fires happened.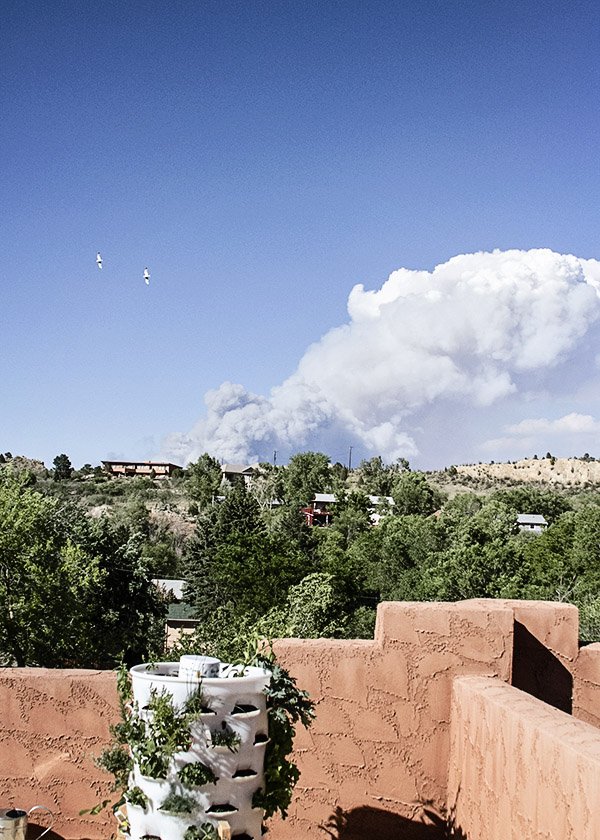 That is my Garden Tower with the fire in the background, taken about 5 hours after the fire started on Tuesday, June 11.
Our community, after going through this last year, is now faced with the challenge of dealing with Colorado's most destructive fire ever. Last year's Waldo Canyon fire was the last "most destructive fire," which destroyed 346 homes.
This latest fire, the Black Forest Fire, has already taken 360 homes, is 0% contained, and is precariously close to neighborhoods with thousands more homes in jeopardy. Tens of thousands of people have been evacuated, many of which are camped in Walmart parking lots. The fire danger remains extremely high the next few days, with temperatures in the 90s and erratic wind gusts between 35-40 miles an hour.
In short, it's an epic fire's dream for spreading.
I, personally, am in no danger from this particular fire – with an entire city and 12 miles between my house and it.
What does this mean?
We're Going to Postpone 3 Days of Silence While I Do My Part to Help Our Community
I'm not sure when we'll reschedule (or, frankly, if we will). This fire has served to show me that, perhaps, a coordinated, dedicated "digital detox" may not be in our best interest. After all, there are definitely times that warrant an undetox – and this is one of them.
Going forward, we'll talk sometimes about WHY a digital detox is wonderful, and things to do (so exactly the way we'd planned before), just without specific dates attached.
For those of you who are local to Colorado Springs:
One thing I'm assisting with is coordinating an "Operation: Neighbors Feeding Neighbors."
A small group (so far) of us will be heading over to the Gathering Stones Community Church (near the Falcon Walmart, where many of the displaced are camping) and feeding them a home cooked dinner. IF YOU ARE LOCAL, YOU ARE INVITED TO JOIN. The more the merrier!
Just bring your yummiest potluck dish (first, visit this Facebook event page and join up to tell us what you're bringing) and a hearty, warm smile for your neighbors. Set up begins from 4-5 p.m. this evening and dinner starts at 6:00 p.m., so be there or be square. You're not square, I just know it. You're round, but in a very aesthetically pleasing kind of way.
For those of you who are OUTSIDE of Colorado Springs:
If you want to help, the best way to do so is to donate a little coin to our local food bank – Care & Share. You can donate via the link I just mentioned (in the appropriate box, designate it as money to "fire relief") or you can text DONATE to 41010 to donate $10 (which will be added to your phone bill) directly to fire relief via Care & Share.
I'll Be Back Next Week – Until Then, Stay Crunchy
Between taking care of the Market and organizing/volunteering, I'll probably be pretty tied up.
So, in the meantime, send your loving thoughts and prayers (AND YOUR RAIN) this way. I'll keep you updated.
For now, I will leave you with this photo of the amazing lettuce growing from my Garden Tower. Because it's green and lush (not burny) and it makes me smile (hey – anything it takes, amirite?).
<3