As I write this, the wind has kicked up again. Flames are still visible from my vantage point, directly outside my balcony. As I write this, the calm that we've all felt for the last 12 hours is interrupted briefly, and I remember that, while the fire is still 2 miles away from me, it's creeping ever closer to the town that my parents live in on the other side of the mountains. It's not over for all of us.
Colorado Springs … it's been on fire. If you haven't heard.
At 2:30 p.m. on Saturday, I posted this to Facebook with the caption, "So this is happening outside my window."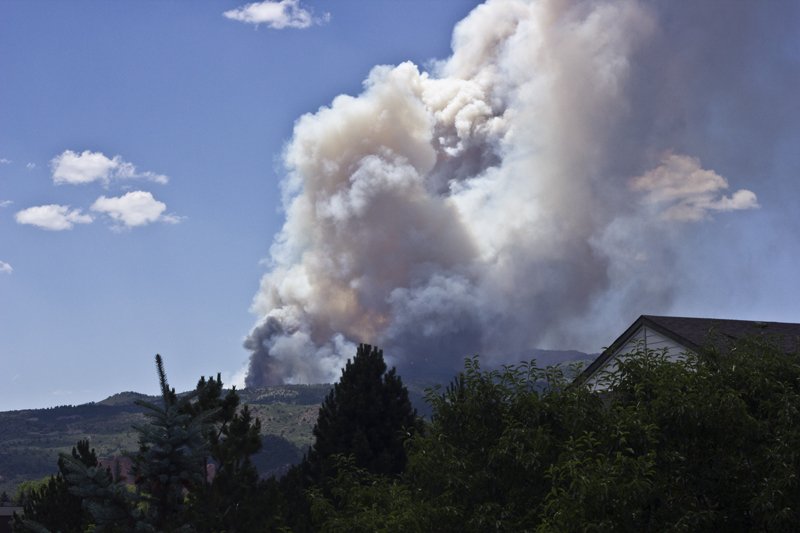 That was the early stages of the fire. It had been burning for about 3 hours at this point. Little did I know, in three days' time, it would turn into this: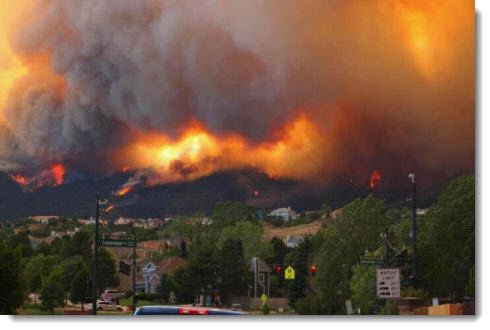 What you see before you? That's the city of Colorado Springs, with the foothills burning behind it. It's apocalyptic. That was the only word I could come up with, the whole time I was watching it happen. In person. In front of my eyes. The Apocalypse. 2012. Made real.
At the time I write this, an estimated 16750 acres have burned, and over 346 homes have been lost. This includes the historic Flying W Ranch. My senior year of high school, we traveled from Kansas to Colorado Springs for our band trip. I flirted with my now ex-husband there. I have memories. (Good ones, at that.)
This fire is the most devastating, in terms of homes lost, that Colorado has ever seen. Ever.
There are still tens of thousands of evacuees, praying for the best.
You wonder where Crunchy Betty has gone? (AGAIN?) This is where. We've been living directly on an evacuation line, and with every breath it seems like a flame could burst in the wrong way, sending us to a shelter and then – eventually – back home to a pile of ashes. Every moment feels like a triumph, because we're still here. In our own house, our own bed.
I've been able to see the flames since this fire started, and tonight I still can. And you know what? For that, I am grateful. I can see the flames only because I'm still in my own house. Thousands of people aren't that lucky. Hundreds of people don't have a house anymore. We are immensely lucky.
Would you like to see what the fire looked like the second day? Before Colorado Springs burned? At a time when the firefighters were doing the impossible by keeping the fire from the ridge. If the ridge burned below this point, by the way, historic Garden of the Gods would be … toast.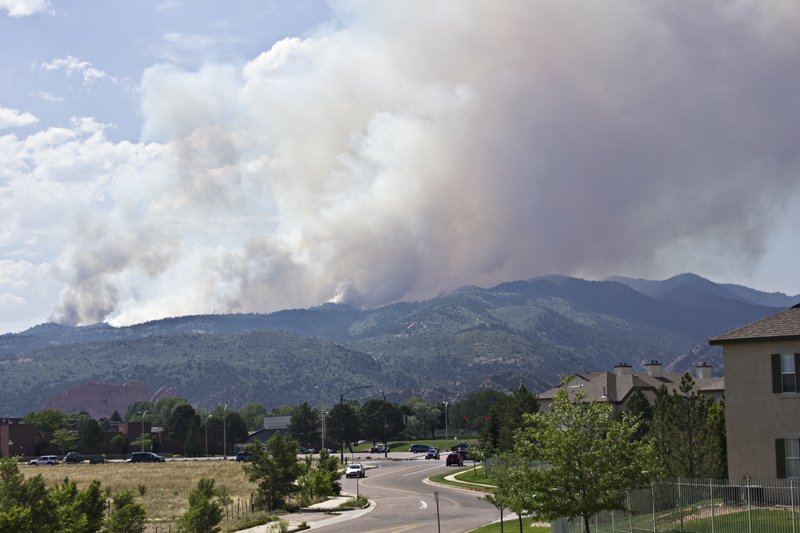 I write all of this to update you as to what's going on, but also to plead to you – as you watch President Obama visit this area today – if you feel it in your heart to help Colorado Springs, there is a way you can do so.
There's a local food bank here, completely locally run, called Care and Share. They are angels and godsends, not just in this time, but in all times when people need help.
They are supplying all of the evacuees with food and other sundries. But that's not all. They are also taking care of the 1000+ firefighters who are battling this horrific blaze on a round-the-clock basis with necessities, food, water, and everything they need to keep fighting the good fight. The fight that's keeping so many of us safe.
If, in fact, you want to help us, here is their donations page, and you can earmark the money you donate to go to Waldo Canyon Fire relief (just fill it in where it's appropriate). Every day – at least three times a day – they ask for different kinds of donations. One minute it's Gatorade, and the next it's socks. If you want to reach out and help Colorado Springs and its surrounding areas via donations, they will be able to purchase those things the evacuees and the firefighters need – desperately.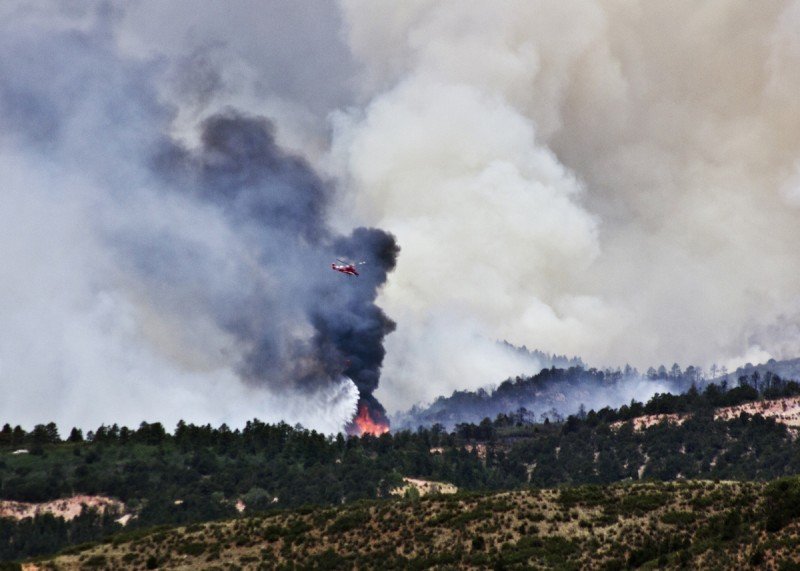 Right now, my part of town is mostly "out of the woods," as they say. But I can still see flames, which means that we're not as much out of the woods as one foot on the other side. This fight is not over for us – or the firefighters.
And as I leave you with this update (which hopefully will be a prelude to more constant "Crunchy Betty-ish" posts starting next week), let me show you the picture I captured as the fire jumped Queen's Canyon and raced down the other side of the mountain, leading to the devastation hundreds upon hundreds of now-homeless people face.
As someone who considers herself a writer, I really have no words – at this moment – for what all of this felt like, looked like, or resulted in. Maybe in time. Just not yet.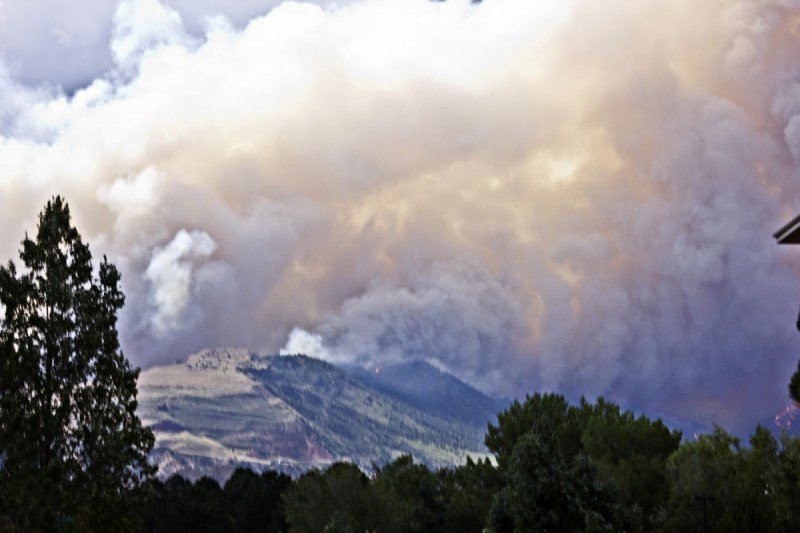 I will say this: The sense of community is so strong here. Thousands of people offering their spare beds to strangers. Hundreds of people donating their time to relief efforts. No matter what, Colorado Springs will prevail.
But right now, we're still holding our breath.
Again, if you have it in your heart to help us here, Care and Share is the best way to do so.
Otherwise, stay tuned for more Crunchy Betty in the near future.
And before I sign off on this tense night, let me say how much I respect, admire, and adore every single firefighter in the world. And I have to give a special shout out to our local CBS station – KKTV – for being the "all-knowing friend" I could count on through this entire ordeal. Their presence in the community is unparalled.
With that, let me say this:
Cherish what you have, but don't be too attached to it. Wildly LOVE the people in your life, because they cannot be replaced. And they are all you'll have in the face of something this terrifying.
Love your closest people – with abandon.
And, together, love all the other people around you – with compassion.
Nothing else matters.
Except, maybe, a healthy, day-long rain.