It started a few weeks ago, when temperatures were still in the low 80's.
My bedroom window overlooks not just one air conditioner – not just mine – but four of my neighbors. And one of them, one blessed sensitive soul, found the need to turn on the air conditioner – at night. It was, like, 50 degrees outside. That's 15 degrees plus a bucket of hamburgers for those of you who use Celsius.
I don't know how to convert to Celsius, but I'm sure it involves buckets of hamburgers.
Fast forward a couple of weeks to 100-degree temperatures, and I can no longer be indignant and judgy-judgy. I have been guilty of turning on the A/C for brief amounts of time in the last few days.
But it hurts, right? Every time I click that convenient climate lever, all I hear is money draining from my bank account and energy being sucked from the power grid. (As a little back story, this is the first time I've had air conditioning in 6 years, so it's almost new to me.)
Here are some clever ways I've found to keep my hand far away from the thermostat, keeping the air conditioning OFF and still maintaining my sanity. (Mostly. Booga booga booga.)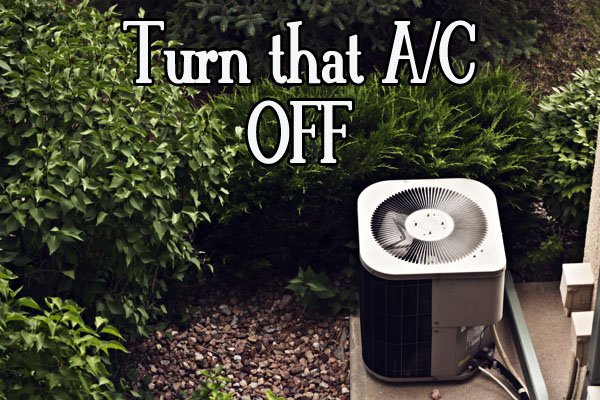 Before we start, I know some of you live in ridiculously hot climates. Or you have health issues that not running the A/C might exacerbate. To you (and to all of you), I say: Do what you NEED to do. Don't try to sweat it out just because of something you read here. Know what YOU need.
Accept It. It's Summer.
Can you imagine if we could control every single aspect of our life so that it always remains constant? So that we always remain comfortable? Seriously, imagine that. Imagine the memories a constant environment creates.
Not a single one, right?
Well, here you go. It's summer. Your house will swelter in the sun. Your face will glisten. You'll feel a little sluggish and perfectly lazy.
ENJOY IT!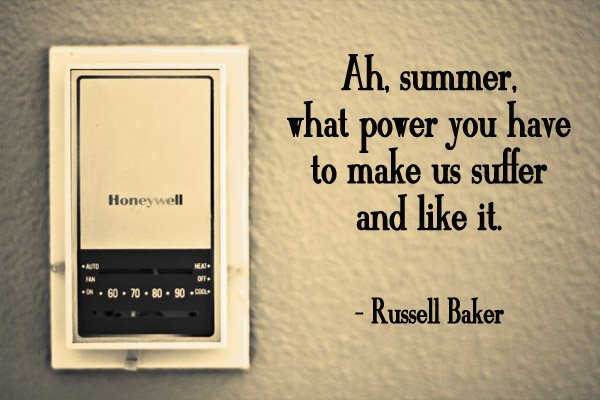 Not once, in all of your life, will you look back with your kids or significant other or friends and say, "Remember that time we spent the summer inside with the air conditioning on?" But you know what you will say?
"Remember that summer when we vowed not to turn on the air conditioning, so we spent it lazing around in our underwear and spraying each other with spray bottles? Remember how good the watermelon tasted, when we were panting from heat? Remember how gross it was when Dad, in his underwear, bent over and we could all see his crack? HAHA!"
If the mere thought of enjoying the heat of summer merely for the sake of its summerness isn't enough for you, how about this?
A few years ago, researchers postulated that air conditioning (and climate control) could be one contributing factor to weight gain. When we don't let our bodies regulate our temperature for us (especially in the summer), we're more likely to overeat.
Think about it. When you're hot, sweaty, and slightly lethargic, how much do you want to eat that big bowl of spaghetti? Not much.
Let summer be summer. Let summer do to you what it will. Love it. It only happens once a year.
A Bottle of Ice + a Fan = Instant Coolness
This. THIS is what's helped me keep my sanity the last few days. This is my favorite tip of all.
Freeze a big plastic (sigh) bottle or two of water. Set it in front of your fan. Direct the fan so it's blowing towards you. You WILL feel a difference.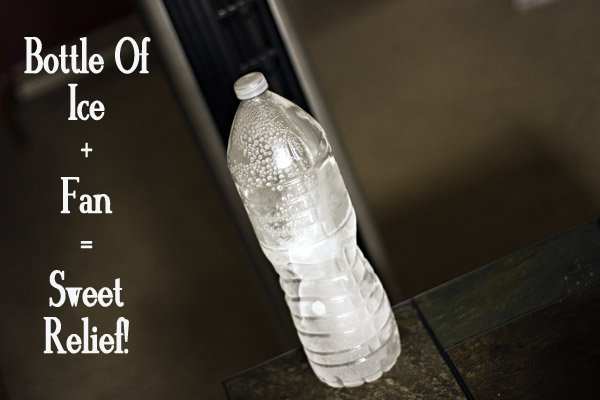 First, if you doubt that this works, check out this very mathy blog post wherein the tester computed a lot of equations regarding putting a 2-liter bottle of ice in front of his window unit. Like converting to Celsius, I am bad at equations, but I did understand his outcome: Just by doing this one thing, he cooled the temperature in his room by 20 extra degrees.
Now, there's a difference in power between a wall unit and a regular fan, but don't think for a second that setting a bottle or two of ice in front of your fan isn't going to work a good deal. ESPECIALLY, if you direct that flow of icy cold air toward you. In fact, he postulates that you could cool a room by at least 5 degrees by just using a fan and a 2-liter bottle of ice. Not bad.
Also, I thought you guys might be interested in this tidbit:
The average air conditioning unit uses 3500 watts of power per hour.
The average fan uses about or less than 100 watts per hour.
Hello, savings!
Keep Your Peppermint Sun Tea Handy
Every three days, my deck holds a gallon jar that's full of water, black tea, dried peppermint and spearmint, as well as gorgeous rays of sun.
Icy cold peppermint iced tea. It does wonders for your internal biological psyche.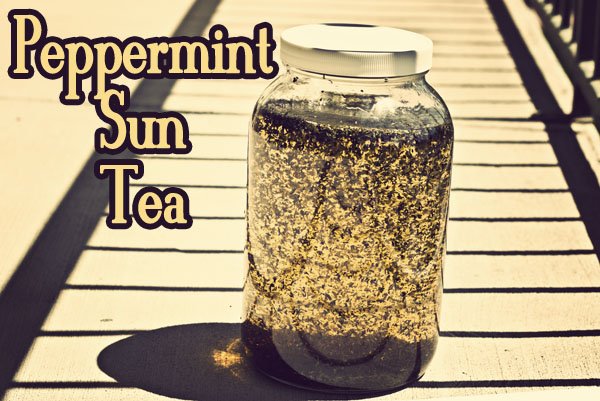 I brew mine loosely, and then filter it through a really fine sieve. But you can use tea bags if you prefer. It's definitely easier that way.
(I just love to buy bulk, loose herbs and tea.)
Haven't ever made sun tea? Here's how to do it the peppermint way:
Fill a large, clear glass jar with filtered water.
Pop in 5-6 bags of tea of your choice (more, if you like stronger tea) and 3-4 bags of peppermint tea.
Shake it up.
Put it in the sun.
Do a little dance.
Shake it every hour or so.
Leave it out in the sun for 5-7 hours.
Bring it back inside, strain, and keep it in the fridge.
Drink as necessary.
Other sun tea drinkers out there? Is it just me, or do you feel like, with every sip, you're swallowing the sun a little bit? Talk about ultimate power. YOU ARE A SUN SWALLOWER.
But, more than that even, the peppermint helps you feel cool and keep your cool. Speaking of which.
Spray That Tea On Your Body
Lest I forget to remind you, make yourself some Keep Your Cool Spray. The more I use this stuff, the more I am in love with the way it makes my body, face, and spirit feel.
BUT, you can also use the peppermint sun tea you brewed right up there, as a quick and dirty "cool spray."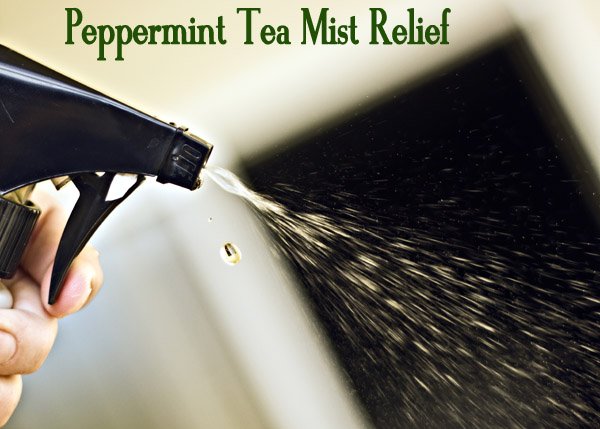 After you've made your sun tea, find a sprayer bottle that puts out a mist of sorts, and fill it half with water and half with your tea.
Spray it on at will, whenever you need a little cooling down (and anywhere on your body), especially when the breeze starts blowing a bit. SERIOUS nirvana right there.
Just be careful not to get it on white clothing. It might stain. Tea has a tendency to do that.
But check out the best part: Black tea will not only help soothe a sunburn, but it'll help repair sun damage. So as you're spraying, especially if you're out in the sun, you're helping mitigate the effects that the sun is having on your skin.
Cool and beautiful. Twofer!
When All Else Fails, Use the Power of Visualization
Your brain is an amazing thing, and just by visualizing icy, cold weather, you can drastically change the perception of how hot you really are.
Really quickly, I want you to imagine this: You look outside, and the snow is falling in a single, wild sheet, building up on the icy ground until it's the height of your ankles. Your shoes are off, your feet are bare and raw to the temperatures.
You step outside, and feel the first zing of ice shoot through the naked sole of your foot. You place the other foot down and soak in the delicious freeze. It travels up your body, as the snow hits your face in a magnificent blast of cold. Every inch of your body is reacting to the cold. You shiver. You're freezing now, too.
You feel it, right? You know what it feels like to step on icy cold, to feel the snow creep up your ankles.
If that's not enough for you, here are a couple of pictures my mother took in the winter that I use to physically get myself into that space. Use them as you will, or find your own "freezing" pictures that'll get you to a space of comfortable coolness in your brain, which will translate to your body.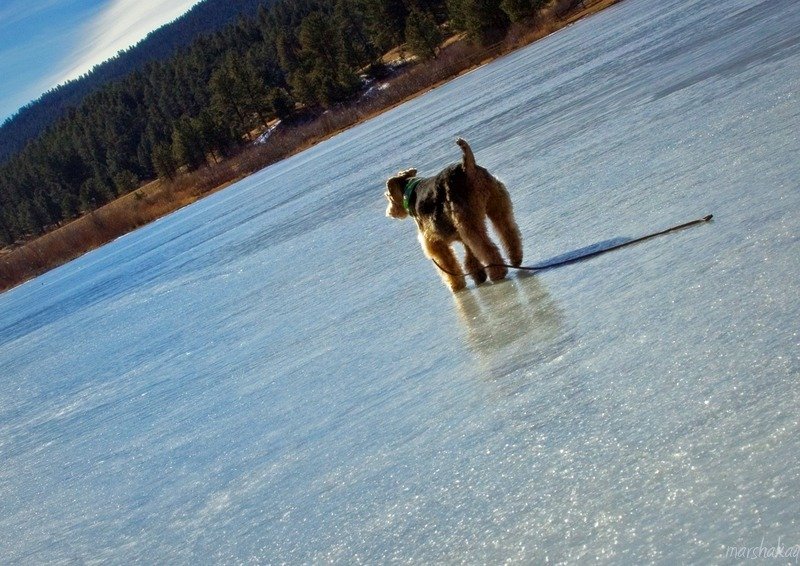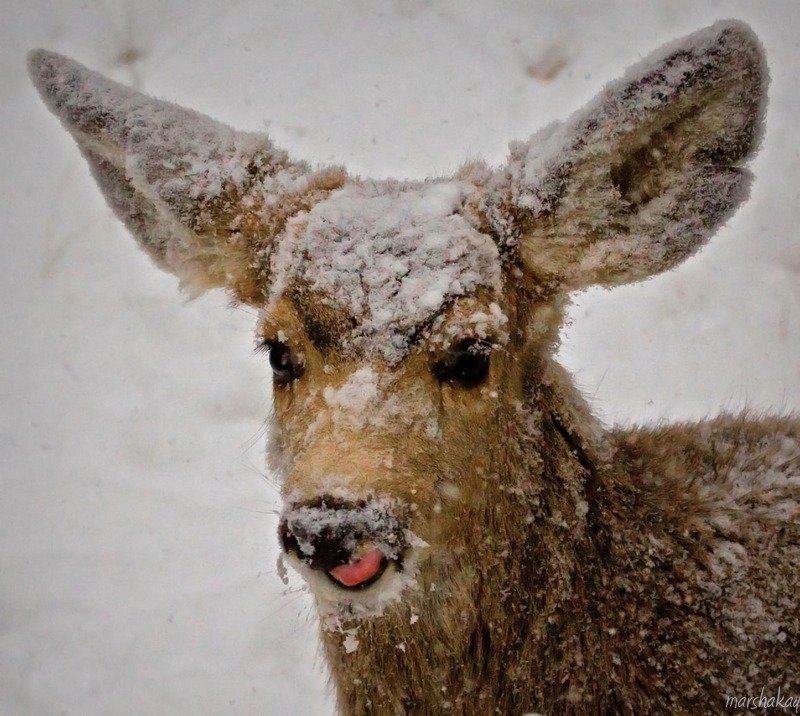 Do YOU Have Any Tricky Ways To Keep Cool In the Summer Without the A/C?
Share them!
How do you keep your cool without losing your sanity in the sweltering heat of the summer?