When I posted a call for potential guest posters, and Angie from Bare Roots Studio sent me an email, I was overjoyed. Long ago, I fell in love with the writing she does on her own blog – it's just so raw and insightful – and wickedly witty. If, after you read her touching thoughts on the loss (and hopeful resurgence) of her daughters' inherent natural tendencies and you want to read more, definitely check her out.
(Oh! She also sells the most incredible signs – of which I have a Japanese teacup proudly in my living room now – at her Etsy store.)
How to Turn Your Daughters (Back) Into Witches
These are my daughters. The older one is on the left, younger on right. Aren't they lovely?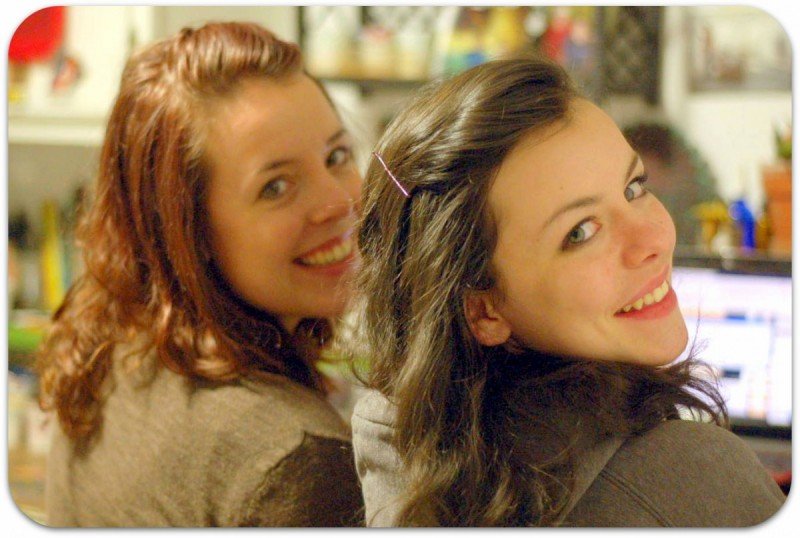 Ah yes. It gives me no pleasure – despite what you may have heard – to grind them up into one of my potions.
Stake-Burning (not steak-burning)
Traditionally witches were those folks, mostly poor &/or older women, who just didn't fit in with their medieval neighbors. Their crimes included healing with herbs, having pets & helping birth babies. Oh, & "enchantment."
Naturally, they needed to be killed. No need to stir up controversy in this post by suggesting otherwise.
Girls Gone Wild
In my own girlhood, I ran shirtless & dirty around the woods at the top of my street like some sort of not-cute forest waif. At home I melted crayons in the driveway. The resulting liquid was especially powerful mixed with hydrogen peroxide & my dad's Aqua Velva. (Just in case you try it, be warned that this concoction, poured hastily down the sink when Mom pulls up, will harden & stick. Best to lock the bathroom door at that point.)
So my own girls came by their witchiness honestly. The oldest slid down arroyos & ran from what I assured her & hoped was true were imaginary rattlesnakes & mountain lions. She baked grass n'mud casseroles on warm boulders & sang "American Woman" at the top of her little lungs. Later she told wonderful invented stories to the neighbor kids.
Scooping out sections of earth to make "recliners" was my youngest's thing. Fairy houses made of twigs & feathers & rocks was another. She also made a hair care product from spit. Then she discovered my stapler. How many pieces of her own clothing she cut up & stapled into interesting new doll fashions may never be fully known, but I still sometimes run across evidence stuffed in odd places like the rafters, or gutters.
My creative little geniuses. And then, each in her turn, they stopped.
Betrayal
Recently my oldest daughter came home for the holidays. She had forgotten her oral hygiene products. Glancing through the medicine cabinet she asked, "What's in all these glass jars? We can't even get Tom's anymore?"

Then: "Mom! So it's really true you're brushing your teeth with a stick now?"

The youngest intoned, "It has come to this."

Decades of being the sole crunchy in my own family bestows a certain immunity to such remarks. What does get to me, however, is hearing my oldest daughter referring liberally to Chick-Fil-A, Crystal Light, Cover Girl.

This is how they kill me, you know. They kill me slowly & exquisitely well, my children. My youngest whispers "Forever 21" & "formaldehyde nail polish" just to curdle my skin.

Like a witch defiantly watching the townspeople until the flames melt her eyeballs, I take this silently, but not submissively.
Synthetic Sorcery
And I draw the line at the Pink perfume my oldest left behind. In this house we refer to Victoria's Secret as Victoria's Butthole & that's the way it's going to stay, dammit.
So, though my youngest desperately wanted to keep this piece of her sister's artificial essence, I made her give the bottle away to one of her friends.
I refuse to feel guilty about this. Its nasty components will leach into the water supply eventually anyway. And the friends' parents could care less what their daughters spray on. For years I've been waiting on a sparkly pink product line for girls & women called, simply, Cancer.
Bubbling Cauldrons
Admittedly, I was not always this fierce. In adolescence & early womanhood I lost ability to craft myself, too.
Pretty soon I was tame as a boiled egg, eating snack-sized Doritos, opening fresh cakes of L'Oreal eye shadow & feeling nourished by both, at least temporarily.
All my native wildness had boiled away. I tried to get it back through mean boys & cigarettes, among other things, but those are no more soulful than Urban Outfitters.
To free myself I made a pact with the Dark Side: Nevermore would I return to the easy parking & bright lights of The Mall. I would haunt the thrift stores, the blank page & my own garden instead. I would delight in sky & book, cookpot & the companionship of fellow witches, including the male ones.
Deeper & deeper I go into the dark domestic arts as I age. For instance: Lately I've been harvesting my pee & excess shower water to feed my indoor plants. They love it. They whisper very complimentary things.
Also I made dish soap. It does not contain pee.
Magic Production
So now I grind up my daughters' fingernails, hair from their brushes, pour in their wicked humor. I cast my spell.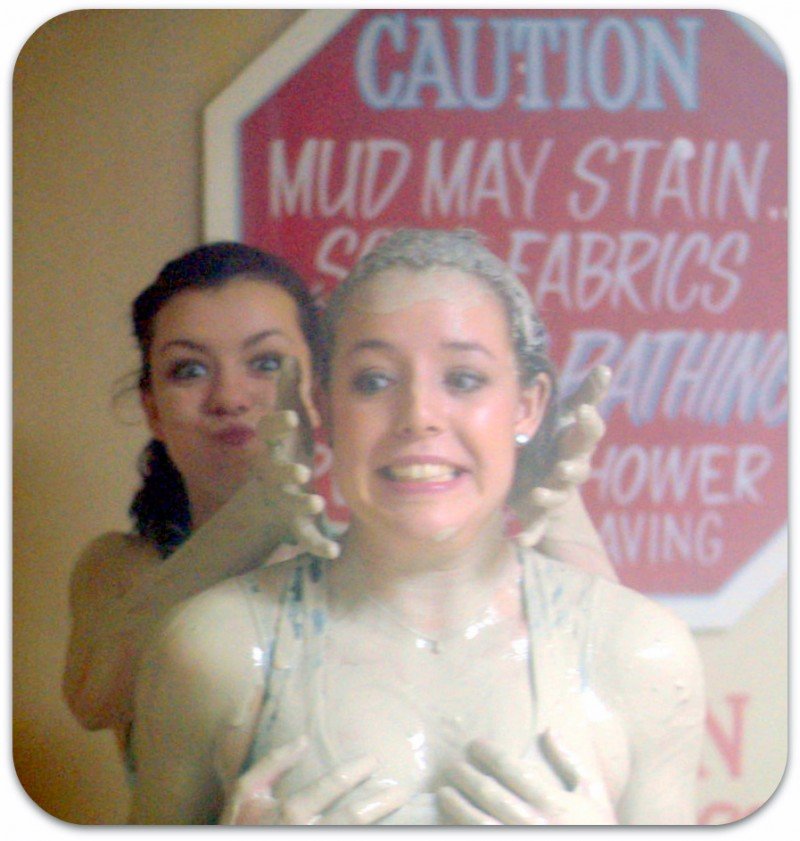 May my oldest finish that pearl painting she created from thin air, simply because she wanted a painting of pearls, & make many more. Though she's graduated from grass n'mud casseroles now, may she continue cooking, preferably with organic ingredients. May she at least consider essential oils.
May my youngest's trade of a sewing machine for my stapler be permanent. May she stop saying her Buddha drawing isn't good enough. May she actually practice her guitar.
May they always play in the mud, knowing also they can fly. If they're in the mood.