I wrote this when I was 36 years old.
By the time you read it, I will be 37. In mere hours, I will have aged an entire year.
It's high time we start marking our passing of time not in years, but in minutes. The passing, then, will be less significant – less of a badge to wear, whether it's honor or shame, depending on your outlook.
Numbers become significantly less important the higher they are. Take the national debt for instance; 15 trillion means nothing to you, really, does it? It's just a crazy big number to which you might attach anger, but really it means nothing to your brain.
Instead of 37 years old, maybe I'll be 324, 335 hours old. (Holy frick! THAT is old.) Maybe this wasn't such a great idea.
To mark my new year-that's-really-only-a-few-hours-when-you-think-about-it, I wanted to make a cocktail that was a little bit crunchy, and a lot a bit fun. So I tried ginger beer (to which I will add rum and lime juice, and it will be the ubiquitous Dark & Stormy).
This. This FAR exceeded my expectations – both in quality and in spiciness. It lives somewhere between the worlds of tantalizing-tongue-tickler and blow-your-face-off-mama-hot. It might be a little closer to the latter.
Letting it sit, though, for just a few hours really mellowed it out a lot, so if you don't want your ginger beer/ale too strong, cut the ginger down a little, but not too much.
Before I show you how I made this, I want to make two very important points:
This recipe is slightly alcoholic (VERY slightly) only because of the short fermentation time – just enough to give it a fizz. Based on my completely unscientific judgment, I'd say it's even less alcoholic than kombucha.
While, throughout the post, you'll see this being stored in glass bottles, I don't recommend you do this unless you're being very, very, very careful about it. The fermentation process causes CO2 buildup, which – in time – is too much for the glass to handle (and could cause the glass to break and cause a huge mess and/or injuries). Other than for picture-taking, I'm keeping my lids cracked slightly to let the gas escape. It's better to use a plastic bottle, which allows room for the pressure to build a little (which you'll want to let escape if you see the plastic bulging). This is one of the very few times I've been bummed about not having any plastic bottles in the house.
This is DELICIOUS. This is also three points.
An Honest-to-Goodness Homemade Ginger Beer Recipe
If you go out in search of ginger beer or ale recipes on the internet, you'll see two different kinds. One is similar to this (only occasionally different steps) and one is an instant gratification version that mostly just involves making a ginger simple syrup and adding club soda to it.
I pretty much followed this recipe to the letter. The only difference was that I used a little less ginger than the recipe called for, so its intensity shocked the holy batman out of me.
And to be completely frank, I used his only because it was the Dark & Stormy recipe after the initial ginger beer instructions that had me jumping up and down.
Okay. Now for the fun part.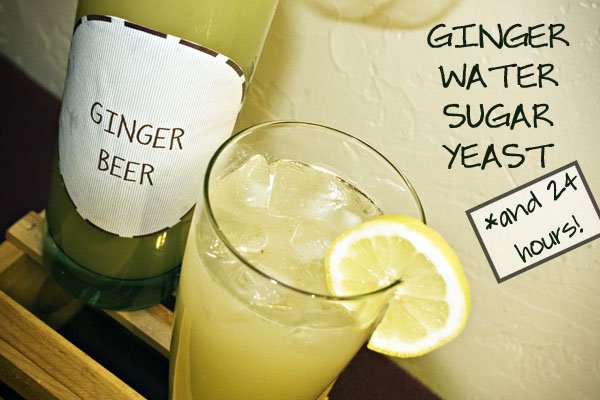 Yes. I forgot to list lemon on that picture. The ginger beer must've gotten to my head while I was editing pictures. Please squint a little and see if you can imagine the word lemon in that list. There you go.
Step 1: Grate, Grind, or Finely Chop 2-ish Cups of Ginger
Several people have mentioned to me lately (on yesterday's post, too) that often there's no reason to peel ginger. This seemed like one of those times in which there was no reason.
So I just washed it off, tossed several broken bits into my small food processor, and let it do it's job. It was PERFECT. And so much faster than peeling and chopping.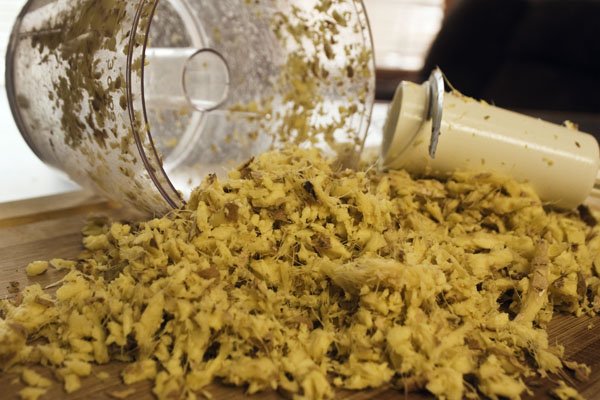 I kept tossing in little pieces of washed ginger and measuring until I reached nearly 2 cups – not quite. Again, if you don't want super spicy ginger ale, I wouldn't recommend using this much ginger. A cup and a half would more than suffice.
After that, you put the ginger in the bottom of your container.
Step 2: Add 2 Cups of Organic, Unrefined Sugar
Unfortunately, I don't see a way to make this without sugar, because it's the sugar that the yeast eats. The good news is, the yeast will eat the sugar and convert it, so there's not even remotely 2 cups of sugar left when you're done.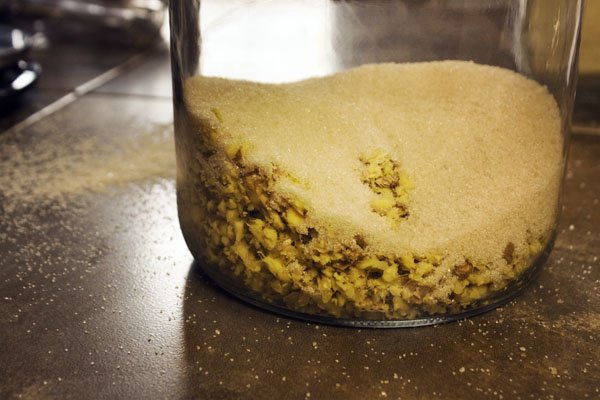 There's actually not much left to go now, believe it or not. If I remember right, this whole process (minus the 24 hour wait time) took about 15 minutes.
Step 3: Add 2 Quarts of Boiling, Filtered Water
I don't really know what else to add to this step's instructions.
"Add water" is pretty self explanatory.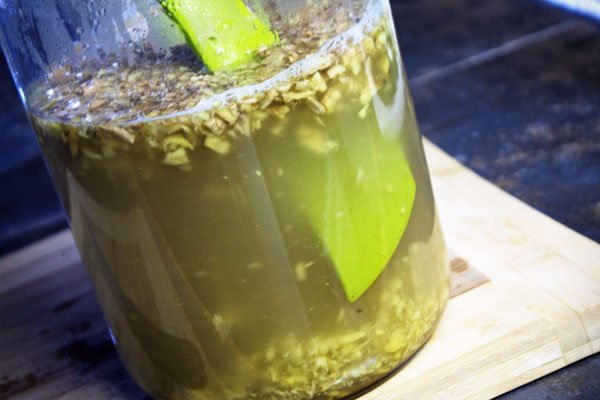 Oh yeah! There is more to add. Stir.
Stir.
The end.
Step 4: Add the Juice of Two Lemons
You guys know how to juice a lemon, right?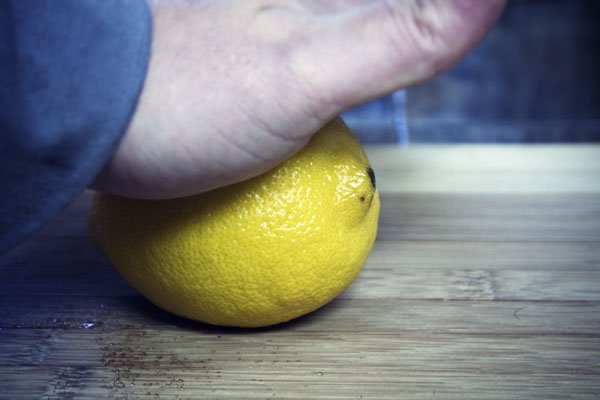 The secret to a quick and easy lemon juicing is to roll the lemon under the palm of your hand while using pretty firm pressure. You'll be able to feel it soften under your skin. When it's a little mushy, that's when it's time to juice.
Just cut it in half and start squishing down, over your container, with your thumb.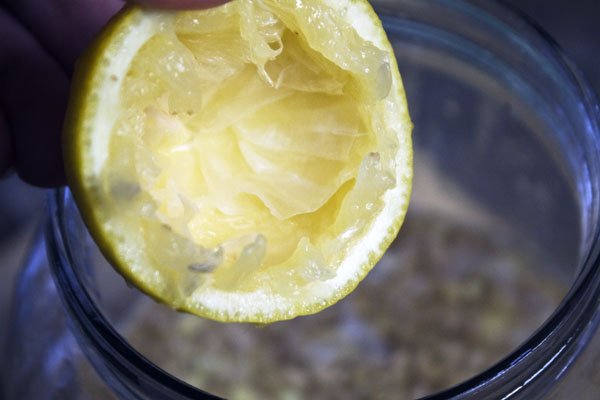 Because we're going to strain all of this anyway, I didn't even worry about the seeds that plopped in. They can stay. For now.
Step 5: Stir Again and then Wait About An Hour Before You Add 1 tsp Yeast
You don't want to add the yeast when it's piping hot, or else you'll damage all the yeasty goodness. Wait until it's tepid to the touch.
For me, this took about an hour.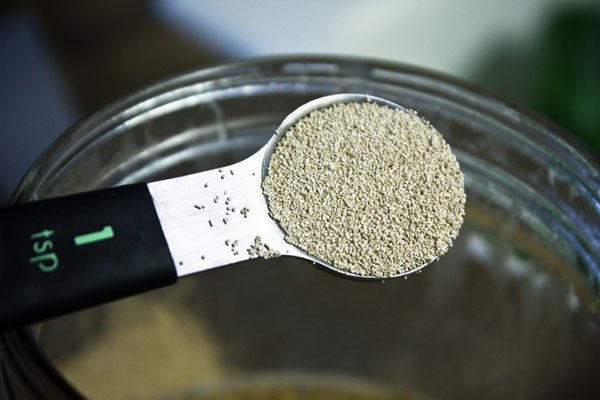 Now you just dump your yeast in and give it another good stir and cover it lightly. You could even just cover it with plastic wrap, if you don't want to store this in a plastic jug.
Of note, the yeast I used is actually a beer yeast called Brettanomyces. I only used it because I had it left over from a year ago (while trying to make apple cider vinegar) and wondered if it was still any good. OH MY, it was.
But you can use any kind of active yeast. Even the kind that comes in the little packets that you bake your bread with. The type of yeast you use will change the taste slightly, but for all intents and purposes, there's no reason not to just use good old bread-baking yeast.
Step 6: Wait 24 Hours, Strain, and Enjoy!
There are several other recipes that suggest a longer brewing time, which you can certainly do. But the longer you brew it, the more alcoholic it's going to be (and I hear that if you let the alcohol content on this get too high, it can cause some wicked hangovers).
I let mine go for exactly 24 hours, and it neither tastes nor feels alcoholic. In addition, my house is really cold – and the warmer it is, the faster it'll brew. What I'm saying is: If you don't want any noticeable alcohol content, don't let this ferment for more than 24 hours.
I got ahead of myself, though.
After 24 hours, strain everything out using a cheesecloth or a coffee filter. Make sure you don't see any more yeasties floating around.
Then, you just store it in the fridge, which stops the fermentation process, and you drink it with a nice helping of cold, cold ice.
If, for some reason, it's too gingery for you, just add a little water to wet it down a bit – or even a little club soda to give it more of a fizzy kick.
Homemade Ginger Beer
1-1/2 to 2 cups of ginger (depending on how spicy you want it), grated or finely chopped
2 cups of organic, unrefined sugar
2 quarts of boiling water
Juice from 2 lemons
1 tsp yeast
In a large plastic or other breathable container, combine the ginger, sugar, and boiling water. Stir or shake well to dissolve the sugar. Add in the juice of two lemons and stir or shake again. Allow this mixture to cool to lukewarm temperature, about an hour. Add in yeast. Stir or shake again. Cover lightly and leave alone for 24 hours. Strain the ginger from the mixture and enjoy! Keeps in the fridge for up to a week. Best enjoyed within a few days, for that kicky gingery taste. (Remember, putting it in the fridge stops the fermentation process, so it's a vital step.)
If you want to go about this a completely different way, don't forget about water kefir!
And now, if you don't mind, I'm going to go have fun.
19,460,104 minutes worth of pent-up fun.
That's what I'm about to have.
Mwah!