During the winter season, my house is never empty of ginger. It's a must-have for cough and cold season, as well as any tummy upsets that might sneak up. Also, it's delicious. And spicy.
Spicylicious.
It looks like toes, though. Don't you think?
I'd never noticed that until today. But it definitely looks like toes. So today, we're going to use fresh ginger in five beauty recipes/ideas – starting with your toes.
As an aside, I have to share something that my favorite herbalist told me, many years ago. She said, "If you look at a vegetable, herb, nut, or flower, and see a body part, that's probably the body part that it's good for." So walnuts? Good for your brain. Lungwort (which looks like lung tissue), great for your lungs. And ginger? Must be the toes!
Right now, I have an incredible excess of ginger, thanks to both unconscious shopping moments where I thought I should add to the 3 pounds I already have. So I've started my first batch of ginger ale (which hopefully, fingers crossed, will turn out well enough tomorrow to blog it) – but I HAD to find other uses for it to share with you.
5 Ways to Use Fresh Ginger in Your Beauty Routine
First, it must be pointed out that because we're working with fresh ginger, these things aren't going to keep as long as you'd probably hope. In fact, most of these, you should use immediately.
And I have two great ginger tips for you before we get started:
To peel ginger, just use the side of a spoon. This is a pretty well-known tip, but it must be mentioned. You don't need a fancy peeler to peel the skin from the ginger – in fact, I often feel that my peeler is too thorough when I use it on ginger. Just tilt your spoon to the side and use the edge to scrape down the ginger. The top layer should peel off easily and quickly.
Peeled ginger keeps very well for months in the fridge, if you submerge it in a high-quality, high proof alcohol. Just peel the ginger and break it into manageable pieces and then pour vodka or vermouth or even sherry (though vodka is best). If you're planning on using it to cook with, the alcohol will just cook right off when you do. And, bonus: You'll have ginger-infused vodka to make a new, fancy martini with.
Now. Beauty. Skin. Your health. Starting with the toes.
Mustard-Ginger Detoxifying and Destressing Foot Soak
A long-famed traditional home remedy for aches, colds, chills, and general fatigue and sickness, mustard foot baths are the bomb for the days or nights where you just don't feel up to snuff.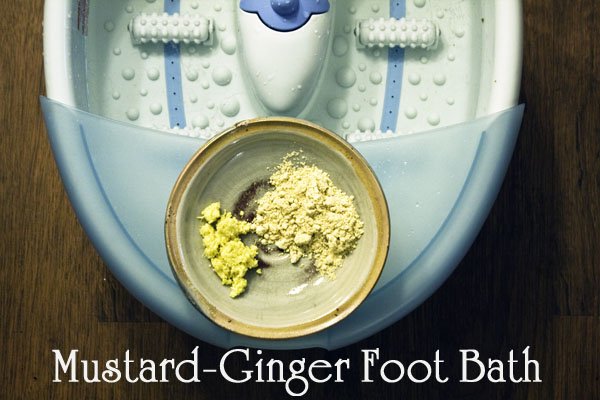 Add a little fresh ground ginger in with it, and you've got yourself a foot bath that will help warm you, relax the muscles in your feet, and detoxify your system straight through the soles.
You don't need a fancy foot bath like I have (in fact, I wouldn't have it if it weren't for someone literally making me take it – it's a little frivolous, to be sure). Just fill your bathtub (or another large foot-sized basin) up with very warm water and add your ingredients.
Of note, hot water "deactivates" mustard, making it milder and not as potent. So it's best to do your mustard-ginger foot baths in warm water, not piping hot.
Mustard-Ginger Foot Bath Recipe
1-1/2 Tbsp mustard powder (or freshly powdered mustard seeds)
2 tsp finely grated peeled fresh ginger
Combine the two in a basin that fits your feet (or your bathtub) with enough hot water to cover the tops of your feet. Stir around and then submerge your feet. Let your feet soak for 15-20 minutes, swishing the water around occasionally (and adding more warm water, if your foot bath becomes too cold). Rinse with warm water and pat dry.
Fresh Ginger for Hypopigmented Scars (or White Scars)
Hypopigmented scars or skin has lost its pigmentation – and is either white or a much lighter color than your actual skin tone. Incredibly enough, ginger will fix this issue.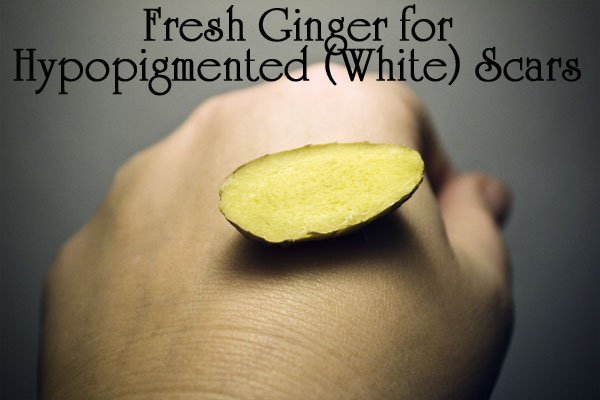 I first read about this phenomenon in one of my natural beauty books, but I took to the internet to find out if anyone had any practical experience with ginger actually helping to return the skin to its natural color.
And yes. Yes, there is plentiful anecdotal evidence that ginger actually significantly reduces the appearance of hypopigmented skin. Here's a blog dedicated to it as well as a forum – if you want to read more.
In the meantime, here's how you do it: Each day (or even twice a day) cut a VERY small sliver of fresh ginger and dab it on the hypopigmented areas. Don't wash off. Just leave the juice there. According to the forums I've read, most people see a slight improvement within a week or two, and within a few months, their scars are nearly completely back to normal color. The important thing is, do this every day. Without fail.
Rejuvenating Ginger-Lemon Body Scrub
One of ginger's most notable qualities is its invigorating, fresh, and spicy feeling. Add it with a bit of lemon zest in a sugar scrub, and you have a body scrub that will warm you up and wake you up at the same time.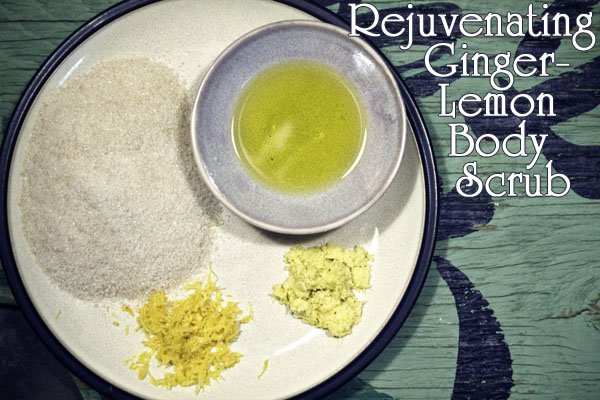 And here's a secret for you: Ginger is highly-regarded as one of nature's best cellulite reducers, so if you do this regularly, you may see a difference in the bumps! (And ginger essential oil is a staple in my Nutty Butt Butter.)
Fresh Ginger-Lemon Body Scrub
1/2 c. organic sugar
1/4 c. olive oil
2 tsp freshly grated, peeled ginger
Zest from one organic lemon
Combine all ingredients in a small bowl. Stir well. In the shower or bath, scrub your body lightly with the mixture and rinse well. This should keep in the refrigerator (if necessary) for up to a week. But I highly recommend you use it immediately.
Romantic, Warming Ginger-Rose Massage Oil
Well, Valentine's Day IS coming up. And if you start a batch of this now, you should be good to go by the big day. I can't think of a better gift for your significant other … that you can BOTH enjoy (regardless of who's doing the massaging).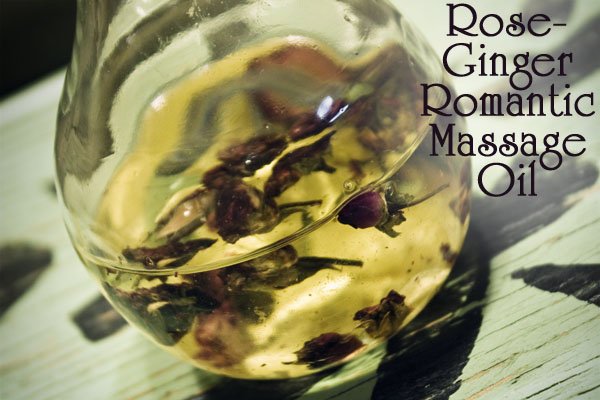 The only thing you should note with this: If you're making it the old-fashioned way, by infusing the oil over time, you might want to use a few drops of rosemary essential oil in the mixture – just to keep it well preserved. Ginger isn't a very watery ingredient, but fresh ginger does contain moisture, so be careful that it doesn't go rancid or start to mold a little.
I've been infusing mine for three days, and it looks great. Ginger's also highly antibacterial and antifungal, so you should be okay. BUT, when in doubt, add extra preservatives (or use the less-intense dried ginger).
Alternatively, you could infuse the oil over low heat with the ginger and rosebuds, and then use it immediately.
Rose Ginger Romantic Massage Oil
1 inch peeled, completely clean piece of ginger root, cut into thin slices
10-12 small dried rosebuds
1 c. carrier oil (sweet almond, olive, jojoba, hazelnut, etc.)
In a small glass container, combine all ingredients and shake to combine, knocking on the side of the glass until all the ginger falls to the bottom. Either let this concoction sit for 5-7 days, shaking daily, or heat over very low heat for 30 minutes to an hour. Use as a warming, romantic massage oil. But keep out of delicate places, because ginger is pretty intense.
Of note, ginger is also an exceptional muscle ache reliever. So you don't just have to use this for sexytimes. Use it whenever there's a tired, sore muscle in the house.
Cozy Ginger-Cinnamon Bath Salts
For this last idea, you can use either coarsely ground sea salt, like I did, or up the ante for relieving muscle aches by using Epsom salts.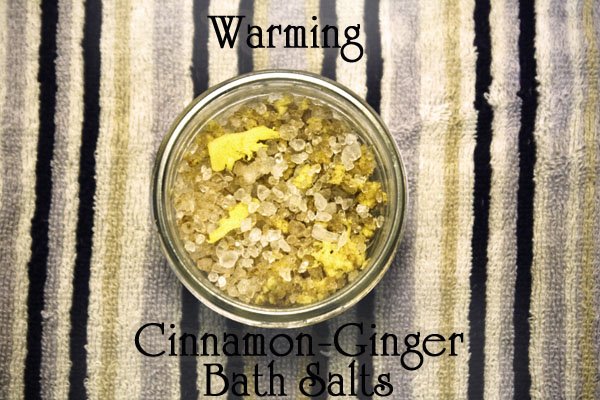 Both ginger and cinnamon encourage circulation, which in turn helps relieve some of the aches and pains you may feel after a long day. But even better, their scents are so homey and relaxing, so you'll drift away into relaxation before you know it.
Warming Cinnamon-Ginger Bath Salts
1/4 c. coarsely ground sea salt or Epsom salts
3 tsp peeled, finely ground or grated ginger
1/2 tsp ground cinnamon
5 drops sweet orange essential oil (optional, for even more relaxation)
Combine all ingredients in a small container and stir well. Add to your hot bath, and swish around a bit before getting in. Soak for 15-20 minutes. Use immediately.
What Are Some of Your Favorite Ways to Use Fresh Ginger?
I also have one last absolute favorite thing to do with fresh ginger: Make chai tea. Ah. NOW I remember what to do with the rest of my leftover bags of ginger root. Yum.
But do you have any favorite ways to use fresh ginger? Maybe it's a recipe or a drink – or even in your beauty or skincare routine.
What do YOU do with fresh ginger?