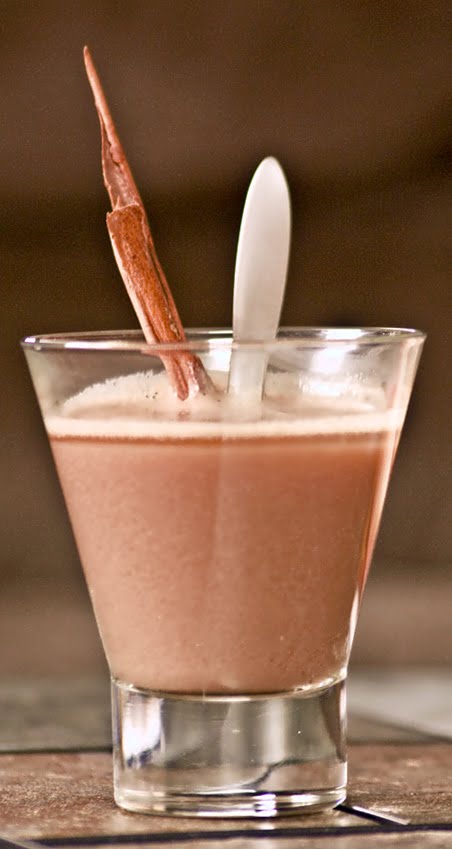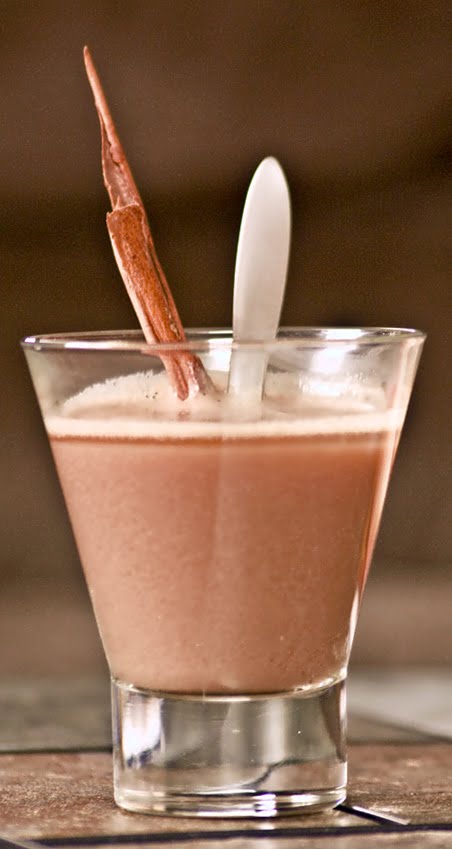 A year ago, I learned how to make chai. I made it for myself, patrons at my friend's creperie, my friends and family – pretty much anyone who didn't turn around and run away from my cinnamon-stick wielding passion.
I was obsessed. That also happened to be the time when I was thinking of starting this blog. I posted this (the only thing) to a Blogger account and then promptly forgot about it.
It's epic. By the end of it, you'll know everything you need to know about making your own chai – including how friggin' healthy it is. It's shameful, something this delicious being this healthy. Anyway, without further ado, I give you …
The Chai Life: Make Your Own Chai … and Love It
I've been making chai all of six weeks now. I've been drinking it – sometimes passionately, sometimes with great disdain – for years. If you've ever gone to Starbucks and thought "I could do this SO much better," keep a reading. Good things are in store for you.
In all of my chai drinking years, I've rarely ran across a blend that satisfied my need for deep, hearty spiciness. After my last unsatisfying order at Borders, I decided to take matters into my own hands. Surprisingly, chai is very easy to make from scratch. It can also be as expensive (or inexpensive) as you want to make it. But, more than anything, it's incredibly rewarding to do from start to finish.
The word "chai" in Hindi means "tea." How easy is that? In India, the drink we associate with the single word "chai" is actually referred to as Masala chai – a good factoid to throw out when you're bragging about your awesome creation. Interestingly, the word "chai" in Hebrew is synonymous with "alive" or "to live."
Not to get too corny, but I can think of no better way to describe the all-sensory feeling you get when you're brewing the tea.
With its magical taste, the visually stimulating beauty of the spices, the tactile surprises in cutting and crushing the ingredients, the comforting sound of gently boiling water, and the exhilarating aroma that literally fills your head, making your own chai is almost a religious experience. It's a fast-track to practicing mindful eating (or drinking, as the case may be).
Perhaps the best thing about our western chai is that we have no cultural ties that keep us clinging to purist methods. Like chocolate in your chai? YAY! Go for it! While you're at it, throw some dried cherries in the brew, as well. And, if you're feeling saucy, finish your creamy creation with a healthy shot of vodka. We dontt judge. You conceptualize it, you create it, you nurture it, and then you drink it. Kind of like a baby, except for the drinking it part. (I hope.)
And the health benefits! Good grief. It's so rare that something so delicious is crazy healthy for you, but chai is exploding with spices that will knock your nutritional socks off (not to mention, if you use black tea, the nice caffeine zing you'll get).
Before I get to the nitty gritty and tell you my chai-making secrets, let's just look at some of the purported health benefits of the main ingredients in Masala chai:
Look at these Health Benefits of Chai Tea … Just Look At Them
Ginger: Grrrrreat for digestion (and calming an unhappy tummy), super anti-inflammatory effects, immunity-boosting compounds, potential anticancer agents, potential alleviation of headaches and woman-cramps, and a DELISH source of magnesium, potassium, manganese, selenium, and vitamins C, E, and B6.
Cardamom: Used for digestive problems, mouth infections, and respiratory tract problems; an excellent source of vitamin C, thiamin, riboflavin, iron, magnesium, and manganese.
Cinnamon: Oh, the list we could make for this wonder spice! Briefly, cinnamon helps regulate blood sugar (my stalwart traditional-medicine-minded father even uses it for his diabetes), helps with colds and unpleasant breath, may reduce the risk of colon cancer, eases digestive problems … and the list goes on. It's packed with choline, magnesium, calcium, and potassium, as well as high in vitamins A, C, and E.
Clove: Like cinnamon, clove may aid in blood sugar regulation, but it's also great for tooth pain (my go-to for the broken tooth I keep forgetting to get fixed), coughs and colds, and digestive problems. It's full of calcium, magnesium, vitamins A and C, and potassium.
Now that we know just a smidge of the health benefits of chai, let's go ahead and get to the reason we're all here.
Advice.
I will give it, you will take it, and I promise you will love your new brew with passion and fervor (and perhaps a little unease in believing that your mere mortal hands could make something so supernaturally delicious).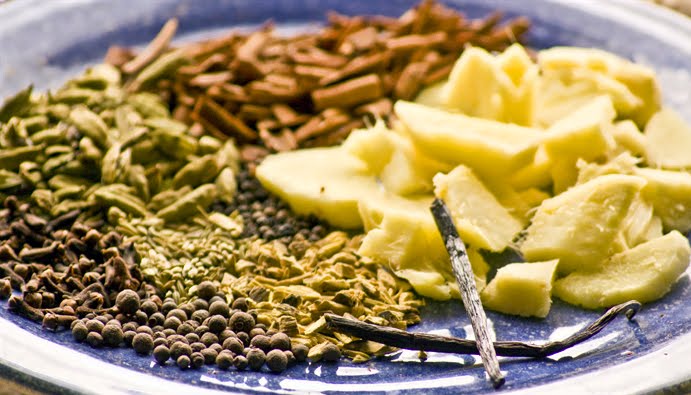 The Monster List of Optional Chai Ingredients
Ginger*
Cardamom pods (roasted and crushed/cracked)*
Cinnamon sticks*
Whole cloves*
Black (or white, if you're lucky enough to find some) peppercorns*
Fennel*
Black tea, loose (preferably Assam or Darjeeling, but any will do in a pinch)*
White (or black if you're unable to find white) poppy seeds
Allspice berries (crushed/cracked)
Star anise
Licorice root
Bay leaves
Chocolate (cocoa powder or the most pure dark chocolate you can find (I'll discuss why later)
Vanilla beans
Lemon zest
Marshmallow root (which, after my own wacky experimentation, I insist on making my chai with every time (seems to mellow the brew and bridge the spicy heat and the sweet)
Cumin
Coriander
Saffron
Dried cherries
Nutmeg
Whatever else your spice cabinet calls you to use
Honey, evaporated cane juice or molasses to sweeten (try to stay away from granulated sugar, babies; it's bad for you, and it doesn't taste as rich)*
Milk, heavy cream, soy milk, or rice milk (as the "creamy" half)*
Chai-Making Rules
There are none.
Just kidding. There are almost none.
This is YOUR creation. Make it yours. I will give you suggestions, but my experience in chai-making has been one of complete folly and fun. If you follow your mood and your intuition, you will – without a doubt – end up with something marvelous. Don't be afraid! It's only tea.
Thou mustn't boil the fennel and black tea. These things (in my experience) become somewhat bitter when boiled. Save these for last.
For spicier tea, brew longer. A no-brainer, but still.
Try to use whole spices (i.e. whole cloves, allspice berries, cardamom pods) instead of powder. It makes for easier straining, and (in my opinion) a livelier infusion.
Love every second of it – from the preparation of ingredients, to the deliriously heady scent, to the magical moment it all touches your tongue. Don't just make the chai – be the chai.
Make more than you need for one serving. Store the rest in a glass container in your refrigerator for up to a week or two. Reheat or drink cold.
When using chocolate, remember that chocolate and water make for a goopy disaster if you're not careful. I have found that if I use good dark chocolate, it will not coagulate and get as clumpy, but you can use cocoa powder, as well. Either way, a good strain through a wire-mesh sieve or cheesecloth will solve the problem. Chocolate should be added toward the very end of the boiling time to avoid burning.
Crunchy Betty's Favorite Chai Recipe
Makes 8 cups of chai concentrate (or 16 mugs of concentrate mixed with the "milk" agent of your choice). This recipe is based on how I like my chai – strong and effective.
7 cinnamon sticks, broken into smallish pieces
8-10 cardamom pods (roasted and crushed/cracked)
10-13 whole cloves
One healthy-sized piece of ginger root (approximately the length of a key or 2 to 2-1/2 inches), cut into small nickel-sized pieces
3/4 to 1 tsp black peppercorns
2 vanilla beans (slice down the middle and scrape the beans into the pot before adding the outer casing) **(this ingredient is not necessary, and sometimes hard to find inexpensively, but I love it to pieces)
9 cups of cold water
1-1/2 Tablespoons fennel seed (or anise seed) (do not add until you've taken the pot off the heat)
3 Tablespoons black tea
Honey or evaporated cane juice
Milk product (milk, cream, soy milk, rice milk, or almond milk)
Now, this is the fun part. Go back to the "Potentially Amazing Chai" list above, and pick anything else that sounds appropriate and delicious to you. Add one thing, add five things of whatever you're in the mood for. Or just stick with the above. That's fine, too. Either way, start basic and then get crazy creative.
Throw all of the above into a large pot and add the water. Place your pot on the stove and crank up the heat until you get a nice, calm boil going. Pop on a lid and let it do its thing for 30 minutes (shorter for weaker tea, longer for stronger). Taste the chai a few times while you're brewing – just remember that you'll be adding the dark tea and fennel in a bit. But get a feel for what this particular batch of chai really needs. Feel free to add whatever you'd like as it strikes you. And feel free, when you lift off the lid, to sink to the floor in ecstasy when the delicious smell hits your nose.
After your boiling time has come to an end, take the pot off the burner and add the fennel seeds and black tea. Let this steep for 5 minutes (again, say it with me "shorter for weaker tea, longer for stronger").
You should have a nice heavy mix of spices and tea going on by this point, so get your muscles prepared for the only hard part. Strain your mix over a wire-mesh sieve or cheese cloth and into an appropriately-sized container. Sometimes I will strain twice (wire mesh first, cheesecloth second) if my mixture seems to have more remnants than it should.
After you've cleared out all of the ingredients and are left with just the liquid, add your sweetener to taste. For a pot this size, I will use a quarter cup of honey and a half cup of evaporated cane juice, but I like my chai as sweet as I like it spicy. Dissolve this well.
Now fill your glass half full (or to the height of however chai-ey you want it) with the concentrate and fill the rest with your desired milk product.
Stir. Inhale. Drink.
Save the rest in the fridge for later. I promise, you'll want more.
And don't blame me if Starbucks starts losing business!