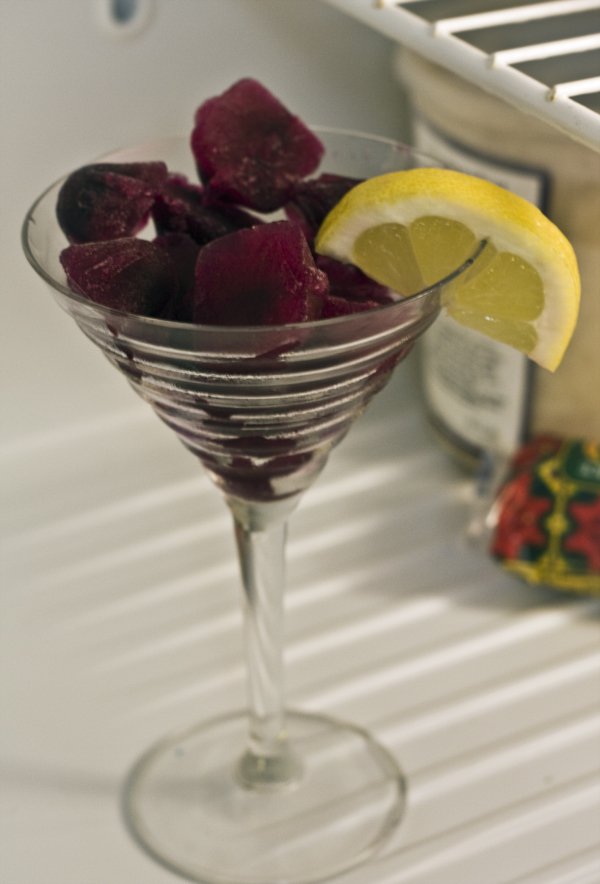 When was the last time you woke up, looked in the mirror, spat the word "puffy!" and went back to bed? It happens to me a lot. Especially when summer starts turning to autumn. Fall brings out the puffy allergy eyes in me.
Never again! Now that I've discovered this cure-all, space-aged, high-tech solution:
Ice.
It brings down swelling like no other solid on the planet. Add in a few more special ingredients, and you've got an ice facial that softens, brightens, tightens pores, and youngens you up a touch. Great for your face, and yummy in your mouth. The best of all worlds.
I borrowed the idea for this recipe from a lovely woman who does YouTube video instructions on beauty, Michelle Phan. I've definitely changed it up and around a little because I bloody needed something to do with my over abundance of blueberries.
Blueberries have plagued me throughout the summer, not just because I can't stop buying them, but because I wanted to put them on my face. I HAD to put them on my face. They're crazy full of antioxidants and other super-skin powers, but I was so scared we'd all end up looking like Violet Beauregard in the facial regions if I just slapped them straight into a mask.
Quandary solved with this little ditty here.
The exciting part? While you're putting this in your face, you can also put it in your tea!
All the ingredients are perfect for a zingy little addition to iced green tea. Just drop a few cubes in, and you've got a little hint of blueberry, sweetening, and a smidge of lemon.
Why You Would Want to Use a Blueberry-Green Tea Ice Facial
You wake up, and your skin is puffy. These things happen often in the summer. You need help. This is like splashing cold water on your face on steroids (or on antioxidants and astringents).
Any skin type can use this. The honey is humectant, so it makes your skin feel soft and dewy. The blueberries are divinely softening, antiaging, and delicious when they drip over your lips. The lemon is astringent and lightening. And the green tea is magnificent in so many ways, I'm going to dedicate a blog post just to it soon.
Blueberry-Green Tea Ice Facial
3 green teabags or 2 Tbsp. loose green tea
2 Tbsp. lemon juice
1/2 c. blueberries
3 Tbsp. honey
2-1/2 c. water
ice cube tray
Steep the green tea in 2-1/2 c. boiling water. Strain. Add honey. While this is cooling, drop your blueberries in a blender or food processor and add the lemon juice. Blend briefly, until blueberries are mushy, but not completely runny. Add to green tea/honey and stir. Pour the liquid into your ice cube tray and pop it in the freezer for a few hours, until you have green tea/blueberry ice cubes.
To Apply: Over a sink (because the blueberry juice will drip), rub an ice cube over your face, concentrating on the puffiest parts. Lick your lips. Yum. Once the ice has completely melted over your face (or you're tired of rubbing), dab your face lightly with a paper towel or towel that you don't mind staining (blueberry juice again). Voila!
After you've dabbed the liquid off your face, you'll still feel a little "stuff" on it – it's just a little sticky or dewy. Leave that on as long as you want/need, at least 20 minutes. Rinse off when you're ready.
Note: Again, I just want to point out that blueberry juice does stain towels and clothing, so skip wearing white while you're doing this. Other than that, it's fabuloso.
The ice cubes will keep in the freezer for, like, ever. Although I'm willing to bet they'll be gone in three days.
In chillingly glamorous crunch!