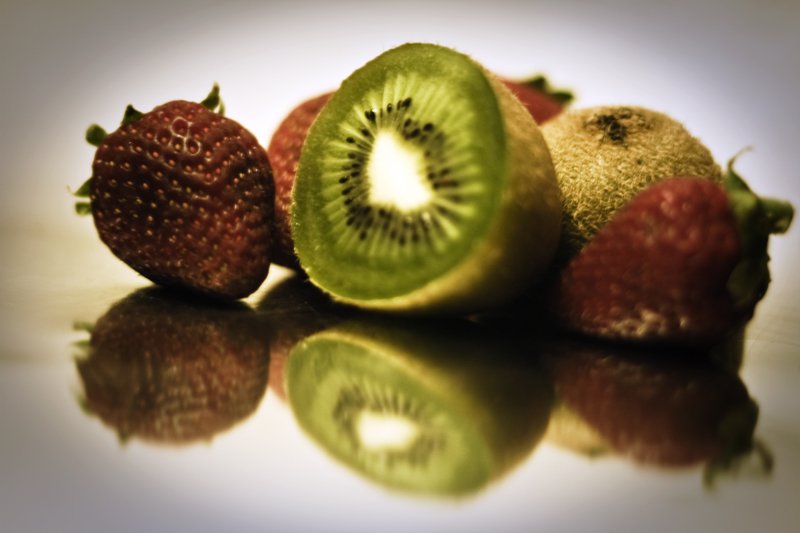 Before we get started, I need to give a shout out to my homies Jan and Gina for their lovely Crunchy Betty posts this week. I was all verklempt. For reals. I heart you girls.
—
If I were handed two eggs and a frying pan and told to make scrambled eggs without a recipe, we would be having cold pizza for breakfast. Because somehow the results would end up looking like beef stew and smelling like toejam (or maybe the other way around).
There is a point to this, and if you read all the way to the bottom (and you blog about food), you'll find out the exciting conclusion.
So when I come up with a skincare recipe that is all my own, without even any tiny bit of peeking into someone else's concoction for inspiration, I'm a little in love with myself. Like the Corn Milk Lavender Toner. I didn't shut up about that one all day.
So I'd decided I wanted to do strawberries and kiwis and create what was screaming "facial polish" (as in shoe, not sausage) in my head, but I was a little stumped as to how to do it. I searched high and low, and found a really fun new blog chock full o' fun beauty stuff, but it still wasn't quite what I had in mind.
I fretted. I watched All My Children. I cleaned the kitchen. Then I fretted some more. Finally, I hauled my procrastinating butt down to the community foods store and grabbed a pound of organic strawberries, planted my feet in the kitchen … and genius ensued. The following is that genius. You may revel in it. It costs nothing. (As a side note, just to get the whole thing absolutely perfect – FOR YOU – I went through almost the whole pound of strawberries and eight variations. Again, you owe me nothing but your undying love.)
(And maybe you could come do my dishes.)
Who Should Use This Mask: Anyone with skin. It's great for oily, dry, and normal skin types. It's softening, cleansing, and brightening.
—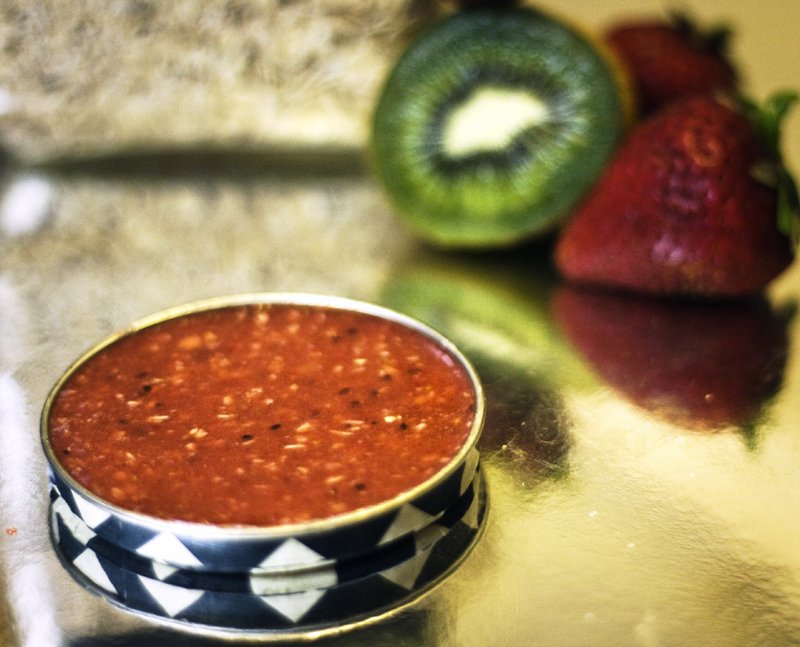 Brightening Strawberry-Kiwi Facial Polish
Makes 1 application
2 strawberries
1-inch slice of kiwi (peeled)
1 tsp honey
1/2 tsp olive, sweet almond, or avocado oil
1/2 Tbsp finely ground oats
1 Tbsp cornmeal
In a small food processor or blender, add the kiwi slice and strawberries and start blending/processing. While this is going, drizzle in the honey and oil. You will end up with a pretty, shiny, pink goo with seeds dotting it ever-so gracefully. Pour the mixture into a small bowl and add in the finely ground oats and cornmeal. Stir well.
Apply to a clean face and massage lightly for 2-3 minutes. Then go do something else, while the sweet, heavenly scented polish sits on your face. Wait 10-15 minutes. Rinse well.
Your face should be very, very soft and bright after this. (I did my final run three hours ago, and as of this writing my face is still soooo soft.)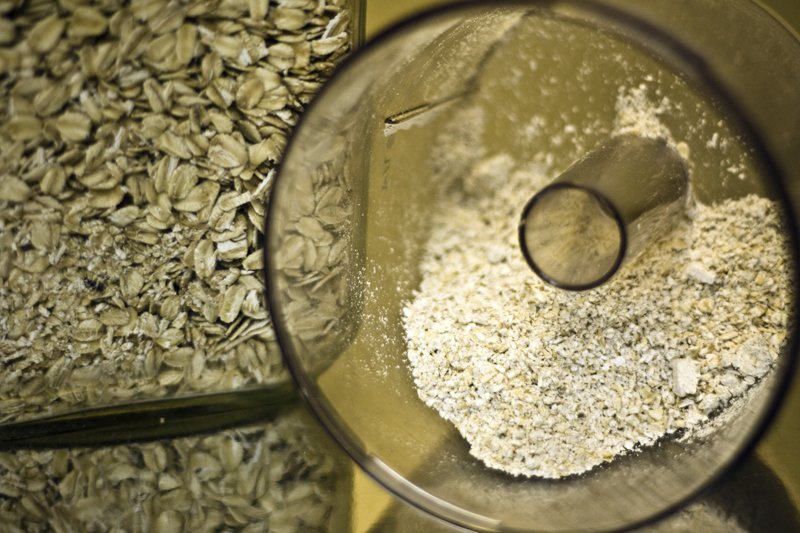 Some Crunchy Tidbits About This Recipe
Finely ground oats are great to keep around the house. All you have to do is toss some organic oats in your food processor and go to town on it. They grind up in less than 2 minutes. And they're a fab addition to many a facial scrub, mask, and cleanser base. They keep for at least six months. Oats add a bit of scrubbiness to your products, and they're VERY softening for your skin. Plus, they're good for any skin type.
Kiwi is a killer mask ingredient. High in antioxidants and acids that work well with both oily and dry skin, kiwi fruits look as good on your face as they taste on your tongue.
Don't be scared of the oil addition. It's part of what makes this a polish, and whatever oil you choose (provided it's natural, not vegetable or canola, and in the range of olive, sweet almond, avocado, grapeseed – or any other "approved" facial oil) will help your skin absorb the goodness from the fruits, and will leave it glowing and touchable. Don't touch too much, though. Pimples happen with too much touching.
As Promised – The FUN Stuff!
Tomorrow, I'm going to do a post on all things strawberry, when it comes to your skin and your body. It will be chock full 'o good information that I'm sure you're just DYING to know.
There will also be a linky party involved, based on recipes for strawberries – that you eat. Please come back. Please join. Please give me something else to do with all the strawberries I'll be buying tomorrow in preparation for this.
So get your strawberry (or kiwi, even, for funsies) recipes ready, ladies. We're going to shortcake it out all day long.
In love and crunch!