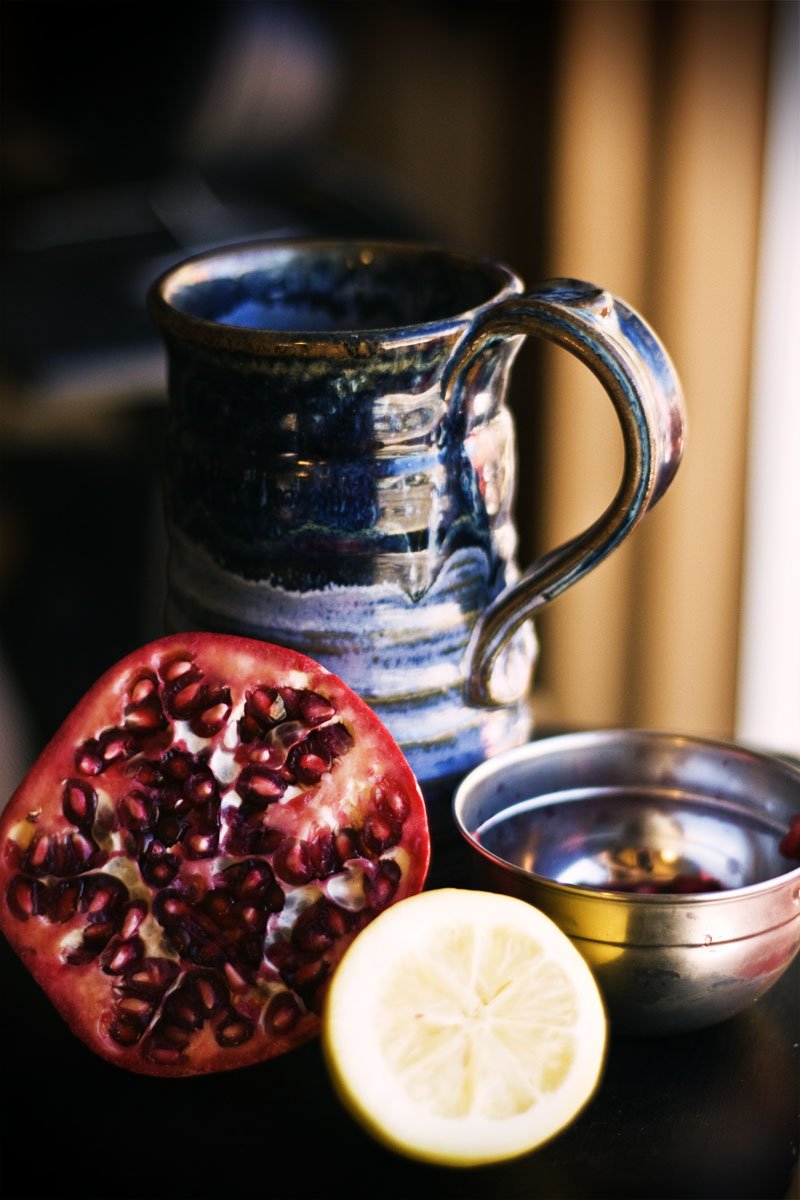 Twenty bucks says at least 15 of you haven't ever had a fresh pomegranate.
Which is why I'm doing this. I want you to have a serious, hardcore reason to run out to the store and buy yourself one.
No excuses.
See, I've been waiting for this day. For months. Waiting for pomegranate to be in season, topped off in boxes in the produce department, all anxious for that special person to take them home.
I could not WAIT to figure out a beauty treatment with pomegranates. (I mean, seriously, how many beauty products DON'T use pomegranate extract in them somewhere? This was a score waiting to happen.)
Pomegranates were purchased, and then eaten. Purchased again, and then eaten.
Finally I had to stop. Finally, I had to put them on my face.
Continually eating them was cramping Crunchy Betty's style. Why couldn't I stop?
Let me explain it to you:
The Orgasmic Experience of Eating a Pomegranate
It's there. On the counter. Lumpy, bruised, burgundy and brown. The naval juts up like a truncated Snork's snork. You grasp the fruit in both hands, its leathery, scarred outside betraying the treasures hidden within.
You smell it. It carries the distinct smell of … nothing. You wonder what the nerf you're doing, because there's nothing sexy going on here.
So you grab a big knife and plunge it deep into the pomegranate. "Sllluurp," you hear and the fruit falls open to reveal hives of rind covered in the most succulent, ruby red, juicy seeds.
You wiggle one off, like a loose tooth, and you pop it in your mouth.
It rolls off of your lips, into your mouth, and a slight tantalizing hint of tart, sweet juice hits your tongue. You can't wait anymore. Hurriedly, you move the seed between your front teeth and bite down gently.
And the heavens open.
The angels sing.
The seed sprays a tiny explosion of the deliciousness of a thousand different fruits all across your tongue.
Thirty minutes later, you've picked every seed from the pomegranate. Experienced hundreds of these moments. And you're sated. Spent. Awash in the afterglow of pomegranate.
(I'm not making this up. This is really what it's like.)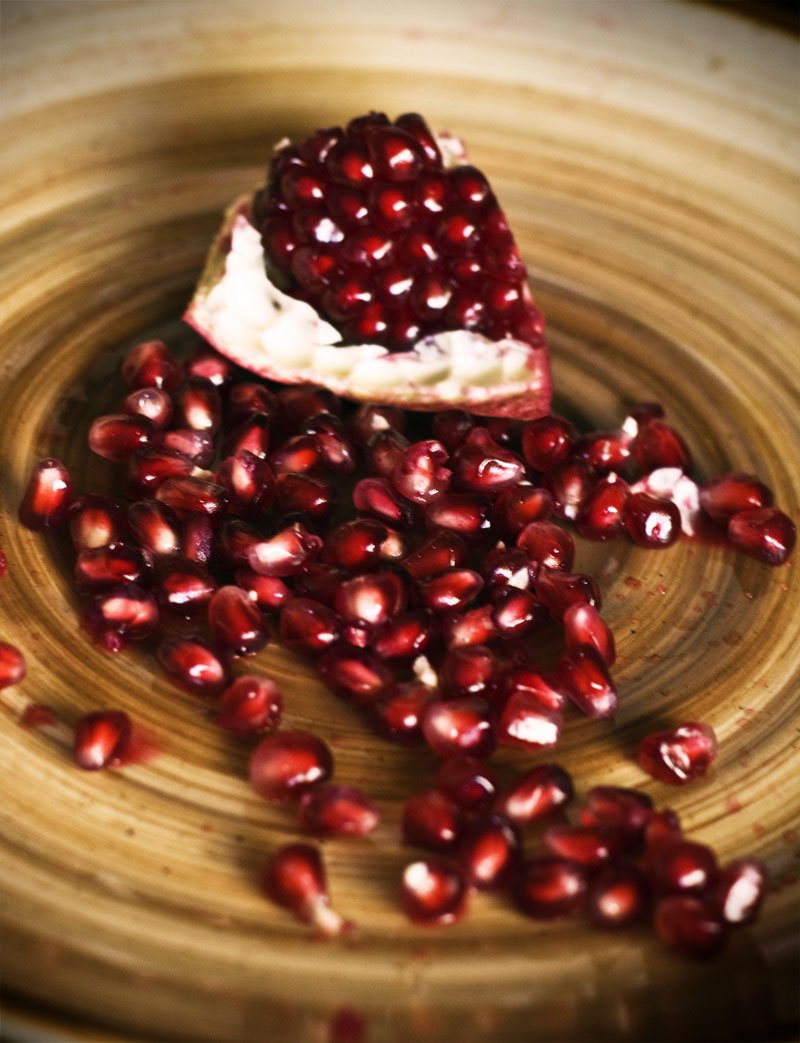 Pomegranate and Green Tea Facial Peel
It was important, in deciding on a recipe, that I do something that could also be used to consume. So I went with this.
As you're making the facial peel, you're also making a delicious, tantalizing cup of green tea with pomegranate and lemon. It goes on the face, and in the mouth, and you look and feel simply otherworldly after you're finished.
It's 15 minutes of your day that will take you straight into the Garden of Eden. (Did I mention that there's pretty good evidence that shows the pomegranate is actually the "forbidden fruit?")
Ready for it?
Pomegranate and Green Tea Facial Peel Recipe
1 fresh pomegranate
1/2 of a fresh lemon
1 tea cup full of strong green tea
Make your green tea. While it's steeping, pull off 40 or so pomegranate seeds (approximately 1/4th of a pomegranate) and mush them with the back of a spoon until you have roughly 4 to 5 tsp of juice in a small bowl. Strain your green tea (or just pull out the tea bag) and add 2 tsp tea to the mushed pomegranate seeds. Squeeze in 2 tsp lemon juice. Stir well and allow the liquid to cool for 5 minutes.
Carefully, pour a small amount of the liquid from your bowl into the palm of your hand. Starting with a completely clean face, rub the liquid all over your face and neck, massaging gently and upwards as you go. You may need to repeat this step a second time, if you don't have enough liquid on your face the first.
Now, pour the remaining pomegranate/tea/lemon mixture back into your tea cup, straining the seedy pulp with your fingers or a cheesecloth. Sip your cuppa healthy, delicious tea. While you're drinking your pomegranate green tea, let the fruit juices dry on your face for 10 minutes. If you look in the mirror, you might notice your face looks a little, well, like a pomegranate. Don't worry. I did this three times for varying lengths of time (one time leaving it on for 20 minutes, just to make sure) and the pomegranate did not stain my face.
With a warm, moist washcloth, wipe the mixture off your face well. Now give your face a splash or two with tepid water, and then moisturize well.
Who Should Use This: Pomegranate is excellent for dry skin and wrinkles, and the peel action of both the pomegranate and the lemon will help reveal fresh, renewed skin underneath your top layer. And the green tea is chock full of antioxidants that protect skin and help diminish wrinkles.
But, really, anyone whose skin has been looking a bit dull and tired could benefit from this.
Don't do this, though, more than twice a week.
Okay. Admit it.
If you've never had a pomegranate before, you want one now, don't you?
Ooh. And if you HAVE had pomegranate before, do you have any good recipes to share using them?
While I'm clearly in love with eating them straight from the fruit, I'd love to try a few dishes utilizing their magical nubbin power.