Last year, I tried to make my own glass cleaner with black tea and vinegar. It was disastrous.
A black film clung to my bathroom mirror for weeks. It looked like you were brushing your teeth in an old Bela Lugosi film.
Finally, when I got tired of pretending I was a vampire, I scrubbed it down with some old dry newspaper (paper towels were like, "Um, no. You made this mess. YOU clean it up") and things got back to normal.
Tip time: For extra-shiny, streak-free mirrors, do a final wipe with (black and white) newspaper. It's kinda awesome.
In any case, I haven't had the courage to venture back into the realm of homemade glass cleaners until this moment – when I happen to be out of my 7th Generation. Remember how running out of store-bought things works when you want the impetus to try making something at home?
In all the searching I did for glass cleaners, I found three options I wanted to try. And then I came up with an award-winning fourth.
I mean, I gave myself the award. It was covered in white chocolate.
So, here we have:
Battle for the Title of Best Homemade Glass Cleaner!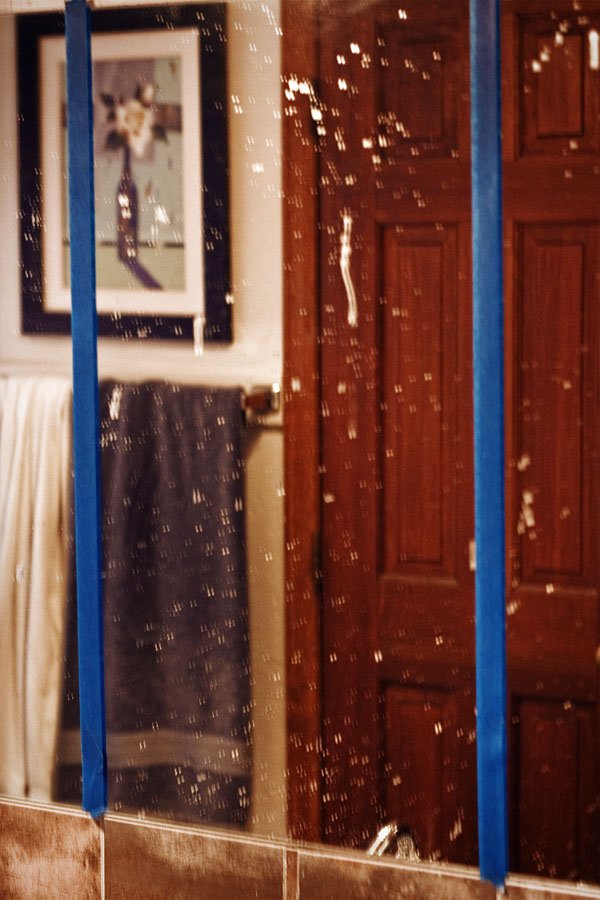 Really, these are just recipes that use almost the same ingredients – plus or minus a few.
To prepare for the epic showdown, I splattered toothpaste all over my bathroom mirror, and then topped it off with a few healthy spritzes of Fiance's icky hairspray. Then, I divided up sections with fancy blue painter's tape.
It was a scientifically controlled masterpiece. Someone alert the people who give out the sciency awards for masterpieces.
My initial plan was to show the results of the sectioned off pieces of mirror so you could see which recipe worked the best.
There was a snag. It was completely impossible to tell, via pictures, how well each formulation worked. They were all relatively successful, but one was a stand-out winner. So instead of a true-life picture, I'm giving you my artist's rendering of what each section of the mirror looked like. Again, alert the sciency awards people (and let them know I like white chocolate).
Homemade Glass Cleaner 1: Vinegar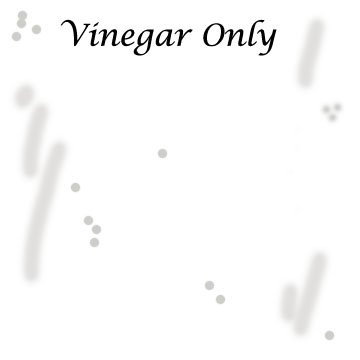 That's right. I put straight white vinegar on the first section of mirror, and it worked surprisingly well, though it wasn't fantastic. It wiped off the toothpaste like a charm, but the hairspray pretty much stayed put. Also, there were more streaks with this formulation.
Judgment: If you're out of glass cleaner and don't have any of the ingredients for the ones below, use vinegar. It's not bad. Just don't expect anyone to want to lick your mirrors after using it. I assume you all have friends who like to lick mirrors. You just seem like those sorts of people.
Mirror-licking aside, this probably isn't going to satisfy you like your old glass cleaner does. So move on.
Homemade Glass Cleaner 2: Vinegar, Alcohol, Water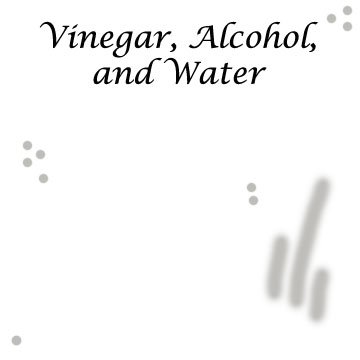 This was the most widely spread recipe I found online. And at first, I thought it was great. I had to use a bit of elbow grease to get the hairspray droplets off the mirror, and it left behind a few streaks.
Initially I thought it was comparable to store-bought glass cleaners – until I saw the results from the next two recipes.
Judgment: Eh. Not bad. It'll do in a pinch, and the alcohol does give it more oomph than just using vinegar. But it's not, like, to die for. You know, like you want your glass cleaner to be.
Would your friends lick your mirror after this? Probably, but you have weird friends.
Homemade Glass Cleaner 3: Vinegar, Water, Cornstarch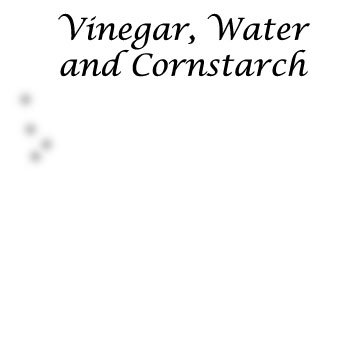 1/4 c. white vinegar
1 Tbsp cornstarch
2 c. warm water
"What the …. cornstarch?" you ask.
"Yes," I reply. "Cornstarch."
It's absolutely, without a doubt the secret ingredient to clean, shiny, amazing mirrors (and windows, I'm sure). I kinda freaked out a little at the effectiveness of this one.
But, alas, it was still a bit difficult to get the hairspray off, and although there were no streaks, I was pretty sure we could do one better – by combining all the ideas here into one gargantuan, massively effective glass cleaner. Before we do that, let's see what the judge says.
Judgment: Freakin' awesome. Seriously. Really good stuff. HIGHLY recommended, if you don't have rubbing alcohol. Compared to the other two "testing panels," this one was clearer, sparklier, and showed me every single one of my pores when I looked close up. That may not sound like a good thing. But it is.
Your friends would lick off of this. Heck, my friends would lick off of this. Who am I kidding? I would lick my mirror after using this.
THE WINNER!
Homemade Glass Cleaner 4: Vinegar, Alcohol, Cornstarch, Water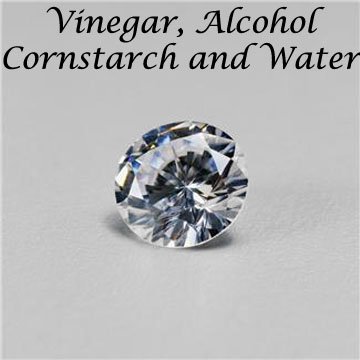 This, my dearest crunchistas, is what I like to call:
Alvin Corn Glass Cleaner
Which, of course, stands for alcohol, vinegar, and cornstarch. I'm good at naming things, right? Any expectant mothers want some ideas?
Okay. So this stuff, it makes your mirrors look like they were just born. Fresh from the mirror womb. Seriously. I haven't met a Windex or Glass Plus that could produce this kind of streak-free, clean and clear shine.
If I could somehow make my hand as big as my wall, and fashion a band around the mirror, it could double as an engagement ring.
Like a diamond.
Here's the recipe:
Alvin Corn Homemade Glass Cleaner
1/4 c. rubbing alcohol
1/4 c. white vinegar
1 Tbsp cornstarch
2 c. warm water
Combine everything in a spray bottle, and shake well. Shake well before using, too, as the cornstarch might settle at the bottom (and subsequently plug the spray mechanism if it's not mixed in well).
Judgment: It's the best. It wins. We've covered this. But let's look at one more VERY important thing: Cost.
This is all approximate (and I'm erring on the side of expensiveness, so it's probably less than this), but I think we can agree that I'm probably close on my estimations:
1/4 c. vinegar = $0.20
1/4 c. rubbing alcohol = $0.25
1 Tbsp cornstarch = $0.03
2 c. water = virtually free, except for the water bill part, so let's say $0.000001
Grand Total: $0.48
For an entire bottle of glass cleaner.
Not to mention, it's completely nontoxic, you can simply reuse your old glass cleaner bottle over and over and over again (or you could paint a bottle, like I did mine, because it's tres chic), and you're not spraying nasty things all up in the air for your kids, spouses, and pets to breathe.
Go you!
Go Alvin Corn!
Yay!
What's the word from you people? Think you might want to try this? Or do you have any other tried-and-true glass cleaner tips to share with the Betties?