A few months ago a friend of mine was chatting with someone else and mentioned me as her "crunchiest" friend. Intrigued, her companion asked, "What do you mean? Like, she only buys organic and recycles everything?" "No," my friend said, and leaned in for the kill. "Crunchy, like, she makes her own yogurt."
For whatever reason, making your own yogurt has been put on this hemp-woven pedestal as the ultimate – but unachievable – in living a healthy, sustainable lifestyle. Too many people I talk to say it's something they'd never do because it's too (and pick one here): hard; expensive; time-consuming; boring.
Well, you might have me with the "boring" because most of making yogurt is as exciting as watching low-VOC paint dry. But hear me now and believe me later: making your own yogurt is cheap. Cheaper than store-bought. WAY cheaper than store bought, with the added benefit of you having 100% control over the ingredients. The processing time is long, but the actual prep time is quite reasonable.
And as for hard? Listen, I have a friend who I will kindly call kitchen challenged. When her husband goes away on a business trip for a few days, he makes a large pot of chili and leaves it in the fridge so his children won't starve in his absence. I do not make this up. And this friend of mine? Makes yogurt all the time. I have taught her, and I will teach you.
Step this way, Young Grasshopper, and let's get started.
But, you say to your screen, don't I need a fancy yogurt machine?
NO, I shout back to you magically, You do not! You can certainly use one if you're getting married and have an empty gift registry to fill, but you do not need one. At all. Here's what you do need:
How to Make Homemade Yogurt
Milk. You need four cups here, or one quart. And listen, I hardly know you, but I'm begging you, please use whole milk. If you absolutely MUST use skim milk you can add about ¼ cup nonfat milk powder to help thicken it after it's heated, but trust me here. Use whole milk. This is the good, healthy kind of fat. You can even, if you're feeling decadent or have some left over from another recipe, use heavy cream as all or part of the milk. This will give you that nice "cream on top" yogurt that tastes just like dessert. Dessert filled with happy, hard-working probiotics.Obviously I'm going to recommend you use organic or at least hormone-free milk, 'cause that's how we crunchies roll. Now, I have on occasion used my non-homogenized, low-pasteurization milk to make yogurt, and with only mixed results. It spoils within a couple days, or never really sets up, or something. I don't know exactly why, and you're welcome to give it a try. But since you're going to be cooking the milk anyway, thus cancelling some of the nutrients you get in the raw milk, feel free to use homogenized, pasteurized milk here and save some cash, keeping the raw milk for the drinking. Totally your call, though.
Plain, whole milk yogurt. Yes, you heard me, in order to make yogurt you have to buy yogurt. You'll only need about a tablespoon to use as your starter, so buy a small cup and eat the rest. Please, please, for the love of all that is Crunchy, make sure it's plain (NO vanilla or fruit flavors – we'll talk about flavoring it later, I promise) and whole milk (trust me) and with the most distant expiration date possible; you want those live and active cultures to be in their prime, not in a probiotic nursing home.
Jars. Go crazy here. Half-pint canning jars are great; small rinsed-out jelly jars; I even use large glass spice jars. You'll want six to eight of them, and they need to be clean and dry.
A cooking thermometer. This is not essential, but quite handy as you try this the first few times. You'll see. I do have several friends who do without one, though – including my kitchen-challenged friend.
Some sort of pan or casserole dish with an edge. Again not essential, but it does help with the transportation of the jars. I use a 9 inch square but it really doesn't matter.
Let's get to it.
Get your pre-made yogurt out to come up to room temperature. Measure out a quart of milk. In a large saucepan, heat it on medium heat. Heat it too fast and it'll scorch, so don't crank it up impatiently to try to do this faster. Trust me.
You want the milk to reach 180-185 degrees Fahrenheit; if you don't have a thermometer, the milk will be about to boil but not boiling; it'll start to have almost a shine on top of it, heading towards a skin. You want it hot enough to kill off some bad stuff, but not so hot it kills the good stuff. And yes, that's the scientific explanation for it.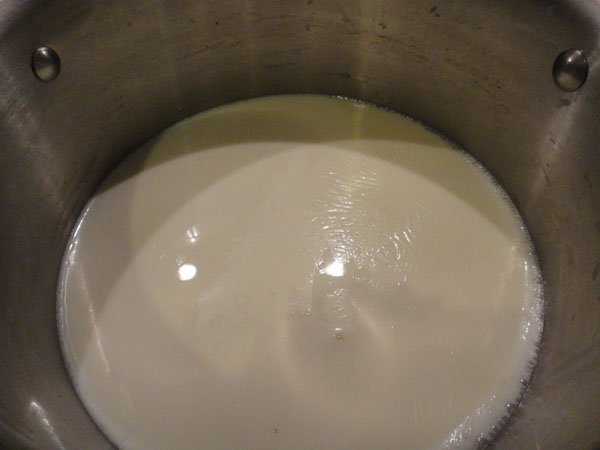 Once the milk has hit the right temperature, pour it back into your measuring cup or bowl or what have you to cool. You can leave it in the pot to cool but it'll take longer. Now you sit around and just wait, so I hope you brought a deck of cards. Left out on the counter, the milk can take a couple hours to cool. You can put the measuring cup into the fridge to cool faster, which will get it down to an hour or less, or you can speed things up mightily with an ice bath. Think of your milk as fever-ridden, needing to cool off quickly. Wrap it in ice! Stat!
Seriously, put the measuring cup or bowl or whatever in that handy brownie pan you've got ready: add some ice and water, slide it in the fridge, and it'll cool in half an hour or so.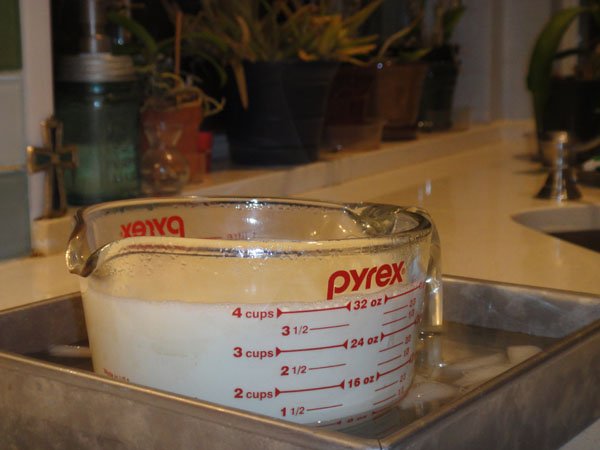 Who cares how long it takes to cool, you ask? I guess just someone who realized she was out of yogurt and foolishly began making some at 10 o'clock at night and couldn't go to bed until she'd gotten the $#@% yogurt processing already.
For example.
So your yogurt is cooling. Now, I cool my yogurt to about 75 degrees Fahrenheit because back when I used freeze-dried starter that's the temperature they recommended. I've read several sites on making your own yogurt that say you should cool it to between 90 degrees and 110 degrees; Stephanie at Keeper of the Home says to have it slightly warm but not hot, to where you can comfortably put your finger in it. See how laid-back and easy this all is? Basically you want it warm enough to activate the probiotics (wake their lazy hineys up) but not so warm you kill them (seems a kinda harsh punishment just for sleeping on the job).
Once your milk is optimum temperature, add a spoonful of yogurt – about a tablespoon (again, laid-back! Easy! Completely non-stressful!) – and whisk it into the milk to spread that probiotic goodness all around. Now they're Live! And Active Cultures! Coming soon to a kitchen near you, and ready to sing and dance for their suppers.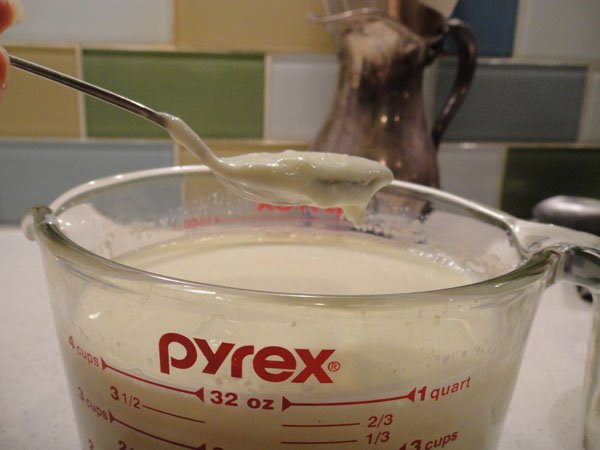 Once your yogurt is thoroughly mixed and happily singing show tunes (no? Is it just me?) you can pour it into their storage jars. Fill the jars evenly, as much or as little as you want – go crazy! Then stack them in your now-empty pan for processing, leaving the lids off.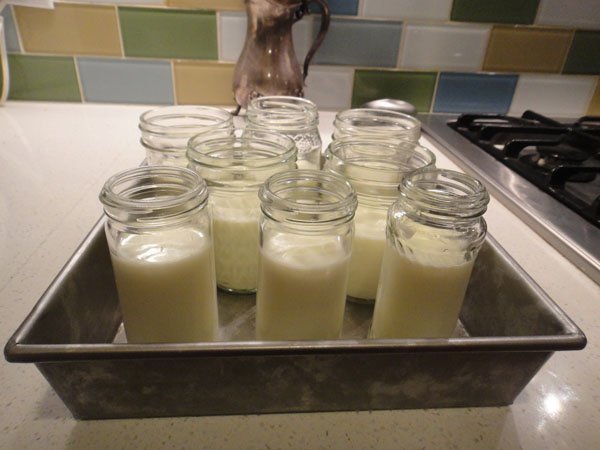 Place your jars in your oven. DO NOT TURN THE OVEN ON. This is just providing them a safe, stable environment in which the probiotics can feel free to express themselves. Turn the light in your oven on to give them a little heat (and a night light, you know, just in case), cover the tray with a towel for a little extra insulation, and close the oven.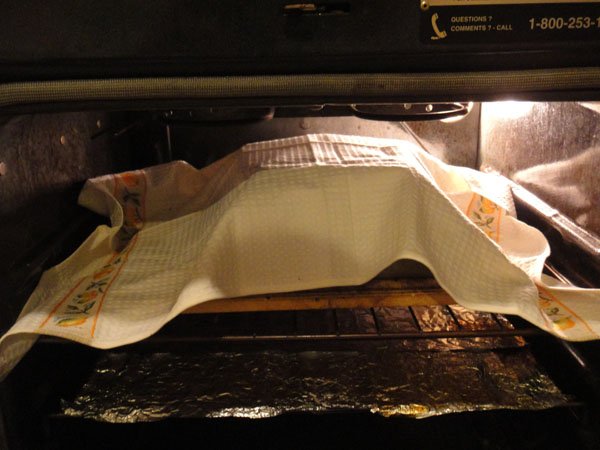 Then walk away.
Paint a picture, make a salve, rearrange your sock drawer, then find something else to do for many more hours because these babies need about fifteen hours for the transformation to be complete. So I make them at night, get them in the oven around 6 p.m. or so, and pull them out after school drop-off the next morning. It's not a precise science, so don't freak if you leave them an extra half hour or have to pull them out sooner – but leave them alone for a while. The probiotics are shy and want their privacy, and the yogurt won't set if you keep jiggling them to see if they're done yet already. In the end, you want a jar of yogurt that doesn't slosh around when you tilt it thusly –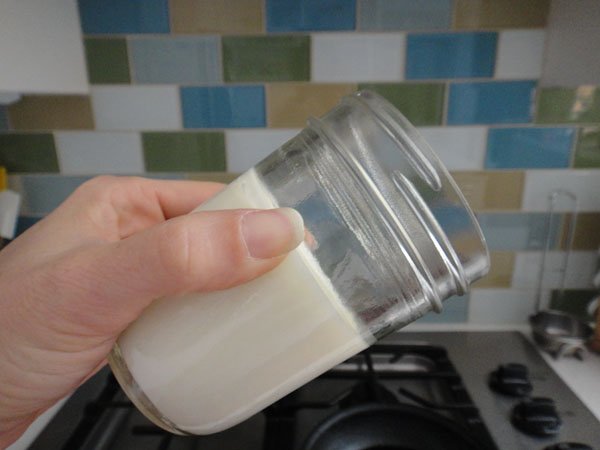 Once they're set, put your lids on those bad boys, throw them in the fridge for a few hours, and they're ready to eat!
Now listen, fellow crunchers, this is going to be tart, plain yogurt. So don't wrinkle your nose if it doesn't smell like vanilla on a spring day. But it should look like regular yogurt, and if it's runny and doesn't set then you probably added the starter while the milk was too hot and killed the probiotics. But I won't call the microbial police if you don't, I promise. And if it smells super-weird or turns, I don't know, green, then just, you know, don't eat it. It should taste like store-bought plain yogurt. But better. Much, much better.
What can you do with this yogurt? We eat it – a lot – with homemade granola in the mornings. We also use it a lot in smoothies, or in baking. The plain yogurt also makes an excellent, tenderizing base for a meat marinade – think curried chicken. I have even been known to put it on my head as a wrap to balance the yeast on my itchy scalp. And of course, Crunchy Betty has that awesome strawberry-oatmeal clarifying mask with yogurt in it.
But if you tire of the plain yogurt, the mix-in possibilities are endless, and perhaps I'll come back another day to talk about how to make some of my favorite fruit mix-ins – what I send my kids to school with and such.
So that's it! You've crossed the finish line and earned your Advanced Crunching merit badge. That wasn't so hard, was it? Now raise your hand and repeat after me: "I (put your name here) pledge to try to make yogurt. I pledge to save money, and nourish my body, and gosh darn it, have fun doing it."
You're in the club. How does it feel?
Now, for those of you who already know the make-your-own-yogurt secret handshake and have been doing this for years, what'd I forget? Any favorite tips you'd like to pass on?