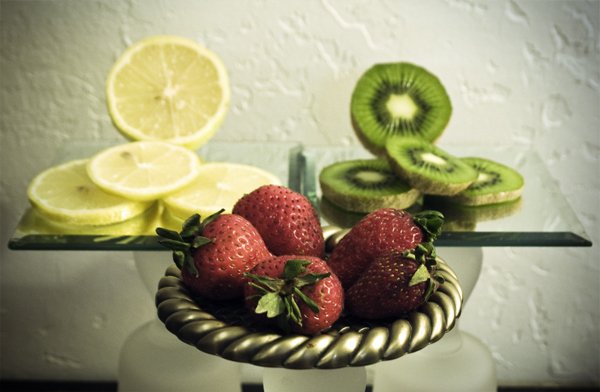 Lemon, kiwi, and strawberries.
And because I want everyone to play along, they're NOT just for oily skin and acne. Food on your face (and body and hair) for EVERYONE!
The strawberry mask is for all skin types to clarify, soften, and brighten. The kiwi body polish exfoliates (and, hey, guess what else? Can you say "cellulite eraser?"). And the clarifying lemon tea hair rinse removes build-up (and is great for no 'pooers and sorta pooers).
The Holy Trio of Food On My Face
Three recipes. Three fruits. Three ways to celebrate the release of the new book. And to celebrate food – everywhere.
Actually, I have to tell you – I've taken two (count them) showers today, just to make sure I honed all these recipes perfectly. I'm clean. Maybe a little too clean. If you catch my drift.
(Yeah. I have no idea what I meant, either.)
Strawberry Oatmeal Clarifying, Softening Facial Mask
Okay. I'm about to blow your mind.
The recipe I'm about to give you – only use half of it on your face. While it's on your face, I want you to EAT THE OTHER HALF. (Seriously. Delicious.)
Oatmeal is great for ALL skin types, as it helps soothe dry skin or inflamed acneic areas, AND it helps cleanse. The strawberries offer a bit of "fruit peel" goodness, leaving behind a clarified glow, honey is softening and antibacterial, and yogurt or sour cream gives you some lactic acid exfoliating while at the same time moisturizing where you need it.
PS – don't forget to rub the fleshy cut-off parts of the strawberry over your teeth for extra tooth whitening (one of my favorite tricks).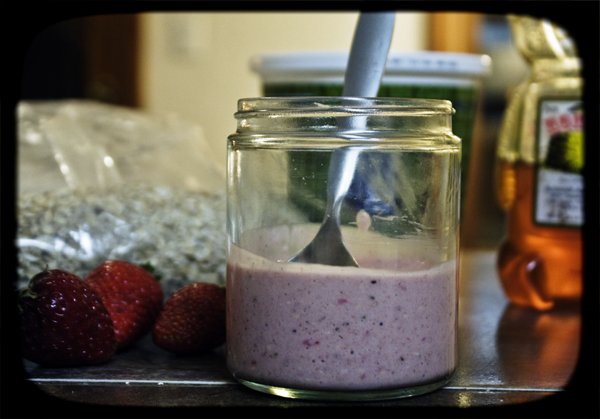 Strawberry Oatmeal Facial Mask
3 Tbsp whole, organic oats
3 strawberries
1-1/2 Tbsp full-fat, unsweetened yogurt or sour cream
1 Tbsp honey
Place your oats in a small food processor or blender and turn it on, letting it run until the oats have turned into a fine powder. Then, add in the other ingredients and continue to blend until you have a thick paste. Apply half of this paste to your clean face and then eat the other half. Leave the mask on for 15-20 minutes, and then rinse well with warm water, scrubbing the mask off gently with a washcloth.
This mask should be used immediately upon making it, and will not keep more than 2 days in the refrigerator.
Exfoliating Kiwi Body Polish
Remember how I said kiwi is a potent cellulite-fighter? Wasn't kidding, kids.
If you want to get the biggest bang for your buck out of this body polish, turn your shower OFF when you're ready to scrub down with it, and then don't turn the water back on for 5-10 minutes. I don't know what you're going to do in the shower while you wait. Maybe start on that novel, or solve a mathematical theorem.
(You don't have to wait, if you don't have the patience. The oil in this polish will actually help your skin retain the kiwi goodness to a degree.)
Also, you've heard of fruit acid peels, right? For clean, younger-looking skin? This is also what the kiwi will give you, only to a nice, mild, non-skin-burning degree. You'll get all the benefits of an expensive fruit peel without the empty purse  – plus you'll moisturize and soften like crazy.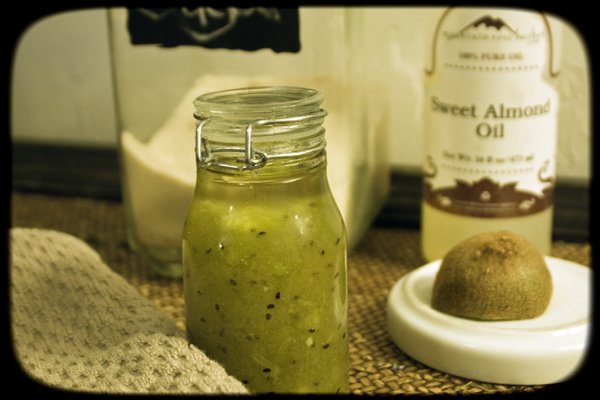 Exfoliating Kiwi Body Polish
1/2 of a kiwi, peeled
1/2 c. sugar (or salt, if you prefer)
1/4 c. oil (olive, sweet almond, grapeseed, etc.)
In a small food processor or blender, pulse the kiwi until it's all sorts of smushy. Pour the kiwi pulp into a bowl and add the oil. Stir well. (If you'd like, at this point you could leave the kiwi and oil alone for 20  minutes, to help infuse the oil with the kiwi a bit more). Then add the sugar or salt and stir everything together until completely combined.
Use over your whole body (avoiding any open cuts or sores), concentrating on problem areas.
This body polish should be used immediately and will only store in the refrigerator for up to two days.
 Clarifying Lemon-Tea Hair Rinse
Good news, everyone! Not only can you use this hair rinse to clarify if you still use shampoo and regular conditioner, but it's a great fix for those no 'poo days when you feel like your hair has some build up.
Best news, though, is that it can be used in lieu of apple cider vinegar if you're trying out sorta poo with castile/coconut milk. I used this on my hair tonight (with the sorta poo) and it is literally flowing and shinier than ever before.
Notes: If you have blonde or gray hair, you might want to use green tea instead of black (as black tea may possibly dye your hair a teeny-tiny darker shade). Brown, black, and redheads can use the black tea.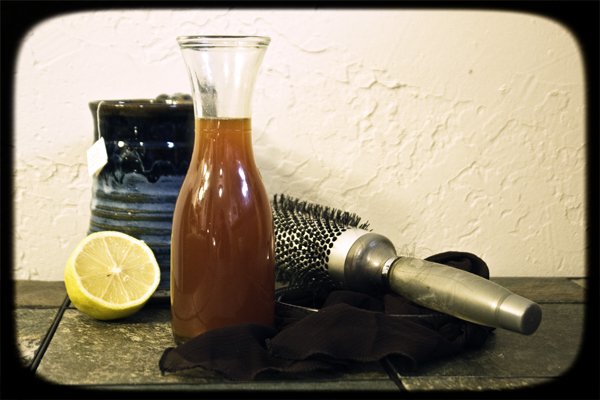 Clarifying Lemon-Tea Hair Rinse
3 Tbsp black or green tea, depending on your hair color (or 5-6 tea bags)
3 c. water
2 Tbsp lemon juice
2 tsp honey (optional)
Steep your tea in the 2 cups of boiling water for 20-30 minutes (you want it really strong). Add in the lemon juice and honey (if desired). Shake well to distribute. Once the tea has cooled completely, you can now use it as a hair rinse. Pour it through your hair thoroughly as the final hair treatment after you've washed your hair, and rinse well with water.
Don't forget.
Big day tomorrow.
We're counting on you. Crunchy Betty's Food on Your Face for Acne and Oily Skin. It will change your life … or the life of someone you know. Count on it.
You excited??