Wait.
Check it out.
I'm going to show you one more time: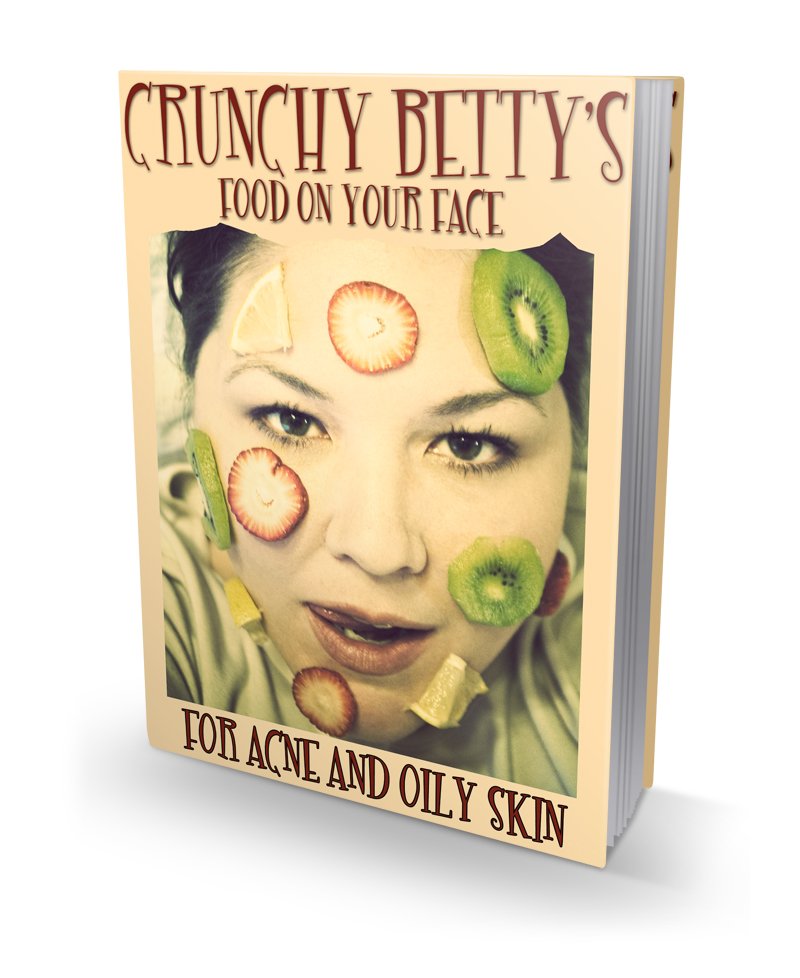 Today is the day everything changes – for you and for me and for us.
I've written an incredibly detailed page RIGHT HERE all about the book – you can peek inside, you can watch a video of me making an oatmeal mask straight from the book, and you can read all the inside details over there.
Again – that link is right here at Buy the Book.
Because all you need to know about the inner workings of the book is over there, I'm going to keep this post short and sweet.
Here's a list of some of what's inside:
Over 35 recipes tailored JUST to help you have clear, radiant skin
A chart that's chock full of ingredients perfect for acne and oily skin, so you can substitute ingredients in the recipes with what you have in your kitchen – or create your very own
Essential information on using moisturizers, steams, masks, and toners just for acne and oily skin
A sample daily regimen, so you know when to use what remedies, and how often
Information on diet, exercise, and even meditation to help tame your acne and your skin's oil production
18 simple pimple remedies to get rid of a raging zit, immediately
SO much more information you can use immediately to take your skin back from cosmetic companies and synthetic ingredients
It's a 68-page PDF file (Kindle and physical books may be forthcoming, depending on when I have the time/funds to hire someone to format them for me) that reads like a natural beauty manual for acne and oily skin in pure Crunchy Betty style.
If you don't mind me saying, I'm really blimey proud of myself right now. I did everything -ev.ery.thing- all by myself. Except I didn't; Jenny B. Bones of Up Your Impact Factor edited the book for me, and then proceeded to give me the most overwhelmingly incredible emotional and professional support through all of this. So go over there if you get a minute and revel in her amazing beingness.
Now. You. What you can do:
What Should YOU Do Now?
There are several ways you can get involved at this point. By that, I mean there are several ways you WANT to get involved at this point.
Buy the Book
If you don't need to read all the salesy stuff and already know how much you want the book, you can click this button:
<- Buy Crunchy Betty's Food on Your Face for Acne and Oily Skin for $7.99
Then …
Share the Link to the Book Page on Facebook
Let all your friends and families and blog followers and the whole freaking WORLD know about this exciting day:
And after you've done that, you can:
Tweet the Book Page on Twitter
You can use this button here (it should link directly to the page detailing all the goodies in the book):
And from the dedicated book page, you can also pin it on Pinterest (look up at the top right corner of the page).
Chatting About the Book
So, I haven't made a big deal about the 50/50 community share on the sales page; that's because, like I said, it is not a gimmick. NOT A GIMMICK.
My sharing the profits on this book is ONLY a way for me to give back to all of you absolutely incredible people who've participated on the site, left invaluable experiences in the comments and in the Crunchy Community, and who've helped each other through a plethora of natural beauty experimental moments.
It is for you. Period.
That being said, if you want to use the concept of the 50/50 community share as a tool to convince friends and family to get excited about putting food on their faces (and other natural pursuits) by way of encouraging them to participate on the site, GO FOR IT!
While the concept is for you, it's also with the dear hope that it will excite others into trying out new ways of living, as well.
So chat about the book. Chat about the 50/50 profit sharing. Go nuts.
And, for those of you who came up with genius ways to reach other people through this book …
Let's have a Twitter party net week (say, Tuesday evening at 6:00?) to talk about our favorite natural remedies – and the book. Want to participate? Tell me so in the comments below.
If you have a blog and would like to run a post about the book (on your own, or if you want to interview me), I would LOVE to be a part of it. Email me and we'll set awesomesauce stuff up and talk about the potential for a book giveaway on your blog.
Anyone else have any other ideas? I am open to any great suggestions on ways to pump this book out to the people who need it most.
This is a Big, Giant Deal for Me
And I want to say thank you to every.single.one.of.you.
If it weren't for you – for your participation, your love, and your commitment to crunchiness – the book wouldn't exist, nor would Crunchy Betty itself.
So now.
Pat YOURSELVES on the back.
You have helped a brand new idea come into existence. And for that, you should be proud.
I seriously, truly, and completely love you guys. Don't forget it.
And stay CRUNCHY!