Shoot, you guys. I owe so many of you an apology. For years, so many of you have been asking about what I use to moisturize my face. Every time, the conversation goes like this:
Curious Person: "Hey, Betty? What do you use to moisturize your face?"
Me: "I use a blend of oils."
Curious Person: "What kind of oils? Can you give me a recipe?"
Me: "Oh, a whole bunch, blended together. I'll blog it soon, I promise."
Fast forward to eight thousand years later, otherwise known as today, I was mad beautying around in the kitchen, experimenting with blends for the perfect facial oil to sell on the Crunchy Betty Natural Market for oily and blemishy skin (I finally found the perfect blend and it is my Royally Flawless Facial Oil). Anyway, as I'm blending and shaking, I realize this is something I should probably blog about.
Before I do, lest you think I was kidding about being a mad beautyist today, this is what my kitchen counter looked like after the experiments, full of my personal oil stash. I never realize how much bloomin' crunchy stuff I have until it's overtaking my kitchen: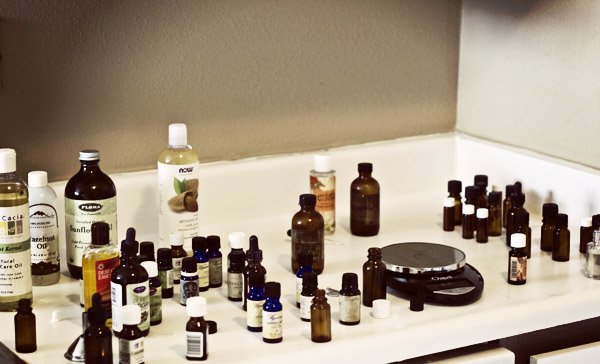 Now, the reason why I haven't blogged my personal facial oil blend is because, well, it uses upwards of eleventy thousand ingredients. Precisely: Argan oil, jojoba oil, apricot kernel oil, sea buckthorn oil, rosehip seed oil, frankincense essential oil, roman chamomile essential oil, rose geranium essential oil, carrot seed oil, and vitamin E. Sometimes, I'll even add a little tamanu and emu oil in there, as well.
I was afraid that if I shared this information, no one would ever want to make their own facial moisturizing oil, so I kept putting off writing about it. Because it's better to NOT mention it and have it not occur than to mention it and have at least one person actually try it? I don't know. Whatever. You're going to want to make this now, so it's all water under the bed. Or bridge under the coyote. Whatever that expression is.
Because the truth of the matter is, you don't have to have all those fancy ingredients to get a great facial oil.
And, before those of you with oily skin run away, let me tell you this: Do not be afraid of oil. It is your friend. ESPECIALLY if you wash your face with something that strips your natural oils. Replacing those oils with something nourishing should make your face very, very happy (and potentially less oily and blemishy).
Your Simple 3-Ingredient Homemade Facial Oil
Crunchy rule: Never, ever use facial oil or moisturizer on a dirty face. Always cleanse in some way first – whether it's with cleansing grains, honey, the oil cleansing method (though you may not even need moisturizer if you do that), or your favorite prepared facial cleanser. If you put oil or moisturizer on top of a dirty face, you'll just help seal in all that dirt and grime and old, nasty oil, which will make your face decidedly UNHAPPY.
See how pretty that looks? If you want to buy a bottle like the one I have pictured, you can find it here.
Ingredient Number One – Your "Base" or "Carrier" Oil
In all actuality, you might want to just buy a base oil to begin with and test it with your face. See if your skin loves the base oil you choose, and then you can build on that. And, in even further actuality, just one ingredient may be all you ever want.
Your base oil is going to be the main ingredient in your facial oil blend, so choose well, young jedi.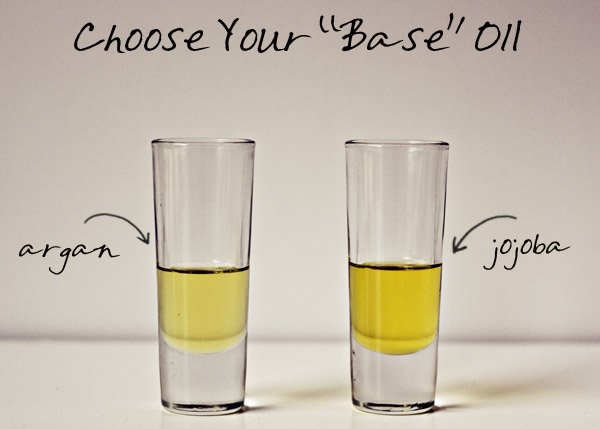 My two favorite base oils are argan oil and/or jojoba oil, because they're both verrrrrrrry healing and nourishing, they're both very light and they sink into your skin without any feeling of greasiness, and they're great for all skin types.
Here are the base oils you could choose from (this is not an exhaustive list, but it's most of 'em):
Plan on your base oil being at least 2/3 of your facial oil mixture (we'll talk about mixing at the end).
Ingredient Number Two – Extra Nourishing Bonus Oils
These are the oils that are a little more pricey, but with that price tag comes a beautiful kick in the pants to your troubled skin. Your skin wears pants, right?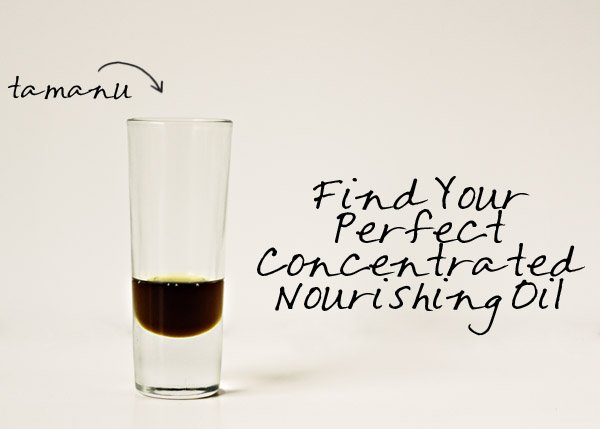 If you want to skip the nourishing oils, that's just fine. Maybe some day in the future you'll want to add one. In fact, I'm sure you will. Because once you start rolling around in crunchiness, you never want to stop.
So here are some ideas for the more nourishing "bonus" oils:
Now, you might want to add a little bit of "flava" with an essential oil!
Ingredient Number Three – Add Your Skin's Favorite Essential Oil
Remember! You only need a couple of tiny drops of essential oil to get an amazing benefit for your skin. Essential oils are potent (and they last forever when you use them this way)!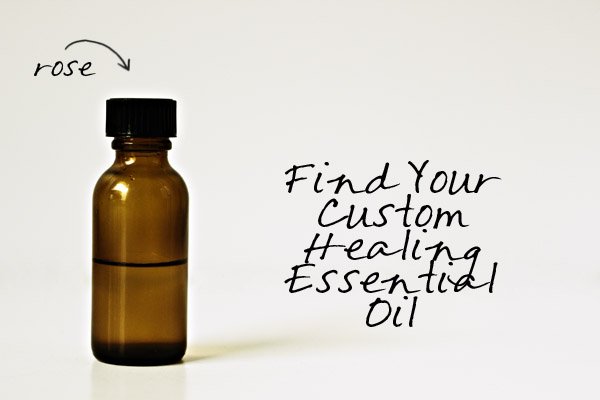 There are FAR too many essential oils with skin benefits to list them all here, so I'm just picking and choosing a few of the more widely available or commonly known essential oils.
Lavender (acne, oily, or even dry skin – lavender is healing, but a little, tiny bit goes a long way)
Peppermint (like lavender, peppermint is great for oily and acneic skin, and like lavender don't use much! It's very astringent, but it might also tingle your skin right off its bones)
Chamomile (my favorite chamomile is Roman – and roman chamomile is wonderfully healing and soothing, so it's great for ALL skin types. Really. Very, very great, but also very expensive)
Rose (wonderful for aging, dry and normal skin, it's also pretty expensive, unless you find the "mixed with jojoba" kind, which just means it's diluted and you can use more in your blend than if it were "neat")
Rose geranium (another great, all-around healing essential oil – this is especially good for dry, sensitive, aging, and normal skin)
Palmarosa (my skin loooves this oil, and it's great for any skin type, but it does seem to work well for breakouts, in addition to being softening and soothing for aging skin, which, yes, I have)
Lemongrass (brightening and toning, this is a great oil for normal, oily, or acneic skin)
Rosemary (got acne and oily skin? You might just want this)
Okay, quickly, here's how you mix 'em.
Creating Your Custom Homemade Facial Oil
This is where the fun starts. You get to experiment with what type of blend works best for your skin, but here's the BEST place to start.
We're going to assume you're using a 1-oz bottle (for essential oil purposes), but if you use a smaller bottle, be sure to adjust your essential oil additions downward as necessary.
Fill your small bottle just under 2/3 of the way with your base oil
Add your "bonus nourishing" oil until the bottle is just about full (unless you're using carrot seed oil, in which case just put in a few drops)
Add ONLY 4-7 drops of essential oil. Less if you're using peppermint, especially. Cap and shake well after each drop, and you can gauge, very roughly, just how much essential oil you'll need. You should be able to smell it, but it should not be overpowering. Just faintly identifiable.
And that's it!
Keep your facial oil out of the sunlight, and it should be good for 8-12 months.
Where Can I Buy These Oils?
I know, you regular readers are probably sick of my "buying guide" sentences at the end of some of these posts. But, without fail, whenever I write a post with an ingredient that might be difficult to find, if I don't mention WHERE you can get them, someone always comes along and asks in the comments.
So.
You can find almost all of these ingredients at the two places using the links above. And those are affiliate links, by the way, so if you click 'em and then order, you'll be supporting Crunchy Betty (yay!).
ANNNNNNNND … yes. Yes, I do sell facial oil as of right now at the Crunchy Betty Natural Market. This Royally Flawless Facial Oil is my personal favorite and the best blend I've found of all of the luxurious ingredients above! One day, I'll put some of the other blends I love in the market.
Just not today.
I have to clean the kitchen.