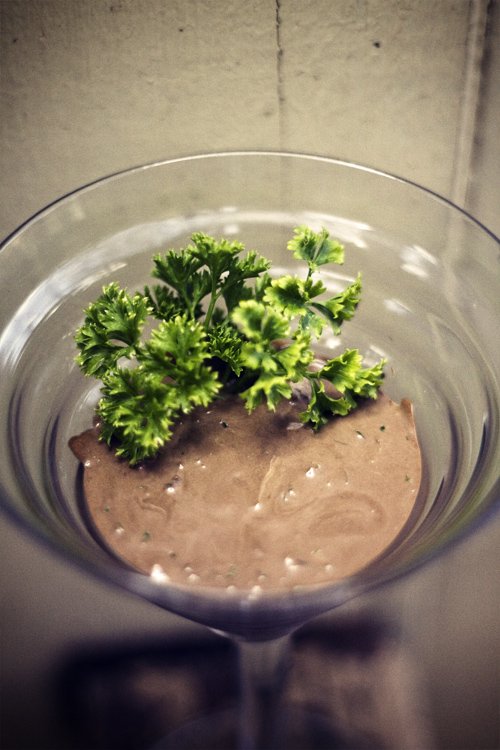 Has this happened to you?
You're getting ready to shop for an awesome recipe, which just so happens to call for 2 Tbsp of parsley. You go to the store, and all you can do is buy a bunch of parsley. Like, at least 2 cups worth.
And you think, "Great! I'll just make more things with parsley this week."
Two weeks later, you open the fridge drawer and what once was parsley is now a wilted goop clinging lifelessly to the bottom.
It's happened to me. Because I can never think of anything else to do with parsley. Ever.
Until now.
Today, I was flipping through a natural beauty book and hit upon a recipe that called for parsley. It also called for quince and chlorophyll. I do not have those things.
But after a bit of research that led to the discovery that parsley is excellent for your skin, I decided to whip up my own mask using things I absolutely love.
Here's the best part: Not only will you get a mask out of this, but you'll get a small bit of parsley-infused olive oil out of it. This, you can use as an after-mask moisturizer … or you could even cook with it. It's up to you.
It's always up to you.
Parsley's Skincare Awesomeness
Nearly every natural ingredient (read: food) you can put on your face has a huge litany of benefits like vitamins, antioxidants, minerals and more. Parsley is no different.
And while it may seem tedious to list them, here's what you're going to get when you use parsley in a facial mask:
A HUGE dose of vitamin K. This most facial-licious vitamin will help reduce wrinkles, balance out skin tone, make under-eye circles less apparent, heal blemishes, and more.
A HUGE dose of vitamin C. If you've been paying attention to skincare formulations over the years, you know this vitamin is often added (synthetically) to most skin preparations because of its incredible ability to whisk away toxins and other particles that cause aging. And this way? You get it naturally. WIN
Myristicin. You probably haven't heard of this. But this compound is all sorts of scientifically interesting, given that it's been shown to inhibit tumor growth, as well as activate an enzyme that prevents the oxidation of free radicals. What this means for you? Less wrinkles and healthier skin.
Beta-carotene, folate, iron and we could keep doing this all day. For a long list of parsley's health benefits and main components, check out WHFoods.
Mainly what we're concentrating on here is parsley's innate ability to balance out the skin.
It helps regulate sebaceous glands, which means less oil.
It lightens skin tones in areas where you may be a little red.
And it is an awesome wrinkle-preventer and smoother.
Balance.
To the parsley, we're going to add the mighty antioxidant and psyche-calming power of cocoa (which also moisturizes and reduces signs of aging), as well as sour cream, for its lactic acid, its friendliness with ALL skin types, and for moisture.
To top it off, we're also going to use olive oil – one of the oldest beauty secrets in the book.
Balancing Parsley-Cocoa Facial Mask and Sister Oil
You're going to do two things at once, as you prepare this. It will be super easy, though, so don't stress.
As you're preparing the parsley for the mask, you're also going to infuse some olive oil with it. This all happens at the same time.
Here's everything you need: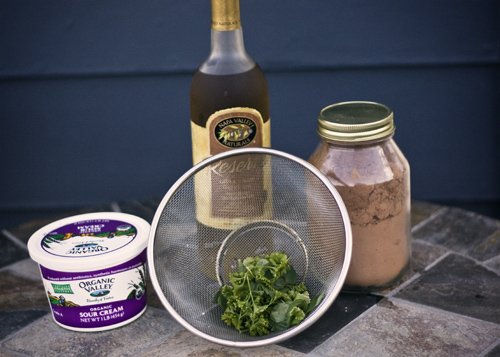 You may notice that there are a few bits of peppermint in my parsley mix. Ignore those. I had a hankering for cocoa-mint, but I really don't think it added all THAT much benefit to the mask, so I'm not even going to talk about it.
So, the first thing you want to do is take approximately 1/8 c. of parsley and rinse it well.
Then, chop it coarsely (maybe 5 or 6 times), just to open up the leaves a bit.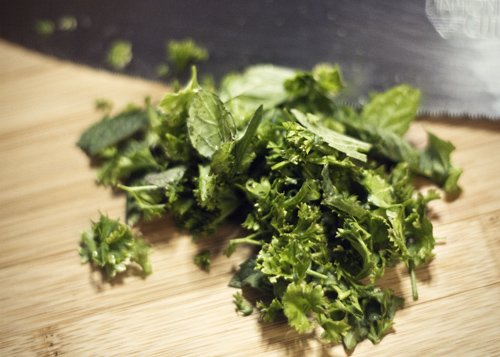 Once you've chopped up your clean parsley, put it in a very small pot and place the pot on the stove.
Now, grab your olive oil and measure out about 3 Tbsp.
Pour the oil over the parsley and turn the burner to very, very low. It's important that you don't overheat the oil, because we don't want to damage any of the great properties in the parsley.
All we're doing here is helping some of the beneficial stuff eke out into the oil, as well as release itself out of the parsley (which will make it more available to your skin while you're doing the mask).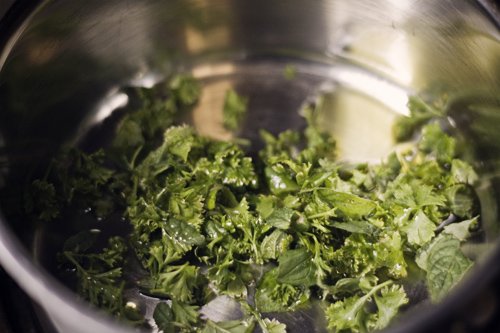 Let this go for 10 minutes, stirring and mushing occasionally.
Now, find a small bowl and a fine-mesh sieve and strain the oil from the parsley into the small bowl.
You should have a sieve full of green goopy stuff and a bowl full of beautiful parsley-scented olive oil.
You're done with the oil for now, so set it aside.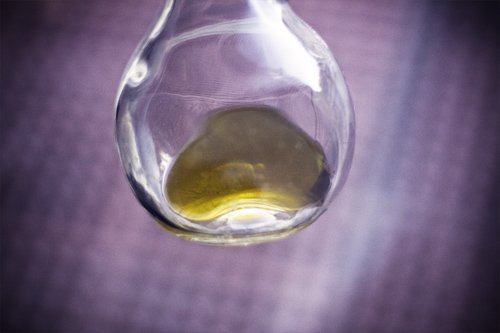 At this point, you still have a goop of parsley in your sieve, right?
Put it in a small food processor, blender, or bowl (and plan on using an infusion blender if it's in a bowl). To that, add 2 tsp. cocoa powder and 1 Tbsp sour cream.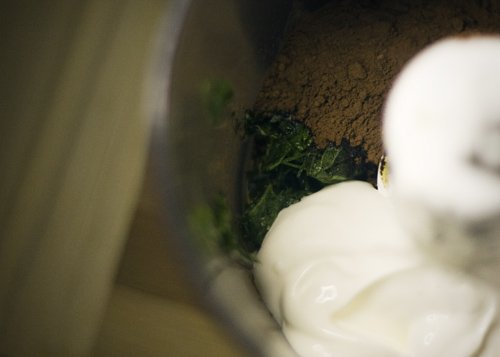 Let your processor/blender do its thing for a few minutes. No matter what, I couldn't get the parsley to blend into a paste completely, but that's okay. That's what the olive oil and low-heat were there for. It helps pull out the good stuff, which makes it easier to blend in.
You may need to scrape down and reblend a time or two.
And this is what your finished facial mask will look like: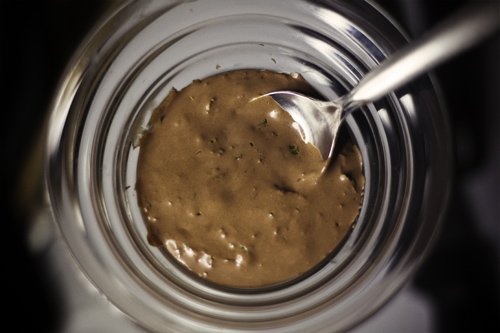 Slather it on a clean face. Let it sit there for 20 minutes.
Rinse off with warm water. Then splash with cool water.
After that, finish with a light coating of your parsley-infused olive oil.
PERFECTION.
Printable recipe:
[print_this]
Balancing Parsley-Cocoa Facial Mask and Sister Oil
Rinse off parsley and cut coarsely with a knife. Place the parsley and olive oil in a small pot and heat on VERY LOW for 10 minutes or so. Strain the oil into a small bowl and set aside. In a small food processor or blender, add "cooked" parsley, cocoa powder, and sour cream. Blend well.
Apply to a clean face and neck and leave on for 20 minutes. Rinse well with warm water, and then splash with cool water. Finish with a light coating of parsley-infused olive oil as a moisturizer.
The mask makes 1 application and should be used immediately. The oil will last several months (and makes several applications). Just don't forget to place the oil in a glass container with a top on it.
[/print_this]
STORY TIME
Okay, I know this post is already hugely long, but I have to share the hilarity that happened while I was waiting for this mask to dry.
So, I'm lounging romantically on the couch wearing a long velvet robe goofing around taking pictures of my crazy face while wearing a cocoa-stained T-shirt, when there's a knock at my door.
I have a new neighbor, who is awesome and fun and ever-so kind, and I knew it was him. (He also apparently reads the blog occasionally, so HI NEW NEIGHBOR!)
So I went to the door and said, before opening, "I will open this door, but I really need you to be prepared for what's going to happen."
Before he said okay, I opened the door, and he saw something that must've looked VERY similar to this: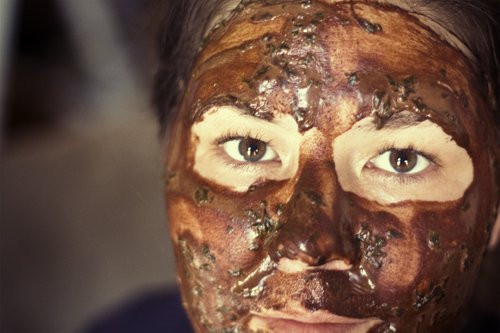 Did he run away? No.
Did he scream and hit me? No.
He didn't even look away in embarrassment!
Instead, he said something.
Guess what he said?
GUESS WHAT HE SAID?
.
.
.
He said
.
.
LOOK! YOU HAVE FOOD ON YOUR FACE!
I kid you not.
He can be my neighbor all the time, I think.
(It doesn't hurt that he looks like Jude Law …)
I mean, he's really nice.
<3