Well, this was supposed to happen on Tuesday, but I just got my brain back from sick leave last night. Whoever invented summer colds needs to apologize.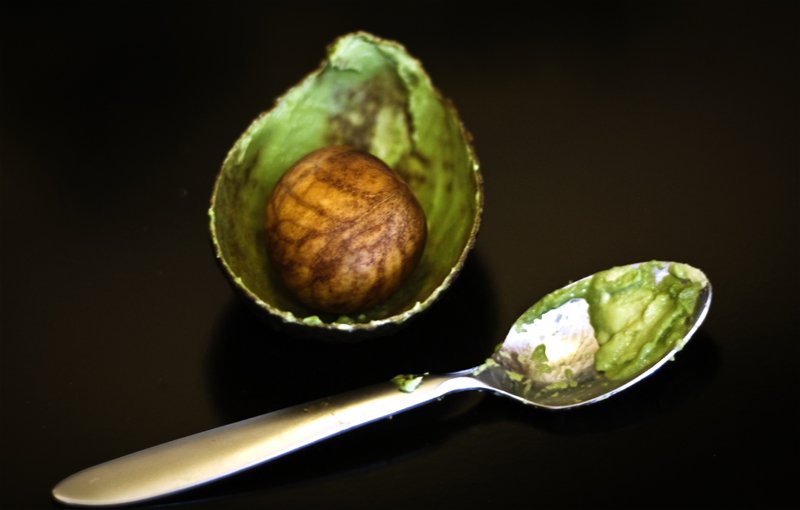 So the theme for the Twofer Satur(tues)day is "avocados." Or "avocado" to be exact, because one avocado is all you need (plus the other minor ingredients) to make a fabulous hair mask AND facial mask.
Before I get to the goodies, here's a few tips about avocados and facial/hair care:
Avocados are GRRRREAT for dry skin. You remember back in the day when people were all weird about things that were high in fat? And how you shouldn't eat avocado very often? (Thank goodness THOSE days are over!) Well, they are high in fat. Monounsaturated fat, to be exact. And that fat translates to overachieving emollient properties for your skin. Straight-up mushed avocados on delicate, dry skin is a little like a thick coat of soft, supple butter over a cracker. Eventually, it's all going to soften up into ooey-gooey goodness. Or, in your skin's case, baby-bottom softness.
Avocados are totally way high in vitamins A and E, bro. If you've never heard Goldfrapp's song A&E, go listen to it now. Much like that song is good for your soul, the vitamins in avocados are natural medicine for your face and hair. Vitamin E (which is in just about every facial product known to woman) does all kinds of good stuff for your face, like reduce the signs of wrinkles and moisturize about as deep as you can get topically. And vitamin A is a fabulous little age-fighter and antioxidant.
Only use very ripe avocados for skin/hair care. You want these little green balls o' goodness to be as mushy as possible, not only for ease of preparation (we can't have big chunks of avocado dotting your hairline), but because when avocados are ripe, they're at their height of nutritional (i.e., they're best for your face, skin, and body) content. How do you know if your avocados are ripe enough? They're a little squishy to touch and a nice, dark color. They should also be easy to "peel" away from the fruit, once you've cut into them.
Like all fresh and organic beauty treatments, the avocado face and hair mask should be stored in the fridge and used within 4 days. The good news is, these two recipes make about two facial mask applications and one hair mask application. So you can use it all at once, if you share the avocado facial mask with a friend (or if you have two faces).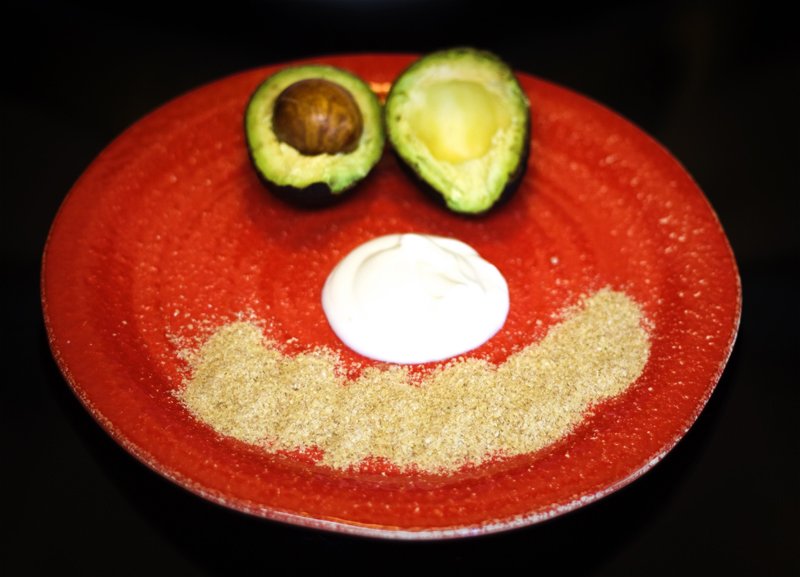 Avocado and Yogurt Hair Drench
1 well-mashed avocado
3 Tbsp. plain (unflavored, unsweetened yogurt)
Simple as avocado pie here. Mix these ingredients together and cover your dry hair with 3/4 of the mixture (remember to leave 1/4 of it in the bowl for later!). Really mush it in there, all the way to the scalp. Cover your head with a hot towel or a shower cap. I prefer the shower cap method, because hot towels drip and fall off my head often, and shower caps keep me from making green marks on the walls when I accidentally run into them. Also, a shower cap will hold in the heat, and ultimately you get all the benefits of the "hot" without having to deal with the towel and its wetness.
Leave this on your hair for 15-20 minutes (or longer if you'd like). Shampoo well and condition as usual, if you'd like. Or skip the conditioning, if your hair feels soft enough after shampooing, and move on to using a rinse instead (which we will cover tomorrow).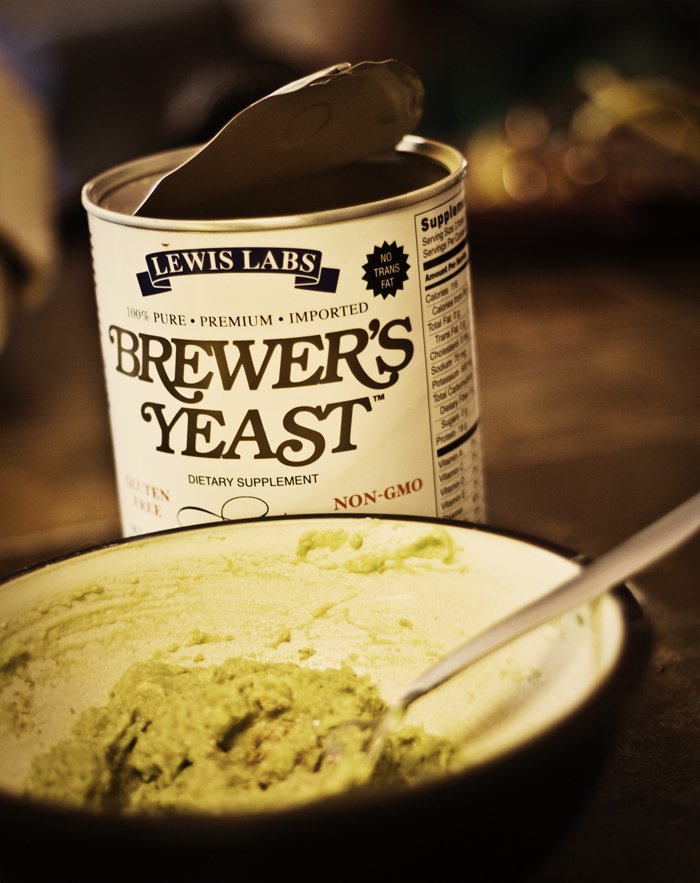 While you're letting this hair stuff do its thing, move onto the next phase:
Moisturizing Avocado, Brewer's Yeast, and Wheat Germ Facial Mask
1/4 of Avocado Hair Mask Mixture
1 Tbsp. Wheat Germ
1 Tbsp. Brewer's Yeast
Mix all of this together very well and apply a thick layer to a clean face. It will probably not go on smoothly, and you'll have little clumps here and there, but the goal is to "wet" your entire face with it. Leave this mixture on for approximately 10 minutes or until dry. Wipe off with a warm, wet washcloth, and then get in the shower and wash your hair, you gooey person, you.
One more tip: Before making ANY of this stuff an applying it to your various parts, put on a button-down shirt. It's impossible to pull off a collared shirt without getting SOMETHING on it before you take your shower.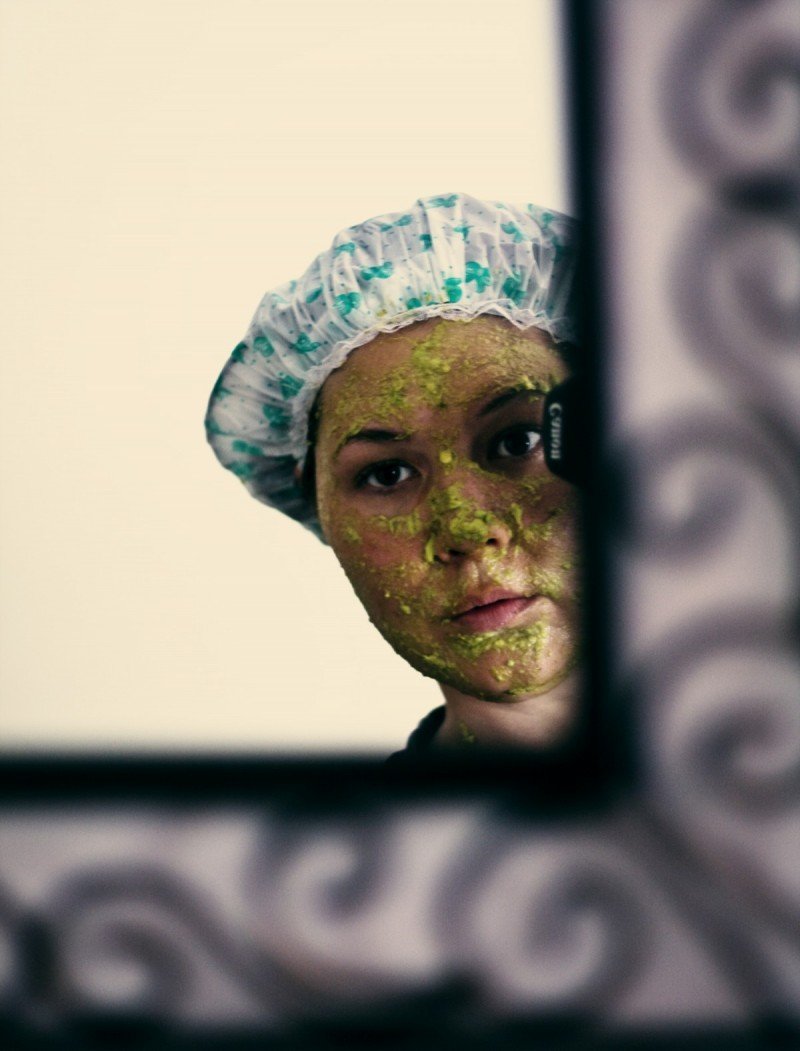 I have two avocados left. Anyone have a killer guacamole recipe to share?
Crunch on, babies. Crunch on.