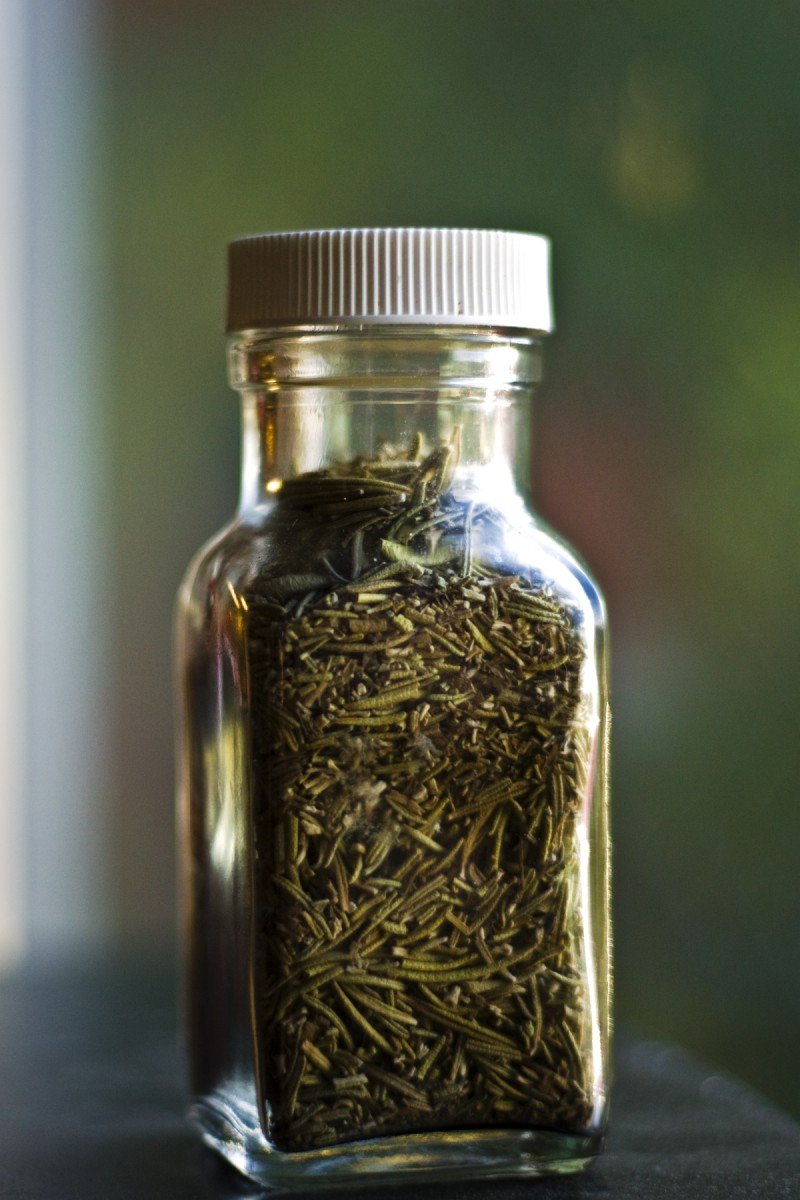 Ah, summer. Barbecues and cold beers with friends, butterflies and flowers, long afternoons spent poolside … and oily hair.
If you're like me, your scalp starts working overtime during the summer, and your hair ends up looking a little like chunky strands of muck.
Want a super-easy, homemade solution to the oily hair blues? Use a hair rinse.
The one I made recently uses rosemary, lavender, and apple cider vinegar, but honestly, straight-up ACV (Bragg's brand is my fave) diluted in water works as well as anything.
How To Use a Homemade Hair Rinse
You can use a hair rinse one of two ways: It can be your only "hair product" in your bath or shower – just simply rinse through right before you get out (perfect for days when you're in a rush); or you can use it as a final rinse after shampooing (or not, if you go 'pooless) and conditioning. I prefer the latter, because I've never particularly liked my hair without at least a slight bit of conditioning.
Most likely, once you've rinsed your hair with your prepared rinse, you won't need to wash it through with plain water.And while it may seem a little scary to leave the smell of apple cider vinegar in your hair, trust me, it goes away as your hair dries. If your rinse contains any essential oils or other herbs (like the recipe below), those yummy smells will remain, but the vinegar smell disappears before you know it.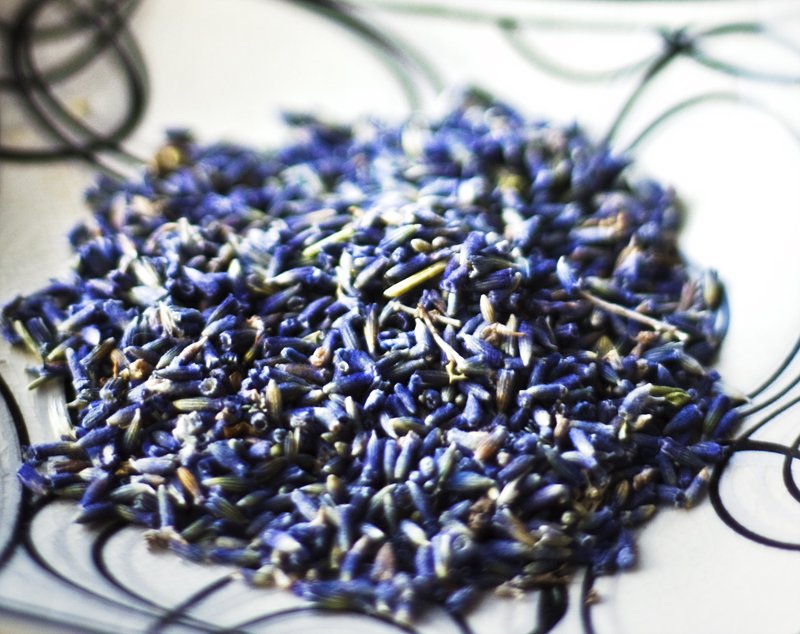 Now a little about the ingredients (and why you want them in your hair):
Rosemary. Rosemary is both a cleanser and a strengthener, but my favorite reason to use rosemary? It darkens your hair and helps cover the grays. I was using it regularly for a while last summer, and definitely noticed a darkening of the now overwhelming scant gray hairs I had. Plus, the smell of rosemary (natural smell, from the plant or essential oils) is linked to improved memory. And the more the gray hairs show up, the more the memory seems to need a little help.
Lavender. Oooh, heavenly lavender. Not only does it smell like angels made of candy, but it's antibacterial (which helps with dandruff, if that's an issue) and softening.
Apple Cider Vinegar. By now, the entire world knows about how beneficial ACV is for myriad health issues, household cleaning, and skincare. But it's also fab in a hair rinse. It helps balance the pH of your scalp and hair, which is great news for people with oily or greasy hair. Again, if you don't like the smell, don't worry. It's fleeting.
Borax. Okay. Honestly, this was a new one for me. It seemed a little strange to put something called "borax" on my scalp. But the word is (and so I learned afterward), borax is super duper amazing at softening your hair. And it's not dangerous at all! (Except you probably don't want to breathe in the granules, just because it's yucky tasting). I've made this rinse before without the borax, and I can honestly say that the addition of this salt/mineral took it to a new level.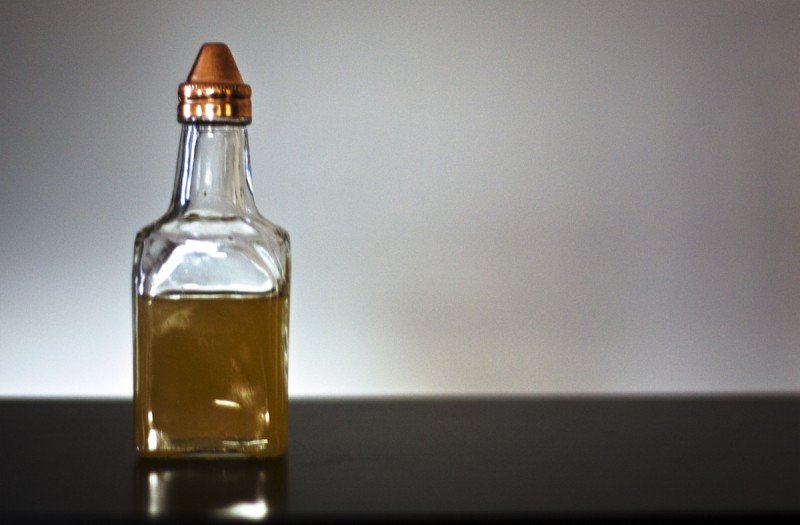 I adapted this recipe from one of my most treasured homemade body care recipe books: Organic Body Care Recipes by Stephanie Tourles. If you ever see it in the bookstore, flip through. I daresay you'll be tempted to buy (especially after all you're learning here)!
Rosemary and Lavender Softening Hair Rinse
4 c. water
1/2 c. dried rosemary
1/2 c. dried lavender
1 tsp. borax
3 Tbsp. apple cider vinegar
Bring the water to boil in a large pot. Once you've reached a rolling boil, remove the pot from the stove and add the borax and apple cider vinegar. Stir. Add the lavender and rosemary. Stir well (until all the herbs are wet) and cover. Leave the pot to "steep" unheated for 2-4 hours (or longer, even … the longer, the stronger).
After your liquid has reached a caramel brownish color, strain the herbs from the liquid and pour into a glass container. Refrigerate until use.
To use: After shampooing and conditioning, or as your sole hair product, pour the rinse over your hair, making sure to soak it through completely. Finish off with a final rinse of clean water, if desired (the liquid is a brownish "tea" color, so it may stain a light-colored towel if you don't rinse with clean water). Or, simply leave the rosemary rinse in your hair and dry and style as usual.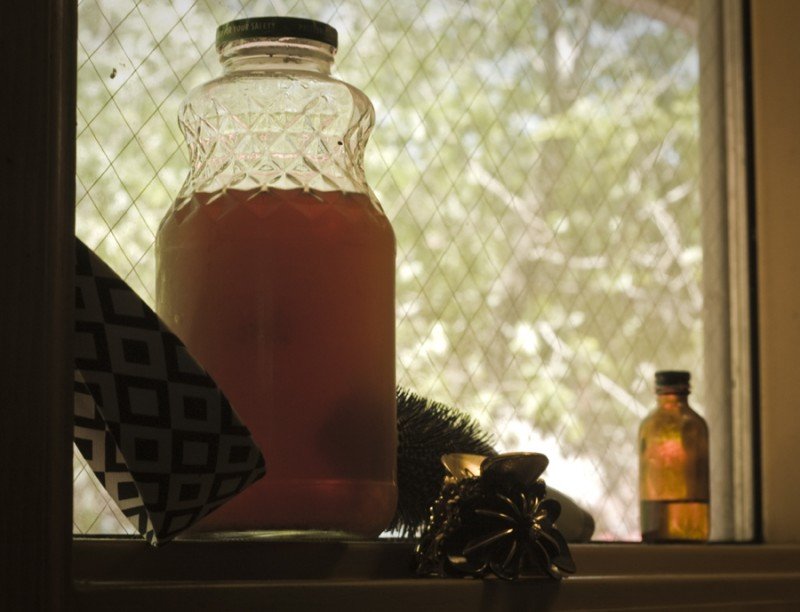 One more little tip: I let my rinse steep overnight before straining out the herbs. This makes for a VERY potent rinse. If you do this, you could extend the amount of hair rinse you have by adding half of the rinse and half water to a separate container, diluting the rinse (but not the efficiency).
Happy summer hair, crunchies! Big love!