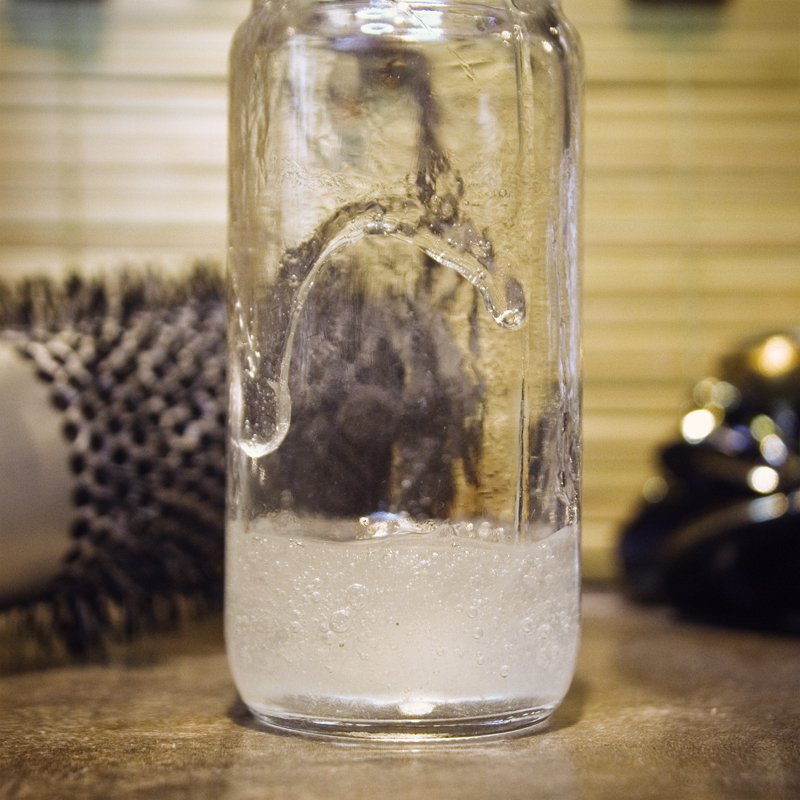 Woo-wee! (Or is it "whewee?")
After recommending this little recipe to several people who've asked for homemade hair gel ideas, I thought maybe it was in my best interest to try it myself before continuing to pass it on.
Flax seed hair gel. Easy enough.
Only it wasn't easy. It might have been one of the most difficult homemade beauty product recipes I've ever worked with.
That being said, I have two things to announce:
It works.
and
I challenge you to figure out a way to make this recipe more productive and less messy.
Here's the recipe and the way I did it:
Flax Seed Hair Gel Recipe
[print_this]
Flax Seed Hair Gel
from By Nature With Love
2 Tbsp whole flax seeds
1 C. water
Aloe vera gel (optional)
Essential oil (optional, for yummy scent)
Boil the water and then dump the flax seeds into it. Stirring pretty much constantly, allow the flax seeds to boil into the water until a gel consistency starts to occur. Mine took about 5 minutes. DO NOT OVER COOK. Strain the gel from the flax seeds using a fine-mesh sieve. Place in a squeeze or pump bottle, and add about a quarter as much aloe vera gel (for thinning the gel and adding moisturizing properties to the mix) as you have flax seed gel. Add up to 4 drops of your favorite essential oil. Shake well. Use as you would any hair gel.
[/print_this]
So here's the scoop.
This what flax seeds look like before you do anything to them: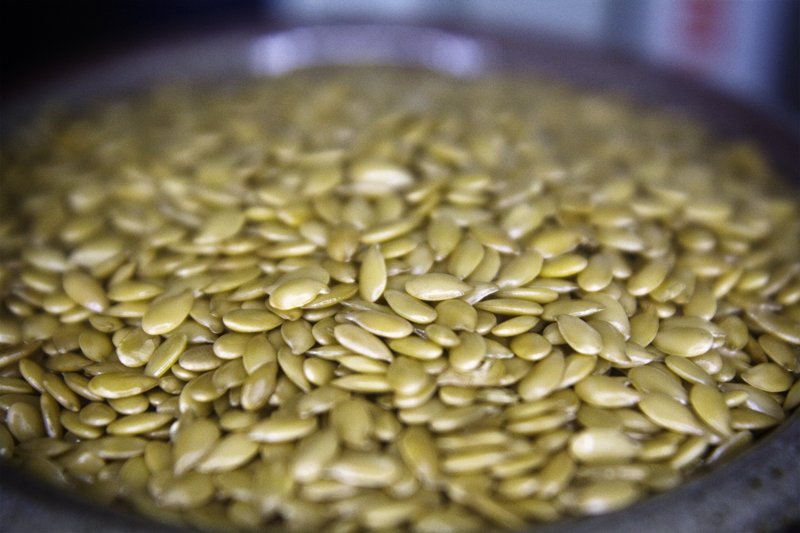 .
.
Then you take 2 Tbsp of these babies and dump them into a pot of boiling water.
Boil it until you've got a gel-like consistency.
It starts to look like this: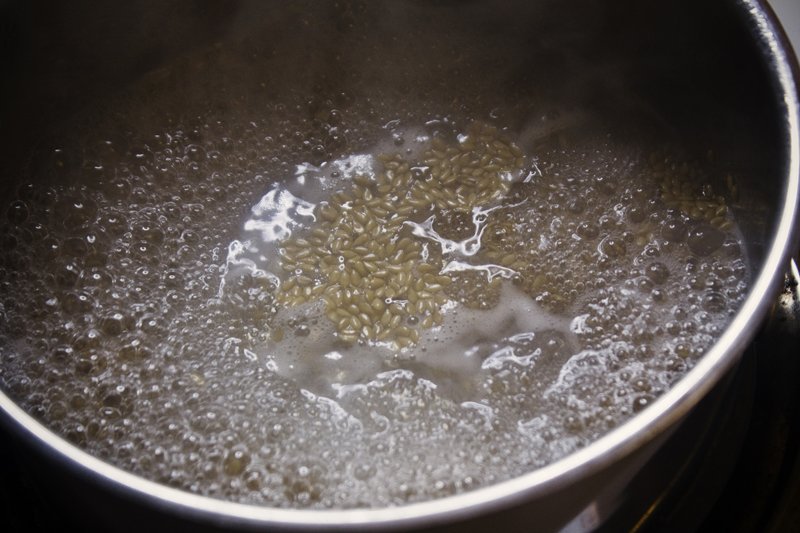 Now, it's VERY important that you continue to stir as you do this, because otherwise the flax seeds are going to attach themselves to your pot and refuse to ever leave. Like a 20-year-old son in your basement with free internet access.
As it's boiling, you want to monitor it, because if you let it go too long, you'll just end up with a big blob of flax seeds.
Take it out of the pot BEFORE the flax seeds gel together. (My first batch didn't go well, as you can tell.) You'll be able to pour the liquid off your spoon without all the flax seeds clumped together, but it will be thickish in consistency.
After that, drop it in a fine-mesh sieve. IMHO, don't even bother with cheesecloth. Unless you want a giant mushy ball of cheese cloth that you're forced to rub all over your head. (My second batch didn't go very well, either.)
Finally, I dropped it all into the fine-mesh seive, over a bowl.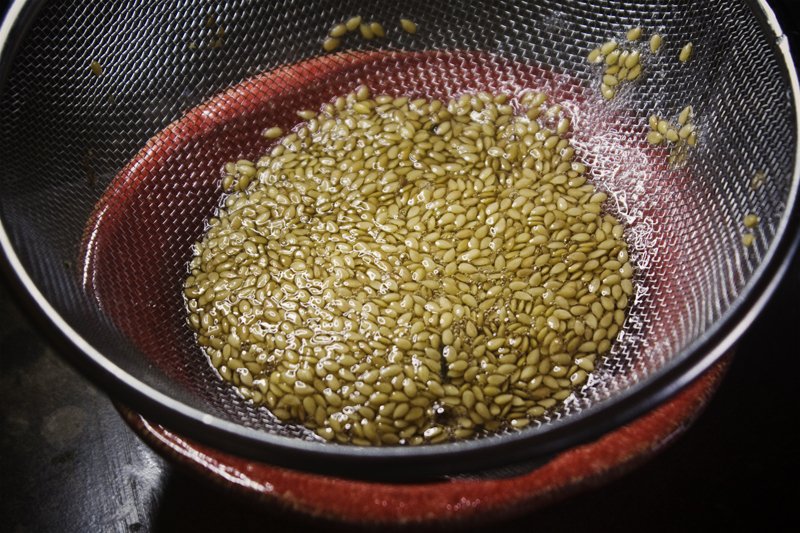 With the back of a large spoon, try pressing down on the gelled flax seeds. Some clear gel should start falling in your bowl.
As I was doing this, mostly what I accomplished was getting a spoon very, very slimy.
Eventually, I just gave up and hoped gravity would start doing the work for me.
I left the seeds in the sieve and the sieve in the bowl and walked away.
Five minutes later, I came back to see how dependable gravity is these days.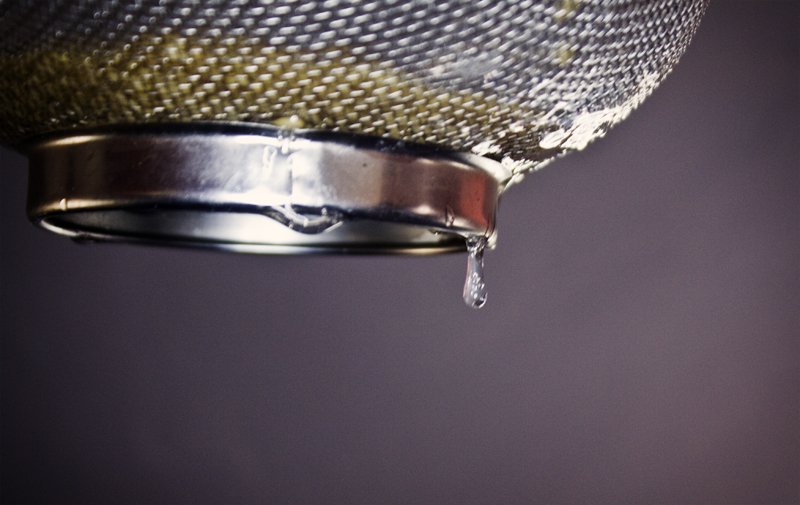 Then, I took the gel that had collected in the bowl and funneled it into a small glass bottle with a pump lid.
The amount I ended up with? Approximately 2 Tbsp flax seed gel.
Not really worth it, iff'n you ask me, for the mess it made.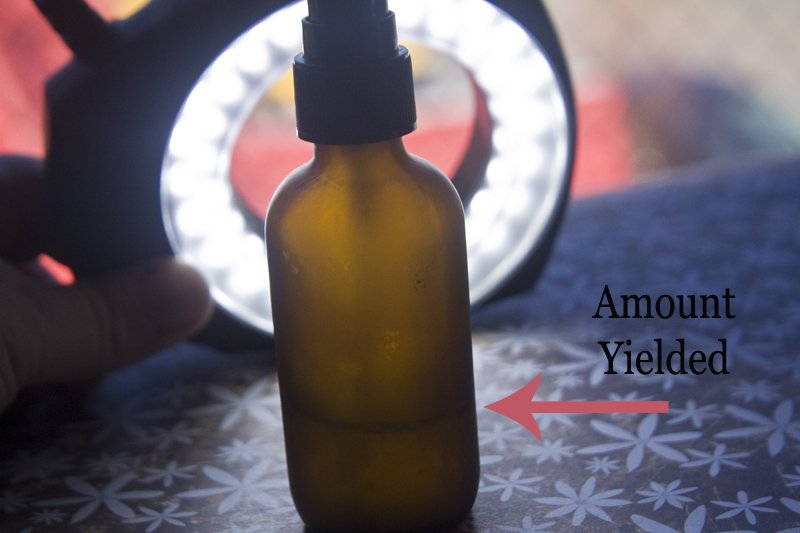 Flax Seed Hair Gel: Does It Work?
I used straight flax seed gel in my hair first. It was very effective, and didn't flake or clump. However, it did feel a little dry and crunchy (though brushing un-crunched it immediately).
It held my bangs back (in kind of a slicked-over look) for quite some time, until I stepped out in the wind.
Then, I added the aloe vera gel and some palmarosa essential oil.
(About 1/2 Tbsp of aloe vera to the 2 Tbsp flax seed gel.)
The hold was much softer, and I have it in my hair at the moment. It gives a little definition and a little hold – and the scent is light and lovely.
In Closing: I'm a fan of the way this stuff works. Really.
I'm just not a fan of how difficult it was to separate the flax seeds from the resulting gel.
So here's the challenge: Figure out how in the heck to get the gel out of the flax seeds without coating your kitchen with slime.
If anyone can come up with an easier, more effective way to do this, you will win my everlasting love and devotion.