Henna.
It's such a pretty word, isn't it? Such a pretty word, for such a mess I made. But we'll get to that later.
If you're looking for an alternative to chemical-laden hair dyes (in fact, I just read on cancer.gov that over 5000 chemicals are used to produce hair dyes … ugh) – or if you just want shiny, bouncy hair – stop and take a long look at henna. Just look at it. (It's right up there.)
And in lieu of trying to write a fact-filled, informative post, please, please take a look at these two VERY well-written, VERY helpful posts by Hilda Blue. If you're thinking about using henna hair dye, for the love of cheese, use her posts as reference.
Dye Your Hair Naturally Using Henna
She's outlined the basics on henna in ways even I can understand.
I just wish I'd have tried to understand them all before experimenting. In the wacky, wonderful ways of the universe, my jacked up experience gives me authority to talk to you today about what mistakes you SHOULDN'T make while trying to dye your hair with henna. Because I now corner the market on making henna mistakes.
However, before we get to that, here are just a couple of quick facts about henna as a hair dye.
Quick Henna Info
The flowering plant called henna has been used for millenia as body art and staining leather. You may have recently seen a henna tattoo (a process called mehndi in India) on Vanessa Hudgens. I mention this because, of course, she's the standard of ancient body art beauty. Ahem.
True henna dyes your hair a reddish brown color. The henna I bought wasn't actually henna – it was a mixture of indigo, "neutral henna," and other plants. There were no ingredients on the container, but I can only assume there was no henna in the mixture I used, because there were zero red highlights left after I finished. We're going to call it "henna" for reading ease, though.
You can purchase henna at natural food stores, and Nepalese or Indian shops. It will be considerably less expensive than traditional chemical hair colorants.
Neutral henna is actually a plant called Cassia obovata – it's not "true henna" at all. But it gives your hair incredible shine and bounce, nonetheless.
Henna seals the oil into your hair, leaving it super conditioned, and it helps close off the cuticle. After a henna (true or neutral) treatment, you can expect less frizz, more manageability, and a very healthy shine. (I've even read that it helps stop dandruff and gets rid of head lice.)
Henna color fades naturally within about 4 months, so it won't leave you with weird-looking roots or otherwise scary streaks.
For even more information on henna, I found this most interesting:
Henna also helps protect hair from sun damage. As a matter of fact, Henna has gained commercial leverage as a hair conditioner and to stimulate hair growth; scientific studies have even proven that Henna is a better hair conditioner than other commercial conditioners. Regular use texturizes hair, giving it more body and making it visibly fuller.
Okay. Now for the fun part.
What NOT to Do When Dying Your Hair With Henna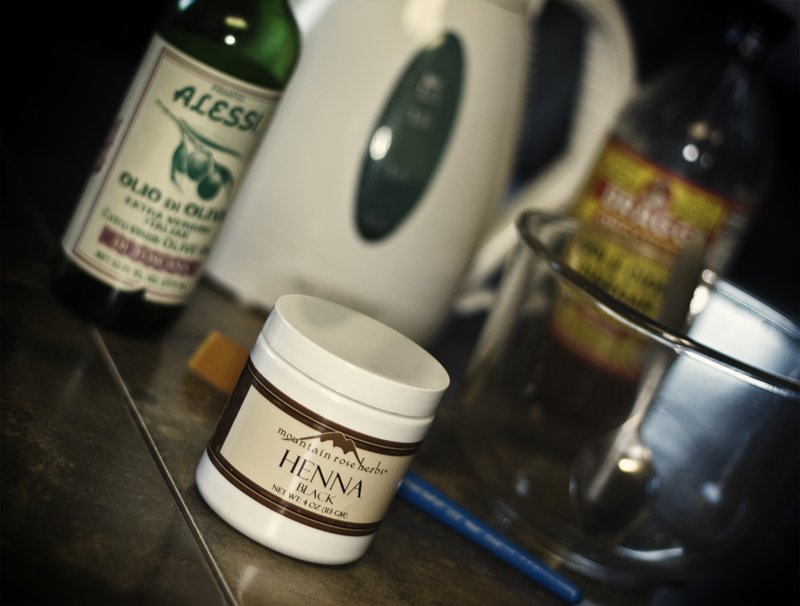 I'm no stranger to messes. I revel in them. I create them. I own the art of the mess.
Nothing, however, could have prepared me for the chaos that ensued while trying to dye my hair with henna.
It wouldn't have been so bad, had the potential mess just been gunk to wipe off the counters.
But it wasn't just any gunk. It was about to become black gunk – that stained. And I know my landlord well. She wouldn't have taken black blotchy stains on the beautiful granite countertops well.
So with the heavy fear of immediate eviction on my mind, I mixed the henna with water and apple cider vinegar (which Mountain Rose Herbs assured me would help the indigo cover the grays).
And it looked like this: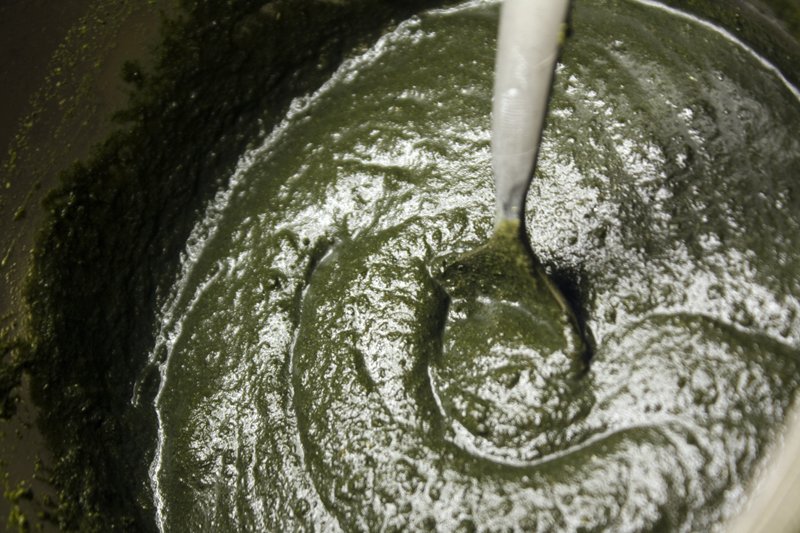 The consistency and sheer volume of this mixture should have immediately alerted my Spidey senses that something was amiss.
The first thing NOT to do while dying your hair with henna: Read only one brochure that accompanies the henna preparation. See, usually, before I do anything, I'll read several instructions from different sources and decide which sounds the best. Instead, I decided just THIS ONE time I'd follow only the instructions on the brochure. Precisely.
The problem was, the brochure didn't say how much water to use. It just said, "Mix in water until you get a creamy paste."
What I thought was a creamy paste turned into a spongy blob by the time I reached the bathroom to apply it. But I applied it anyway. With a small, fanned paintbrush.
The second thing NOT to do while dying your hair with henna: Apply it with a small, fanned paintbrush. After you section off your hair and carefully dip your paintbrush into the mixture, giant globs will immediately fall onto your cheeks.
Then you will panic, because it's the first time you've ever died your hair with henna and all you can imagine is blotchy spots of black or red that no amount of concealer could cover.
At that precise moment of freaking out, you'll completely lose your mind and scoop it up by the handful to shove into your hair. With your uncovered hands.
The third thing NOT to do while dying your hair with henna: Rationalize that using olive oil to coat your hands will protect them from staining. You need gloves, dummy.
This is why: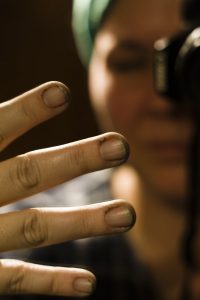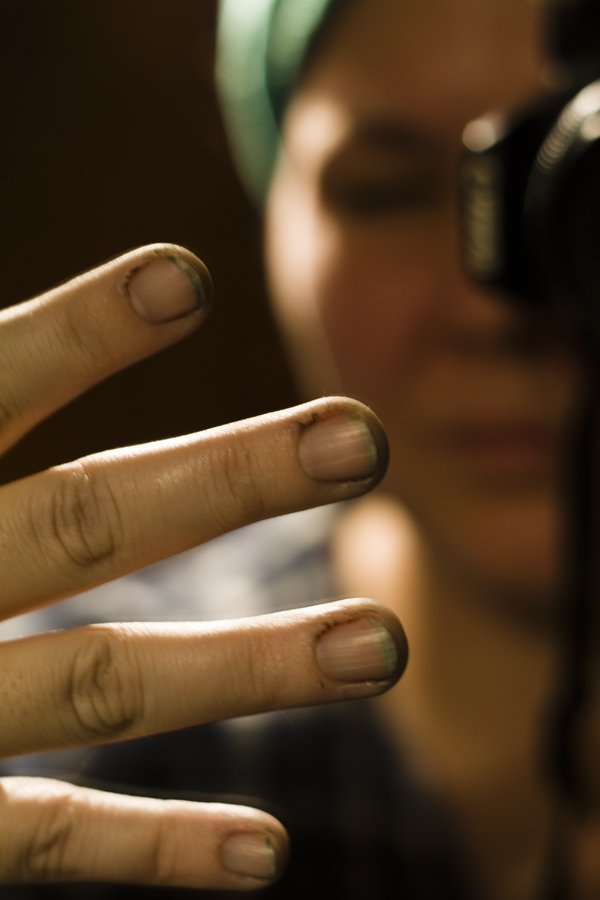 It's been three days since the henna experiment, and they still look exactly like that. The only public outings I'm allowed to go on now are Zombie Crawls.
The fourth thing NOT to do while dying your hair with henna: Leave the bowl on the counter unattended while you cover your hair frantically with your hands, run around the house, and yell at your significant other to PLEASE, FOR THE LOVE OF GOD, FIND ME SOME GLOVES.
Cats like the smell of henna. And if cats like it, I can only assume small children and spiders like it, too.
Don't leave your henna unattended.
Paw prints will happen.
The fifth thing NOT to do while dying your hair with henna: Apply it anywhere but in the bathtub. Trust me. You want to be in the tub covered with 800 old towels behind a specially-built glass gunk-guard. It might not hurt to lay tarp over your bathtub, either. Why? Because if you're applying it with your fingers, your bathtub is eventually going to look like this: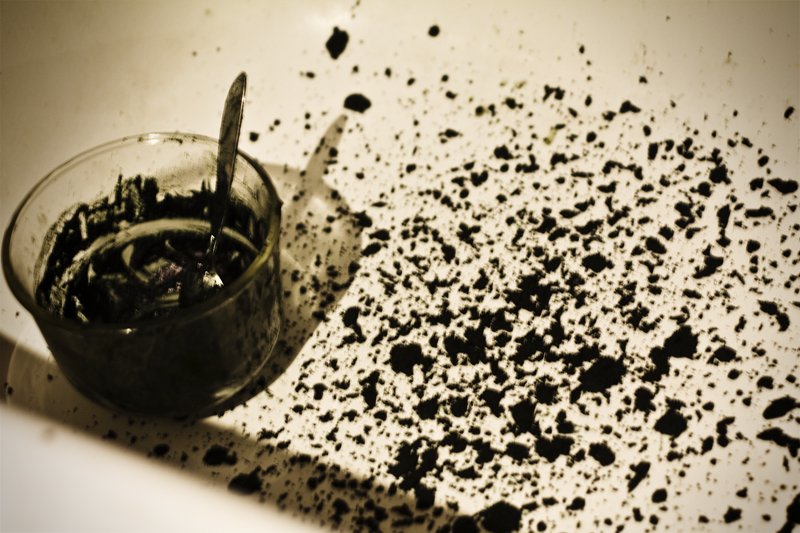 The sixth thing NOT to do while dying your hair with henna: Assume that you can, single-handed, in a bathtub covered with grass-smelling, soon-to-stain splatter, successfully tear off pieces of plastic wrap to cover your head with.
I went through half a roll of plastic wrap (which was all I had left) just trying to get it to cover the hair that hangs onto my neck. What I ended up with was a ball of soggy, black plastic wrap falling into my shirt.
So I kissed my microfiber head-wrap goodbye for the last time, and shoved it over my head instead. It was for the best. I mean, it's green, for pity's sake.
And now it's black on the inside.
Much unlike my hair, though. I wouldn't call the color I ended up with "black." But the natural red highlights I've always had in my dark brown hair are now gone.
What color would you say it is?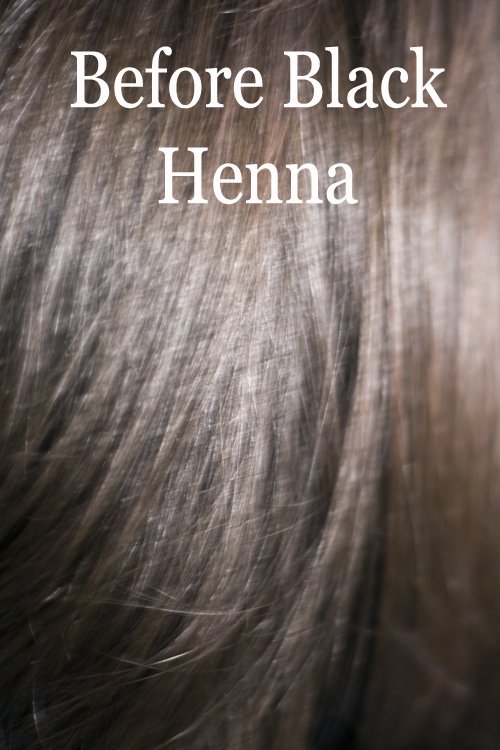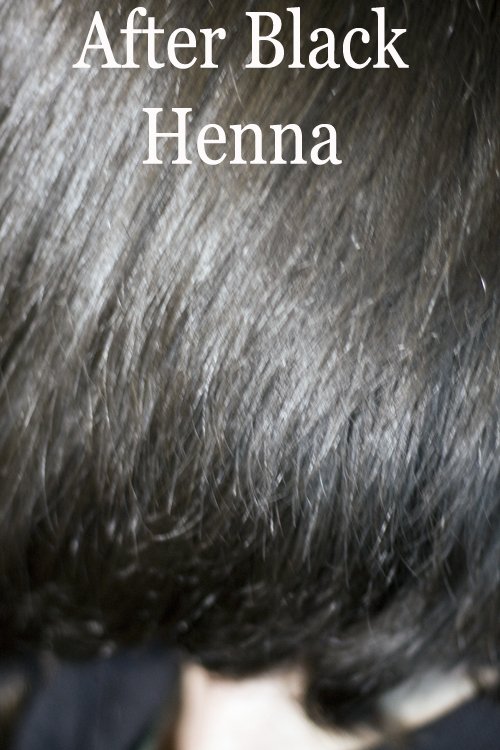 My Thoughts on Henna Dye: In a Nutshell
Your experience doesn't have to be my experience. In fact, I'd wager a bet that you couldn't recreate my disaster if you drank a fifth of Jack Daniels, tied both hands behind your back, dunked your hair in henna, and shook your head like a wild woman.
I won't be dying my hair with henna again, though.
I'm rather fond of my natural haircolor. This was just a fun experiment.
What I WILL do, though, is buy some "neutral henna," mix it up little by little, and do monthly treatments with it.
I may not have a lot of love for the color of my hair at the moment, but the way it feels is like … like … tiny strands of silky thick spiderweb wrapped in butter wrapped in satin wrapped in the softest baby kisses.
And for that reason, I recommend giving henna (of any variety) a try.
—
Have you ever tried dying your hair with henna?
Did I scar you for life on the idea of trying?