Every child has a little chemist inside. That brainy, inquisitive spark that tells them to mix certain unrelated liquids together and see what happens. Most of the time, it's things like glue and orange juice. Or toilet water and lipstick.
If not kept in check, this little chemistry curiosity, we grow up to mix things like vokda and beer. Just a little tip, parents.
Anyway, when I was a kid, my inner chemist was mostly just curious about my hair. Changing it, especially. See, when I was a kid, my hair looked like this: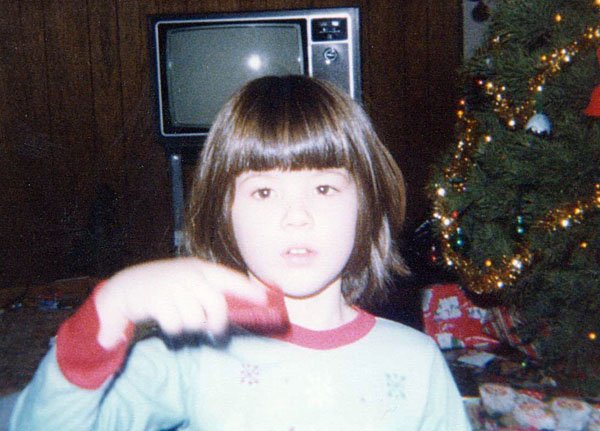 It was pretty hair. Shiny. Thick. Straight.
But it was brown, and I did not want my hair to be brown. Because my cousin – the one who lived right next door to me, and who was allowed to go to beauty tip classes and stay up until 9 – had hair that looked like this: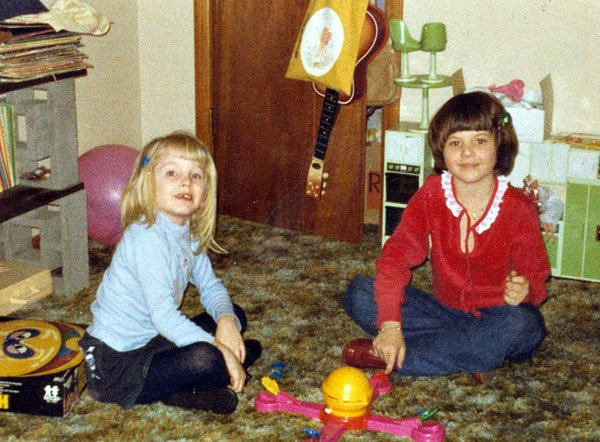 How I wanted that blonde hair. It probably didn't help that right about that time I was spending four nights a week locked in my room, listening to my Mickey Mouse record player belting out songs from Grease and pretending I was Olivia Newton-John. Olivia Newton-John of the flaxen mane.
My life would have been complete, I thought, with that blonde hair. Danny Zuko would stop being just an apparition in my wading pool and drive me into the sky for reals.
So I spent every night in the bathtub, combining various shampoos and conditioners in precisely inexact measurements (every time), certain I would hit upon a combination that would turn my brown hair blonde. I'm pretty sure it did at one point, for a total of 10 minutes after I stared at the bathroom light for a while and then looked back at my hair. And then it was brown again.
Eventually, I turned to doing things like this with my high school friends: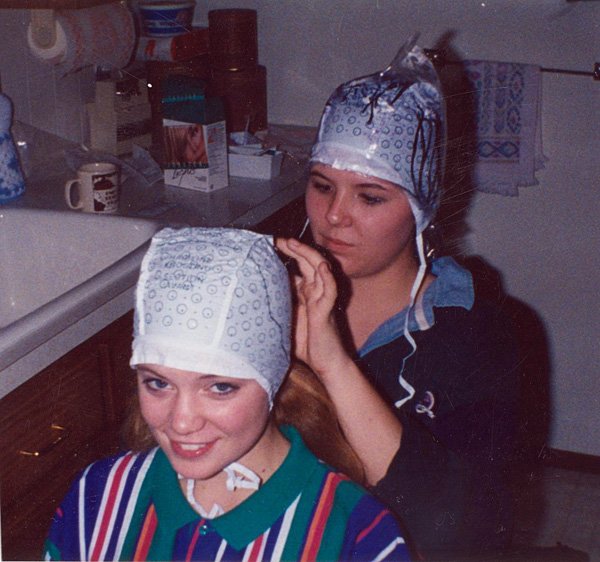 And then I turned it purple (on purpose) and then chopped it off and then Sun-Inned it until it looked like a tarnished pumpkin and then chopped it off again. Somewhere in there, I too paid hundreds of dollars for highlights.
All to "fix" perfectly fine hair.
We're Terrible to Our Poor, Defenseless Hair!
No matter what your hair type, you've wished it was different. Curly. Straight. Shinier. Longer. Darker. Lighter. Able to tie itself into a bun and turn you into a sexy librarian.
I know you've done that, because you live in this world and watch these TVs and read this internet full of people with hair that's – ahem – WAY better than yours (even though they wish they had your hair, silly goose).
But riddle us this: What if your hair, naturally and the way it is, does things you never dreamed it could do? What if it's supposed to be unstraightened, unpermed, unchemicaled … and uncut.
Several months ago, I ran across this highly suspect, in the realm of potential urban legends, story about Native Americans and how their long hair gave them supernatural tracking abilities.
It stuck with me, even though it's probably 87% hoo-haw. In a nutshell: "Supposedly," in Vietnam, the military found out that the Native Americans they recruited lost their intuitive abilities when their hair was cut short. They could no longer sense someone sneaking up behind them, and they eventually all turned into Lou Diamond Phillips who everyone confused with Benjamin Bratt. I made that last part up.
On a serious note, though, whether or not that particular urban legend is true, you may recall that hair has played a very important part in history – especially how the "cutting" of which saps the power of the cuttee.
Does the name Sampson ring a bell? Or the Vril Society, who believed that their hair was antennae with which to communicate with aliens? (Notably, Hitler is believed to have been a part of the Vril society, but we've all seen his hair. If only the aliens could have spoken to him …)
Guess what else, though? The Sikhs believe that long, natural hair gives you metaphysical abilities: It helps you meditate, it connects you with the universe, and it delivers much-needed vitamins and minerals to your brain. In short, it's an antennae to God (and the God in all the nature around us).
I don't know what to tell you if you're bald.
Sorry. Try gluing spaghetti on there.
My point is: We should be kinder to our hair. We should treat it as the natural wonder it is, instead of wishing (and bleaching) that it was morebetterdifferent. Who knows what magical abilities it holds that modern-day science just hasn't figured out yet. (ALIENS.)
This Week is Hair Week
In honor of beautiful natural hair, this week is dedicated to a few hair recipes/tips that you might or might not know about. Probably not. Hopefully not. It makes the blog more interesting if you learn new things.
But this is your chance to ask a particular question about a hair issue you have (if you have one). For Friday's post, I'll answer any I can – or I'll highlight and post any great tips you guys give each other.
If you don't have a hair question to ask, I implore you: Do you think there's a possibility that our natural hair serves as an antennae of some sort? If not for ALIENS, then maybe to sense the world around us? Or is hair just dead, lifeless protein waiting for a sharp pair of scissors?