As I write this, at noon on a Tuesday, my hair is covered in the hot oil treatment you see pictured in this post. My locks are topped with the pink shower cap. The sun is shining and it feels like spring in January. My cat … he is licking my neck.
Life is good.
Of all the crunchy things you can do for your hair, the hot oil treatment is – by far – the most satisfying and luxurious. I do them once a week, on average, and I've finally gotten the routine down to an art. Here are my secrets, and a step-by-step guide to getting the most out of your own homemade hot oil hair treatments.
This is a LOT of information, so today we're just going to cover the basics on how to create your own hot oil for your hair and all the yummy goodness you can add (or not). Part 2 will be the best ways to apply, clean off, and use your hot oil hair treatments. (Too much information, so little room on the internet.
Your Hair On Oil: Why You Should Do a Hot Oil Hair Treatment
You may be thinking to yourself: "My hair is oily already. Why on earth would I do this?"
Or, alternatively, you may be thinking: "My hair is so dry! Why haven't I done this already?"
Either way, good news. The hot oil hair treatment is for ALL types of hair, and you can customize it to do awesome things for your mane, regardless of its texture or typical condition. The key is to choose the right ingredients for your hair type.
The oils you choose will infuse your hair – made up primarily of a protein called keratin – with much-needed moisture and strengthening compounds, leaving it soft and flowy. Helping you get rid of that annoying frizz. Leaving the unfortunate split ends smoother and less noticeable (at least for a while).
Choosing Your Oils
Frankly, you can use just about any oil you desire for your homemade hot oil hair treatment. If you want to go easy on yourself, just heat up a little olive oil and slather it on your hair. That'll do just fine.
But if you want to use a more personalized technique, here are the oils you should consider using (and blending!) for a more phenomenal experience:
Jojoba oil: One of my favorites, and the best choice for those of you who have oily hair to begin with. The constitution of jojoba oil is much like that of our own natural skin and hair oils. It will leave your hair soft and light, without weighing it down.
Coconut oil: My other absolute favorite hair oil. Talk about shine and softeness! Coconut oil is great for all hair types. And, as a bonus, if you have a bit of flaking or dandruff, a coconut oil hair treatment will help fix that right up.
Castor oil: Many of you know, as per the oil-cleansing method, that castor oil has some drying properties. This makes it a great option for those of you with oily hair. But it's also a powerhouse at adding strength to your hair, so those of you with thin hair that breaks easily, think about using castor oil in your hot oil hair pack.
Sesame oil: This delicious oil adds conditioning and shine, and is great for any hair type; however, historically it's been used to help slow down hair loss and was used to successfully treat thinning hair.
Avocado oil: As one of the most emollient and moisturizing oils you can find, avocado oil is a particularly good choice for those of you with really dry and frizzy hair.
Of course, there are myriad other oils you can use in your personalized hot oil recipes. Oils like argan, sweet almond, apricot kernel, kukui … the list goes on. They'll all leave your hair soft and shiny, but they may be a little more pricey and difficult to find.
You can stop right here, if you want. There's no reason why, if you're pressed for time, you can't just warm your favorite oil, slather it on your hair, leave it on for 30 minutes and then wash. That's perfectly fine.
But when you move on to the next step and add in herbal infusions or other goodies, you'll take your luxurious homemade hot oil treatment to the next level.
Creating Your Fantabulous Herbal Hot Oil Hair Treatment
Truth is, we could do an entire month's worth of posts just talking about the different herbs to add to a hot oil hair treatment.
Instead, I'm going to give you a breakdown of the most common ones and you can choose what works best for your hair.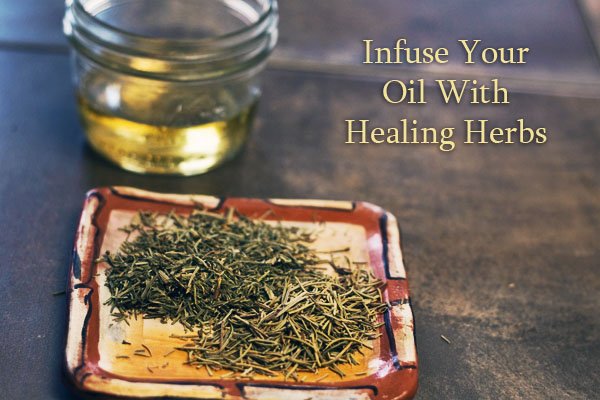 The quickest and easiest way to personalize your hot oil is by using essential oils. However, I prefer to steep my oil in real dried herbs before using it. It just feels more … thorough. More crunchy. More fun!
You can choose herbs to help boost the color of your hair, to add even more moisture, to clarify and add shine, or to add strength and elasticity. Here are a few ideas:
Herbs for Your Hot Oil Hair Treatment
To enhance the color of your hair: For brunettes, consider nettle, black tea, ground coffee, rosemary, sage, or ground black walnut shells. For blondes: Chamomile, rhubarb (not an herb, I know), calendula, or clove (if you want a more honey color). For redheads: Hibiscus (yes!), red clover, or chamomile.
To strengthen hair: Use chamomile, nettle, horsetail, arnica, or burdock.
To clarify hair: Rosemary, parsley, sage, nutmeg or witch hazel.
To stimulate hair growth: Peppermint (yes!), parsley, horsetail, sage, chamomile, ginger, and cinnamon.
How to Steep the Herbs in the Oil
Once you've decided on the herbs you'll use, you'll need to infuse your oil with them. The quickest method is to steep the herbs in the oil over low heat for about 30 minutes.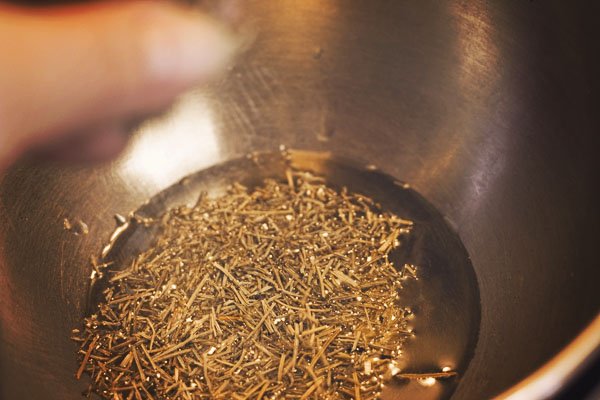 How to do it:
Place about 3 Tablespoons of the oil(s) of your choice in a makeshift or real double boiler. Turn the heat on low and add 1 to 1-1/2 Tablespoons of your chosen herbs. Let this steep for about 30 minutes on low.
Strain the herbs from the oil into a small glass container using a piece of cheesecloth or a coffee filter.
Move on to adding more goodies to your treatment, or start your hot oil hair treatment now.
You can store this oil for up to 6 months in a tightly lidded container.
You CAN make a big batch of this to keep for the future. Just double, triple, quadruple the instructions above and store your hot oil hair treatment in a tightly lidded container for up to 6 months.
At this point, you can stop and use your hair oil just as it is, or move on to the next step, which is adding more goodies:
Adding Extra Goodies to Ramp Up Your Hot Oil Hair Treatment
This step is purely optional, but if you're really serious about your hair treatments – or if you want to make this as a special gift for someone else – you might want to add some extra ingredients to nourish your hair and turn it into a sensation.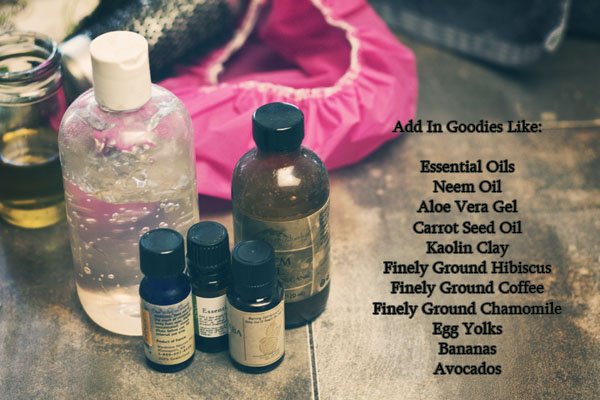 If you're going to use your hair treatment right away, you can mush or whisk in in things like:
Banana
Avocado
Egg yolk
Berries (blackberry for darkening hair, raspberry for red hues, and strawberries for a little strawberry blonde action)
Lemon juice for highlights or grapefruit juice to clarify
But if you're keeping your hair treatment for a while, giving it as a gift, or just want to add extra incredible ingredients that take it to a whole new level, here are some other ideas:
1 tsp neem oil: this is a top-notch addition that will help strengthen, as well as clarify your hair (and it's GREAT for dandruff)
3 drops essential oil: Like rosemary, tea tree, rose, rose geranium, lemon to clarify, peppermint to stimulate, or sage
1 tsp rose hip seed oil
1 tsp aloe vera gel (to moisturize, clarify and strengthen)
4 drops carrot seed oil (for out of this world moisturizing and strengthening)
2 tsp kaolin clay for purifying and cleansing
This is a lot of information, people, and we're still not done. Tomorrow we'll talk about how to get the most out of your hot oil hair treatment in terms of application and washing.
But, if you want it, here's the exact recipe I made for my hair today. It's clarifying, moisturizing, and strengthening. Just an all around great hot oil recipe.
Crunchy Betty's Favorite Hot Oil Hair Treatment
1 Tbsp jojoba oil
1 Tbsp coconut oil
1 Tbsp castor oil
Scant 1 tbsp dried rosemary
1 Tbsp dried horsetail leaves
1 tsp neem oil
4 drops carrot seed oil
3 drops rose essential oil
Place oils, rosemary, and horsetail in a small double boiler (or makeshift double boiler) and heat on very low, stirring occasionally, for 30 minutes to an hour. Strain the herbs from the oil into a small glass container using cheesecloth or a coffee filter. Add in the other ingredients and stir well. Use immediately or store for up to 6 months.
Tomorrow: How to Use Your Hot Oil Hair Treatment!
In the meantime, have you ever made your own hot oil hair treatments? If so, do you have any particular tips and tricks that have worked for you?
(And, don't worry, I'm going to address the no 'poo/oil treatment issue tomorrow, too.)