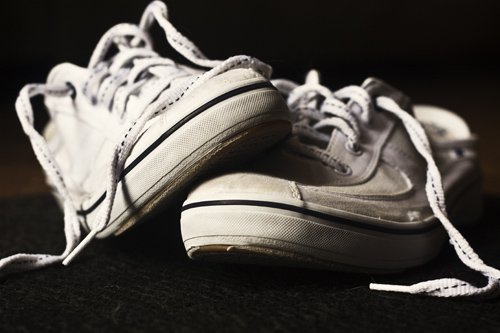 I am at war. With these shoes.
In a take-no-prisoners, no-man-left-standing kind of way.
But I love them. I don't want them destroyed. I just want them to not be so offensively mean to my feet.
Summer's coming, you know. And summer means endless pairs of jeans to roll up like yer goin' fishin'. I've yet to find a pair of shoes that compliments these pants like my heel-less white Keds.
But these Keds come with a price. And that's eventual stinkiness. And it's personal now.
This week, I've gone to war with these shoes. I will not be defeated. (Or is it defeeted?)
Here's the tale of just how I've done battle to keep these shoes from wreaking havoc on my feet, and then a few other tips for those of you who probably don't have vile, angry, comfortable, perfect shoes like mine. But who might need a little stinky feet cure now and then. You can count your husbands there.
Battle to Win the Great War of the Summer Shoe
You know what really grinds my gears? That these stupid shoes are backless. They're supposed to NOT let stinkiness happen. And you know what else? They are the only pair of shoes I own that do this.
The shoe gods said, "Betty, you may have your perfect pair of summer shoes, but they must come at a price of two stinky feet. Sorry, dummy."
So I've tried a hundred easy, benign things here, and I finally gave up and did the following slightly psychotic, borderline obsessive things. So far, they have worked. WONDERS.
Pull out the soles and wash them and the shoes. In hot water. In the washing machine. Air dry.

Check. That one was a no-brainer. But I knew that wouldn't be all.
Remember, if you wash your shoes in the washing machine, wash them with a load of towels. This helps keep the washer from going off balance, but especially it protects your shoes from banging against the side and potentially getting a little worn from wash.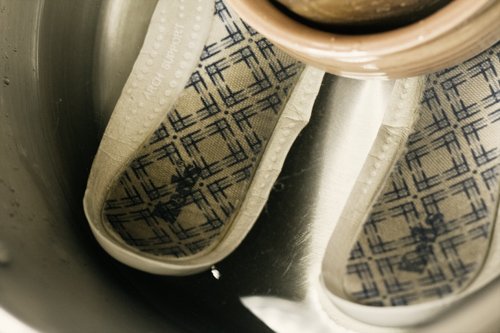 While the shoes are drying, soak the soles in a solution of 2 c. vinegar and 1 c. hot water for 3 hours.

I know. It seems a little redundant. Wash in the machine and THEN soak? But I told you, I've lost my mind on these shoes. I'm doing everything. Twice. Three times. As many as it takes.
At one point, I pulled them out, sprinkled a little Dr. Bronners eucalyptus liquid castille soap on it and scrubbed them together. That might have been overkill. Eventually, I just rinsed them off and let them soak in the vinegar again.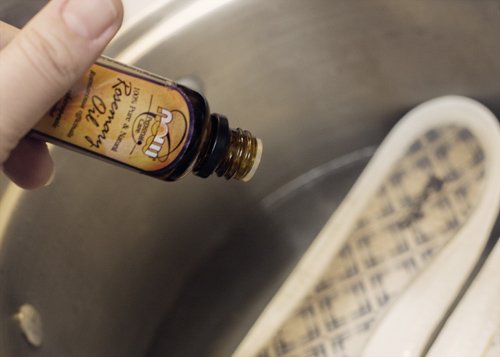 After the soles have spent 3 hours in vinegar, rinse them off, rinse out the pot, and then boil 4 cups of water in the pot. Remove the pot from boiling, add 1/2 c. baking soda and 1/8 c. sea salt. Place the soles back in the pot and put 20 drops of tea tree and/or rosemary essential oil onto the soles. Sink them into the pot with something heavy. For another hour.

SO not kidding about the war thing. This is the final battle. The one that determines who wins. The coup de grace. The Champs-Elysees. (Yeah, I know French.)
You don't have to use both rosemary and tea tree – either one is probably enough. You could also use lemon, eucalyptus, or lavender essential oils to great effect.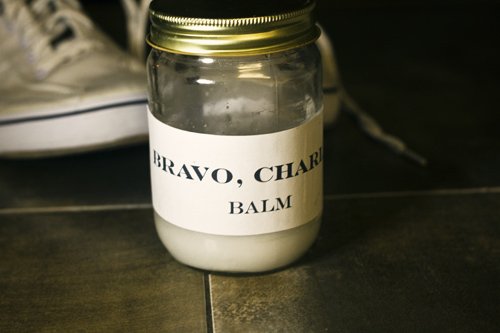 The last thing I did, while I was soaking the soles, was to make a balm I called Bravo, Charlie Balm because it's all Army-like and sounds like it would beat up any dumb shoe that dared to stink a foot.
Here's What's in Bravo, Charlie Balm: 1/4 c. coconut oil, 15 drops tea tree oil, 10 drops lemon essential oil. Stirred well.
I put it on my feet about 15 minutes before I put these shoes on. All of the ingredients are antibacterial (which means they'll cut WAY down on any foot odor). Added bonus: It keeps my feet super soft and my heels from cracking as much.
So, like I said, it's worked so far this week – even though I've only worn them three times. I expect this will be an ongoing battle, and I'll have to do all of this once a month. But it's worth it.
Just for the satisfaction of knowing I WIN, SHOES. TAKE THAT!
More Tips and Remedies for Combating Foot Odor
Is anyone else a little weirded out at the lengths I'll go to give you tips on things for this blog? People. I just told you about my foot stinkiness. Please respect me tomorrow.
Here are other things I've tried with these demonic shoes, and they've all worked to some degree.
Make a homemade body powder – save a little out and add half as much baking soda to it. Sprinkle it in your shoes immediately after wearing.
Skip the body powder and just sprinkle baking soda in your shoes. This won't add any yummy scents, but it will help take the bad ones away.
While you're sprinkling with baking soda, why not add a few sage leaves in there? Sage helps with odor control and it smells great, too.
Prepare a shoe spray with 1/8 c. vodka, 1/4 c. distilled water, and an antibacterial essential oil (like lavender, tea tree, lemon, rosemary, eucalyptus, or peppermint) and spray it in your shoes after wearing.
Keep a small block of cedar wood in your shoes when you're not wearing them. Cedar is really incredible at soaking up odors.
Sprinkle your shoes with cornstarch – just a little bit – right before you put them on. This will help soak up any perspiration. (My mom used to do this to my dad's shoes. Oh, memories.)
Apply your deodorant to your feet an hour or so before putting on your shoes. My deodorant isn't that my different than the Bravo, Charlie balm, but I wanted to skip the baking soda directly on my feet. I don't know why. It just seemed like it might feel gritty. (Okay. I just like making new things.)
Scrub your feet weekly with something like a Ped-Egg (or you could do the pretty feet tricks).
And here are some ideas on how to get rid of the stinky feet after they've happened.
Make a super strong pot of black tea and soak in it. It has to be black, because you want the tannins (which green and white tea do not have). Soak your feet in this for 15-20 minutes and pat dry.
Whip up a quick salt scrub with lemon juice and go to town on your feet. Just mix 1/8 c. salt with 1/8 c. olive oil and add 3-4 Tbsp lemon juice, stir together, scrub, and rinse well.
Pour a little vanilla extract on a cotton ball and wipe your feet with it. The alcohol will kill any bacteria, and the vanilla will smell soooooo good. Note: This may dry out your feet to some degree, so if you have dry feet already, skip this tip.
Make an Epsom salt soak with mustard seed and ginger. All of these things will help pull toxins out of your skin, and they're also fabulously antibacterial. I'm a huge fan of mustard foot soaks, by the way. It may be purely psychosomatic, but the day after I do them, I feel SO energetic.
Or just take a shower. Hardly a tip, right? But it had to be said.
Brave Enough to Share a Stinky Shoe Story?
Do you have any other tips I skipped here on how to combat foot odors, how to subdue a stinky shoe, or how to otherwise not be completely disgusting in the toe department?
Or … are you brave enough to share a story about a time you – or someone you were with – had really stinky feet?
Go ahead.
Do it now.
You may never get another chance.
(Hopefully.)