It never ceases to amaze me how many cosmetics you can make with ingredients from your kitchen.
This little ditty came as an inspiration from the DIY Portable Bronzer Compact at Planet Green. The recipe there contains simply cinnamon and powdered sugar.
However, I like my bronzer on the "contour" side. Any chance I get to highlight those fabulous cheekbones, I'll take. So that's what the majority of my bronzing powders have done.
(You can also use bronzing powder lightly under your chin to minimize the appearance of any "doubling" and chisel your jaw a bit.)
What I'm getting at is: I needed to find a way to make the bronzer less cinnamon and more shadowy.
However, I did try cinnamon straight as a bronzer on my forehead, nose, and chin, and loved it. For as irritating as cinnamon can be on the skin, I wore it all day yesterday and had no itches or uncomfortable feelings. Just a nice, light smell of cinnamon.
Here are two different ways you can utilize the ingredients in your kitchen as a fantastically natural bronzing powder.
(Can I get a yay!?!?)
Homemade Bronzing/Contour Powder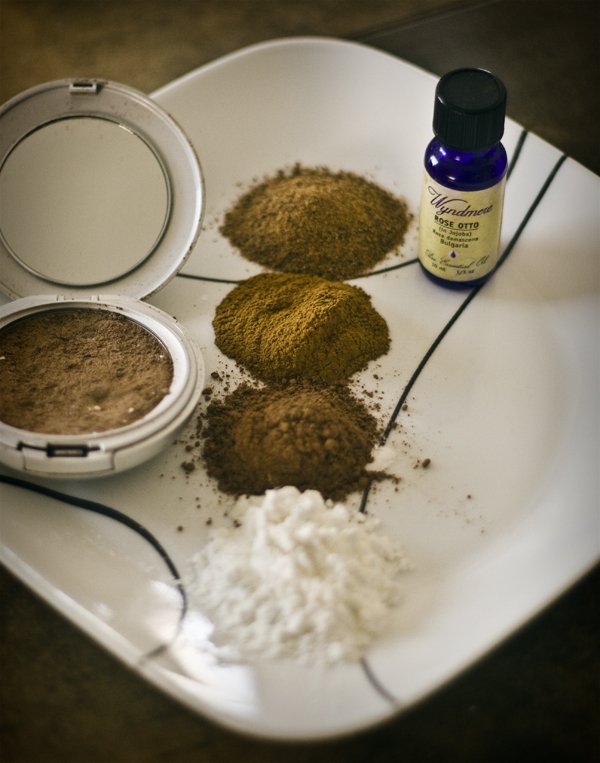 I've got to be honest, crunchistas, I didn't do a lot of measuring when I made this. And I don't think you should, either.
You know your skin tone better than anyone in the world, so choose your levels of ingredients accordingly.
I'm also not 100% sure the nutmeg was necessary, but I love the smell of nutmeg (and it's GREAT for keeping away pimples).
And, before we get into the making of this, let's talk about the application. Use a light hand. The first time I applied this, I did it very thickly – thinking that there'd be little color that stayed on my skin. Big mistake.
You know those war movies where they smudge dirt all over the soldiers faces to make them look more scary, intense, and slightly insane? That's what this looks like if you don't go VERY easy with the application. In addition, you might want to smooth it around with your fingers just a touch to even out the application, so you don't have cocoa smudges anywhere.
Once you get all that done, it looks just like store-bought bronzing powder.
Here's what you need:
Cinnamon
Nutmeg
Cornstarch or Powdered Sugar
An empty compact or small jar with a lid
You could do this without the essential oil and just leave it as a very light bronze dusting powder. The oil basically just makes it a little more thick and easy to tamp into an empty compact case. If you choose NOT to use the oil, you don't need the compact case. Just use a small jar and apply it as you would dry mineral powder.
If you're going the essential oil route, empty out your compact case and clean it well. Even better than the one pictured here: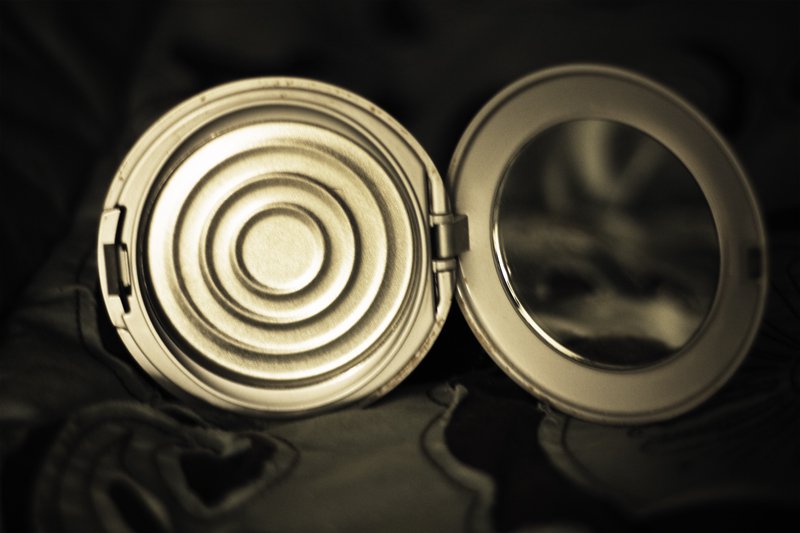 Now, get all your ingredients together and get ready to mix 'em up. Here's the approximate levels of what I used in mine:
Customizable Homemade Contour Powder
1 Tbsp cinnamon powder
1 tsp cocoa powder
1 tsp nutmeg powder
2 tsp cornstarch
15 drops rose otto, lavender, or rosemary essential oil
When you're adjusting this recipe to your desired darkness, remember: Cinnamon adds glow, cocoa adds depth and darkness, and nutmeg adds a sunkissed brown. Cornstarch spreads it all out and lightens it. Essential oil keeps it together and thickens.
Adjust the levels of ingredients to your liking and mix well in a small bowl, making sure to break up any clumps with your fingers. Place the powder in your clean, empty compact and tamp down well with the back of a spoon.
Apply as you would a contour powder.
Now, the above recipe may be too dark to just use as a light bronzing powder, so if you just want that natural sunkissed look, here's another option:
Homemade Bronzing Powder
2 Tbsp cinnamon powder
3 tsp cornstarch (adjusted down or up depending on how dark you want the powder)
Mix these ingredients together in a small bowl, adjusting the levels as you'd like. Add a few drops of essential oil (lavender or rose would be best). Mix well. Place into clean, empty compact or small jar with a lid. Apply VERY lightly over your forehead, nose, chin, and apples of your cheeks for that beautiful (and SO natural) glow.
I wanted to give you guys an idea of how it actually works, so I used both things and took a picture.
However, I used FAR more of the contouring powder than I normally would – just so it would show up in the picture. Keep that in mind.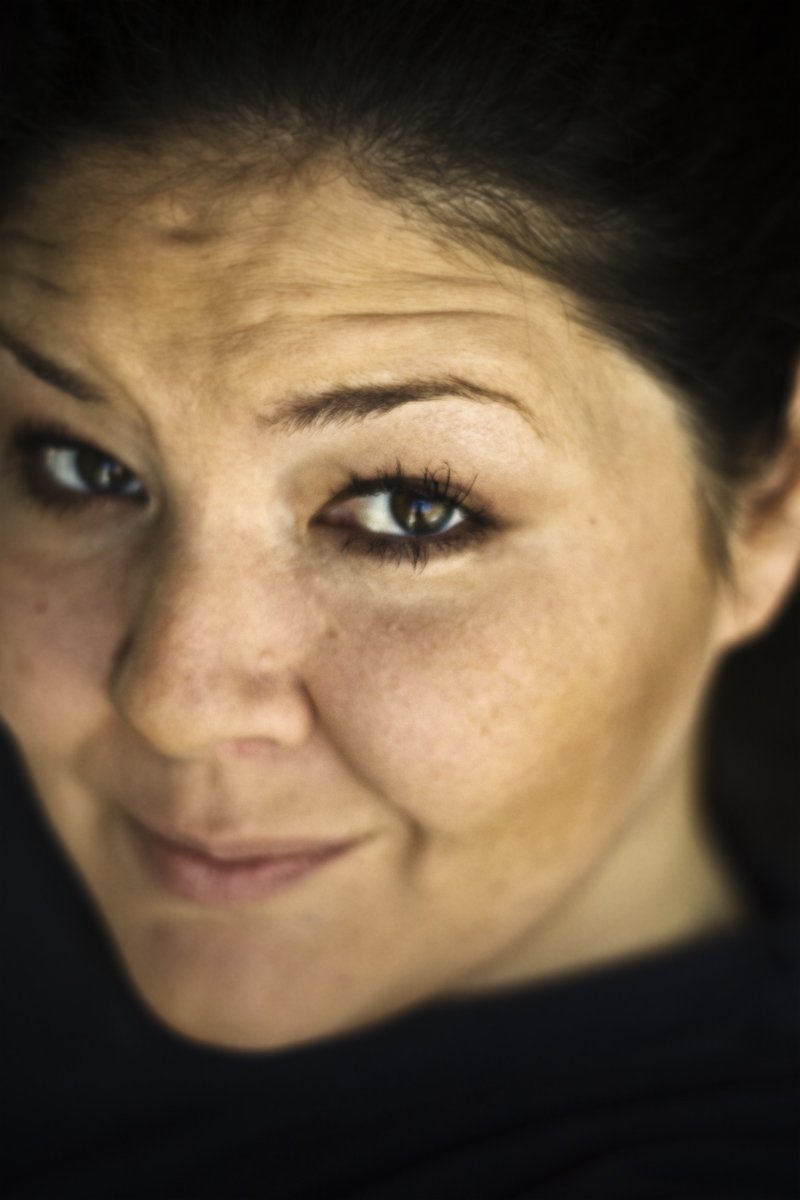 Total cost?
Approximately $0.25.
Let's see you pick up a store-bought bronzer for that amount.
Ah, isn't crunchiness grand.
EDIT 8/26/2012: Never in a million years did I think THIS would be a post/idea that would go viral. Of all of the homemade beauty treatments and household recipes I've blogged about, this is one of my least favorite, very rarely used ideas. Let it be known that I do NOT use this on a daily basis, nor would I suggest anyone else do so. It was a simple experiment to see if I could make it happen in a way that was acceptable in a pinch. And I did. That being said, I would absolutely be careful about putting cinnamon on my face regularly. I beg of everyone who tries this to please use their own discretion. Do this for fun, not forever.