Have you ever noticed how the universe sometimes really wants you to go down a certain path? Everywhere you turn, there are reminders of a track you almost chose, still have the opportunity to choose, but are resistant for reasons even you can't understand?
…
Maybe it's fate.
Maybe it's destiny.
Maybe it's your overactive imagination.
But, either way, there's something that just keeps nudging you – sometimes ever-so gently, sometimes with a loud bullhorn in your ear – down a certain road.
Today, all roads led to my armpits.
A while back, in 7 Important Natural Skincare Ingredients, I wrote that I would have to blog about homemade deodorant soon (see: I would actually have to TRY homemade deodorant soon). Since that time, my pits have become, well, itchy. Every day, itchy. Is it a psychosomatic reaction to the traditional deodorant I've been using? I don't know. All I know is, they itch.
And then today came – today, when I was going to write a lighting rod post about products to help green your medicine cabinet (complete with a medicine cabinet makeover), I took some pictures of my medicine cabinet "before." And then I looked at them. Here. What do you see wrong in this picture (besides the 700 contact cases – I don't 350 pairs of eyes, really):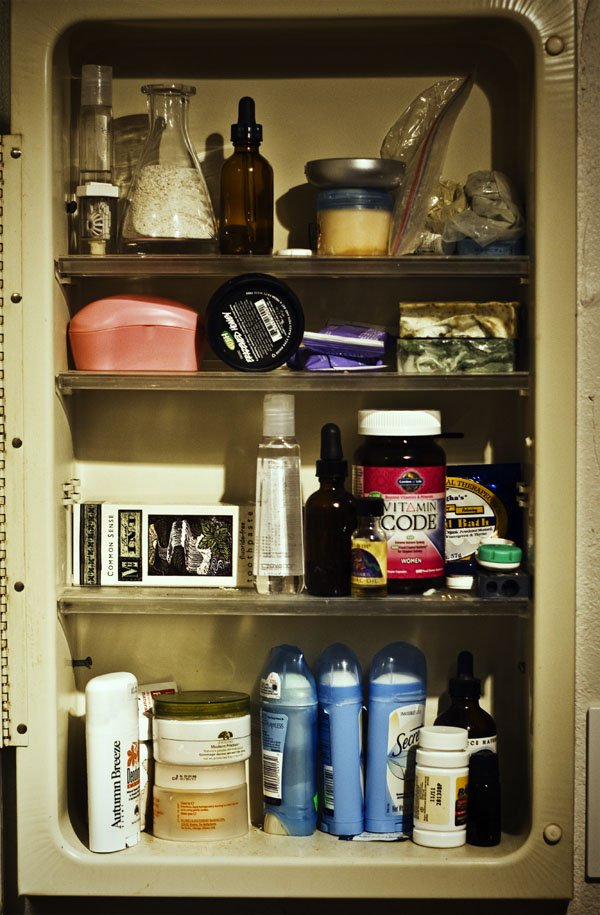 That's right. I have three (count them, three) different kinds of traditional deodorant, and one "natural" deodorant. I am ashamed. I am humbled. I am making my own deodorant.
Homemade Deodorant Recipe
There are about a thousand different homemade deodorant recipes to choose from. If you're interested in scoping them out, here are some of the better ones I found:
Kitchen Stewardship wrote about her baby steps (which eventually became sort-of the recipe I'm using). This is a great blog for all kinds of nourishing and real foods ideas, as well.
This is the recipe I REALLY wanted to make, but thought I'd keep it simple (stupid) for this blog. It uses shea butter and cocoa butter – pure pitty heaven.
And Eco Friendly Daily even uses beeswax. Hmm.
But today, we're going to go super traditional and make the recipe that uses three ingredients (plus I added essential oils, because I could).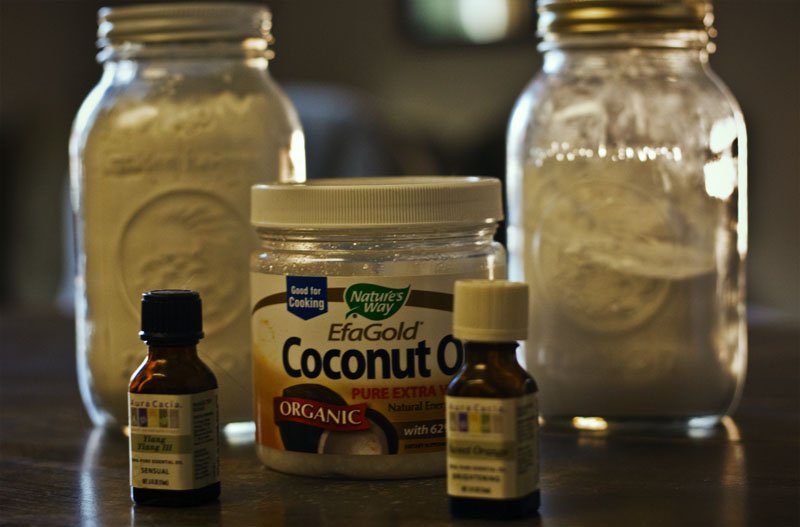 What You Need
Mix everything together very well in a small container. As it's really warm around these parts still, my coconut oil would not solidify, so I opted to just keep it all in a pretty glass jar (which you will see in a minute). However, I hear tell that this solidifies to the point where you can pack it in an old deodorant container and use it just like you normally do. I may try that, if things seem to get a little more solid soon.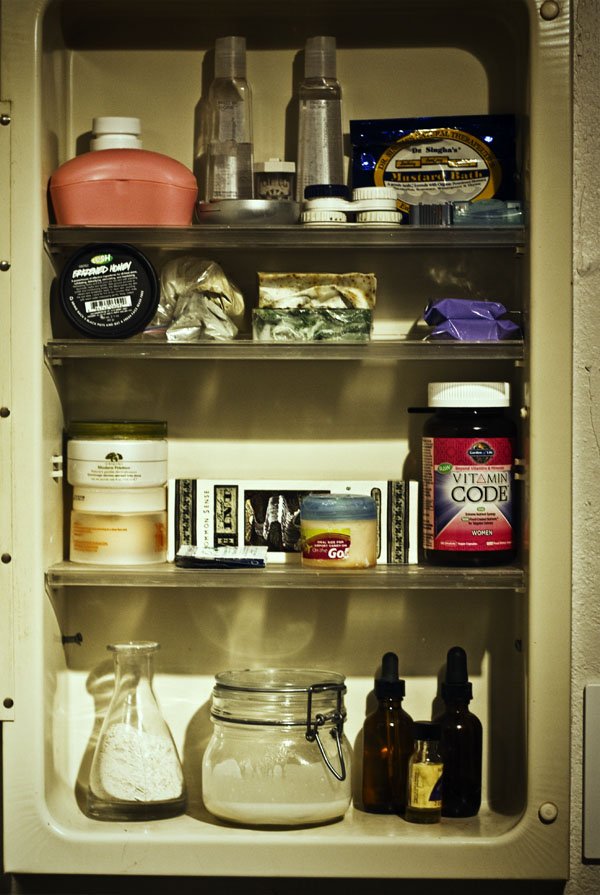 Aren't You Going To Stink?
Well, that's the big question. I feel fairly confident I won't, after reading so many other first-hand successful stories about this deodorant. But only time will tell.
I will report back in three weeks to let you know how it's going/how it went and whether or not Fiance left me for a fresher-scented woman.
Of the many reasons I need to do this, finally, the biggest is this:
Traditional Deodorant is B-A-D
Almost all store-bought (non-organic/natural) deodorant has aluminum as a main ingredient. This is what acts as an antiperspirant (an effective one, sure, which is why I hesitated to try this for so long).
It also mimics estrogen in the body, which could really mess up your hormone levels. And it may be linked to breast cancer. And it's linked to Alzheimer's.
Um, no. Let's be done with all that together, yeah?
As far as "greening" my bathroom, this is my final, and probably most important, step.
Are you brave enough to take it with me?
If so, I'd LOVE to hear from you – what your experiences are with homemade deodorant and whether or not you can learn to live with being a little more natural in the underarm areas.
Remember, like so many things, it takes some time for your body to adjust to the new, natural surroundings. I'm reminding you, as well as myself.
Like I said, I'm giving this a three-week, dedicated, hardcore trial before I examine whether or not it's worth it. Do it with me. I can't stand to obsessively (if somewhat discretely) sniff myself alone.
We'll start a three-week pit-sniffing club.
TPS. The Pit Sniffers.
Who's in?
Update!
The experiment is complete. You can read all my thoughts (and the thoughts of others) right here for the climactic conclusion. It's titillating! And, if you want to try a titillating all-natural deodorant that I made, the Crunchy Market has you covered!