It's been seven months since I switched to 100% homemade deodorant.
The switch, it seemed like this HUGE DEAL that could ruin my life. Like, this monumental thing that might alienate all my friends and family. Like, scary. I mean, scary.
Guess what? It's not that big of a deal.
In fact, it's the smallest big deal I've ever dealt with. (And this is coming from someone who's neurotic about which sea salt to buy.) It took about a week to get used to, and now I don't even think about it anymore. It works, it's inexpensive, and it contains zero aluminum. No brainer; no big deal.
Frankly, I'm madly in love with this homemade deodorant. So much so, that it was like pulling teeth to try a new recipe.
But, several people had pretty annoying issues with the baking soda and/or the cornstarch in that recipe. It can be itchy at times, and there was a rash or two reported.
So this is an awesome alternative to the baking soda/cornstarch one, if you've had issues. Or, if you just have a hankering for some super smooth and delightful pits (hello shea butter), give it a whirl.
It's not a secret.
It's all right here. Every ingredient. And every ingredient comes straight from nature.
Not a Secret Homemade Deodorant
Before we start, I have to tell a quick story.
When I first started making this deodorant, I had the bright idea to reuse a toilet paper roll to hold the deodorant. It turned out not being all that bright. The deodorant kind of seeped through the outside of the roll, so whenever I grabbed it, it would make my hands slick. Then, I realized I had no bright idea on how to cover it.
This is why, occasionally, you'll see a toilet paper roll in the pictures.
(Here's what I'm talking about:)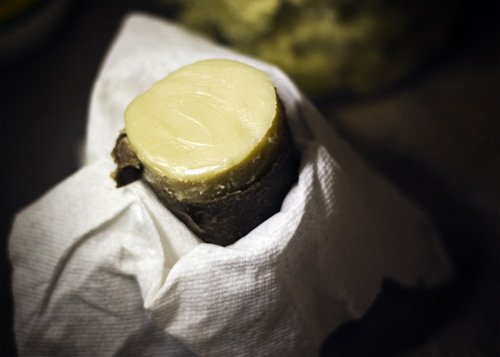 After trying to work out the kinks for a while, I realized that it would be far easier to just push all of the deodorant into an old cleaned out deodorant container.
I'm so thankful I planned ahead and kept it all these months.
So, if you can figure out a way to make the toilet paper roll idea work, kudos! Share! Otherwise, I recommend using an old, cleaned out deodorant container for this recipe.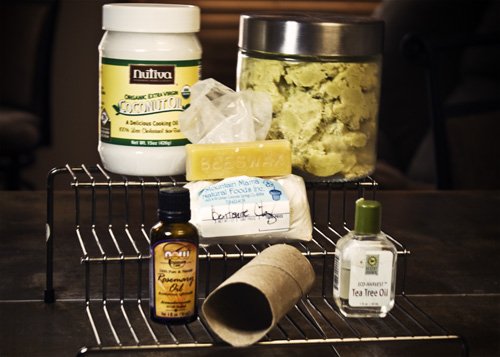 Above, you'll see everything you need for this recipe. It includes coconut oil, shea butter, clay (I used bentonite, but you can use any type of cosmetic clay), beeswax, and a couple of essential oils. You might also try substituting cornstarch for the clay, if you don't think it's irritating and you don't want to buy clay.
First, grate 1-1/2 Tbsp of beeswax and melt it with 4 Tbsp coconut oil over low heat.
You want to wait to add the shea butter until after the beeswax has all melted, because shea shouldn't be heated for long, or it becomes gritty and not quite as pleasant.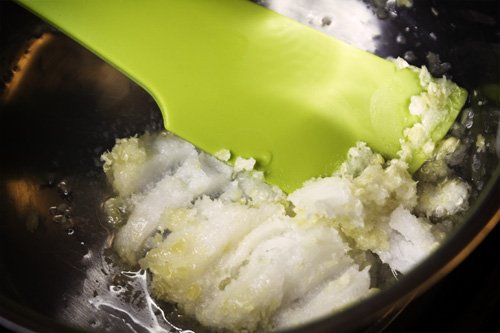 After the coconut oil and beeswax has melted, you'll add in 1 Tbsp of shea butter.
At this point, you can probably remove it from the heat and just continue to stir until the shea has all melted, as well. It doesn't take long, so don't go far.
Maybe to the cupboard to grab a piece of chocolate. But no farther than that. Mkay?
Once the shea butter is nice and liquidy, as well, sprinkle in 4 tsp of clay (or cornstarch … though I haven't tried cornstarch in this recipe, so you're pioneering here and taking your chances).
Break out your whisk at this point, which you could have used all along, but forgot and grabbed your green spatula-spoon instead. Whisk everything well until it's nice and sort-of creamy.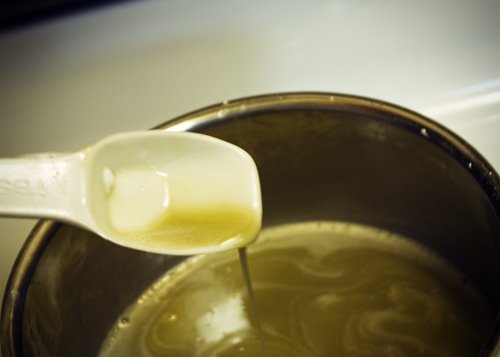 Drop in 20-25 drops of your essential oil. I actually cheated a little. I used 7 drops of rosemary essential oil and 7 drops of tea tree essential oil, for odor protection. But then I also added 10 drops each of sweet orange and ylang-ylang, because everything I make smells like sweet orange and ylang-ylang these days.
After you've whisked in your essential oils, you might want to place the pan in a cool water bath, just to help it all set up faster.
Mine really needed to set up faster.
Impatience is a virtue. Right? RIGHT?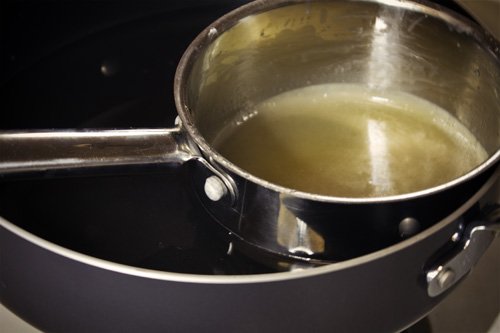 Leave it there until it sets up a little bit, but not until it becomes solid. You should still be able to dip your spoon in and have the deodorant drip off slowly.
It will look something like this: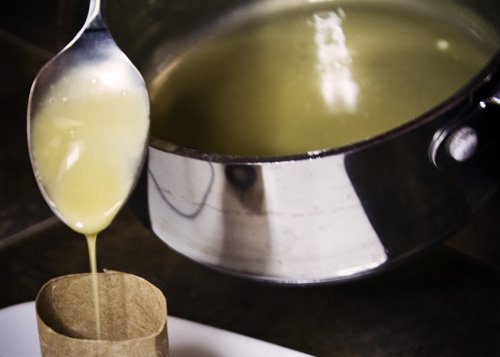 Once it's beginning to set up, you'll want to fill your container with it. If you're using an old deodorant container, make sure it's completely washed out (I also recommend boiling it for good measure) and that it's rolled down all the way.
This recipe pretty much exactly filled the container you saw in the first picture (also what you'll see below). But the little roller had to be rolled down completely to make room for all of it.
So once you have all your slightly liquid deodorant in the container, pop it in the freezer for 15-20 (or more) minutes to help it set up all the way.
The beeswax keeps the other ingredients a bit more solid, so it shouldn't soften much until it's heated by your skin while you're putting it on.
Here's what the final deodorant looks like in a close up.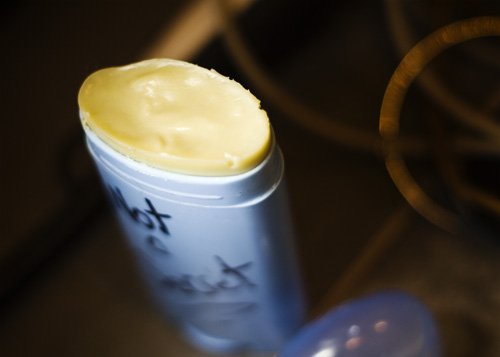 Just so you know what everything does in this recipe:
Coconut Oil: Softens, but especially adds extra antibacterial protection. Bacteria is what leads to stinkiness. Coconut oil is your best weapon.
Shea Butter: Softens (a lot). It will also most likely help with the little bumps you get from shaving.
Clay: Adds extra dryness protection. It will help at whisking away sweat and drying it up before it reaches your clothes. However, don't expect it to work quite as well as antiperspirant (which contains the aluminum you REALLY want to avoid). They work in two very different ways.
Beeswax: This may help, a little, with the perspiration problem, but the main point of this ingredient is to give the deodorant a more solid feel, so it'll stay in your container the way you want it to.
Tea Tree and/or Rosemary Essential Oil: These two oils are exceptionally antibacterial and antifungal, so they'll work really hard at keeping any stinkiness from happening. Again, you can use any essential oil you'd like for scent (lavender, bergamot and lemon essential oils would be great as a substitution for tea tree and rosemary in terms of odor-stopping).
And here's the printable recipe:
Not a Secret Homemade Deodorant
1-1/2 Tbsp grated beeswax or beeswax beads
4 Tbsp coconut oil
1 Tbsp shea butter
4 tsp clay (bentonite or other)
20-25 drops essential oil (tea tree, rosemary, lavender, lemon, bergamot, or a mixture of any listed)
Empty, clean, sterilized deodorant container
Melt the beeswax and coconut oil on very low heat, whisking often. Once melted, add in the shea butter and whisk a few times, then remove from the heat and continue melting. After that's melted and you have a liquid, sprinkle in the clay and continue to whisk well until everything is combined. Drop in the essential oil, whisking still. Place the pan into a cool water bath, and leave for 5 minutes or until it just begins to set up. Spoon the mixture into your deodorant container and place it in the freezer for 20-30 minutes (or until completely hard). If, for some reason, it starts to get too soft on a hot day, just put it back in the freezer for a while.
What's Your Deodorant?
What kind of deodorant do you guys use these days? Are you still sticking by the more traditional store-bought kind (you know, the kind they keep a "secret")?
Have you switched over to a more natural brand?
Or are you one of the crunchy ones who's used a homemade version for a while?
(If so, have you had any problems with it?)
In no-secrets-around-these-parts crunch!
Psst! Don't have the time or desire to make it yourself? Go check out my Crunchy Store then. I just *might* have a solution for you 😉