Nobody knows but your purse.
That would be my tagline, if I were smart enough to market and sell this homemade carry-along freshener (for your underarm regions).
If I were a multinational corporation hellbent on ruling the world, I WOULD market this stuff and sell it and make a kajillion by making you believe you couldn't do anything like this all by yourself in your very own home.
It would have a fancy label. And it would be packaged in a fancy box. And the price tag would be $729illion dollars. Someone would buy it.
(I have a friend who always says, "If you have a bag of rocks, someone, somewhere in the world, wants to buy it for whatever price your asking.)
Anyway. Digressing.
After yesterday's hoopla about a new homemade deodorant recipe, it became clear that now was the time to post this handy little secret weapon.
Some people still use store-bought, some of you use natural store-bought, some of you crunch your own, and others of you are, like, the crunchiest people I've never been in a room with, because you don't use deodorant at all.
Regardless of your deodorizing methods, many of you were looking for little "pick-me-ups" when things went astray and whatever underarm protection started to … fail a bit. This is also a great insurance policy for those of you who are afraid to try homemade deodorant, and want something to use just in case while you're out.
I'd actually had this extremely easy secret tip ready to go up in yesterday's blog, but when I reach 1200 words, I make myself stop.
So, without further ado (and keeping this puppy under 800 words):
Your Secret Weapon: Carry-Along Freshener (Nobody Knows But Your Purse)
So. What if? What if you're in the middle of dinner, after walking around town all day, and you lean over to hide your extra dinner roll in your jacket pocket and find yourself a little … fragrant? What do you do?
Excuse yourself and cry in the bathroom until everyone leaves?
No.
Order a vodka and tonic. (Stick with me here. Don't start drinking yet, ya lush.)
Surreptitiously dip your napkin in it, hold the napkin out of eyesight, and take a trip to the powder room. Do. Not. Cry.
Just rub the napkin under your armpit a few times. The alcohol will dry up any wetness, and it will also get rid of the odor. Immediately. (The odor won't stay GONE forever, but it will buy you some time.)
If that option sounds a little too weird, here's a better one:
Carry a Vodka Freshener secretly in your purse.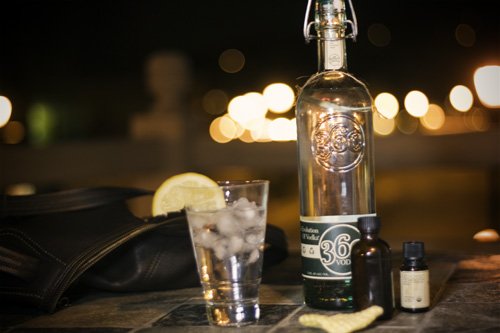 Note: At any point from now on, when I say vodka, you can substitute witch hazel if you'd prefer.
How to Make a Purse-Sized Freshener
Find a small bottle.
Find vodka.
Find purified or distilled water.
Pick a good antibacterial, fresh-smelling essential oil (lavender, tea tree, lemon, pink grapefruit, bergamot, peppermint).
Place equal parts vodka and water in the small bottle. Drop in 10-20 drops of your essential oil (keep it on the LOW side if you're using peppermint).
Shake well.
Carry secretly in your purse with a few cotton balls, a reusable strip of cotton cloth, or nothing at all (that's what an extra square of toilet paper is for).
Please repeat after me: I hereby solemnly swear that I will not drink from this bottle, no matter how dire the situation or how loud my kids are yelling.
Once you put the essential oil in there, it is undrinkable, do you hear?
Please note, as well, that if you use this excessively, it may dry out your skin pretty handily. And not in a good way. Occasionally, though, it's a great fix. It'll even help those of you with hyperhidrosis (i.e. excessive sweating). Not forever. But for a little while.
And how to use it?
Just pull out your little cotton pad, or swipe that extra square of toilet paper, and dribble a little bit of your secret freshener on it, and then wipe your underarms lightly.
Nobody knows but your purse.
I'm Done Talking About Armpits
Done for quite some time, anyway.
What do you think of this handy little tip? Some people use this as their ONLY deodorant even.