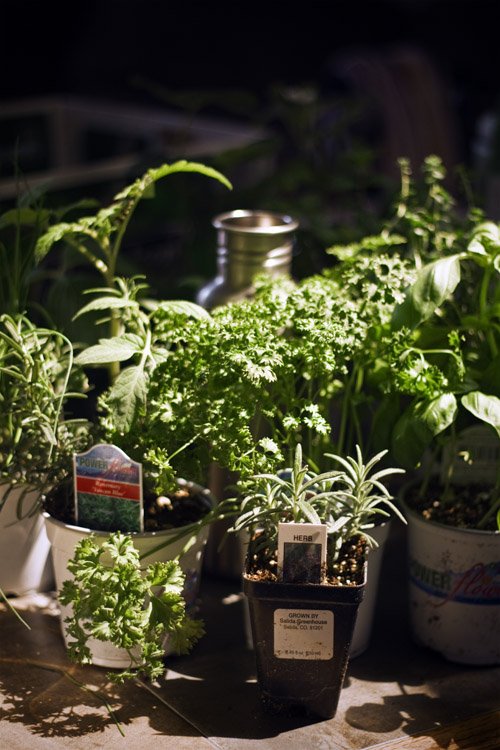 This is a story about planting with EarthBoxes, a clueless first-time gardener, and a great big thought that came from a tiny seedling.
The part about the girl goes like this: She has never had a green thumb, or so she's told herself for years. She bought a tiny cactus last year and she watered it every two weeks. It died after the second watering.
She kept an aloe vera plant slightly longer than that, but it was hidden by the deathbed rosemary and sage, which began wilting on the drive home from the garden center, anyway.
On one occasion, her father asked her to water his plants for him while he was on vacation. The first thing he did after he set down his suitcase, upon returning home, was to call her and say that the plants were all brown.
The enormity of caring for plants scares her now.
She doesn't want to be a killer anymore.
This weekend, her father offered her his EarthBoxes. He'd bought them the summer before last, and wasn't thrilled with his results. But the sunshine at their mountain home only peeks through the trees long enough to say hi and borrow a cup of sugar. It doesn't stick around to grow vegetables. Too much work.
So she took the EarthBoxes, with measured excitement, and learned all she could about them.
Raised above ground, EarthBoxes are perfect for locations with less than suitable soil, and unpredictable rainfall levels. They also cannot be overwatered, because they have a built-in pour-spout that leads to an under-soil reservoir that drains itself if it has too much water. It's difficult to do anything horrifically wrong when you're planting with an EarthBox.
At least, she hopes.
Planting in the First Earthbox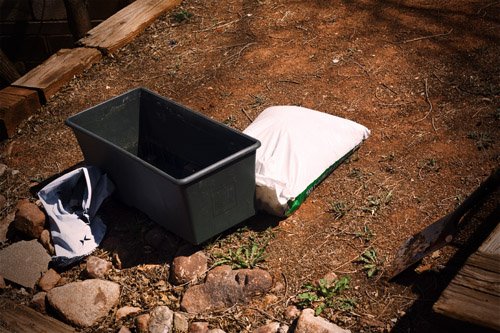 She decided on herbs and strawberries. She would plant four EarthBoxes full of them. And then she saw how much seedlings cost at the garden center (not to mention organic potting soil), so she settled on three. Three EarthBoxes.
After disposing of the old soil (which contained fertilizer she didn't care to use), she cleaned out each EarthBox with a good spray of water and vinegar, lugging everything up and down stairs and in and out doors. She was dirty, sweaty, and mostly pessimistic. Then she poured in the new potting soil and carefully began.
First, with basil: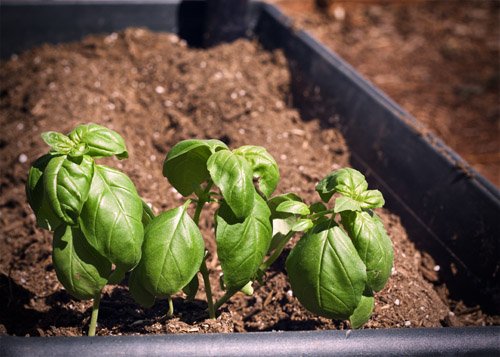 Another type of basil, two types of rosemary, chives, and oregano followed.
They were beautiful. Magnificent. The bounty of the earth, looking down on the town in all their glory.
Until she had to put the EarthBox cover over them.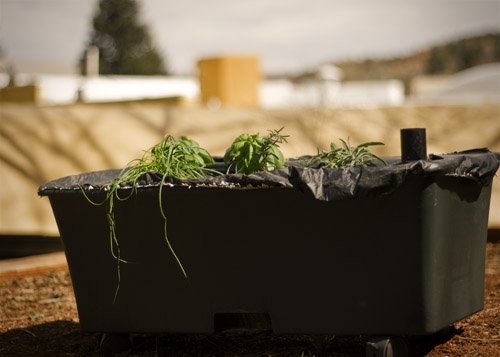 Wiping her hands on her jeans, she groaned a sigh fit for a farmer and looked across her back yard area.
The chair.
Mysteriously, this chair had appeared – from outerspace or somewhere like it – the week before. It was turned upside down, alone, forlorn. So she took a picture of it.
And then cross-processed it, because that's what you do with pictures of old chairs.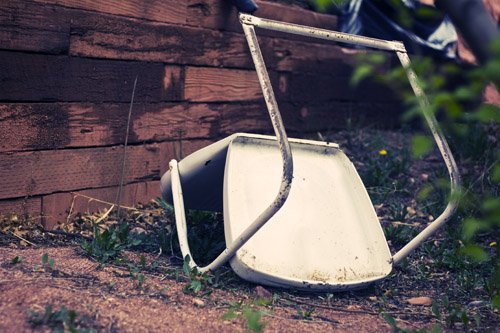 With the first day done, she thought to herself: How powerful this feels, being able to grow food. It's freedom. If you can grow your own food, and live off of it, imagine how unstoppable you'd be.
Your life wouldn't be dependent on stores and money and apples with stickers on them. You'd be completely self-sustaining.
She refused to tell herself, through the entire night, that she wouldn't last the summer eating only strawberries and herbs. Her first big thought was too sweet to ruin. At least, until the next day.
The Lavender Sidebar
Somehow, by the grace of grapes, she managed to convince her man to take her to the garden center, because she wasn't done yet.
The sheer excitement of helping living things grow (so you could eat them) had overcome her, and she wanted to do one better. Not only would she be planting in EarthBoxes, but she'd also be planting lavender in the ground.
It seemed like a good bet; she knew lavender grew like weeds in the quirky Colorado soil. She knew, because she spent the better part of last summer hunting for it in areas where no one would notice a few sprigs missing.
She dug giant holes in her back yard. (She uses the word "yard" loosely, because it's more like a tiny terraced mountain.)
"Digging holes," she thought, "isn't nearly as fun at 36 as it was at 8." And then she started looking for buried treasure, so it was more exciting.
She placed her first baby lavender in a hole: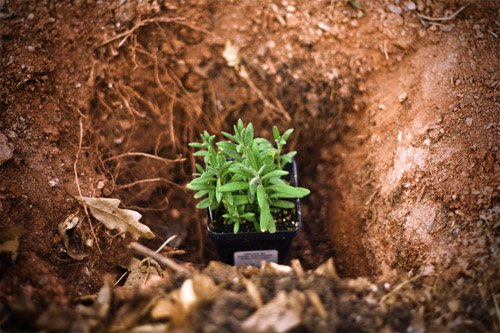 Clearly, she's as bad at judging distance as she is at keeping a cactus alive.
So she filled the hole partway with a mix of potting soil and original, red Rocky Mountain soil.
And then she put the baby back in.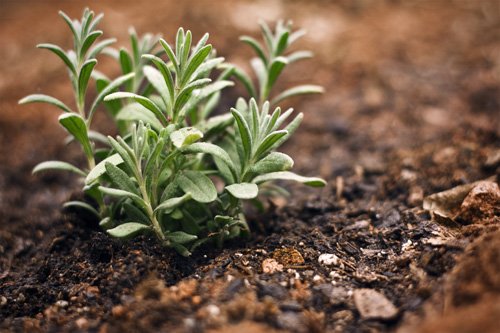 (In fact, she put four babies in four different holes.)
Stroking them gently, she talked to them about how big they'd grow very soon, and how much she would love to use their buds for tea and toner.
While she was doing this (really incredibly insane thing), a neighborhood cat stopped by, looked at her, and said: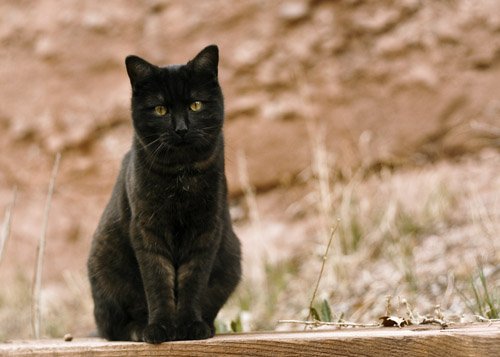 "WTF are you doing, lady? You just dug hole right next to where I poop."
And then the cat turned, looked up at his friends, and said, "What do you guys make of all this?"
And they said: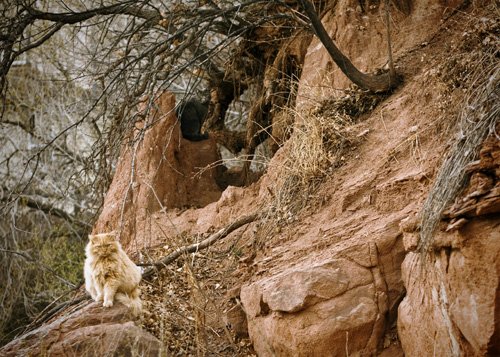 "We do not approve."
So she hopes there's still lavender in a neat little row tomorrow morning. And she hopes there's not poop on it.
EarthBox Numbers 2 and 3 – The Home Stretch
After she successfully shooed the cats away (for the moment) with a fallen branch, she planted the remaining EarthBoxes.
One with three strawberry plants (she wanted to plant six, but her man said, "Why would you want to kill three more plants?")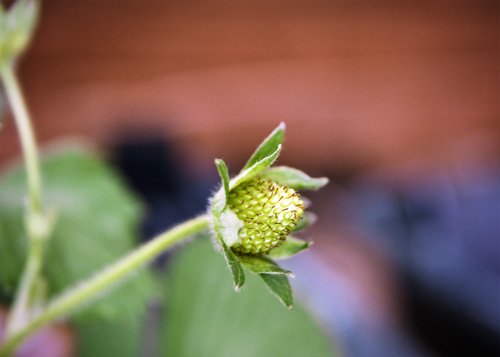 And one with lemon thyme, parsley, peppermint, and sage.
Once again dirty, sweaty, tired, and a little bit stinky, she fell to the ground to take one picture of the entire set-up. She thought maybe she'd just stay there all night.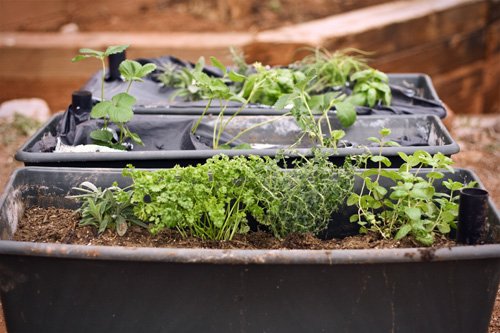 As she reclined in the dirt, she began to think more.
About self-sustainability. About responsibility. About how effing hard it is to grow your own food.
The Big Thought that Came from a Tiny Seedling
She reached out and pulled a piece of lemon thyme off the plant. It smelled like sunshine and tasted of green.
"I will never be able to eat any of this," she thought. "It's been so much work. They're so beautiful right now. And if they grow – if they don't die – they'll be glorious. How could I ever mindlessly eat something I feel like I know so intimately now?"
The Big Thought: Perhaps if we were all in charge of growing, raising, killing, and fully preparing our own meals, we wouldn't be so thoughtless of the food we do have. We'd be more grateful. And there would be no waste.
Perhaps – and this is just a naive, precious thought from a pretend, wannabe, first-time gardener – but, perhaps, the rise of industrial farms and store shelves and drive-thrus was the beginning of our actual decline. Of our true disconnect from who we are and where we come from. From where we receive our energy, our health, and our continued existence.
And for as much as she'd preached it, as much as she's believed it, she finally realized she didn't know it until she actually experienced it herself. Even if it was in a tiny way.
So you know what she did?
She rescued that mystery chair from it's upside-down world, placed it in front of the planters, where she plans to sit for a while, every day, thanking her food for growing so she can eat it.
She hopes that gives it a reason to live.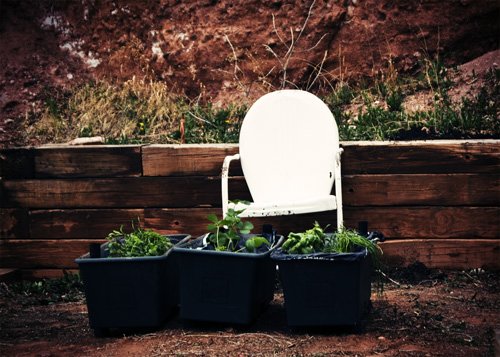 Gardening Tips, Anyone?
I need them.
Give them to me.
I know you know the secrets of keeping plants alive, and I want to know them, too.
Help!