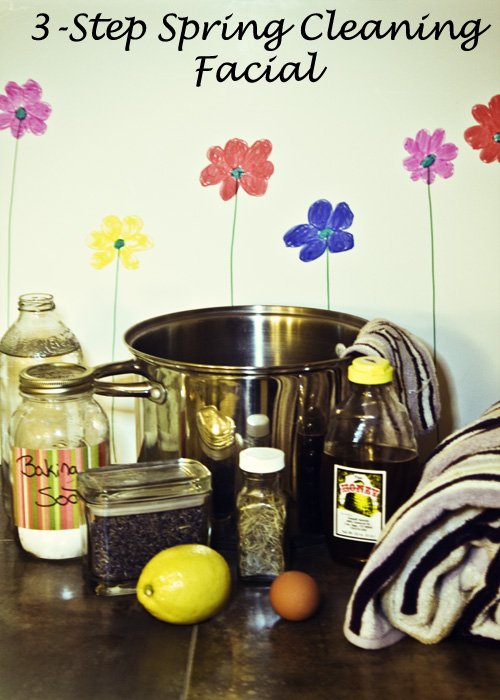 While we're so focused on cleaning under the beds, and cleaning the floor behind the toilet (because who does that more than once a year?), we forget the most important thing.
Our faces.
And, yes, it's good to give your face a nice spring cleaning. It's easier than dusting the molding around the floor. It's more luxurious than cleaning cat hair out of the air conditioning vent. And makes you feel SO much younger than weeding through your kids' closet for clothes to give away.
This EASY, and very nonmessy, 3-Step Spring Cleaning Facial is great for all skin types (though there are some modifications you can make if you have very dry skin).
When you're done, your face will be smooth, soft, and extremely clean, from your lips to your pores.
This is also a great thing to do with your daughter or a friend, as you'll have more than enough mask for one person – and when you clean with a loved one, it hardly seems like cleaning at all. (Unless you're my mom, and I'm 5 years old, and I scream for 2 hours straight because I don't want to clean my room. And yes, that happened. Sorry, mom. I remember it like it was yesterday.)
This is a very back-to-the-basics type facial cleaning, using easy (but very effective) ingredients. Most likely, you have every single ingredient in your house right at this moment.
So, in this 3-Step Spring Cleaning Facial, you'll be doing three whole things (see how that 3-step thing works?):
Exfoliating
Steaming
Masking
Ready for the first step?
Spring Cleaning Facial Step 1: Exfoliate
Before you start truly cleaning here, I want you to do three things. Gather all the ingredients you need for each step. Tie your hair back. And start with a clean face. (Do this by washing your face however you typically wash.)
The first step is a clarifying, microdermabrading scrub with baking soda and distilled or purified water.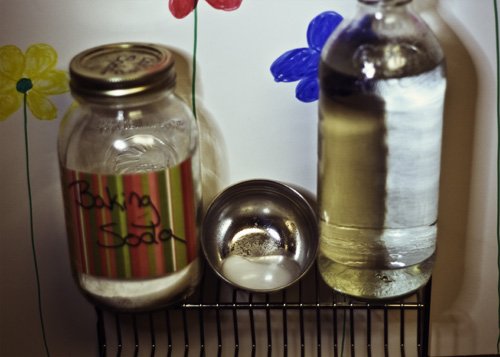 It is important to use purified or distilled water throughout this whole routine, so make sure you have some on hand. Stay away from tap water if you truly want to do a good cleaning job on your face. (I used the water from my awesome Berkey Light Filter.)
If You Have Dry Skin: You can use baking soda and water, but you may want to opt for the nutmeg and milk scrub instead. It's less drying and more gentle.
Mix together 2 tsp baking soda and 2 tsp distilled/purified water. After you've tied back your hair and made sure your face was generally clean, wet your face briefly with the distilled/purified water.
Softly scrub the baking soda paste over your face in small circular motions, concentrating on spots that tend to be troublesome. Remember: Softly. Do this for 3-5 minutes.
Rinse well with your distilled/purified water.
Get ready for step 2.
Spring Cleaning Facial Step 2: Steam
There are two things to remember when using a facial steam: First, do not hold your head over boiling water. It's too hot and too harsh on your skin. Secondly, do NOT drape a towel over your head when the pot is still on the burner. Before I knew better (years ago), I started a towel on fire this way (and almost lost my hair)!
For this step, you'll need your distilled or purified water, some herbs, a pot, and a towel.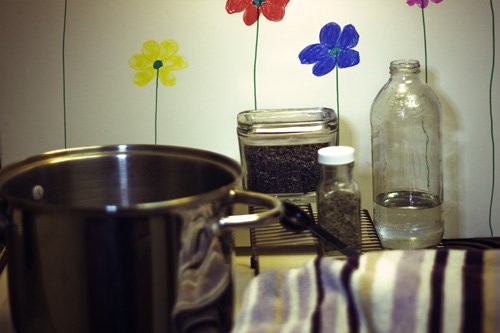 You can use many different herbs in a facial steam, but to spring clean, I chose rosemary and lavender. Rosemary, in particular, will do a great job at unclogging oily pores. While lavender isn't necessary, it's a great option if you have dry skin. I used both, because that's how I roll.
Here's how you do it: Bring 3 cups of distilled/purified water and 3-4 Tbsp herbs (or just rosemary) to a rolling boil. Once the water has begun to boil, move the pot off the burner and wait 30 seconds.
Drape a towel over your head and place your face over the steam. Leave it there as long as you can tolerate (and come up for air if you need it, by golly). Do this for 5-10 minutes. If your water loses steam, just place it back on the burner and bring it to a boil again, and start over where you were.
Splash your face with the distilled/purified water and wipe off gently with a clean washcloth.
Move on to step 3.
Spring Cleaning Facial Step 3: Mask
This baby is the piece-de-resistance to this whole spring cleaning regimen. It's softening, a bit "peeling" (as in a fruit acid peel), and it pulls out the remaining gunk that might be clogging your pores.
Think of it like a good floor mopping right after you've swept. It brightens everything up and completes the true cleaning process.
For this mask, you'll need an egg, lemon, and honey.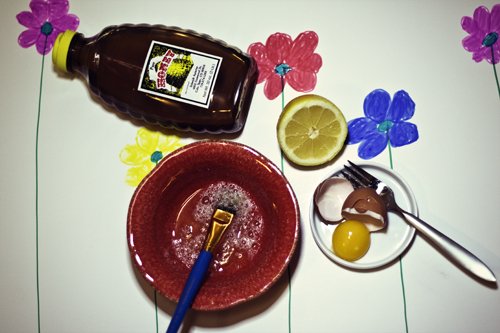 If You Have Dry Skin: You may want to use the whole egg instead of just the egg whites. In addition, you may want to use a less acidic fruit juice, like apple or white grape juice (organic and sugar-free).
Here's how you do it: Separate the egg white in a small bowl. To that, add 2 tsp lemon juice and 1 tsp honey. Stir well with a fork.
Apply with a very clean, small paintbrush or your fingers. When I use a paintbrush, I like to paint one layer on, let it dry for 30 seconds, and then paint another layer on (just to make sure it's getting everywhere it needs to go).
Lie down (you want to lie down, so your skin will dry hanging "backwards" instead of down, which will help give you a little lift as the egg dries and pulls your face gravitationally) and let this mask dry for 10-15 minutes.
Wet your washcloth fully with your distilled/purified water and gently wipe the mask completely off your face. Finish with one last splash of water.
You can finish with a toner, if you'd like.
But. Be. Sure. To. Moisturize. It. Is. Very. Important.
This whole process will leave you with amazingly clean skin, but it'll need a little moisture added back to it. Don't skip this step! Moisturize, moisturize, moisturize.
The moisturizer I'd prefer in this instance: jojoba oil. That's it. It's great for any skin type (even acne-prone and oily skin) and it's super softening. But you can use whatever moisturizer you typically do. The world is your oyster now.
To make things easier, here's a printable list of recipes for the 3-Step Spring cleaning Facial:
[print_this]
3-Step Spring Cleaning Facial
Step 1: Baking Soda Microdermabrasion
Starting with a clean, moistened face (with the distilled/purified water), scrub the paste of baking soda/water onto your face in circular motions. Do this (SOFTLY) for 3-5 minutes, focusing on troublesome areas. Rinse well with your purified water.
Step 2: Herbal Facial Steam
3 c. purified or distilled water
A large pot
Bath towel
Bring the water and herbs to boil, stirring occasionally to make sure all the herbs are getting wet. Once it's reached a boil, remove from heat (and away from stove). Drape your towel over your head and place your face above the steam. If it becomes uncomfortable, pull your face away. Continue this for 5-10 minutes. Splash your face with purified/distilled water and dry gently with your towel.
Step 3: Purifying Facial Mask
1 egg white (or white and yolk, if you have dry skin)
2 tsp lemon juice (or apple juice if you have dry skin)
1 tsp honey
Combine all ingredients in a small bowl and whisk together well with a fork. Apply to the face with a clean paintbrush or your fingers. Lie down and let the mask dry for 10-15 minutes. Wet your washcloth with distilled/purified water and softly scrub the mask off. Finish with one more rinse with your water. Tone (if you'd like) and moisturize.
[/print_this]
Raise Your Hand if You're Ready to Clean
I HAD to get this post up for the weekend, because I figured it would be the perfect time for you to schedule some crunchy pampering time in.
Honestly, it's one of the least messy things I think I've ever done (even with the 3 steps) and probably took me a total of 45 minutes from start to finish (and that was even taking pictures, so it should take you even less time).
When I was all done, Skip came out and asked how it went. I made him touch my cheek and he just looked at me wistfully and said, "Dang, woman." So … yeah. I feel pretty good about this one.
And clean. Good and clean.
You ready to do it this weekend?