If you only put food on your face once this week, make it nutmeg.
Really.
I doubt I can even come close to how amazing this simple nutmeg microdermabrasion treatment is.
In fact, I haven't been this excited about a beauty treatment since the Mocha-Frappuccino facial mask.
This is that good.
It's probably doubly better because you walk around with just the slightest scent of nutmeg for a few hours after you do it. So hopefully you're prepared for someone to lick you after.
It wouldn't be their fault. You're really that irresistible.
I've done this three times in the last two weeks – just to make sure it's really as awesome as I think it is. And it is.
As a note, though, I did it last week right after doing the oil cleansing. That produced the best, most baby-bottom-esque results. So if you ever oil cleanse, do this right after washing. You. Will. Love. It.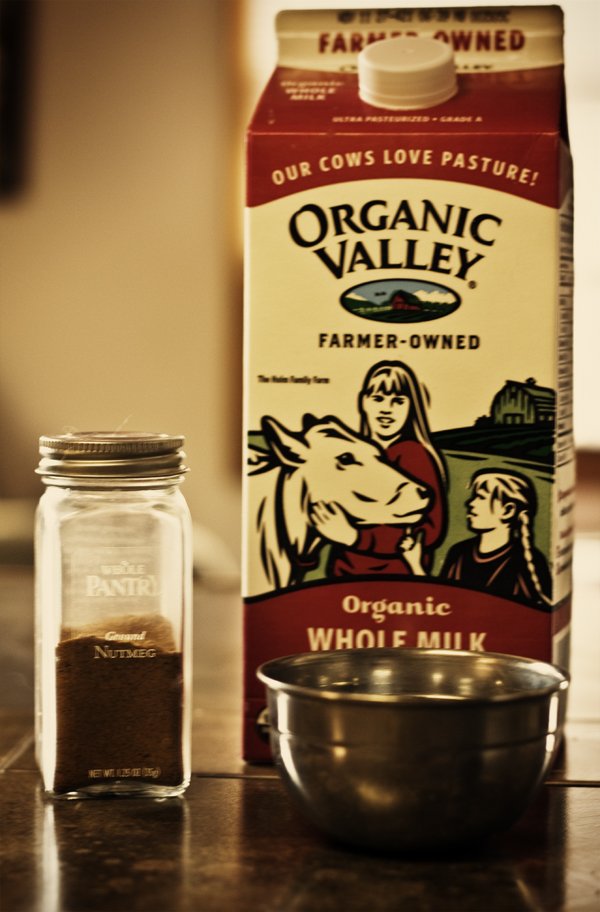 Nutmeg Microdermabrasion and Exfoliator
1/2 Tbsp ground nutmeg
1 Tbsp whole milk
1 small bowl
Combine the nutmeg and milk in the small bowl, stirring well. Starting with a clean face, massage the nutmeg/milk mixture lightly over your face in small circles, always moving upwards. If you're brave and don't mind getting a little messy, do this on your decolletage, as well. It would make for a very glowing, soft neck and chest.
After you've exfoliated for 5-10 minutes, rinse well with warm water and pat dry.
When I've done this, I haven't wanted to add any moisturizer on top for a few hours. My skin just feels too perfect to add anything to it. But you could tone and moisturize directly after, if you don't have time to wait a few hours (say, before going to sleep or putting on makeup).
This treatment is GREAT for oily skin and acne. Nutmeg has incredible astringent, antibacterial, and antiinflammatory properties, making it an awesome choice for people with acne-prone skin. Plus, the lactic acid in the milk will act as a very gentle peel for that annoying dead skin that clings to pimples for days.
This treatment is also GREAT for dry skin. Nutmeg is used in tons of treatments for eczema; in addition to its great antibacterial properties, it's also super nourishing for the skin. So not only are you sloughing off dry, dead skin, you're nourishing the underlying layers in the process. And the milk, here, will also help with exfoliating–but it also offers fantastic moisturizing properties. If you have super dry skin, you could even use heavy cream in lieu of the milk.
This treatment is GREAT for normal skin. Seriously, this is just an all-around fabulous treatment that'll work with any skin type. It's a great way to get rid of old icky skin and reveal glowing, healthy skin underneath.
But don't do the nutmeg exfoliating treatment more than once a week. Any more than that, and you could end up damaging your skin more than helping.
In Conclusion
I wish you could all touch my face right this very moment. Instead, I'll settle for you trying this treatment THIS WEEK and telling me how your face is suddenly 10 years younger. I don't, however, need to know if anyone licks you as a result of this. That's your business.
One more thing – it's perfectly fine, if you happen to have whole nutmeg, to grate it and use freshly grated nutmeg. In fact, that would probably be preferable, if you have the patience to grate 1/2 Tbsp of nutmeg. The fresher it is, the more potent it'll be.
What do you think?
This one's pretty cool, yeah?