I just asked my better half to help me with inspiration to introduce this homemade all-purpose cleaner, because it's refreshingly effective and so easy to make. It zips away grease and stuck-on grime like a magician disappearing a rabbit.
I really wanted some zingy, excitement-building intro, because this is the best all-purpose cleaner I've made yet. But I was lacking inspiration.
So I turned to Skip.
"Honey, help me think of a way to introduce that cleaner I made that you just used after dinner."
He sweeps his gaze from the television to my face, eyes peering just over his glasses, and thoughtfully flicks a toe on the foot resting on his knee. There's a pregnant 3-second pause, and I wait for genius. He exhales:
"Vinegar."
(Wait for it!)
"Period."
Then poker is back on, his eyes take all of a nanosecond to glue to the screen, and the moment is over. Sigh.
But the thing is. It's true! Vinegar. Period. That's almost all you need to know. And vinegar(period) is pretty awesome as a cleaner itself. Let's just add a few more things like: herbs(period) and essential oil(period).
And then we have this homemade all purpose cleaner that rivals … anythingyoucouldbuyinthestore. I figure that can be one word at this point, since we say it so much around here.
Herbal Infused Vinegar For Cleaning
This is something you'll want to do over a couple of weeks, and consists of two easy steps.
Infusing the vinegar.
Mixing the infusion with more vinegar and essential oil.
The second part is even optional, if you don't have essential oil. Here's the first part.
1. Infuse Your Vinegar for Two Weeks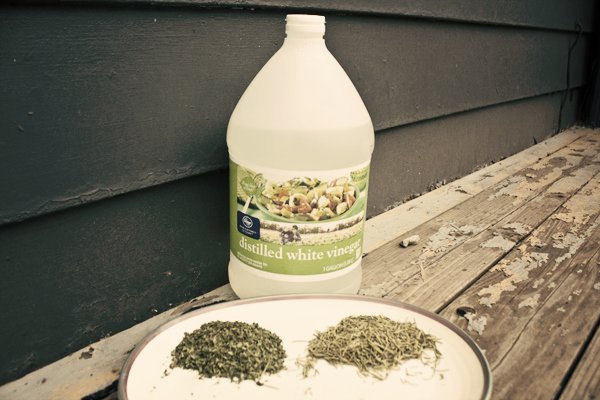 All you need for this part is:
Distilled white vinegar
Disinfecting herbs of your choosing (rosemary, peppermint, thyme, lemon balm, pine needles, lavender, orange or grapefruit or lemon peels)
I used peppermint and rosemary for this one.
Measure out 1/2 c. dried herbs into a clean jar. Cover with approximately 1-1/2 c. white vinegar.
Put the lid on it. Shake it. And store it for two weeks (shaking it about when you remember, every day or every couple of days).
The story of mine goes like this: I started infusing these herbs on July 9, 2011. And then I forgot I was doing it, so my infusion is SUPER strong (and darker than yours will be). Two weeks is plenty.
Once your two weeks are up, here's what you do:
2. Mix Your Infused Vinegar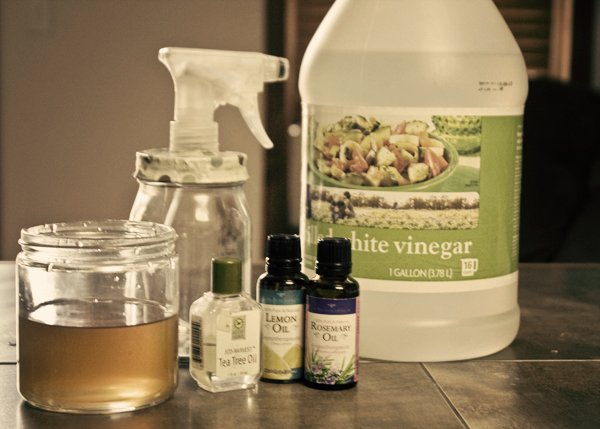 First, strain all the herbs out of your vinegar using a fine-mesh sieve or a coffee filter. Then, gather all your ingredients:
Ingredients for Vinegar-Infused All Purpose Cleaner
Infused vinegar from step 1
More distilled white vinegar
Essential oils of your choosing (one, two, three …. or none at all – it's up to you)
An empty spray bottle
Pour all of your infused vinegar into the spray bottle and add 1 c. regular white vinegar (this is just to add "new" and potent vinegar to your cleaning).
Put in some essential oil drop by drop: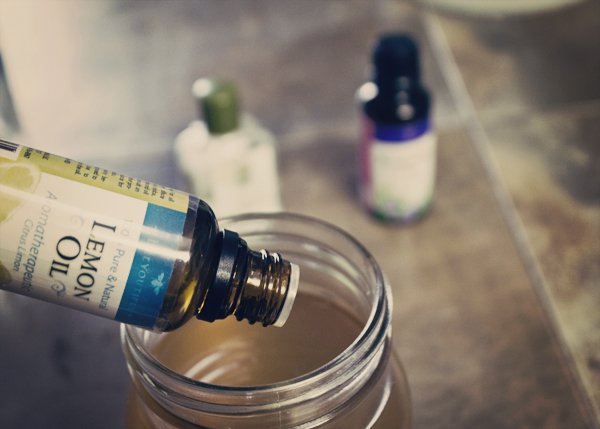 Good "Cleaning" Essential Oils: Lemon, orange, pink grapefruit, rosemary, tea tree, eucalyptus, peppermint, lavender.
So you drop in about 30-50 drops of essential oil (I used 15 each of lemon, rosemary, and tea tree).
Shake up your homemade all purpose cleaner. Use it whenever something needs to be wiped off a counter, out of a sink, or even in your bathtub.
That's it! Done!
This will keep for months and months, and it's disinfecting, antimicrobial, and all around GREAT on grease, stuck-on foodstuffs, and other icky messes.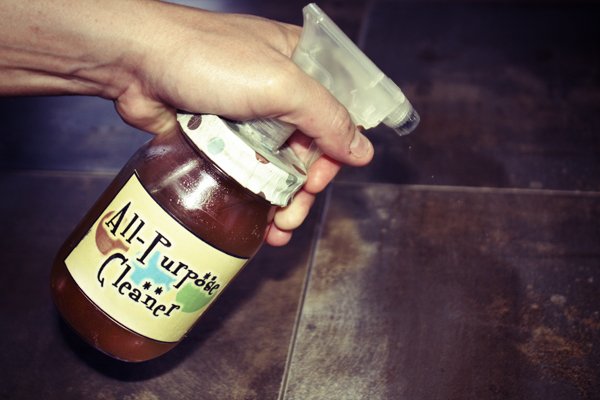 Guess How Much This Costs?
For 2-1/2 c. cleaning solution – just like I made it – guess how much it cost?
Herbs: $0.67
Vinegar: 0.24
Essential oils: (approximate) $0.15
Total: $1.06
And do you know how close to FREE that would've been, if I'd have dried my own mint and rosemary that's out growing in the garden (which I plan to do soon)? Like, so close to free, you could almost fly.
Yeah, That's A Glass Jar
Guess how I did this?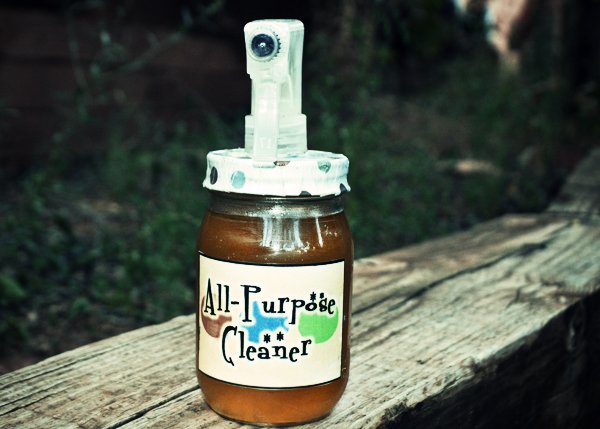 Guess how I turned a glass jar into a spray bottle.
I'll tell you tomorrow.
==
**PS: I'd like to thank More Than Alive for providing the Beeyoutiful Lemon and Rosemary essential oils I used in this homemade all-purpose cleaner. 🙂